Wandering our World is reader supported! If you purchase anything through a link on our site, we may earn a commission at no extra cost to you.
Last updated on July 2, 2023 by Wandering our World
Portugal's southern-most region is unmissable, and that's why camping in the Algarve should be on everybody's European wish list!
The scrumptious food, unspoiled natural beauty, and laissez-faire atmosphere are reason enough to visit. And that's why camping here is becoming more and more popular every year.
In the east, you'll find a slew of resorts, water parks, and swanky harbors. In the west, it's less developed and a haven for surfers and natural treasures.
After we outline everything you need to know about camping and wild camping in the Algarve, we will also share some of our favorite walking, hiking, swimming and cycling spots in this stunning region too.
Facts about the Algarve:
It has 125 miles of coastline – that's plenty of beaches to enjoy!
There are around 400,000 permanent residents
It's home to five Michelin star restaurants
Officially, it is one of the sunniest destinations on the planet, and it has 85 Blue Flag beaches
CONTENTS:
The Best Campsites In The Algarve
Wild Camping In The Algarve
Tips For Camping In The Algarve
The Best Camping Spots In The Algarve
Walk, Hike & Cycle In The Algarve
Swimming & Surfing
Camping In The Algarve: The Best Campsites
With 300 days of intense sunshine every year, camping is a perfect way to enjoy the Algarve's nature!
There is a culture of family-friendly campsites in the Algarve too, with the option to go glamping or bring your own tent.
You can even rent a mobile home or bungalow. Along the coast there are countless camping options, here are some of our recommendations:
1. Parque de Campismo Orbitur, Sagres
Situated 3km from the beach on the western coast is this campsite with bungalows. It has space for caravans and campervans plus tents.
Facilities include a supermarket, wi-fi, restaurant, and bar.
2. Yelloh! Village Turiscampo, Lagos
A large campsite which is perfect for families. There is a kids club, entertainment, swimming pools and lots of activities such as archery and dance classes.
3. Camping Ria Formosa, Tavira
Another large family campsite with bungalows and hundreds of tent pitches. Take advantage of the on-site gym, swimming pool, wi-fi, and an artificial lake.
4. Eco-Lodge Brejeira, Silves
For sustainable travelers, head to this glamping site with yurts, a fire truck, and space for tents!
5. The Walnut Tree Farm, Aljezur
A rural glamping experience where you can opt to stay in a treehouse or a yurt! An excellent choice for luxury campers.
Wild Camping In The Algarve: What You Need To Know
DISCLAIMER: Below we give general advice, but we always recommend staying in an official campsite. If you choose to go wild camping/dispersed camping, then make sure you do so with someone who already knows the area where you're planning on camping for your own safety.
Officially wild camping in the Algarve and Portugal is not allowed, as is the case in many European countries.
However campers who pitch their tent discretely and treat the land well are usually tolerated. If you're caught though, you may have to move on. Mostly this is to reduce the risk of fires starting in the hot summer months.
If you do decide to go wild camping in the Algarve, we'd advise sticking to the following guidelines in order to be as considerate as possible:
You should camp in the same place for one night only, and pitch your tent discretely and in a remote place. Therefore don't camp in or near settlements, someone's farm or on cultivated land. If you think you're on private land, always seek out the landowner and ask permission.
Campers should set up their tent at dusk, and take it down at dawn. A tent that is discreet and pitches quickly is best. Therefore a lightweight walking tent like this one would be a great investment for someone planning to walk and camp in the Algarve.
If you are walking a main trail, make sure you choose to camp in a place that won't be in any other hiker's or walker's way.
Tips For Camping In The Algarve
Portugal is the perfect country to camp in, whether in a campervan or a tent, but there are things to consider:
When camping in the Algarve you must never make a campfire – it's not worth the risk or the potential fine! You might want to think about bringing a storm cooker with you for cooking. They tend to be safe, and are often fine to use – but you should check local laws first. The Swedish brand Trangia make fantastic storm cookers that are virtually indestructible. If you want to go completely fuel-less, a portable solar powered cooker like this one would work well. Plus, is there anything cooler than harnessing the power of the sun for your breakfast!
Thunderstorms and heavy rain can happen in the Algarve – even during the holiday season. Make sure you have a durable, rainproof tent that can survive heavy rain. A lightweight one-man hiking tent like this or similar would be perfect. For a good value tent that fits more than one person, this mosquito-proof one would work well too.
There are different water sources in the Algarve, but remember to always have plenty of water on you when you're camping. A space-saving collapsible water bottle would be a good purchase.
If there is no toilet nearby, make sure you go far from water sources, such as rivers and lakes. Use a trowel (like this folding one) to bury any human waste – don't just leave it out in the open.
Like many rural areas around the world, there are flora and fauna to be aware of. So read up and make sure you know what to expect in the region or area you are planning to wild camp in.
Below we give you some of our favorite spots in the Algarve for wild camping in a tent or in an RV/campervan.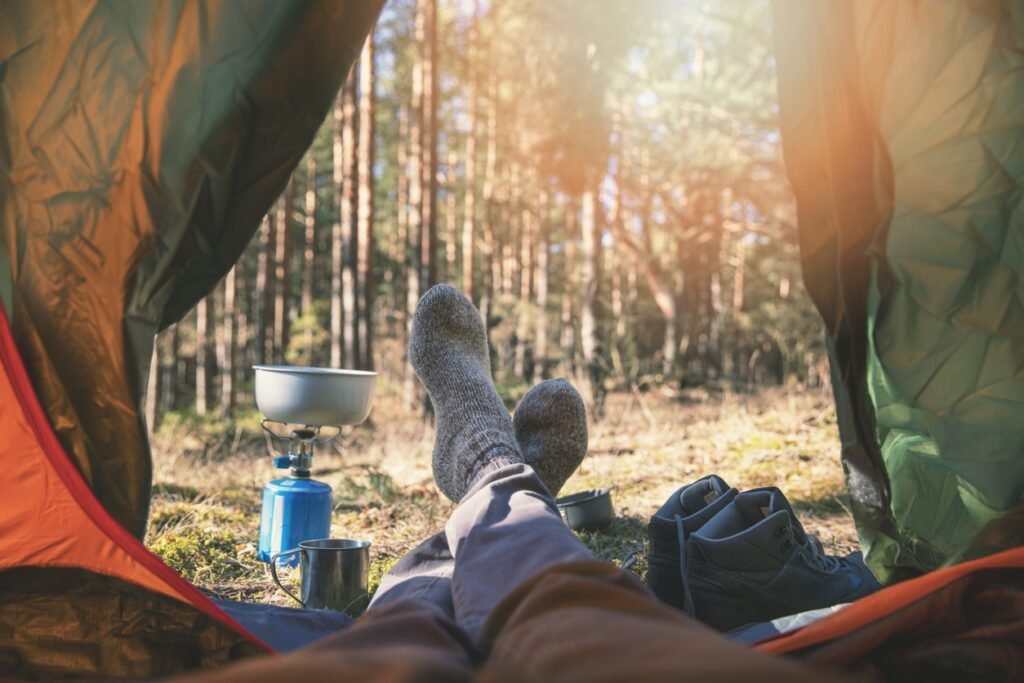 The Best Camping Spots In The Algarve
Another way to see the county is to rent a campervan and pick a car park to spend the night.
Park4Night is a good little resource and community for campervan wild camping spots.
It's also important to remember that although there is a risk of local authorities' fines for this sort of wild camping, it's often not heavily enforced.
Campgrounds will cost money to pitch for the night, but if you're in a van or campervan, then car parks tend to be free, which will save you money.
If you need a shower, your best options are to try hostels, swimming pools, gyms, Turkish baths, or outdoor showers on the beach.
There are some gorgeous spots to park up and enjoy sunsets and sunrises from soaring clifftops! Here are some of our favorites:
1. Saint Luzia
This was a sleepy fishing village, and it's known as the capital of octopus for the unique way they catch and cook the seafood.
Find it on the eastern side of the Algarve close to Tavira. Delight in the colorful fishing boats and the nearby Ria Formosa nature reserve.
2. Portimao
This is the second largest town in the Algarve on the western side. Portimao is a wonderful stop for beautiful architecture, beaches, and gastronomy.
A great place to visit from here is Ferragudo fishing village located opposite the town and don't miss the 15th century Castle of Sau Joao do Arade.
3. Albufeira and Praia de Arrifes
This is the liveliest place in the Algarve. It's been transformed from a scenic village to a bustling resort town with a modern marina and great nightlife.
It is still a pretty town to have a stroll, and a convenient place to get to Praia de Arrifes beach. It's a small cove and a lovely spot to watch a gorgeous sunset.
4. Sagres
The striking coastal scenery of Sagres is unmissable on a visit to the Algarve. It's a small village best known as a center of lobster fishing and boat building.
Sagres looks out onto the Atlantic and is where you'll find the Cabo de São Vicente sea cliffs and is perfect for those looking for a quieter location.
Another option is sleepy Alentejo, which is ideal for wild camping!
Walk, Hike & Cycle In The Algarve: Must-Try Trails!
The Algarve has an abundance of beautiful natural spots to explore on foot or by bicycle. If you're planning to get outdoors and walk during your holiday, we recommend a good hiking and walking in the Algarve book like this one.
But below are some of our favorite trails:
1. The Pontal Forest Trail
This is situated in the Ria Formosa Natural Park and is especially suited to bird and fauna lovers! Look out for the European Bee-Eater bird or a cheeky chameleon, and come here in spring to witness the stunning flowers. A good trail for walkers of all levels and cyclists.
2. Praia Da Cordoama Trail
This off the beaten path hiking trail takes you on a journey along the mystical Vicentine Coast. It's on the west coast near Cape St. Vincent and offers dramatic views from towering clifftops. You may even spot a short-toed eagle!
3. Rocha da Pena Trail
A gorgeous hiking route in central Algarve is home to over 450 species of plants and fauna. It's also a hotspot for birdwatchers who might see a rare Eagle Owl, Egyptian Vulture, or Eurasian Hobby.
Surfing & Swimming In The Algarve
Portugal's coastline is such an essential part of tourism for this country. In the Algarve, you could be scaling a mountain in the morning, watching the ocean's swell below, and enjoying the local surf culture by the afternoon. If surfing isn't your thing, then go for a casual dip in the sea!
For surfers of all levels, try Arrifana along the wilder Sagres coast. If you're going from Lagos, the protected Amado Beach has consistent swells that aren't affected by the tide.
For beauty and a bit of isolation, try Castelejo Beach, 12km north of Sagres, or the small and sheltered Beliche Beach is perfect for intermediate and advanced surfers.
One of the best-known spots is Zavial, and this is perfect for both swimming and surfing, and it's not as exposed to the wind blowing in from the west.
For beginners try Praia de Faro near Faro, it's a great beach for learning with lots of surf schools dotted along the beach. One of the best-hidden gems is Praia de Albandeira in central Algarve; it has no watersports and very few visitors!
For families try Praia do Anção, its calm waters and on-duty lifeguards will give you peace of mind, and it's a beautiful blue flag beach. Finally, if you love snorkeling head to Praia da Marinha – you can also take a boat to visit caves.
Recommended Reading For Your Trip To The Algarve
Tempted to go camping elsewhere? Check out our guides to camping in, Estonia, Finland, Norway, Patagonia, Pyrenees and many others!
*This article may contain affiliate links which allows Wandering our World to make a small commission on any sales made – and keep the coffee flowing! It involves no extra cost to yourself. We only recommend products we believe in.