Wandering our World is reader supported! If you purchase anything through a link on our site, we may earn a commission at no extra cost to you.
Last updated on July 2, 2023 by Wandering our World
The New Forest National Park is one of England's most cherished regions, so it's no surprise that camping in the New Forest is actually Googled more than 10,000 times a month! Made up of heathland, forests, and coastline, this protected area is home to countless walking trails, and of course, those iconic native New Forest ponies.
Luckily for camping enthusiasts, some great options exist for camping in the New Forest – and we list a few of our favourite campsites below.
Wild camping in the New Forest is illegal, however the reality is that people still do it.
If you are planning on wild camping, and can't be swayed to stay in a campsite instead, we have more information and tips on how to be considerate when wild camping in the New Forest later on in this article.
So get ready for your New Forest camping adventure in arguably England's most famous, and fun, National Park!
Camping In The New Forest: An Unforgettable Holiday
Camping is a very popular vacation in the UK, so there are campsites throughout the New Forest covering all budgets. Almost all of which have spots for RVs and caravans too.
There are several campsites that lie beside great walking and cycling trails too, as well as popular tourist hot-spots. Therefore if you are seeking a walking or cycling holiday, our recommendation would be to get a New Forest walking book like this one, and then plan your campsite visits according to what is situated beside your walking trail.
You can also get a free PDF map of the New Forest at this link, although it's doesn't show walking routes and campsites. Check out our picks of places to visit in the New Forest too, for inspiration for your trip.
If you're looking for some great campsites though, below we recommend some of the best in the New Forest!
The Best Campsites in the New Forest For Views, Fun & Adventure
One of the great things about England's New Forest is that there are a variety of campsites that cater for all types of tourists.
From travelers looking for an adventure, to ones searching for a relaxing holiday in natural surroundings. Here's a few of our New Forest camping favorites:
1. Holmsley Campsite
Are you a bit of a history buff? Then this campsite could be for you. Holmsley is built on an old WW2 airfield – but don't expect concrete and run-down buildings.
The site is covered in grass and daisies, and is surrounded on all sides by ancient forest. The pitches are generous, and there are miles of walking and cycling tracks going off into the New Forest right beside the campsite.
There's good shared facilities, it's pet friendly, and there's even a small shop and take away service on site.
As it's also just ten minutes from beaches, but still set in the New Forest, this campsite really is the perfect base. Albeit for your camping holiday, rather than spitfires!
Address: Forest Rd, Burley, Christchurch BH23 7EQ
2. Tom's Field
Are you coming to the New Forest because you want to see the region's iconic ponies? Then this family-friendly campsite could be perfect.
Tom's Field is set in a perfect New Forest location, with walking and cycling trails on the campsite's doorstep.
This campsite is also close to the charming village of Godshill – where many New Forest ponies, donkeys and cattle all roam freely. But you don't need to go to Godshill to see the ponies, you can often find them roaming on the other side of the fence from Tom's Field!
This place is small, tranquil and feels like a little friendly community. The shared facilities are well maintained, it's possible to rent fire pits, and there's even a small community shop that comes at the weekend which sells amazing pastries!
Address: The Ridge, Pottery Rd, Fordingbridge SP6 2LN
3. Green Hill Farm Camping & Caravan Park
If you're looking for a place to camp which offers great facilities, then this could be the perfect fit.
This New Forest camping and caravan park is set in beautiful grounds, has immaculate facilities, and even has its own fishing lakes. There's also an outdoor gym, and you can hire a Segway!
On top of that you'll often spot New Forest ponies and even deer having a drink at the lakes on site. All of that, and set within the New Forest National Park – sounds idyllic doesn't it?
Address: New Rd, Landford, Salisbury SP5 2AZ
4. Longbeech Campsite
For those looking for more of a wild camping experience, but within the law, then Longbeech Campsite could be perfect.
Set amongst ancient beechwoods, don't be surprised if a pony wanders by your tent in the morning! This campsite has no facilities – so no toilet, and no shower – and the emphasis truly is on nature.
It's a campsite for the more adventurous campers out there, but this New Forest camping experience is well worth it.
You're not totally isolated though, as the gorgeous little village of Fritham is a short walk away, and thankfully it has a traditional English pub!
Address: Forest Rd, Fritham SO43 7HH
Wild (Free) Camping In The New Forest: Everything You Need To Know
DISCLAIMER: Below we give general advice, but we always recommend staying in an official campsite. If you choose to go wild camping/dispersed camping, then make sure you do so with someone who already knows the area where you're planning on camping for your own safety.
The bad news is that wild camping in the New Forest is illegal, and is generally not tolerated. However people do still wild camp here.
If you decide to go down this route, then ensure you camp discreetly. Be careful not to damage the ground where you pitch your tent, and never interrupt the lives of the native animals.
If you do decide to go wild camping in the New Forest, we'd advise sticking to the following guidelines in order to be as considerate as possible:
You should camp in the same place for one night only, and pitch your tent discretely and in a remote place. Therefore don't camp in or near settlements, someone's farm or on cultivated land. If you think you're on private land, always seek out the landowner and ask permission.
Campers should set up their tent at dusk, and take it down at dawn. A tent that is discreet and pitches quickly is best. Therefore a lightweight walking and hiking tent like this one would be a great investment for someone planning to walk and camp in the New Forest.
If you are walking a main hiking trail, make sure you choose to camp in a place that won't be in any other hiker's or walker's way.
When wild camping in the New Forest you must never make a campfire. You might want to think about bringing a storm cooker with you for cooking. They tend to be safe, and are often fine to use – but you should check local laws first. The Swedish brand Trangia make fantastic storm cookers that are virtually indestructible.
If you want to go completely fuel-less, a portable solar powered cooker like this one would work well. Plus, is there anything cooler than harnessing the power of the sun for your breakfast!
And of course, take any trash with you, and leave your camping spot the way you found it.
Below are our must-know tips for wild camping in the New Forest.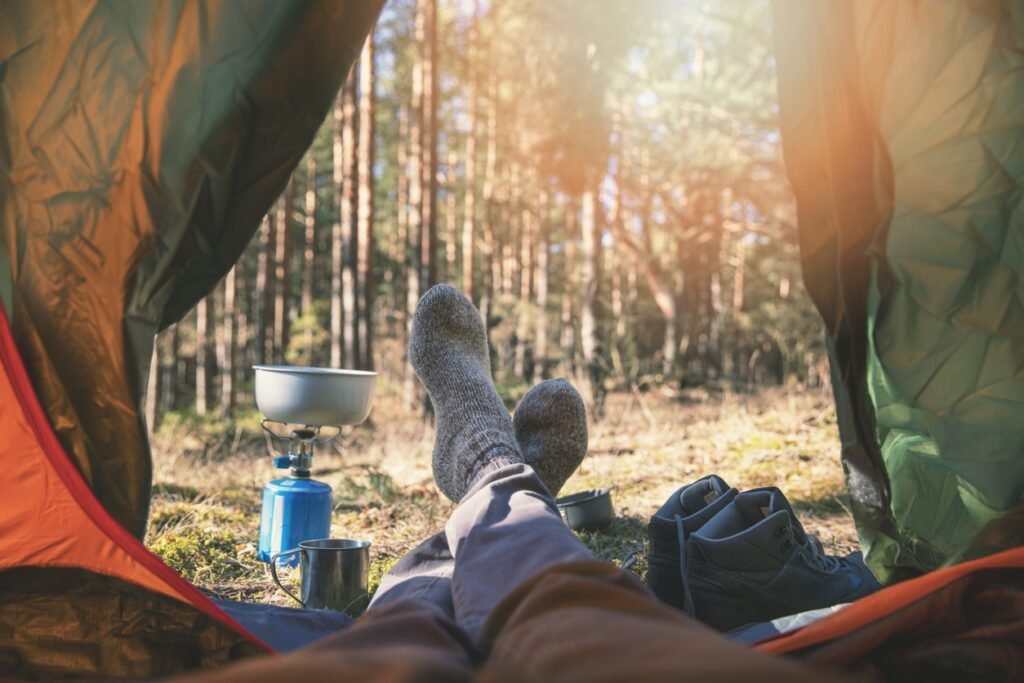 Tips For Wild (Free) Camping In The New Forest
Thunderstorms and heavy rain can happen in the New Forest – even during the holiday season. Make sure you have a durable, rainproof tent that can survive heavy rain. A lightweight one-man hiking tent like this or similar would be perfect. For a good value tent that fits more than one person, this mosquito-proof one would work well too.
Keep an eye out for animal poo – if there's a lot near your perfect New Forest camping spot, you may end up being woken up by some enthusiastic ponies or something else in the middle of the night!
There are different water sources in the New Forest, but remember to always have plenty of water on you when you're walking. A space-saving collapsible water bottle would be a good purchase.
When going to the toilet you should do it far from water sources, such as rivers and lakes. Make sure to use a trowel (like this folding one) to bury any human waste – don't just leave it out in the open.
Like many rugged and wild rural areas around the world, there are flora and fauna to be aware of. So read up and make sure you know what to expect in the region or area you are planning to wild camp in.
Recommended For Your Trip To The New Forest
Tempted to go camping elsewhere? Check out our guides to camping in, Estonia, Finland, Norway, Patagonia, Pyrenees and many others!