Wandering our World is reader supported! If you purchase anything through a link on our site, we may earn a commission at no extra cost to you.
Last updated on July 2, 2023 by Wandering our World
Patagonia is as rugged and wild as you can get, which is why camping in Patagonia is top of bucket lists around the globe. South America's last frontier boasts the commanding Andes mountain range, incredible steppes, deserts and even glaciers. In essence, Patagonia combines the world's geographical wonders into just one place.
Camping is also one of the best ways to traverse this iconic landscape. Maybe you're planning a hiking trip, or are looking to kayak the countless waterways that criss-cross South America's southern tip. Or possibly you're just looking for a cheap way to see as much of Patagonia as possible. Camping can be the most cost effective way to do that, and a once-in-a-lifetime experience.
Wild camping in Patagonia is also possible and well tolerated. We will talk more about that, as well as some tips and safety information, further down in this article.
Camping In Patagonia
The backpack ethos of a tent and minimal belongings is well established in Patagonia. As such, there are many campsites situated throughout the region, many near popular hiking spots.
It's also easy to hire camping and hiking gear in Patagonia, if you are planning to arrive without any.
Our top tip – many hostels in the towns and villages beside popular hiking routes have good equipment ready and waiting for hire, often for very reasonable prices.
If you are buying your own equipment, make sure your tent is lightweight and storm and rain-proof. Patagonian weather can get pretty wild at times! We would recommend a high-quality durable tent like this one, or something similar.
There are many private campsites to choose from that can be found from a look at popular accommodation websites, like Booking.com or TripAdvisor, just filter by the region you are visiting.
However what we recommend is camping at the sites inside the national parks.
Why? Well these campsites are bang in the middle of Patagonia's most breathtakingly beautiful spots.
National Park Campsites: A breath of fresh air, and one hell of a view!
The national park campsites are also very cost-effective and perfectly located places to stay if you want to explore, hike, walk and kayak Patagonia. And if you're traveling all the way here – surely you want to do one or all of these activities!
The national park campsites are quite basic, and depending on where you are, some might not even have phone signal. But why would you want to be on your phone when you have Patagonia at your doorstep anyway.
There's several national parks in Patagonia, all with their own uniqueness and something special to offer. Here our four of our favorites, with camping information, which you have to visit:
Los Glaciares National Park
This is arguably Patagonia's most beautiful park, with towering granite peaks surrounding astonishing sky-blue mountain lakes and huge glaciers.
A hiker's paradise, this national park has a variety of trails on offer, and for the most challenging treks you can hire a guide.
The mountain village of El Chaltén is the most common entry point to this park. There are a few campsite options here – all quite basic, and only a few with phone signal – which you can choose from. You can find them by clicking here. And a list of shops in the village that rent equipment by clicking here!
Tierra del Fuego National Park
Tierra del Fuego is almost as far down the continent as you can get, and is the home of over 60,000 hectres of protected sub-Antarctic forest.
Argentina's first national park to encompass coastline is full to the brim with lakes, waterfalls and meandering rivers. It's not just a great camping destination, but a fantastic one for kayaking too. Here's a hiking map you can get for the park too.
The entrance to this park is through Ushauia – the world's most southerly city, and the gateway for Antarctic explorations! There are a few campsites in the city outskirts, all very basic.
Wild camping (more on that later) in this park would be a great option though, especially if traveling by kayak.
Nahuel Huapi National Park
Argentina's oldest national park sits in the shadows of the Andes, and is made up of vast lakes, dense forests and rushing rivers and waterfalls.
This park is great for hiking, rafting and kayaking, and can cater to all difficulty levels.
The town of Villa La Angostura is one of the best places to base yourself if you want to explore this park. Nicknamed the 'Garden of Patagonia', this town is set in picture-perfect surroundings and has several campsites. It's also possible to rent hiking and camping equipment in the town.
Torres Del Paine
The pictures of this national park have gone around the world, with it's bright blue icebergs offset by mountains that reach high into the clouds. It's an area that was described by early explorers as unimaginably beautiful.
A must-visit region if you love hiking, there are two main trails to try out. A short trail (called the W-trail) and a longer one called the O-trail. Both trails have campsites set along them – some are even free to use!
The trails, along with information on where the campsites are located, food spots, public transport and more, can be seen on a handy national park map which you can get by clicking here.
Wild Camping In Patagonia
DISCLAIMER: Below we give general advice, but we always recommend staying in an official campsite. If you choose to go wild camping/dispersed camping, then make sure you do so with someone who already knows the area where you're planning on camping for your own safety.
Thankfully wild camping in Patagonia is legal and very well tolerated, although there are a few caveats. In fact wild camping , also known as free camping, is so common here that walkers, hikers and kayakers who traverse this stunning region are usually expected to be carrying camping gear in tow.
Not just that, Patagonia is arguably the safest place to enjoy free camping in South America.
However that doesn't mean you can wild camp everywhere.
If you plan to wild camp in national parks, make sure you respect any restrictions in place. Some areas will be off-limits due to a fragile ecosystem. Or in the case of Torres Del Paine, wild camping away from the trails and campsites is off-limits due to fires started by campfires in the past.
In fact the rules on campfires change from region to region. The best way to find out if there are restrictions on fires (as well as camping), is to ask someone at a town or village around the hiking trails you are visiting. A store that rents camping equipment, or even a supermarket where hikers go to replenish food supplies, will likely have an employee that knows the rules for that area.
You might want to think about bringing a storm cooker with you for cooking. They tend to be safe, and are often fine to use – but you should check local laws first. Without a doubt, the best ones on the market are Trangia storm cookers – they are virtually indestructible.
And if you want to go completely off-grid, a portable solar powered cooker like this one would work. Plus, is there anything cooler than harnessing the power of the sun for your breakfast!
Asking someone local is also one of the best ways to find some of the best camping spots! Locals in Patagonia's beauty spots are keen walkers and campers too, and striking up a quick conversation can turn up a wealth of information on hidden spots.
You shouldn't camp on private land or cultivated land though, and you should avoid camping close to settlements. However, landowners are often happy for walkers and hikers to pitch a tent on their land, as long as they ask permission first.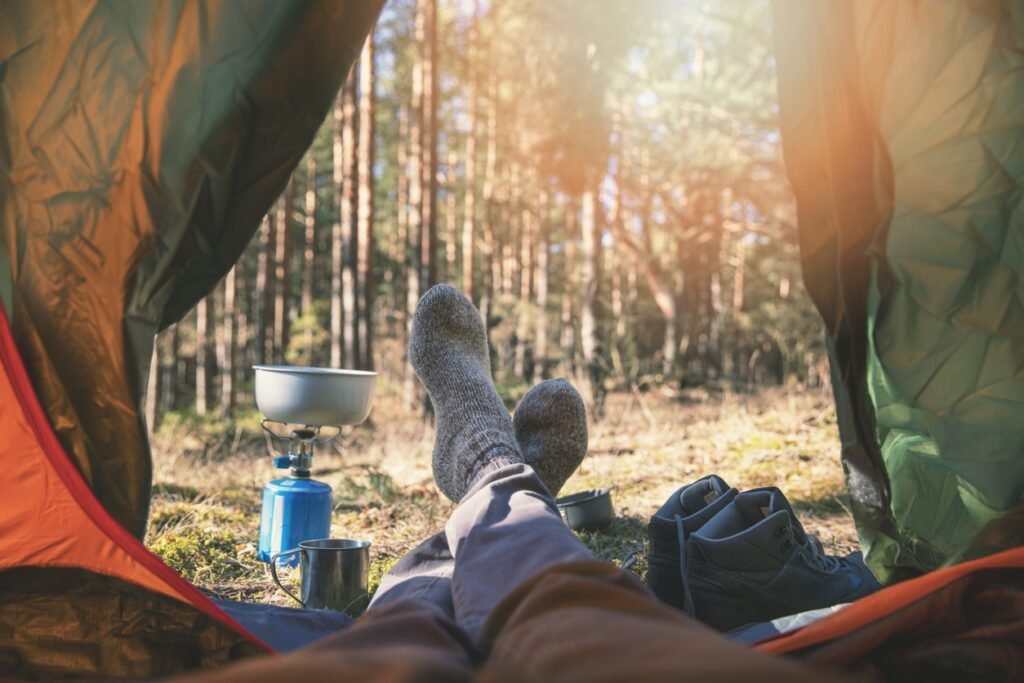 Tips for wild camping in Patagonia
Choose a rural spot to pitch your tent, one where it is unlikely you will be disturbed. For example, in the countryside far away from villages, towns and cities.
If you are hiking a popular walking route, make sure you choose to camp in a place that won't be in any other hiker's or walker's way.
There are lots of different water sources in Patagonia, but remember to always have plenty of water on you if you're walking. A space-saving collapsible water bottle would be a good purchase.
Do not camp on private land, near buildings, settlements, or on any land that appears to be cultivated.
Avoid camping in restricted areas or on private land.
If you do wish to camp on farmland, or an area that could be private – seek out the landowner and ask permission. Some will be fine with it, some may ask for a small fee. Some may say no – if that's the case then leave and don't make a fuss.
Be aware of rules around campfires, and respect them.
Set up your tent at dusk, and take it down at dawn. Stay no longer than one or two nights at most in the same place before moving on.
Take any trash with you, and leave your camping spot the way you found it.
Make sure your tent is mosquito proof.
When going to the toilet you should do it far from water sources, such as rivers and lakes. Make sure to use a trowel (like this folding one) to bury any human waste – don't just leave it out in the open.
Like many rugged and wild rural areas around the world, there are flora and fauna to be aware of in Patagonia. So read up and make sure you know what to expect in the region or area you are planning to wild camp in.
Recommended Reading For Your Trip To Patagonia
*This article may contain affiliate links which allows Wandering our World to make a small commission on any sales made – and keep the coffee flowing! It involves no extra cost to yourself. We only recommend products we believe in.