Wandering our World is reader supported! If you purchase anything through a link on our site, we may earn a commission at no extra cost to you.
Last updated on May 26, 2023 by Wandering our World
Get ready to party! This Mediterranean town located in the southern Algarve region of Portugal has dramatically changed from what was once a quiet fishing village to a serious party capital. It has the best of both worlds, incredible beaches – some of the best in Europe – and a nightlife second to none.
This vibrant, energetic, bustling town magically combines the old with the new. Expect 18th-century churches, ancient castles, cobbled lanes, and white-washed buildings. But as the sun sets get ready for a fusion of neon lights, noise, and all-night parties. Albufeira is just as renowned for its beaches as it is for its intense nightlife.
Daytime is beach time and if you're imagining golden sandy beaches nestled between turquoise shimmering oceans and rugged cliffs, you're in the right place. This is a watersports heaven – spend the day soaking up the sun, snorkeling, sailing, or just chilling at the marina – but whatever you do mainly spend the day relaxing as you will need all of your energy for the evening.
The city is divided into the old town and the Strip. The old town with its traditional architecture tends to be more laid-back. You'll most likely want to head down to the Strip as it is at the heart of Albufeira's nightlife, complete with endless bars, restaurants, and clubs. It's simply the liveliest party scene in all of Portugal. Visitors flock to Albufeira in their tens of thousands from May to October leading to a seriously happening, off the charts, non-stop party scene.
Here you will find everything from beach bars to EDM clubs with non-stop drinking and dancing until dawn.
When we say you won't be spoiled for choice, we really mean it. Between bars, restaurants, and clubs there are hundreds of establishments to choose from – you can easily find yourself overwhelmed but relax.
But as we know this place like the back of our hand, we've got you covered. Here we will show you the best of what Albufeira's nightlife can offer. The places where you can party the night away, as well as the bars where you can get the best cocktails and live entertainment.
So read on to begin your Albufeira nightlife adventure!
CONTENTS:
Our Favourite Picks for Sundowners in Albufeira
The Top Bars and Party Spots in Albufeira
Our Favourite Places to Eat in Albufeira
The Best Places To Go For Each Night of the Week in Albufeira
Our Three Favourite Picks for Sundowners in Albufeira
When you find yourself in a coastal town on the Mediterranean, sundowners are obligatory.
After all, there is nothing better after a day on the beach than sitting down with an ice-cold drink and watching those iconic Albufeira sunsets.
There is just something magical about the sun slowly setting across the ocean here, painting the sky in hues of pinks and oranges while it turns the sea into shades of liquid gold.
1. Sunset Cruise from Vilamoura
Sunset cruises are always a favourite of ours, it's the different perspective you get while out on the ocean.
And viewing the Albufeira coastline from a luxury sailing yacht is a sight you will remember forever.
This 2.5-hour sunset cruise on a luxury yacht is the perfect way to end the day. Ice-cold drinks and chilled music add to the relaxed atmosphere and an added bonus is the option to take a breather and dive into the crystal-clear ocean for a swim or a snorkel.
Who knows you may even be lucky enough to encounter a pod of dolphins on the way! What a way to start any Albufeira nightlife experience.
Address: Urbanização Vila Lusa Marina 84
2. Sal Rosa
Handcrafted cocktails with a view – Sal Rosa is the spot for those end-of-day drinks.
This terraced bar has spectacular views of the beach and ocean, and their extensive and unusual cocktail list is only surpassed by the creative and unique presentation. This can only be described as a cocktail experience and you are never sure what to expect.
The eclectic bohemian vibe is chilled, with cool Ibiza style music playing in the background. And if you're feeling hungry we highly recommend the fish tapas – they go perfectly with an ice-cold glass of wine.
Sal Rosa is open Tuesday through to Sunday from 4:00 pm to midnight.
Address: Praça Miguel Bombarda 2, 8200-076 Albufeira
3. Kiosk Bar
We love this unpretentious local bar.
Perched on the clifftops, it's the perfect place to grab a seat and sip on that obligatory glass of wine while you look out over the ocean as the sun sets in the distance. Expect conversation with locals and resonable prices in a stunning setting.
Kiosk is open 7 days a week until 7:00 pm
Address: Marina de Albufeira (western end)
Our Ten Top Bars and Party Spots in Albufeira
From relaxed bars to wild clubs pumping with the latest beats – get ready to rock the whole night away because no one is going to bed before midnight. An Albufeira nightlife adventure means you can go wild until dawn if you like.
Kick off the evening at one of the many beach bars with a cocktail or chilled glass of wine. Or find one of those quintessential local taverns in the old town before heading off to grab a bite as you ready yourself for Albufeira nightlife at its best!
1. Barbers Cocktail Bar
Barbers can be found in the heart of the Old Town and is known for its festive, vibey atmosphere. If you're a sports fan, the big screen will keep you updated with all the latest scores and games. This place is known in town for its themed nights which are crazy fun, while live music keeps the party going until all hours.
There is plenty of space indoors but their outdoor patio is the place to be, especially on those warm summer evenings. Their handcrafted cocktails are out of this world and you'll battle to find a better tiki cocktail offering in Portugal. You plan on ordering just one and before you know it you've kicked back a few and it's closing time!
Barbers is open 7 days a week, closing around 4:00 am
Address: Av. 25 de Abril nº18, 8200-014 Albufeira
2. Casa do Cerro
A taste of Marrakesh and a bit of Buddha. Yep, this Moroccan bar features an incredible Buddha and the décor is completely different from anything you will experience while in Albufeira. It's a lounge, it's a club … it's just Casa do Cerro.
There is something about spending the night here up on the hill away from the high-energy strip too. The eclectic décor takes its inspiration from a variety of sources but we think they say it best, "It brings together the old and the new, the East and the West, luxury and simplicity."
The menu is full of equally exotic and eclectic drinks like the Oriental Bramble, Fancy Medina and Mango Fire and their food – like the décor – offers tastes of dishes from both the East and West.
Add great music, belly dancing and a fantastic shisha bar full of the aromas of sugarcane and fruit molasses, and you're guaranteed a special evening. This is an Albufeira nightlife staple.
Caso do Cerro is open 7 days a week from 8:00 pm to 2:00 am.
Address: Jardim 1, Beco José Ramos Pimenta, 8200-147 Albufeira
3. Havana Meets Jamaica Bar
You may think you had one too many and have somehow landed up in the Caribbean when entering this bar!
This Cuba-Caribbean quirky bar is on everyone's Albufeira nightlife list and no wonder. When it comes to the décor, it's all about Bob Marley and Che Guevara. The ceiling is clad with flags from around the world, add in those obligatory wicker chairs and palm trees to the scene, and you have the makings of a great tropical night.
No guesses when it comes to the music – it's reggae most of the time but keep an eye on their website as they often have live music with a bit of a difference, especially the odd Latin night.
They are renowned for their exotic cocktails like mojitos and daiquiris too. And If you're in the mood for drinks we recommend the Havana and Bob Marley. They even have shisha! A must for any Albufeira nightlife adventure!
This mashup bar is open 7 days a week from 7:00 pm to 4:00 am
Address: R. Padre Semedo de Azevedo Nº18, 8200-167 Albufeira
4. KISS Disco Club
KISS prides itself on being the leading mega club on the Albufeira nightlife scene! The club first opened its doors back in 1981 and honestly neither the owners nor the party seems to have stopped since then.
This club never disappoints with their top resident DJs, international guests and live acts – from Go-Go dancers, live performances and themed events, it's the place to be. Expect a party until dawn to everything from Commercial to Progressive House, Hip-hop, Pop and Reggaeton.
The venue boasts 2 levels of pure clubbing mania, 4 bars and 4 separate VIP areas. With state-of-the-art lighting and sound, the DJ booth rocks all night.
VIP areas come with various seating options, exclusive bottle service and that all-important skip the line entry. KISS also has a hookah lounge and outside terrace located on the top floor, the perfect place to take a breather and relax.
KISS is mainly open on Friday and Saturday nights from midnight until 6:00 am but keep an eye on their website for other themed nights during the week.
Address: R. Vasco Da Gama, 8200-294 Albufeira
5. Legends Bar
At Legends their priority is to make sure you have a great night and we've never left feeling any other way. Their bar staff serve everything with flair – make sure to keep a lookout for their iconic pouring of a row of jager!
The bustling party atmosphere in this sports bar will have you dancing on the tables until closing. Aside from the jager, you can find just about anything you're looking for here.
We definitely recommend giving their Caipirinhas a bash but if you're not sure, just have a chat with one of the barmen and they will quickly conjure up the perfect drink for you.
Legends is open every day from 9:30 am to 4:00 am.
Address: Av. Sá Carneiro n.47, 8200-340 Albufeira
6. Libertos Club
Libertos is the epitome of chic and cool all bundled into one, with a bit of that Ibiza feel we all love.
You're never sure if you are inside or outside here as you move through covered pagodas through to the outdoor seating area. The décor is glamorous, and you wouldn't believe this was once a piano bar. It's been open since the mid-80s and has evolved with the trends, known for being the classiest of all the clubs, it's easily one of our Albufeira nightlife favourites.
The large dance floor is one non-stop party and they hold regular event nights and organized parties, especially when it comes to those opening and closing season sessions.
Order anything from fruit cocktails to Cuvee wines from France but it's their signature cocktails crafted by the best mixologists in town that we order over and over again.
Libertos is open 7 days a week from 8:30 pm to 4:00 am.
Address: Edificio Libertos Club, Tv. Antero de Quental, 8200-273 Albufeira
7. Matt's Bar
Matt's Bar has just about everything you can want. There is always something happening here from their weekly themed parties through to guest DJs, and they are known for the hottest urban and house music around.
The large outdoor terrace is the best place to hang out while you order drink number two – well you do need a bit of Dutch-courage to give that mechanical bull a bash. Yes that's right, they have one of those mechanical bulls you can make a fool out of yourself on!
Matt's offer group packages and VIP areas and it's always worthwhile checking their website for the latest events – their boat parties in particular are legendary. It's definitely worth booking one of those, with boat party season running from June until September and they set sail at around 6:00 pm.
The boat has a full-service bar that randomly sends out free drinks and champagne sprays – and along with their top DJs – you're looking at 3 solid hours of partying.
Matt's is open 7 days a week until around 4:00 am.
Address: R. Victória 1, 8200-395 Albufeira
8. Piccadilly Cocktail Bar
This English-themed bar turns into a great Albufeira nightlife party spot after the sun sets. Piccadilly's is lively, full of energy and those famously friendly bar staff are known to hand out free drinks as the night progresses. That's always a winner in our eyes!
Cocktails are the order of the day and are often served with cherries and sparklers. The vibe is full-on party and it's a great stop for after-dinner drinks to get you in the mood before you hit clubs like KISS.
Piccadilly is open Monday through to Sunday, closing at around 4:00 am.
Address: R. Cândido dos Reis Nº 19, 8200-103 Albufeira
9. Portas Da Villa Antiquity Bar
Portas Da Villa is a local favourite. The owners have put their heart and soul into this cozy, quirky bar even taking three years to collect the shells that adorn both the exterior and interior walls and ceilings.
In fact to say the décor is unusual would be an understatement. Hanging between the shells you will find a range of tools from axes, knives and muskets all the way through to fishing implements and typewriters interspersed with the odd old family photo!
You can't help but say, "Wow" when you first enter. As for the drinks, we highly recommend indulging in one of their champagne cocktails but if that's not your scene they have a great selection of ice-cold beer and wine. It may not be the best party spot, but this laid-back bar is worth a visit for the décor alone and a great spot for a pre-dinner drink.
Portas is open 7 days a week from 12:00 pm to 2:00 am
Address: R. da Bateria 6, 8200-061 Albufeira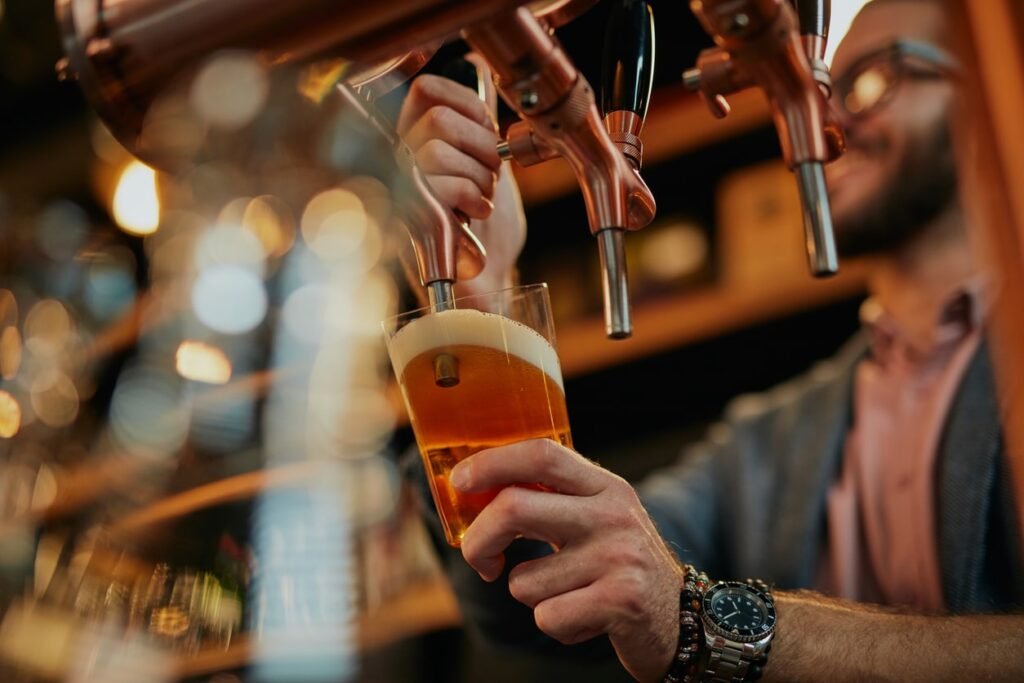 10. Sherry's Bar
As we always say, it's not really a proper city unless it has an Irish bar and Sherry's is one of a few great ones in Albufeira.
The authentic Irish atmosphere attracts locals and tourists alike here, and this unpretentious and cozy bar features flags and Guinness branded bunting hanging from their wooden beamed ceilings.
Located in the Old Town, is one of the best places to order that perfect pint of Guinness or one of the many local beers on offer. It's the kind of place where making friends over a beer while watching football is par for the course. But what really makes Sherry's stand out is their incredibly friendly staff, they'll have you feeling like part of the family before you finish that first pint.
Sherry's also makes fabulous food from burgers and chips through to Portuguese-inspired dishes like seafood stews and soups – fresh and wholesome meals that never disappoint. Pick a table inside or outside on the terrace and relax to the sounds of some of those old favourites. A fantastic and fun Albufeira nightlife spot.
Sherry's is open 7 days a week until 4:00 am
Address: R. Alves Correia 51, 8200-090 Albufeira
Our Three Favourite Places To Eat in Albufeira
In Portugal, dinner is considered one of the most important parts of the day and should never be rushed.
Thankfully Albufeira has something for everyone – from local cuisine to Chinese, Indian and Italian to name a few.
But as you're in Albufeira you have to try some authentic Portuguese food at least once. And with the ocean a stone's throw away, the seafood in particular is phenomenal!
1. Platinum – Wine & Tapas
This family-run restaurant is one of our favourites to have that all-important evening meal. Here you will be welcomed and treated as if you are a long-lost family member. Just make sure that you arrive ravenous as the portions are not only delicious but enormous!
Service is important to this family and they are happy to spend that extra bit of time recommending different dishes and wines. And you have to try a glass of their green or blue wine – it just has to be done for the pictures alone! We love that everything is made from scratch here with the freshest ingredients possible and always beautifully presented.
Their meat and cheese platters are a great choice, as is the simple dish of tomato and mozzarella served with their homemade pesto. After trying this you will have pesto-standards that will be difficult to beat. And while you're at it, make sure you order the baked brie.
Platinum is open every day from 1:00 pm to 10:00 pm except Thursdays. It's exceptionally popular so make sure to book.
Address: Rua Alexandre Herculano Store E, Albufeira
2. Versatile Restaurante
We could just say, "Foodie heaven" and leave it at that.
Versatile combines delicious food, incredible cocktails, and brilliant service in an energetic atmosphere.
Live music will keep you entertained while you peruse the menu, just make sure to order a cocktail while you decide as the barmen take the art of creating that perfect cocktail seriously! The Algarve cocktail, made with lemon, tangerine, vanilla, orange blossom, gin and soda, is a great way to kick off the evening.
The staff at Versatile are attentive and exceptionally friendly and helpful – if you are unsure what to order, it's worth asking for a recommendation, you won't be disappointed. This Mediterranean steakhouse serves some of the best grilled lamb cutlets we have had in a while, served with sauteed rosemary-infused potatoes, dill and almond tzatziki.
They have a full-service bar with everything on offer – there is even a cigar menu for those in the mood for that something extra.
Versatile is open every day except for Tuesday from 6:00 pm to 10:00 pm.
Address: Urbanizacao do Mercado N° 34 Loja 14 Olhos d'Agua, 8200-609 Albufeira
3. The Windmill
We have to throw this one in amongst the mix as it is an incredible experience – this will be one of the few times you will find yourself having dinner in a historic windmill with spectacular views across the city of Albufeira and the ocean!
The Windmill was restored and transformed into an intimate 12-seater restaurant. The focus is on quality food and great hospitality. Owners António and Patricia took on the challenge of creating a unique restaurant highlighting all that Albufeira has to offer and they've more than succeeded. Their menu is simple and changes according to what's in season.
Plates are beautifully presented and attention to detail is top of mind. They have a 3-course meal along with wine pairings with starters featuring the likes of Goat Cheese Brûlée with Honey Caviar and Smoked Trout Roll. For mains, we loved the Slow-Cooked Lamb, accompanied by potato puree with blue cheese, baby carrots and roasted leeks.
As we said, seafood is a must when visiting and you can't go wrong with the Rissotto Bulhão Pato made with coriander, clams and white wine which is served with fresh fish, citrus foam and clam sphere.
The Windmill is open Monday to Saturday from 6:00 pm to 10:30 pm and reservations are required.
Address: Urbanização, Alto do Moínho, 8200-320 Albufeira
Our Favorite Albufeira Nightlife Picks For Each Night of the Week
When it comes to Albufeira nightlife you will never be stuck without anywhere to go.
But here are our top picks for each night of the week, so put on your party kit and head out for an unbelievable night.
Monday
The best way to kick off the week is with the Irish and as you know, we love Sherry's Bar. Convince yourself you're only going for a pint or two and we guarantee we'll see you at closing.
Tuesday
Tuesdays always feel rather cultural and what better way to celebrate culture than by heading down to our favorite, the Havana Meets Jamaica Bar. A little bit of reggae and one or two mojitos never hurt anyone.
Wednesday
It's time to head down to Legends for those obligatory shooters and a wild night of partying – obviously dancing on tables is obligatory!
Thursday
Matt's it is! A few cocktails accompanied by the best house music in town – what more do you want? Let's not forget the mechanical bull, so perhaps a few shooters need to be added to the list.
Friday
By this stage, we've been waiting all week for KISS to open its doors and you won't be disappointed. KISS is the club to be on Fridays or Saturdays, although I guess we should say the only place to be on Saturday and Sunday mornings as don't forget it only opens at midnight.
If you're up for spending a bit extra it's well worth taking the VIP service and skipping the queue. Dance until dawn at Albufeira nightlife's best megaclub.
Saturday
We love clubbing on weekends, even though every day feels like a weekend in Albufeira. But Saturday nights are Libertos clubbing nights. This is our favorite spot to go to after a leisurely dinner, as this chic, glamorous club ticks all the boxes for a great night out.
Sunday
Sundays tend to be a little bit more relaxed, well that's what we often plan but somehow it never quite turns out that way.
Still Casa do Cerro is the perfect Sunday night spot – cocktails, great food and let's not forget the shisha bar – and it closes at a respectable 2:00 am.