Wandering our World is reader supported! If you purchase anything through a link on our site, we may earn a commission at no extra cost to you.
Last updated on March 9, 2023 by Wandering our World
When it comes to dream getaways and honeymoon vacations, Barbados and Jamaica should be two destinations top of most people's lists. Both of these friendly island paradises can offer amazing experiences, especially if you're looking for sun, sea, and sand.
However apart from that, these island nations are actually very different from each other…
For example, Jamaica with its lush forest, mountains and beaches, is more suited to holidaymakers who want a vacation that also involves activities away from the beach, such as hiking or culture-based activities. Jamaica is a much cheaper option than Barbados too.
In contrast, much smaller Barbados is probably better suited to tourists who want a beach vacation with all the sights and tourist hot-spots within close reach.
However that's just the beginning when it comes to how Barbados and Jamaica are similar and different…
Luckily after visiting both, we compare them below, and show you exactly what each has to offer.
We look at which has the better beaches, nightlife, what activities you can do in each, how the vibe compares and more. All so you can make the right vacation decision!
CONTENTS:
A Quick Overview & Comparison
Which Has The Better Beaches & Landscape?
Which Has The Better Culture & Cultural Excursions?
Where To Stay According To Your Budget
How Does The Cuisine Compare?
Which Is The Better Choice?
Barbados vs Jamaica: A Quick Overview & Comparison
Both islands have stunning beaches and those picture-perfect white-sand beaches you expect from a dream tropical holiday.
Jamaica is huge compared to Barbados though, with Jamaica boasting 635 miles of coastline in contrast to Barbados' 60 miles.
However, Jamaica is a tropical island that also has a lush green mountainous interior, in comparison to Barbados which is much drier and flatter.
That makes Jamaica a better vacation choice for tourists who wish to do more outside than just sunbathe. Such as hiking, swimming in waterfalls, and culture-based activities. In fact Jamaica's highest peak is 2256 meters – Barbados' is just 63!
Yet the infrastructure in Barbados is some of the best in the Caribbean, and it's a very easy island to get around.
In theory that means you can get from beach to beach, town to town, in Barbados a lot easier than in Jamaica. Buses are cheap and easy to get between resorts too, which is another big plus point.
So if you're looking for a vacation where the tourist sights and hotspots are easy and quick to reach then Barbados may suit you better than much larger Jamaica.
In terms of vibe, Barbados definitely has a slightly English feel to it, whereas Jamaica has more of a colorful Caribbean vibe. Therefore if you want a holiday which feels more Caribbean, then Jamaica is the best choice.
However Barbados is also more of a family friendly destination, whereas Jamaica tends to attract a younger crowd.
The nightlife is therefore more lively in Jamaica, and there are also casinos to enjoy on the island too. There are no casinos in Barbados, where gambling is illegal.
When deciding between Barbados vs Jamaica, expenses are important to consider too.
And the reality is that the large local population in Jamaica does means there are many different accommodation and food options in the country, and so it can cater to tourists on a range of budgets much better than Barbados.
Barbados, in contrast, tends to be quite expensive, more upscale, and has far fewer options for budget travelers.
Below we look in more detail at what both islands have to offer potential tourists. Spoiler alert – they're quite different!
Which Has The Better Beaches & Landscape?
Barbados: The Beaches & Landscape
Smaller Barbados is perfect for sun, sea, and sand, but the island itself can be easily explored within a week. That makes it great for a short holiday, whereas Jamaica may be suited to a longer one.
Make your way to Oistins and Miami Beach for great swimming waters and one of the best sunsets in the Caribbean.
It's worth noting though that beaches in Barbados can get busy with tourists, and it can be harder to find a secluded beach here than it is in much larger Jamaica.
But both islands are hard to separate when it comes to which has the the better beach choices.
You can find turquoise water and golden sandy beaches up and down Barbados.
One of our favorites is Bottom Bay. It's not a great swimming spot, but it's secluded, romantic, and with swaying palm trees it has a real deserted island feel to it.
Beautiful beaches like this are one of the reasons Barbados made our list of the best Caribbean islands for couples!
Barbados' teeming sea-life can also be viewed when out and about swimming and snorkeling. Bell Buoy reef, near Accra Beach is the perfect place to spot angel fish and parrot fish. A great underwater camera – such as this one – is a must.
While at Carlise Bay Marine Park you can dive among numerous ship wrecks that have been taken over by colorful fish, nurse sharks, and manta rays!
While there isn't much in the way of hiking in Barbados – almost all outdoor activities revolve around the coast – as we mentioned before one of the best things about Barbados is that everything is within relatively close reach.
So you don't have to miss out on a great beach or snorkeling spot simply due to time and distance restraints.
Jamaica: The Beaches & Landscape
Jamaica has it all when it comes to a tropical island paradise, but what most tourists want are spectacular beaches – as this island is full of them!
One of the best on the island is Seven Mile Beach at the town of Negril.
This is a popular spot, and this long stretch of gorgeous white sand is your stereotypical Caribbean paradise. Expect clear blue water, great snorkeling, and one of the best sunsets in the region.
For another beautiful beach with calm swimming water, head to Bloody Bay. The turquoise-hued water is a great place to swim, snorkel, paddle board and more.
In general you can expect a livelier beach vibe on the most popular beaches in Jamaica compared to the popular beaches in Barbados, which tend to be a little more laid-back.
There are many great snorkeling and diving spots throughout Jamaica's coastline too, but one of our favorites is the resort town of Montego Bay. Head there to swim beside colorful reef fish and sting rays.
Recommended: Montego Bay or Negril: Which Jamaican resort destination?
As one of the Caribbean's largest islands, Jamaica's diverse geography where you can hike mountains and raft down rivers in is one of the main reasons to visit, and something that sets it apart from Barbados.
In particular, the iconic Blue Mountains are stunning, and the gorgeous 14 mile Blue Mountain Peak Trail takes you through jungle waterfalls, coffee plantations and more as you make your way up Jamaica's highest peak.
For more panoramic views of the island head to Holywell National Park in the Blue Mountains. There you can hike up through the jungle. Our top tip is to rent a tent and camp for a night or two. The stars up there, and the sunrise in the morning, are unrivalled.
All in all, Jamaica is the perfect destination if you're looking to spend some of your time sunbathing and swimming, but also some time doing other outdoor activities away from the coast like exploring towns, hiking in the mountains and swimming in waterfalls.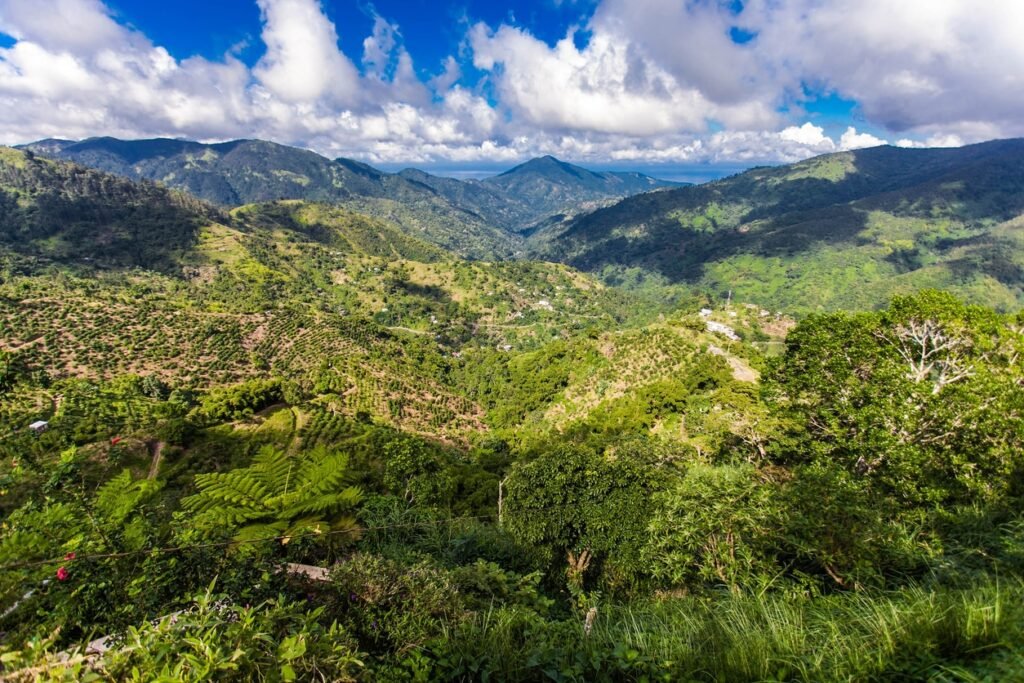 Which Has The Better Culture & Cultural Excursions?
Both Jamaica and Barbados have far more to offer than their landscapes, as both have interesting cultures well worth exploring.
Below we show you the cultural highlights in each, so you can see which island will suit your vacation preferences the most:
Barbados: The Culture
With a mix of West African and British influences, Barbados is a fascinating country with a rich blend of Caribbean traditions and a culture that emerged out of plantation slavery economy.
Historic Bridgetown is where you should head if you want to learn about the colonial past in Barbados. A walking tour will introduce you to the country's tumultuous past, and the colonial relics and architecture that still stand today. You can also tour St Nicholas Abbey, a Jacobean plantation house.
As with many countries that were colonized by the British, cricket quickly became the national sport and a way to beat the occupiers on the playing field! Take a trip to Kensington Oval Barbados to watch a game.
Barbados also has one of the oldest horse race tracks in the world, the Garrison Savannah. Situated just outside of Bridgetown, locals and tourists mix on race day as excitement builds. In fact a visit here is on our list of the best things to do in Barbados!
Jamaica: The Culture
Jamaica's culture is colorful and vibrant, and the country is a wonderful melting pot of different religions and beliefs.
One of those is the Rastafarianism movement which was borne out of Jamaica in the 1930s.
For visitors to the island, the Rastafari Indigenous Village near Montego Bay is an opportunity to connect first-hand with people practicing the religion, while also learning how to make traditional drums and cuisine.
Probably Rastafarianism's most famous member was Bob Marley. And no visit to Jamaica is complete without visiting the Bob Marley Museum in Jamaica's capital, Kingston.
There's plenty of other cultural excursions up and down Jamaica, with guided tours to old colonial houses, plenty of museums, and lots of local shops and restaurants to discover and enjoy.
And with Jamaica still very much a 'locals' island' the culture remains strong and not yet overrun by tourism. So if you're looking to really experience the Caribbean, Jamaica will be a better choice than Barbados.
Where To Stay According To Your Budget
Barbados
Budget: With gorgeous sea views from your room's balcony, and a wonderful outdoor pool for relaxing in, the three-star OceanBlue Resort is a fantastic budget option for those who want to have some luxury but without damaging their bank balance. See photos and rates!
Luxury: It's hard to find somewhere more relaxing than the five-star St Peter's Bay Luxury Resort. Their gorgeous villas and penthouse apartments have uninterrupted sea views, hot tubs and direct beach access.
Couple that with the stunning outdoor pool and world-class service and you've got a holiday you'll never forget. See photos and rates!
Jamaica
Budget: Set on 400 acres, the excellent Half Moon all-inclusive resort in Montego Bay has three kilometers of private white-sand beach and features three restaurants and five bars!
The active-minded can enjoy the basketball, volleyball, squash, and tennis courts, and there's an 18-hole golf course and spa. It's one of those resorts we all want to stay in at least once in our lifetime. See photos and rates here!
Luxury: The stunning GoldenEye resort features private beaches, hidden coves, and a saltwater lagoon. GoldenEye was actually author Ian Fleming's Jamaican retreat, with all 14 James Bond novels being written here.
The property features three outdoor pools and a full spa. Guests can choose from a range of villas, beach huts, and cottages, including beachfront and lagoon-front properties. See photos and rates here!
A Taste Of Island Life: How Does The Cuisine Compare?
Both Barbados and Jamaica will provide a treat for your taste buds, with cuisine focused around seafood.
Barbados: The Food
Unsurprisingly, fish features heavily in Barbadian cuisine too, and fried flying fish is one of the national dishes of Barbados!
However with such a mix of cultures here, food is influenced by West African, British, and even Indian tastes.
Here popular dishes include chicken curry, barbecued pig tails and even Macaroni pies!
Just like many Caribbean islands, rum is the drink of choice in Barbados. Luckily for visitors, they make great rum too! Get yourself along to Mount Gay Rum Distillery for a tour and some free tasters.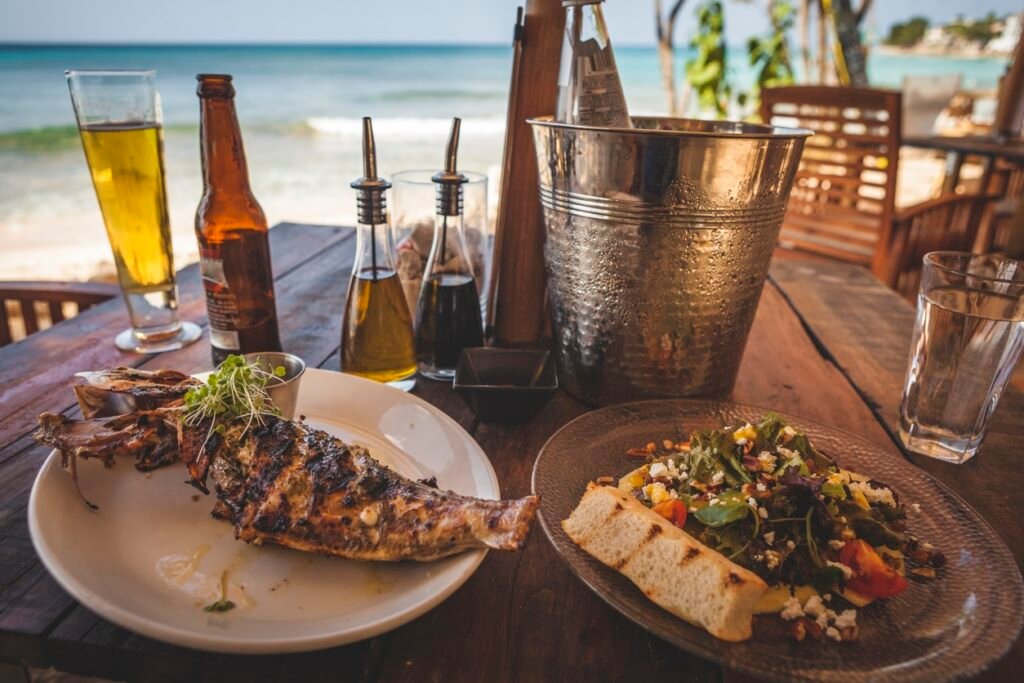 Jamaica: The Food
Jamaica's national food, ackee and saltfish, combines the national fruit of Jamaica (ackee) with salted cod. It's a popular dish that famous Jamaican sprinter Usain Bolt has said he often eats for breakfast!
Another iconic Jamaican dish worth trying is jerk chicken or pork.
This type of cooking is native to Jamaica and the spicy cooking style may have been invented by slaves who escaped into Jamaica's wilderness and invented it as they cooked over wood fires.
For something sweet, try Grater cake – a delicious cake made from grated coconut!
As for what to drink, Jamaica's very-own Red Stripe lager is popular on the island (and around the world). Rum cocktails are also made up and down the island with a variety of fresh fruit.
Barbados vs Jamaica: Which Is The Better Choice?
Both Barbados and Jamaica are great places to visit for a beach-orientated vacation, with each island home to beautiful white sandy stretches of coastline, and some stunning snorkeling spots.
Jamaica, with its lush forest and mountains, is more suited to holidaymakers who want a vacation that also involves activities away from the beach, such as hiking or culture-based activities. Jamaica is a much cheaper option than Barbados too.
Being much smaller, Barbados is probably better suited to tourists who want a beach vacation with all the sights and tourist hot-spots in close reach.
Recommended For Your Trip To Barbados Or Jamaica