Wandering our World is reader supported! If you purchase anything through a link on our site, we may earn a commission at no extra cost to you.
Last updated on April 3, 2023 by Wandering our World
When it comes to dream getaways and honeymoon vacations, the Dominican Republic and Jamaica should be two destinations top of most people's lists.
However while both of these friendly island paradises can offer amazing experiences, they're actually very different from each other…
Vaunted for its idyllic beaches (which are arguably better than Jamaica's), lush mountains, watersports, and colonial architecture, the Dominican Republic is perfect for family holidays, beach holidays, and those seeking some adventure sport options.
Food, drink, and music play a huge part in Jamaica's cultural identity, and the island is the perfect place to swim in warm seas, relax on golden sand, and dance the night away to the ubiquitous reggae beats. For many, Jamaica is arguably the better choice for a beach vacation that incorporates plenty of culture.
But that's just the beginning when it comes to how these two destinations differ though…
Luckily after visiting both, we compare the Dominican Republic vs Jamaica below and show you exactly what each has to offer!
We look at which has the better beaches, nightlife, what activities you can do in each, how the vibe compares and more. All so you can make the right vacation decision!
CONTENTS:
A Quick Overview & Comparison
Which Has The Better Beaches & Landscape?
Which Is Best For Nightlife?
Which Has The Better Culture?
Which Is Better For Activities?
Where To Stay According To Your Budget
Which Has The Better Weather?
Which Is Safer?
Which Is Cheaper?
How Does The Cuisine Compare?
Which Is The Better Choice?
A Quick Overview & Comparison
Both islands have stunning beaches and that picture-perfect white-sand coastline you expect from a dream Caribbean holiday.
However, some of the more popular beaches in Jamaica do have street sellers that can be quite persistent. That's less of a problem in the Dominican Republic, where you can relax for hours without being disturbed.
Yet the great thing about both of these island nations is that they both have a lush mountainous inland too.
That opens up opportunities to explore and do more outside than just sunbathe. Such as hiking and swimming in waterfalls, as well as culture-based activities.
However it's worth remembering that in Jamaica, the main language is English. In the Dominican Republic it is Spanish, therefore a language barrier may exist for English speakers outside of resorts and tourist areas if exploring away from the beaches.
In terms of safety, both are safe countries, as long as precautions are taken – i.e. avoid unlit areas at night and confrontations with locals. Non-tourist areas in the Dominican Republic do have notable crime rates though.
Regarding costs, the luxury resorts in the Dominican Republic tend to be cheaper than Jamaica. However both are relatively cheap destinations compared to other Caribbean islands, like the Bahamas or Bermuda.
That's because both countries have a large local population, so food (away from resorts) and public transport are very reasonably priced, which means there's many options for budget travellers too.
As such, both are affordable destinations and are included on our list of cheapest Caribbean islands to visit!
Below we look in more detail at what both islands have to offer potential tourists, before showing how each is different culturally, and what to expect.
Which Has The Better Beaches & Landscape?
Dominican Republic: The Beaches & Landscape
There's no doubt the Dominican Republic has marketed itself primarily as a resort destination, and the region of Punta Cana is its crown.
Beaches in Punta Cana, such as Bavaro Beach and Macao Beach, are incredible white-sandy stretches of coastline that are perfect for a day's swimming and sunbathing. The water is often calm there, but it can get a bit choppy.
In fact in our opinion the beaches in Punta Cana are better than those in Jamaica, and they tend to feel a bit more 'tropical' as they're backed by palm trees and gorgeous jungle.
For one of the best places to swim in Punta Cana, head to Hoyo Azul. This watering hole looks out of this world, and jumping into the clear blue water on a hot day is a must!
Staying in Punta Cana, take a visit to Indigenous Eyes Ecological Reserve. This nature reserve has shady hiking trails and lagoons for swimming.
On top of that there's plenty of action to be had on the waves in the Dominican Republic, and the undisputed watersports capital in the country is Cabarete, on the North Coast.
Just outside the town is the country's only wakeboarding park, and windsurfing, kiteboarding, and surfing are all possible in this area.
There are hiking possibilities throughout the island too, and for adventurous travellers the Caribbean's highest peak – Pico Duarte – lies in the center of the Dominican Republic.
This 3098 meter mountain has several spectacular hiking trails, which can be walked as part of a hiking tour. We've actually written about hiking Pico Duarte in a previous article which you can find by clicking here.
Jamaica: The Beaches & Landscape
Jamaica has it all when it comes to a tropical island paradise, but what most tourists want are spectacular beaches, and luckily this country has those in abundance!
One of the best on the island is Seven Mile Beach at the town of Negril.
This is a popular spot, but this long stretch of gorgeous white sand is your stereotypical Caribbean paradise so is well worth the crowds. Expect clear blue water, great snorkeling, and one of the best sunsets in the region.
For another beautiful beach with calm swimming water, head to Bloody Bay. The turquoise-hued water is a great place to swim, snorkel, paddle board and more.
In fact, there are many great snorkeling spots throughout Jamaica's coastline, and when it comes to snorkeling we think Jamaica may have the Dominican Republic beat.
Why? Well, not only is the sea calm in Jamaica, but many of the best snorkeling spots can be reached from the beach. In contrast, many of the best spots in the DR are harder to reach and require hiring a boat or going on a snorkeling tour.
One of our favorites places to snorkel is the resort town of Montego Bay. Head there to swim beside colorful reef fish and sting rays. A great underwater camera – like this one – is a must.
Jamaica also has great hiking opportunities too, and easily rivals in the Dominican Republic in that respect.
In particular, the iconic Blue Mountains are stunning, and the gorgeous 14 mile Blue Mountain Peak Trail takes you through jungle waterfalls, coffee plantations and more as you make your way up Jamaica's highest peak.
And for more panoramic views of the island head to Holywell National Park in the Blue Mountains. Our top tip is to rent a tent and camp for a night or two there – the stars and the sunrise in the morning, are unrivalled. Recommended: Snakes in Jamaica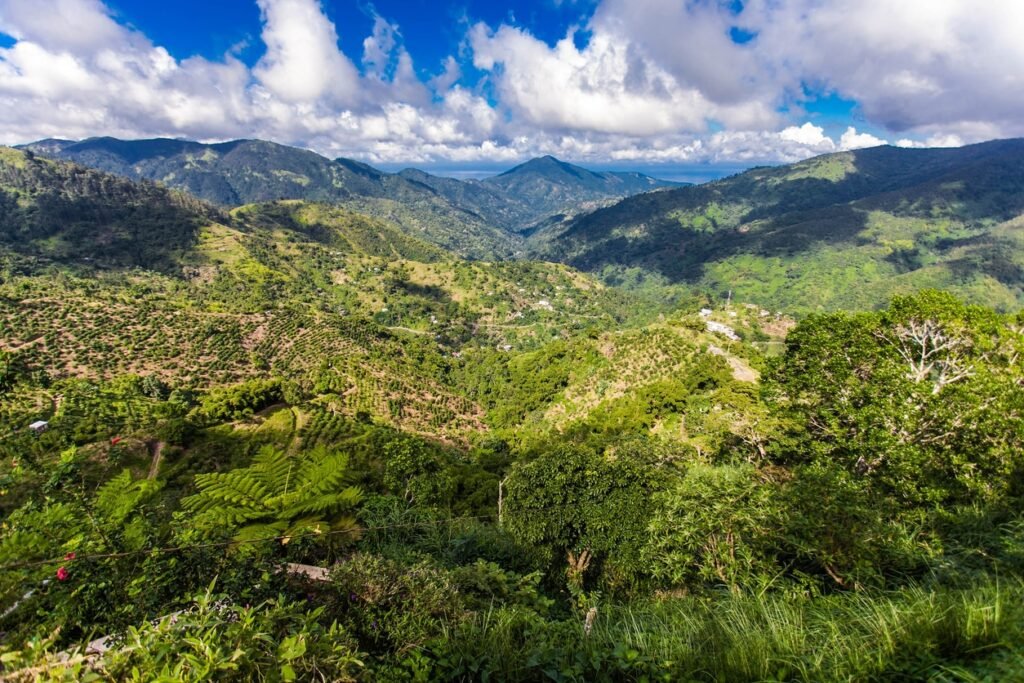 Which Is Best For Nightlife?
If you are planning on dancing the night away whilst on vacation, you can rest assured that the Caribbean rhythms will be pumping into the small hours in both locations.
Both islands are blessed with vibrant nightlife, and you should have no problem finding a great party in either Jamaica or the Dominican Republic.
However one big difference is that the nightlife spots in tourist areas of Jamaica tend to have more integration between tourists and locals than the popular tourist areas in the Dominican Republic. So if you're looking to make local friends, that's worth keeping in mind.
As the birthplace of Bob Marley, Jamaica is also the home of reggae. So if you're a reggae fan, you will not be disappointed by the evening vibes in Jamaica.
But it's not just reggae. Jamaica has a very rich musical history, and ska, mento, rocksteady, dub, and, more recently, dancehall and ragga all originated from this musical island.
So you will have no problem finding plenty of bars and clubs in Jamaican cities like Kingston, Montego Bay and Negril playing cool Caribbean tunes well into the night.
As for the Dominican Republic, its capital city of Santo Domingo lights up at night with hundreds of bars, dance clubs, and places to party.
Locals there like to drink at colmados, which are basically mini-markets that also serve as night spots with music and drinks. You will also spot youngsters buying bottles from liquor stores, complete with ice and cups, and drinking them on the street with music blasting from their cars.
However most tourists stay in Punta Cana, which is one of the busiest tourist towns in the Dominican Republic.
Luckily Punta Cana is also known for having a fun night scene. You will find many nightclubs, with the most iconic being the Imagine Cave Disco – a nightclub that's literally inside of a cave!
Other towns in the country that are known to be "party towns" are Sosúa and Santiago.
All in all, both Jamaica and the Dominican Republic have a fun nightlife to enjoy. But we prefer Jamaica's nightlife scene more because of the ability to easily make friends with locals there, and due to the rich music culture in the country.
Which Has The Better Culture?
Both the Dominican Republic and Jamaica are islands full of tradition and colorful culture.
But for a more immersive Caribbean experience, Jamaica is probably the best choice.
That's because the resorts and tourist areas in the Dominican Republic tend to be more separated from the local population, whereas in Jamaica, there's far more overlap.
Below we look at the culture highlights in each island, so you can see which one suits your holiday preferences the most!
Dominican Republic: The Culture
The Dominican Republic's culture has been formed through a mix of African and European influences. The result has been the creation of a lively set of traditions.
One of those is El Carnaval de la Vega. Taking place every year in February, around half a million people descend on the city of La Vega to watch the colorful parades and devil costumes as locals celebrate the triumph of good over evil.
Something that will make most people happy to hear, is that chocolate is a big thing in the Dominican Republic!
The chocolate made on the island is some of the world's best, and ChocoMuseo in Punta Cana is a museum dedicated to it. If you take one of the half-day workshops, you will get the chance to make your own bar.
Baseball is huge in the Dominican Republic, and the number one sport in the country. Get yourself along to a game one afternoon to get a true local feel.
Jamaica: The Culture
Jamaica's culture is colorful and vibrant, and the country is a wonderful melting pot of different religions and beliefs.
One of those is the Rastafarianism movement which was borne out of Jamaica in the 1930s.
For visitors to the island, the Rastafari Indigenous Village near Montego Bay is an opportunity to connect first-hand with people practicing the religion, while also learning how to make traditional drums and cuisine.
Probably Rastafarianism's most famous member was Bob Marley, and no visit to Jamaica is complete without visiting the Bob Marley Museum in Jamaica's capital, Kingston.
There's plenty of cultural excursions up and down Jamaica though, with guided tours to old colonial houses, plenty of museums, and lots of local shops and restaurants to discover and enjoy.
Which Is Better For Activities?
Overall, it's hard to compare the Dominican Republic and Jamaica when it comes to their attractions and activities. Both countries are similar in this aspect, offering many activities both indoors and outdoors.
But as we'll show you below, if you're looking for adventure in nature each country has plenty to offer in that respect. But when it comes to culture, Jamaica is likely the better choice.
Dominican Republic: Attractions & Activities
Aside from the Indigenous Eyes Ecological Reserve which we've already mentioned, Punta Cana has many more activities to keep you occupied during your stay.
Have you been to a natural theme park? Well, there's one in Punta Cana called Scape Park! It's really "just" a lake (Hoyo Azul), but you can do all sorts of things there such as zip lining, going on cave expeditions, and playing with monkeys.
For a different activity, try going to ChocoMuseo, a museum of chocolate! You can learn about the history of cacao and the process that goes into making a bar of chocolate, and you can actually make one for yourself!
For more outdoorsy and jungle fun, try staying in Puerto Plata. The city offers many kinds of activities from trekking in a jungle to riding on the Puerto Plata Cable Car while enjoying views of the Atlantic and mountains.
And near Puerto Plata is where you'll find the 27 Waterfalls of Damajagua, a series of waterfalls and natural pools. You can swim, cliff jump, and slide down these natural water slides. The hike to get there is pretty tough, but the view is worth it.
But if you want to stay in a resort area while still getting a taste of the local culture, staying in Santo Domingo is the best option.
Here in the capital of the country, you can visit the Colonial Zone, a complex of museums, a cathedral, and other historic buildings. The zone is recognized as a UNESCO World Heritage Site.
Santo Domingo also has more to it than culture and beaches. The nearby gorgeous Lago Los Tres Ojos or "The Three Eyes", will leave you in awe of the sparkling blue lakes and caves adorned with stalactites that you'll find there.
Jamaica: Attractions & Activities
Like the DR, Jamaica is a wonderful country with a colorful culture and many things to do.
Jamaicans love to party, so there are festivals all year round. The biggest festival in Jamaica is probably Reggae Sumfest in Montego Bay, usually held in the summer.
And just a 30-minute drive from Montego Bay is where you'll find Martha Brae Rafting Village. There, visitors can raft on the river through gorgeous lush trees.
Dunn's River Falls in Ocho Rios is a must-visit while you're in the country too. It's a massive cascade of water falling onto terraced rocks. A similar place is the Konoko Falls which is also located in Ocho Rios.
Planning to stay in Negril? Then you have to go to the Blue Hole Mineral Spring. The captivating mineral spring has an alluring mystical feel, and you can even swim inside the caves. 
And of course if you're an avid hiker, going to the Blue Mountains is a must. You'll find vast landscapes filled with coffee plants, alongside many waterfalls and natural springs. Most people trek from Holywell National Park as there are some easy hikes there.
For those looking for a more cultured trip, staying in the capital of Kingston is the best bet. From the Bob Marley Museum to the National Museum of Jamaica, you can learn all about the country's culture and history in Kingston.
The biggest art gallery in the country, which is the National Gallery of Jamaica, is also located in Kingston. It showcases artworks by local artists from the 70s to modern times.
And just 30 kilometers to the south of Kingston is Fort Charles in Port Royal. This historic fort was used as the headquarters for the British Royal Navy during the colonial period.
Which Is Better For Honeymoons & Couples?
Dominican Republic: For Honeymoons & Couples
In the DR, Punta Cana in particular is really great for honeymooning.
There are plenty of all-inclusive resorts in Punta Cana with access to picturesque white sand beaches where you and your partner can just lounge around in peace. In fact, Punta Cana has some of the best resorts in the Caribbean, plus the town doesn't usually feel that crowded.
Other popular honeymoon destinations are Santo Domingo and Puerto Plata. These two options are especially great for those looking for something more than beaches.
One of the best things to do on a honeymoon or couples trip is going on a catamaran. Riding the Puerto Plata Cable Car is also a great way to spend one-on-one time with your partner as well, while also appreciating the beauty that the Dominican Republic has to offer.
Furthermore, amongst the attractions we've listed, some of the best and most romantic sites for couples are the Lago Los Tres Ojos and Hoyo Azul in Scape Park.
The reason being that those places are very magical feeling and easily create beautiful lifelong memories (and honeymoon pictures!). 
Jamaica: For Honeymoons & Couples
No doubt the best areas in Jamaica for a honeymoon are Montego Bay, Ocho Rios, and Negril. These cities have the most scenic beaches, big resorts and great entertainment options.
For a bit of romance away from the beach, couples much experience the breathtaking waterfalls that this country has to offer. From Dunn's River Falls in Ocho Rios to Reggae Falls near St. Thomas, they make for great honeymoon pictures.
There's also the Blue Hole Mineral Spring. This turquoise-colored spring is gorgeous and if you're lucky to visit when there are no crowds, you'll find it has a very romantic ambiance.
The aforementioned Martha Brae Rafting Village is also a great activity to do for couples.
Other standard couple activities include going on a sunset cruise and horseback riding on the beach. We also recommend the Jamaican Bobsled Ride for couples, as it can be a good way to spend time together but in the most fun way possible.
All in all, with a lively atmosphere, friendly locals, and great nightlife, Jamaica is a great honeymoon destination for couples who love going to busy places.
So our recommendation would be to honeymoon in Jamaica if you want to keep busy with your partner, but choose the Dominican Republic if you want more resort time.
Where To Stay According To Your Budget
Dominican Republic
Budget: For something a little different from the usual beachside accommodation, El Beaterio Casa Museo is a gorgeous, highly affordable 16th-century converted convent located in the historic Colonial Zone of the capital city of Santo Domingo.
It's still just a ten-minute walk from the beach, there's panoramic views from the terrace, and the decor and design are just spectacular. If you want to stay somewhere extra special, this is the place. See photos and rates!
Luxury: For a taste of luxury in Punta Cana, it's hard to beat the all-inclusive adults-only resort of Live Aqua Beach.
This beachside hotel is the perfect place to relax, has its own private beach area, swimming pools, and rooms with unbelievable seaside views. Plus all of that is set in a great location to enjoy everything Punta Cana has to offer. See photos and rates!
Jamaica
Budget: Set on 400 acres, the excellent Half Moon all-inclusive resort in Montego Bay has three kilometers of private white-sand beach and features three restaurants and five bars!
The active-minded can enjoy the basketball, volleyball, squash, and tennis courts, and there's an 18-hole golf course and spa. It's one of those resorts we all want to stay in at least once in our lifetime. See photos and rates here!
Luxury: The stunning GoldenEye resort features private beaches, hidden coves, and a saltwater lagoon. GoldenEye was actually author Ian Fleming's Jamaican retreat, with all 14 James Bond novels being written here.
The property features three outdoor pools and a full spa. Guests can choose from a range of villas, beach huts, and cottages, including beachfront and lagoon-front properties. See photos and rates here!
Which Has The Better Weather?
Overall both the Dominican Republic and Jamaica have very similar climates.
Both have a tropical climate that provides warm temperatures all year round, but also heavy rain between September and October.
As for swimming and surfing, the water temperatures are also similar, being warm and comfortable for swimming all year round.
However, the Dominican Republic is more popular for surfing because of the consistent surf breaks.
Which Is Safer?
When compared, the Dominican Republic is definitely safer than Jamaica.
If you look at the US Travel Advisory for Jamaica, there are many places with a Level 3 advisory (Reconsider Travel), and even a Level 4 advisory (Do Not Travel).
This includes several places in tourist areas like Montego Bay and Kingston.
On the other hand, the US Travel Advisory for the Dominican Republic is just to Exercise Increased Caution (Level 2). 
Which Is Cheaper?
Even though the gap might not be too large, traveling in the Dominican Republic tends to be slightly cheaper than in Jamaica.
Accommodation, especially, is more affordable in the DR. Plus luxury hotels often have big discounts so keep an eye out for those.
Even in areas with the highest tourism like Punta Cana and Puerto Plata, the food and tourist attractions are often more affordable compared to Jamaica.
A Taste of Island Life: How Does The Cuisine Compare?
Both the Dominican Republic and Jamaica will provide a treat for your taste buds, with unique cuisine formed through each island's history.
Dominican Republic: The Food
Food in the Dominican Republic has strong influences from nearby Latin America, and as a former Spanish colony, there are many traditional Spanish dishes on the island.
Sancocho is a hearty stew made from meat and vegetables that is popular in the country, and is well worth trying.
Another iconic dish here is Pollo Guisado, which is served daily up and down the island. This braised chicken stew is served with vegetables and cooked until the meat easily falls off the bone. It's delicious.
As for what to drink, the coffee – brewed in the highlands of the country – is unrivalled. For something a bit stronger, try Mama Juana. This drink is made with rum, red wine, honey, tree bark and herbs!
Jamaica: The Food
Jamaica's national food, ackee and saltfish, combines the national fruit of Jamaica (ackee) with salted cod. It's a popular dish that famous Jamaican sprinter Usain Bolt has said he often eats for breakfast!
Another iconic Jamaican dish worth trying is jerk chicken or pork.
This type of cooking is native to Jamaica and the spicy cooking style may have been invented by slaves who escaped into Jamaica's wilderness and invented it as they cooked over wood fires.
For something sweet, try Grater cake – a delicious cake made from grated coconut! As for what to drink, Jamaica's very-own Red Stripe lager is popular on the island (and around the world).
Rum cocktails are also made up and down the island with a variety of fresh fruit – yum!
Or for a great morning option if you can get your hands on it, is Blue Mountain Coffee. This coffee is made in Jamaica and is regarded as one of the best in the world. We really recommend having a cup or two if you can.
Dominican Republic vs Jamaica: Which Is The Better Choice?
Both countries have great beaches, and a stunning interior with hiking and walking opportunities.
However if you want a holiday that is more resort focused, then the Dominican Republic will probably provide the best value for money.
If you're looking for a vacation which involves time outside of a resort, then Jamaica would probably be a better choice than the Dominican Republic. This island offers a fantastic cultural experience for holidaymakers looking to immerse themselves in another country.
Recommended For Your Trip To The Dominican Republic Or Jamaica