Last Updated on October 7, 2022 by Wandering our World
When it comes to dream getaways and honeymoon vacations, Aruba and Jamaica should be two destinations top of most people's lists.
Both of these friendly island paradises can offer amazing experiences, especially if you're looking for sun, sea, and sand.
However both islands are very different from each other.
Choosing whether to visit Aruba or Jamaica for that once-in-a-lifetime holiday or honeymoon destination can therefore be difficult. Having visited both, we compare them below, and show you what each has to offer.
We look at which has the better beaches, nightlife, what activities you can do in each, how the vibe compares, and more!
CONTENTS:
How Do The Beaches & Landscape Compare
Explore The Sights & Experience The Tropics
A Taste Of Island Life: How Does The Cuisine Compare
Which Is The Better Choice
How Do The Beaches & Landscape Compare?
For tourists looking to sunbathe and swim, both Aruba and Jamaica are great options. However Jamaica has a huge 635 miles of coastline compared to much smaller Aruba's 43 miles.
Both islands have gorgeous white sand beaches, yet Jamaica's huge coastline means it does have more. However other than the beaches, these two islands are worlds apart in terms of the landscape and culture.
Jamaica is a tropical island that has a lush green mountainous interior, in comparison to Aruba which is much flatter and arid. That makes Jamaica better suited for tourists who wish to do more outside than just sunbathe – such as hiking and walking. In fact Jamaica's highest peak is 2256 meters – Aruba's is just 189!
Aruba's arid climate does mean it has beach-weather year round, although away from the coastline there is little to do in comparison to Jamaica.
The large local population in Jamaica also means that there are many different accommodation and food options in the country, and so it can cater to tourists on a range of budgets. Which is why Jamaica is included on our list of cheapest Caribbean islands to visit! Aruba, however, tends to be quite expensive and has far less options for budget travelers.
Below we look in more detail at what both islands have to offer potential tourists, before showing how each is different culturally, and what to expect.
Aruba
For a fantastic swimming spot, and a long stretch of white sand, then head to Eagle Beach in the island's north. It's the picture perfect image of a Caribbean coastline. Arashi Beach is another one of our favorite spots in Aruba, with white sand and good swimming water.
Aruba also has some superb snorkeling and diving spots. Head to Baby Beach in the very south of the island, and expect to be mesmerized. This is probably one of the best snorkeling spots in the world where you can watch numerous colorful reef fish, and swim with sea turtles. A great underwater camera – such as this one – is a must.
Malmok Beach is another great beach and snorkeling spot. The water is exceptionally clear – almost glass-like. In fact it's possible to even see the 400-foot SS Antilla – now a haven for sealife – from the surface, despite the shipwreck being on the seabed.
Another wonderful spot for wildlife is De Palm Island, a small private island off the coast of Aruba. It's home to a friendly flock of flamingos!
Recommended Stay in Aruba:
Radisson Blu Aruba: This very reasonably priced resort places you within walking distance of the white sands of Palm Beach and all the snorkeling, diving, and swimming destinations that the island is famous for. Enjoy their infinity pool, separate adult and children's pools, a hot tub, and multiple pool bars. Click here for more info!
Jamaica
Jamaica has it all when it comes to a tropical island paradise, but what most tourists want are spectacular beaches!
One of the best on the island is Seven Mile Beach at the town of Negril. This is a popular spot, but this long stretch of gorgeous white sand is your stereotypical Caribbean paradise. Expect clear blue water, great snorkeling, and one of the best sunsets in the region.
For another beautiful beach with calm swimming water, head to Bloody Bay. The turquoise-hued water is a great place to swim, snorkel, paddle board and more.
There are many great snorkeling spots throughout Jamaica's coastline, but one of our favorites is Montego Bay. Head there to swim beside colorful reef fish and sting rays.
Recommended: Montego Bay or Negril: Which Jamaican Resort Destination?
As one of the Caribbean's largest islands, the diverse geography in Jamaica is one of the reasons to visit. The iconic Blue Mountains are stunning, and the gorgeous 14 mile Blue Mountain Peak Trail takes you through jungle waterfalls, coffee plantations and more as you make your way up Jamaica's highest peak.
For panoramic views of the island head to Holywell National Park in the Blue Mountains. Here you can hike up through the jungle. Our top tip is to rent a tent and camp for a night or two – the stars up there, and the sunrise in the morning, are unrivaled.
Explore The Sights & Experience The Tropics
Aruba definitely has an American feel to it, whereas Jamaica has more of a colorful Caribbean vibe. Therefore if you want a holiday where you really feel like you are in the Caribbean, then Jamaica is the best choice.
When it comes to nightlife, both countries are fun places to stay when the sun goes down. However Jamaica's nightlife tends to be more lively and geared towards a younger crowd than Aruba's.
Aruba
Although officially part of the Netherlands, Aruba has been under Spanish and British control in recent centuries, and all of that has left a mark on the island.
There was a small gold boom in the 19th century, and the ruins from that can be toured. The old gold smelters, Bushiribana and Balashi, are outside of Aruba's capital Oranjestad and give an interesting insight into the dash for Aruban gold.
Staying near the capital, the Butterfly Farm is well worth visiting. This is an opportunity to step into a lush forested area and enjoy the colors of thousands of exotic butterflies above your head.
Apart from the beaches, Aruba also have a good nightlife! All major hotel resorts have casinos that are popular when the sun goes down, and Oranjestad has a fun nightlife and shopping scene.
Jamaica
Jamaica's culture is colorful and vibrant, and the country is a wonderful melting pot of different religions and beliefs.
One of those is the Rastafarianism movement which was borne out of Jamaica in the 1930s. For visitors to the island, the Rastafari Indigenous Village near Montego Bay is an opportunity to connect first-hand with people practicing the religion, while also learning how to make traditional drums and cuisine.
Probably Rastafarianism's most famous member was Bob Marley, and no visit to Jamaica is complete without visiting the Bob Marley Museum in Jamaica's capital, Kingston.
For the best nightlife on the island head to Montego Bay – named MoBay by locals. This party town is a place where you can enjoy a cocktail on the beach, or dance to reggae until the early hours of the morning.
Synonymous with both Jamaica and Rastafaris is marijuana – which is legal for medicinal use in Jamaica, and for use by Rastafarians. Being caught with small amounts (2oz or less) will result in just a small fine of around 5 USD – which makes it a relatively safe place to smoke for tourists looking for their ganja fix. It's common for tourists to be approached about buying weed in Jamaica – but always exercise caution.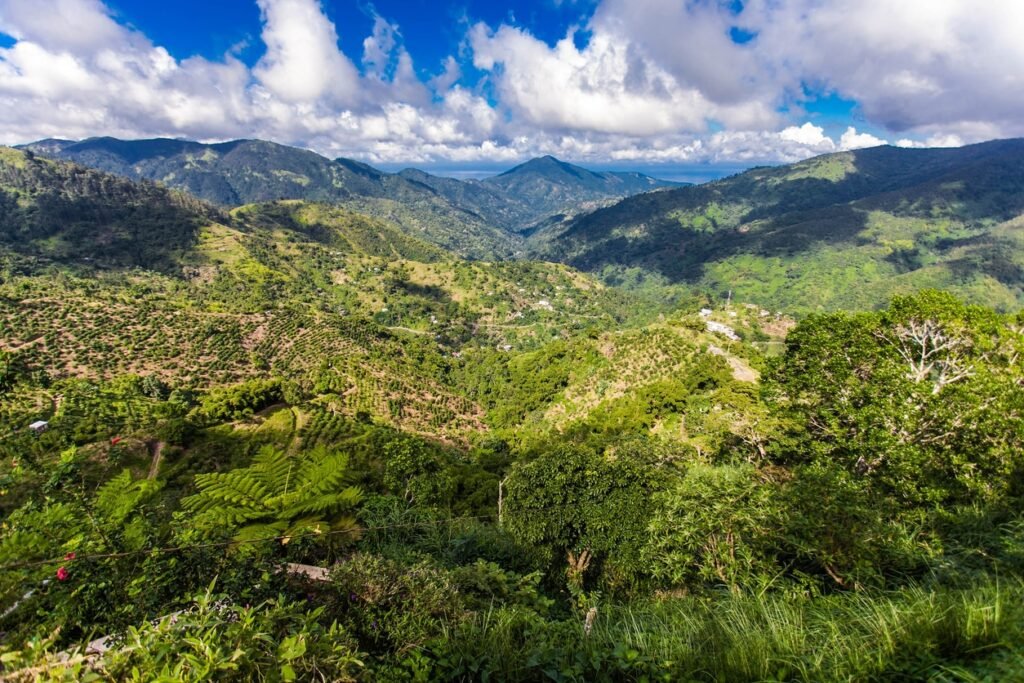 A Taste Of Island Life: How Does The Cuisine Compare?
Both Aruba and Jamaica will provide a treat for your taste buds, with cuisine focused around seafood.
Aruba
Aruban cuisine is a mix of Caribbean, Dutch, and Latin American influences.
Keshi Yena is regarded as the national dish of Aruba. This large ball of cheese is stuffed with chicken (but sometimes other types of meat too), and is a real comfort food.
Trying out the seafood is, of course, an absolute must. Common freshly caught fish here includes mahi-mahi, grouper and lionfish. Our recommendation is to try out the prawn starters that appear on menus up and down the island. Freshly caught and often cooked with coconut water, they're a real treat for the taste buds.
For desert, you must try Pan Bollo. This traditional Aruban delicacy is bread pudding often served with rum (what else!) and ice cream. It's delicious.
Jamaica
Jamaica's national food, ackee and saltfish, combines the national fruit of Jamaica (ackee) with salted cod. It's a popular dish that famous Jamaican sprinter Usain Bolt has said he often eats for breakfast!
Another iconic Jamaican dish worth trying is jerk chicken or pork. This type of cooking is native to Jamaica and the spicy cooking style may have been invented by slaves who escaped into Jamaica's wilderness and invented it as they cooked over wood fires.
For something sweet, try Grater cake – a delicious cake made from grated coconut! While to drink, Jamaica's very-own Red Stripe lager is popular on the island (and around the world), whilst rum cocktails are made up and down the island with a variety of fresh fruit.
Aruba vs Jamaica: Which Is The Better Choice?
Both Aruba and Jamaica are great places to visit for a beach-orientated vacation, with each island home to beautiful white sandy stretches of coastline, and some stunning snorkeling spots.
The smaller Aruba is probably better suited for a shorter holiday though, as there is much less to do and explore than in bigger Jamaica.
Jamaica, with its lush forest and mountains, is more suited to holidaymakers who want a vacation that also involves activities away from the beach. Jamaica is a cheaper option than Aruba too, but both have a good nightlife scene.
Recommended For Your Trip To Aruba Or Jamaica