Wandering our World is reader supported! If you purchase anything through a link on our site, we may earn a commission at no extra cost to you.
Last updated on January 26, 2023 by Wandering our World
Southeast Asia is one of those regions of the world everyone wants to visit at some point in their lifetime. The vibrant cultures, incredible food, breathtaking landscape and exotic wildlife sum up the lure of this part of the globe – and Malaysia and Thailand are no exception.
However Thailand and Malaysia are very different, so making the right decision about which to visit for your once-in-a-lifetime holiday is important.
For example, if you're looking for some of the region's best beaches, lively nightlife, cheap drinks and an all-round fun vibe, Thailand may be a better holiday destination for you than Malaysia. 
But if you want a quieter vacation which divides time between the beach, cities and other activities such as wildlife watching, then Malaysia will likely be better for you, as we'll explain more on below. 
However that's just scratching the surface when it comes to how these two countries differ.
That's why we're here to help! Having visited both destinations we compare them below, showing you their differences, similarities and what to expect in each.
So let's dive in!
CONTENTS:
A Quick Overview & Comparison
How Do The Beaches & Landscape Compare
How Does The Culture & Vibe Compare
A Taste Of The East: How Does The Cuisine Compare
Which Is The Better Choice
A Quick Overview & Comparison: Thailand vs Malaysia
Both countries have beautiful landscapes, mountains, jungles and waterfalls to explore. So they're great destinations for a sunseeker that's also looking for some adventure.
However if beaches are your main priority, then Thailand is a better choice than Malaysia. The white sand beaches in this country are better than Malaysian ones, and the countless Thai islands are also spectacular. We recommend some of our favorite beaches later on in this article.
But Malaysia with it's 800+ islands also has a stunning coastline, and unlike the popular spots in Thailand, beaches in Malaysia don't tend to get as busy, making them the perfect place to unwind.
In fact Malaysia would probably be the better vacation choice if you're looking for a laid-back, quiet holiday.
Whereas if you're seeking a lively nightlife scene, and a fun vibe, Thailand will be the best choice – as we explain later.
Both countries have spectacular landscapes away from the coastline as well as jaw-dropping wildlife – but Malaysia is probably the better choice for wildlife seekers. The country's Borneo region is arguably one of the best places for wildlife in the world, with elephants, tigers, and leopards among other species.
And for Muslim tourists, it will be easier to find Halal food in Malaysia as it's a majority Muslim nation, and sourcing Halal options in Thailand can be quite difficult.
However alcohol is also much more expensive in Malaysia, so if you love your evening drinks, then Thailand could be a better option.
Below we look at what sort of excursions are available in both countries, before comparing the culture and food in each. All so you can see which country will suit you best!
How Do The Beaches & Landscape Compare?
Thailand: The Beaches & Landscape
This nation is one of those rare destinations that has it all. Beaches for relaxing, a famous nightlife and party scene, and food that's known around the globe.
For fantastic beaches, head out into the islands. Phuket's famous beaches include Kata Beach, which offers a busy slice of paradise with street vendors, upmarket hotels, and beach activities such as surfing and snorkeling.
Freedom Beach offers a more serene choice, whilst still providing convenient access to food vendors and beach chairs. In general, expect a livelier and busier beach experience than what you would get in Malaysia.
That said, if you travel away from Phuket there are more laid-back coastal options. One of our favorites is Sunrise Beach on Ko Lipe. This gorgeous long stretch of white sand has shallow warm water perfect for swimming. It's laid back, quiet by Thai standards, and the perfect place to unwind.
After a day's relaxing, head to the region of Krabi where you can go rock climbing, jungle trekking, and sea kayaking.
Krabi's stunning natural beauty, jungle-covered interior and incredible cliffs and caves offer an array of activities for tourists who want more from their trip than just relaxing on the beach.
You'll also find plenty of tourist excursions and activities in Krabi (and throughout Thailand) all set up and ready to go. And that's another advantage to Thailand over Malaysia. With Thailand attracting over 20 million tourists a year, this country is well suited to tourists who want an easy holiday where there's plenty to keep them occupied yet no hassle to sort out.
And for those looking for a more wholesome time, Koh Tao (meaning Turtle Island) on Thailand's east coast is home to the country's most beautiful coral reefs. Which naturally makes it the top destination for scuba diving and snorkeling.
Whilst if you want to see Thai wildlife head to Isaan. This barely visited region of Thailand – as we've written about before – is home to breathtaking national parks, hiking trails, elephants, and even temples built on volcanoes! It's a region almost all tourists ignore, but it feels like Thailand before tourism took over.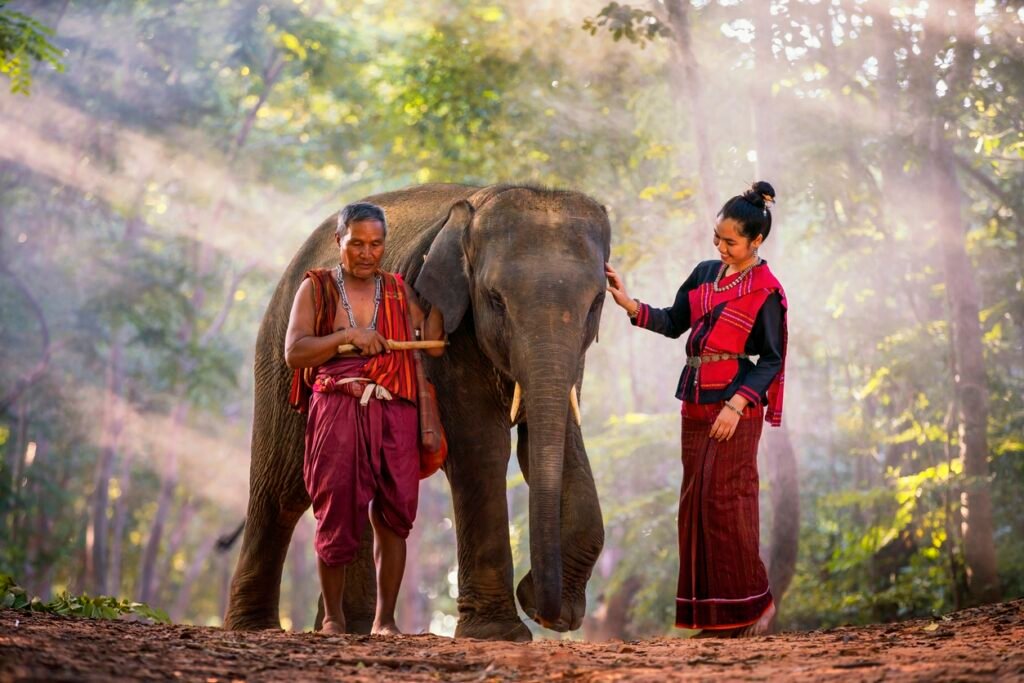 Malaysia: The Beaches & Landscape
For the best beaches in Malaysia, one of our favorite spots is the Perhentian Islands (photo below). Although hotels have started to spring up in this region, it remains largely unspoiled – that's a rarity in Thailand where many of the best beaches are highly developed.
Expect soft white sand beaches, warm water for swimming, and swaying palm trees at the islands. It's calm, quiet, and a perfect place to unwind from the stress of everyday life.
For somewhere even more remote, but with some of the best turquoise water in Malaysia, head to the little island of Rawa.
There are no roads on this island making it a real secluded paradise. Our top tip is to rent a kayak and circle the island's coastline – it's surrounded by coral making it a great place to spot colorful reef fish.
Away from the coastline Malaysia has vast regions of wild mountainous rainforest – perfect for hiking, wildlife spotting, and jungle trekking.
Adventurous travelers should have a go at climbing the nation's highest peak, Mount Kinabalu, which stands at 4095 meters. Located in Borneo, you'll have to pay a fee to climb the mountain (around 200 USD) but that pays for your accommodation over 2/3 nights, a guide, meals, and the permit to hike this World Heritage Site.
Staying in Borneo, a visit to Gunung Mulu National Park will expose you to some of the world's most fascinating – but also rare – animals. This protected rainforest is packed with flora and fauna, and a trip down the jungle rivers will give you a chance to spot species like monkeys and porcupines.
A trip to northeastern Borneo and you may witness the rare endangered pygmy elephant. Whilst if you cross over into Indonesian Borneo you can visit Tanjung Puting National Park – home to majestic orangutans.
As you may have guessed by now, if you're a wildlife lover then Malaysia is one of the best and most exciting countries in the world to visit.
How Does The Culture & Vibe Compare?
Both are culture-packed countries where you're guaranteed to experience the incredible east.
Malaysia, whilst a majority Muslim country, is relatively liberal. Therefore bathing suits and discreet drinking may be fine at some public beaches. However drinking in front of mosques, for example, would be quite disrespectful.
In contrast, Thailand has a world-famous nightlife scene, especially in Koh Phangan (more on that below), Phuket and Bangkok. So if you're looking for parties and fun past midnight, Thailand would be the best choice.
Although Malaysian cities like Kuala Lumpur also have decent bars and entertainment, a night out in Malaysia for the majority of people tends to involve a cup of milky tea and some sweet treats!
Below we look at some of the highlights in each country when it comes to culture and vibe, so you can see what you think you'll like most:
Thailand: The Culture & Vibe
Thailand is a country known for its food, culture, stunning scenery, and more recently a great party scene.
For those looking for a wild time, Bangla Road in Patong offers its own selection of bars, go-go clubs and neon-covered craziness. As well as the famous adult entertainment clubs that have become synonymous with Thailand.
Koh Phangan is most well-known for its Full Moon Parties. This small East Coast island is home to the most famous parties in Thailand and 10,000 to 30,000 people flock to them every month.
Around 90% of Thais identify as Buddhists, and there's also a significant Hindu influence in the country too. Therefore away from the parties and beaches, Thailand is a very spiritual place filled with spectacular temples.
One of our favorites – and one of the most serene – is situated in Phanom Rung Historical Park. A remnant of the Khmer Empire, Phanom Rung is a breathtaking temple built on the rim of an extinct volcano.
You could – and should – also have a go at Muay Thai, Thailand's national sport. Muay Thai (or Thai Boxing) can be traced back to 18th century Thailand, and has its roots deeply ingrained in Thai culture.
Gyms up and down the country offer training sessions (from a single day, to several months!) for foreigners and it's a fantastic way to get to know this country and culture. In fact that's something we've even written about in the past.
Malaysia: The Culture & Vibe
Malaysia is a multi-religious and multi-ethnic country, although 60% of the population are practicing Muslims.
A large minority of Malaysians are Hindu, and a trip to Batu Caves combines Malaysia's rugged beauty with its religious side. Situated just outside the capital of Kuala Lumpur, this huge network of limestone caves have been turned into Hindu temples and are now an important pilgrimage site.
For something a little more contemporary, the Genting Highlands is a hill-resort built 1,800 meters above sea level on Mount Ulu Kali.
This colorful and eccentric resort can be reached by cable car, and has several large casinos to enjoy. It seems in a strange and quirky world of its own, and is definitely worth a visit.
Another hill town – and one with a longer history – is Cameron Highlands which was formally used as a retreat for the British during the colonial period. The production of tea was a major economic factor during colonization, and Boh Plantation – which you can visit – still exists from that time.
A Taste Of The East: How Does The Cuisine Compare?
Both countries will provide a treat for your tastebuds. Whilst Thai food gets all the plaudits, Malaysian cuisine is a rising star.
Thailand: The Food
Thai food is famous around the world – and no wonder – so if you're a food lover, Thailand is going to be a dream destination and arguably better than Malaysia. We just hope you like your food hot – Thai cuisine is some of the spiciest in the region!
If visiting make sure you try the iconic Pad Thai – a stir fry dish made with thin rice noodles, meat or shrimp.
For something a little less known, Thailand's remote and rarely visited northeast – Isaan – has a traditional dish called Laap which is delicious. It's made up of minced meat seasoned with fresh herbs, lime juice and fish sauce, and is served with sticky rice.
You must try Thailand's comfort food – Khao Phat – as well. This is good hearty fried rice that comes combined with a variety of ingredients. It's perfect for a long day exploring Thailand's sights.
Malaysia: The Food
Malaysian food is beginning to appear around the world, with dishes like Satay now found in the US, UK, and other nations.
Satay are tasty skewers of meat are seasoned with a variety of spices and usually accompanied with a peanut sauce.
One of the most popular foods in Malaysia is Rendang. This spicy meat dish (usually beef or chicken) is made by slow-cooking the meat along with coconut milk, chilli and spices. The result is exceptionally rich and tender.
A beloved Malaysian dessert – and a great one on hot days – is Ais kacang. Made from red beans, palm seeds, sweet corn, peanuts and shaved ice (an eclectic mix!), this multi-colored treat will cool you down on a hot summer day.
Thailand vs Malaysia: Which Is The Better Choice?
A holiday to either Thailand or Malaysia is going to be an unforgettable experience with great food, scenery and culture. But both countries provide very different vacations.
If you're looking for the best beaches, lively nightlife, cheap drinks and an all-round fun vibe, Thailand will be a better holiday destination than Malaysia.
However if you want a quieter vacation which divides time between the beach and other activities such as wildlife watching in Borneo, then Malaysia should be your choice.
Recommended For Your Trip To Thailand Or Malaysia
*This article may contain affiliate links which allows Wandering our World to make a small commission on any sales made – and keep the coffee flowing! It involves no extra cost to yourself. As an Amazon Associate we earn from qualifying purchases, but only recommend products we believe in.