Wandering our World is reader supported! If you purchase anything through a link on our site, we may earn a commission at no extra cost to you.
Last updated on February 20, 2023 by Wandering our World
Everyone knows Thailand's claim to fame: the nation's pristine, clear water beaches, vibrant nightlife, and the never ending supply of colors, smells and friendly people.
Yet there's a part of Thailand most tourists never get to see, away from the chaos of the cities and the crowds packed at beaches – that part is Northeastern Thailand (also known as Isaan), which is the quiet, yet truly adventurous part of this nation.
It's a place where you can visit monkeys, pray at temples perched on volcanoes, watch buffalo run in the fields, and where people take the time to enjoy every part of their day.
Sound like a paradise? In many ways it is.
And Isaan – Northeastern Thailand – really is where you will finally get the full scope of everything that Thailand has on offer.
It's a region with unparalleled wildlife, stunning attractions and cultural landmarks that must be visited! Along with the friendliest people you can meet. Below we outline some of the attractions and things to do in this barley known area of the word.
But why focus on Isaan?
Well, less touristy areas like Isaan can provide incredible vacations – and without having to bump your way through hoards of people on beaches and busy markets.
Northeastern Thailand is a great place to start, since Isaan is one of the few regions in Thailand that is scarcely populated and yet still has an incredible array of activities on offer to travelers, in the fresh air of a stunning exotic landscape.
That's why below we show you all the best places to visit in Isaan and why they're so unique.
Khao Yai National Park: A Must-Visit National Park
If you're looking to find vibrant natural scenes but without other tourists for company, then this is the time for Isaan to shine – and more specifically, Isaan's Khao Yai National Park.
Extending over 2000 square kilometers and encompassing both rainforest and grassland, Khao Yai is home to a genuinely impressive collection of wildlife.
Considered a UNESCO World Heritage site, it is a sight to behold. Here's the wildlife you can find when visiting:
Mammals
When it comes to our four-footed friends, Khao Yai's mammal population ranges from giant elephants to adorable little porcupines.
In between there's a healthy selection of our thumb wielding favorites like macaques and gibbons, as well as different species of deer.
If you're lucky, you may even spot bears! There are several different species of bear here, but most of them are shy and therefore harder to find. Although that might be a bit of a blessing – as adorable as they look on children cartoons, bears can be truly terrifying creatures!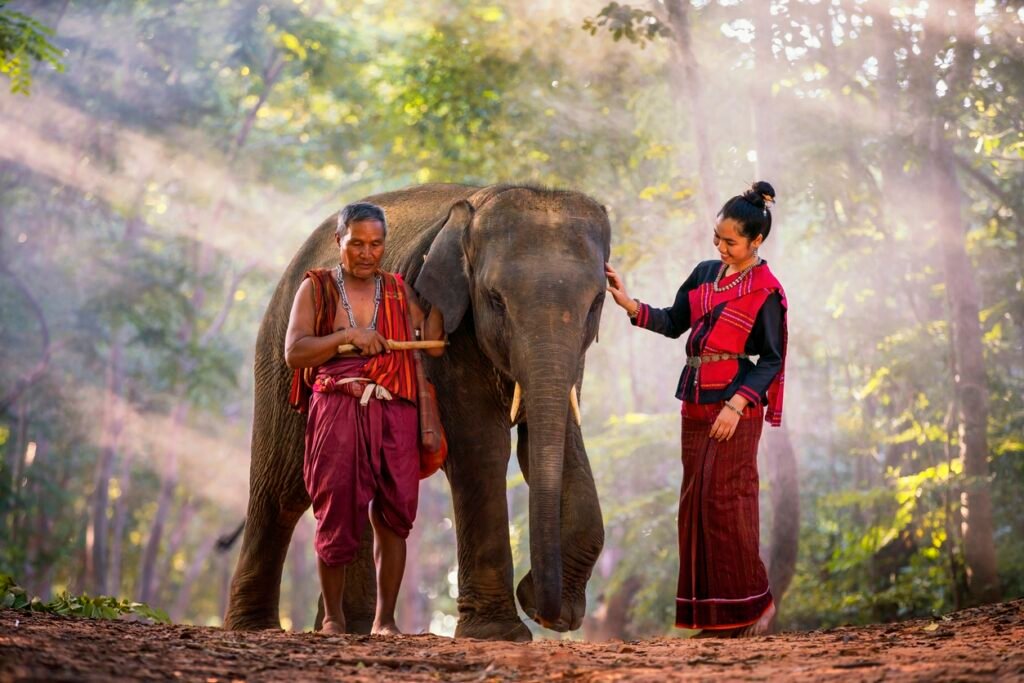 Birds & Reptiles
For those with the bird-watching gene, Khao Yai's incredible selection of over 400 bird species will be a true delight.
There are multiple rares bird species found in this park, including but not limited to: rufous-tailed robin, Austen's brown hornbill, white-browed fantail, lemon-rumped warbler and Blyth's pipit. All as beautiful as they are difficult to pronounce.
Some more common species include the silver pheasant, the green-legged partridge and the Siamese fireback.
The dry months of March and April are the best for bird-watching due to the big bird migration to Thailand that happens during this time.
For those more fond of the scaly and slithery types, the most common reptile species found here are Vogel's pit viper, large-eyed pit viper and the white-lipped pit viper.
Among the most rare species are the Gibson's wolf snake and Nganson bronzeback. King cobra and different types of pythons and whip snakes can be found.
For those out looking for dragons (or their smaller, more docile cousins), the Chinese water dragon, the Cardamom tree dragon, the barred flying dragon and the spotted flying dragon are among the most spotted species of lizards around.
Other Attractions & Things To Do In Isaan
1. Korat Zoo
Korat Zoo is the largest of its kind in Thailand. It hosts animal shows as well as a wide array of water slides and parks.
It's also a great way for travelers to experience Thai wildlife without venturing into a national park.
This zoo also focuses on animal preservation and sustainability, so you can rest assured you're in the (ethical) clear.
2. Than Thip Waterfall
If you're missing the beach and looking for a place to dip your toes in the water, then look no further than Than Thip Waterfall in Northeastern Thailand.
This waterfall is a beautiful oasis in the midst of the Thai jungle, and it is a great place to relax outdoors for an afternoon.
3. Sala Kaew Ku
Sala Kaew Ku is the place for all art fans out there.
It is a park featuring gigantic concrete sculptures, some 25 meters (82 feet) tall. Most of the statues depict religious figures and tales, such as the Buddha, the seven-headed naga serpent, and an elephant wading through a pack of dogs.
Without a doubt, this is a magical place to learn about Thai culture and the religion here – and marvel at the beauty they have created.
4. Phanom Rung
If you want to delve a little more into history, the Phanom Rung Historical Park is a fantastic place to start.
A remnant of the Khmer Empire, Phanom Rung is a breathtaking temple built on the rim of an extinct volcano.
It has now been restored to its original look, and is currently being considered as a UNESCO World Heritage site.
5. Wat Phu Tok
We have told you about a temple on a volcano, but Isaan also has a must-visit temple on a mountain.
Wat Phu Tok is reached by climbing the seven levels of the mountain, which represent the seven levels of spiritual enlightenment in Buddhist culture and it is a great trek to do in the morning, before the warm Thai sun comes out.
The way up might be a little tough, but you can confidently expect a level of enlightenment upon reaching the top that will make it all worth it.
Isaan: Why It's A Must Visit
The Northeastern region of Thailand is a beautiful, vibrant place with incredible wildlife and breathtaking natural and man-made attractions.
It is a region that definitely deserves more appreciation from the outside world, and an area which will grant you a healthy load of traveler cred for going off the beaten path.
It is everything you love about Thailand but at a much slower, much calmer pace. A great place to escape for a weekend, or even to relax in for a few months. It's the kind of place that feels yours as soon as you're in it – and Isaan is waiting for you.