Wandering our World is reader supported! If you purchase anything through a link on our site, we may earn a commission at no extra cost to you.
Last updated on February 1, 2023 by Wandering our World
Vibrant cultures, incredible food, breathtaking landscapes and a stunning coastline sum up the lure of Thailand and Hawaii. However deciding which to visit for your once-in-a-lifetime holiday can be difficult. Especially as they're actually quite different from each other.
For example, if you're looking for fantastic beaches for swimming and snorkeling, superb food, and a holiday with an exotic edge, then Thailand will be a better choice than Hawaii. Thailand is also much cheaper too.
But if you're an outdoor enthusiast looking for jaw-dropping hikes, incredible surfing, laid-back beaches and less of a culture shock, then Hawaii would be the perfect holiday.
Of course that's only the beginning when it comes to how Hawaii and Thailand differ.
But that's why we're here to help! Having visited both destinations we compare them below, showing you their differences, similarities and what to expect in each.
We'll show you how the culture, beaches, landscape, vibe and cuisine of each destination differ – all to help you make the right decision.
CONTENTS:
A Quick Overview & Comparison
How Do The Beaches & Landscape Compare?
How Does The Culture & Vibe Compare?
A Taste Of The Tropics: How Does The Cuisine Compare?
Where You Should Stay According To Your Budget
Which Is The Better Choice?
A Quick Overview & Comparison: Hawaii vs Thailand
Both destinations have beautiful landscapes, beaches, mountains, and waterfalls to explore, so are great vacation spots for a sunseeker that's also looking for some adventure.
However Thailand probably has the better beaches of the two (and you may even spot a monkey or two on some of them!). This Southeast Asian nation has gorgeous white sandy stretches of coastline and crystal clear warm water. Much warmer than Hawaii.
Thailand also has mountains, jungles and awe-inspiring wildlife like elephants and monkeys, but Hawaii is more of an adventure sports destination with dramatic jungle-covered peaks and world-famous surf spots.
In fact, Hawaii's highest peak is a massive 4207 meters, compared to Thailand's highest which stands at 2565 meters.
In essence, Thailand will provide a more exotic vacation, which combines great beaches with exciting Southeast Asian excursions. Hawaii, in contrast, has dramatic scenery, a laid-back surfer vibe, but is also a haven for adrenaline seekers.
In regards to expenses, Thailand is a cheaper destination than Hawaii in terms of both food and accommodation. High-end resorts are also typically cheaper in Thailand than their Hawaiian counterparts.
How Do The Beaches & Landscape Compare?
Hawaii: The Beaches & Landscape
This place has an abundance to offer away from the seaside. However for travelers leaning towards a Hawaiian holiday, there's still many great beaches where you can enjoy that famous laid-back surfer vibe.
Some of our favorites include the less well-known Waimea Bay Beach on Oahu, and the stunning Hanalei Bay on Kauai island. For great snorkeling and the chance to see turtles, then visit Hanauma Bay on Oahu. A great underwater camera – like this one – is a must.
For a more fun-fueled beach adventure, pick up a cocktail and enjoy the famous nightlife at Waikiki Beach and get chatting to locals.
If you're feeling energetic, a hike up Hawaii's Diamond Head – which looms over Waikiki – will give you spectacular panoramic views of Honolulu and Oahu.
The Hawaiian island of Kauai was the backdrop for the film Jurassic Park, so expect great hiking and walking trails that will take you back in time if you visit there. A superb walking and hiking in Hawaii book – such as this one – would be a great addition to your suitcase.
The tropical forests on Kauai – the 'Garden Isle' – make their way up the mountain-sides towards sharp dramatic peaks. However the reefs on this island are also world renowned among divers, and offer fantastic scuba and snorkeling opportunities.
And when it comes to dramatic looking landscapes, epic road trips and breathtaking hiking, Hawaii has not only Thailand beat but most of the world too!
Thailand: The Beaches & Landscape
Thailand is one of those rare destinations that has it all. Beaches for relaxing, a famous nightlife and party scene, and food that's known around the globe. It's also one of the most beautiful countries on the planet.
For fantastic beaches, head out into the islands. Phuket's famous beaches include Kata Beach, which offers a busy slice of paradise with street vendors, upmarket hotels, and beach activities such as surfing and snorkeling.
Freedom Beach offers a more serene choice, whilst still providing convenient access to food vendors and beach chairs. In general, expect a lively and busy beach experience.
That said, if you travel away from Phuket there are more laid-back coastal options. One of our favorites is Sunrise Beach on Ko Lipe. This gorgeous long stretch of white sand has shallow warm water perfect for swimming. It's laid back, quiet by Thai standards, and the perfect place to unwind.
After a day's relaxing, head to the region of Krabi where you can go rock climbing, jungle trekking, and sea kayaking.
Its stunning natural beauty, jungle-covered interior and incredible cliffs and caves offer an array of activities for tourists who want more from their trip than just relaxing on the beach.
For those looking for a more wholesome time, Koh Tao (meaning Turtle Island) on Thailand's east coast is home to the country's most beautiful coral reefs. Which naturally makes it the top destination for scuba diving and snorkeling.
Whilst if you want to see jaw-dropping wildlife head to Isaan. This barely visited region of Thailand – as we've written about before – is home to breathtaking national parks, hiking trails, elephants, and even temples built on volcanoes! It's a region almost all tourists ignore, but it feels like Thailand before tourism took over.
In essence, if your main priority is beaches but you also want an array of activities to enjoy once in a while, then Thailand is a fantastic choice.
How Does The Culture & Vibe Compare?
Thailand and Hawaii are culture-packed destinations where you're bound to discover new experiences. Below we look at the culture in each, and what you should expect if you choose to visit!
Hawaii, while part of the U.S. and English speaking, has its own distinct culture. Whereas Thailand may provide more of a culture shock due to the exciting, but ultimately different, way of life compared to the U.S. and Europe.
Hawaii: Culture & Vibe
Hawaiian culture – aloha wear, hula, and luau for example – is almost better known that Hawaii's gorgeous sunsets! So getting a taste of the real Hawaiian experience is a must if visiting here.
The iconic luau – a traditional Hawaiian feast with entertainment – should be the first thing on your list. We recommend the Smith Family Garden Luau in Kauai due to the delicious traditional food on offer, and the colorful entertainment and dances. But almost everywhere on Hawaii you can find a spectacular luau experience.
With your interest piqued in Hawaiian culture after taking part in a luau, head to the Polynesian Cultural Centre in Oahu to learn more about the Polynesian people and culture.
Hawaii is also home to one of the most notorious war crimes in history – the WW2 attack on Pearl Harbor. For military history buffs, the Pearl Harbor Aviation Museum is therefore a must visit.
Thailand: Culture & Vibe
Thailand is a country known for its food, culture, stunning scenery, and more recently a great party scene. In fact when it comes to partying, Thailand may just beat Hawaii in that regard.
For those looking for a wild time, Bangla Road on Patong offers its own selection of bars, go-go clubs and neon-covered craziness. As well as the famous adult entertainment clubs that have become synonymous with Thailand.
Koh Phangan is most well-known for its Full Moon Parties. This small East Coast island is home to the most famous parties in Thailand and 10,000 to 30,000 people flock to them every month.
Around 90% of Thais identify as Buddhists, and there's also a significant Hindu influence in the country too. So away from the parties and beaches, Thailand is actually a very spiritual place filled with spectacular temples.
One of our favorites – and one of the most serene – is situated in Phanom Rung Historical Park. A remnant of the Khmer Empire, Phanom Rung is a breathtaking temple built on the rim of an extinct volcano.
You could – and should – also have a go at Muay Thai, Thailand's national sport. Muay Thai (or Thai Boxing) can be traced back to 18th century Thailand, and has its roots deeply ingrained in Thai culture.
Gyms up and down the country offer training sessions (from a single day, to several months!) for foreigners and it's a fantastic way to get to know this country and culture. In fact that's something we've even written about in the past.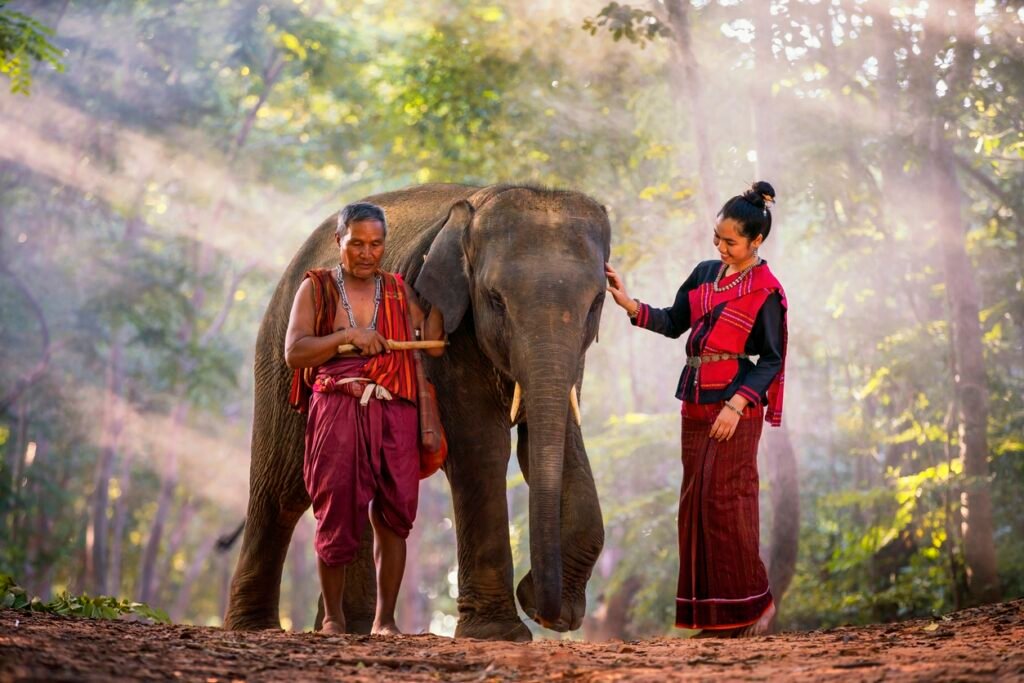 A Taste Of The Tropics: How Does The Cuisine Compare?
Both destinations will provide a treat for your tastebuds. Whilst Thai food gets all the plaudits, Hawaiian cuisine might surprise.
Hawaii: The Food
Hawaiian food is truly unique, combining Polynesian, European, Japanese and American tastes.
A must try – and what you will almost certainly have at a luau – is Kālua pork. A whole pig is slow cooked for several hours and then the meat pulled apart ready to be eaten. It's absolutely delicious.
For something that has more of an American feel, try loco moco – a burger steak, fried eggs and gravy. Perfect after a day swimming or hiking.
Shaved ice is also common in Hawaii, and is perfect to cool down on a hot day. This tasty treat is flavored with syrup, and is sometimes served with ice cream too!
Thailand: The Food
Thai food is famous around the world – and no wonder – so if you're a food lover, Thailand is going to be a dream destination – arguably more so than Hawaii.
Make sure you try the iconic Pad Thai – a stir fry dish made with thin rice noodles, meat or shrimp.
For something a little less known, Thailand's remote and rarely visited northeast – Isaan – has a traditional dish called Laap which is delicious. It's made up of minced meat seasoned with fresh herbs, lime juice and fish sauce, and is served with sticky rice.
You must try Thailand's comfort food – Khao Phat – as well. This is good hearty fried rice that comes combined with a variety of ingredients. It's perfect for a long day exploring Thailand's sights.
Where You Should Stay According To Your Budget
Hawaii
Shoestring: Just one minute from the beach and with free bike rental, Hakuna Matata Hostel on Maui is fun, cheap and friendly. You'll be making memories in no time here, and without damaging your bank account.
Budget: Located in the heart of Waikiki, 2 minutes walk to the famous Waikiki Beach and surrounded by shopping and dining is the luxury boutique Halepuna Waikiki hotel. This four-star hotel will stretch budgets, but the panoramic views of the ocean and city – alongside the gorgeous infinity pool – will be worth it.
Luxury: Montage Kapalua Bay on Maui is one of those hotels we all wish to stay in one day. It's extravagant beachfront luxury on a 24-acre landscaped resort with unparalleled views to the sea and beach access. It's everything you'd expect of a five-star resort and more.

Thailand
Shoestring: Well located in Bangkok with great access to amenities and activities, Hansa Bangkok House is a beautiful little guesthouse which is surprisingly cheap considering how modern and well maintained it is. They serve a fantastic complimentary breakfast too.
Budget: Sat right on the beach with gorgeous ocean views, a giant swimming pool, and completed by having rooms with a hot tub, LK Emerald Beach is luxury on a budget. This hotel is beautiful, and in our opinion, underpriced.
Luxury: For a taste of the celebrity life then Phulay Bay, a Ritz-Carlton Reserve, is a stunning choice. This beachfront hotel with huge infinity pool, spa, gorgeous grounds, five restaurants, 24-hour butler service, and glamorous rooms, is one of the most beautiful resorts in the country.
Hawaii Or Thailand: Which Should You Choose?
A holiday to either Thailand or Hawaii is going to be an unforgettable experience with great food, scenery and culture. But both destinations do provide very different vacations.
If you're looking for fantastic beaches, superb food, and a holiday with an exotic edge, then Thailand will be a better choice than Hawaii. Thailand is also cheaper too.
However for outdoor enthusiasts who want jaw-dropping hikes, incredible surfing, and laid-back beaches, Hawaii would be the perfect holiday.
Recommended For Your Trip To Hawaii Or Thailand