Wandering our World is reader supported! If you purchase anything through a link on our site, we may earn a commission at no extra cost to you.
Last updated on July 2, 2023 by Wandering our World
Sardinia is the jewel in Italy's crown, and with miles upon miles of golden coastline it's no surprise why. With culture and history in abundance and a picture-perfect landscape, it'll come as no surprise either that camping and wild camping in Sardinia is a popular activity for many.
This Mediterranean island is packed full of things to do, friendly locals, tasty cuisine, and superb walking trails. Making it a great holiday destination – as we've written about previously.
If you're planning you're own Sardinia camping adventure, then you're in the right place!
We love camping in Sardinia and have decided to share what we know with you.
Thankfully for camping enthusiasts, there are some great campsites in Sardinia – we recommend some of our favourites in this article.
And if you're planning some walks in Sardinia, then a good walking and hiking in Sardinia book – like this one – can help you decide where's best to be based for your outdoors holiday. This National Geographic map of Sardinia is also incredibly useful, highlighting attractions and walks.
Wild camping in Sardinia is technically illegal. However it is often tolerated if wild campers abide by a few rules. We outline those rules, and some must-know tips for wild camping in Sardinia, a little further down in this article.
But first, here's a few of the best campsites in Sardinia!
The Best Campsites In Sardinia For Fun, Views & Adventure!
1. Camping Iscrixedda
This campsite is situated right on the beachfront on Sardinia's eastern coast! Enjoy the hammocks and the view, and the gorgeous crystal clear waters which are great for swimming. Although be careful as the water gets deep quickly here.
The pitches are within a shady pine forest, so you have relief from the sun during the day as well. It's in a great location for exploring this region of Sardinia as well.
The on-site restaurant and bar also does some really good food – we recommend the carbonara! And they even have a small store too, alongside clean and well maintaIned shared facilities.
If you're looking for shady pitches right beside the beach, but in a campsite that provides everything you need, then it's hard to beat this Sardinia camping option.
Address: Via Is Orrosas, 08040 Lotzorai NU
2. Tree of Life Camping
This campsite is barely known in Sardinia, even by locals. This little campground is set in the hilly interior of the island and is just like wild camping, but with hot showers!
Your pitch in a beautiful forest is tranquil, and the views down the hillside are breathtaking. Facilities are basic but good.
If you want a day or two in nature, away from the tourist hot-spots then this campsite in 'wild' Sardinia is for you.
The campsite is run by a nearby hotel and restaurant – Hotel Ristorante Scala San Giorgio. To see if there's any availability, and book, you can call them at the following number: +39 345 072 8416.
Address: LocalitàTaccu snc, 08040 Osini NU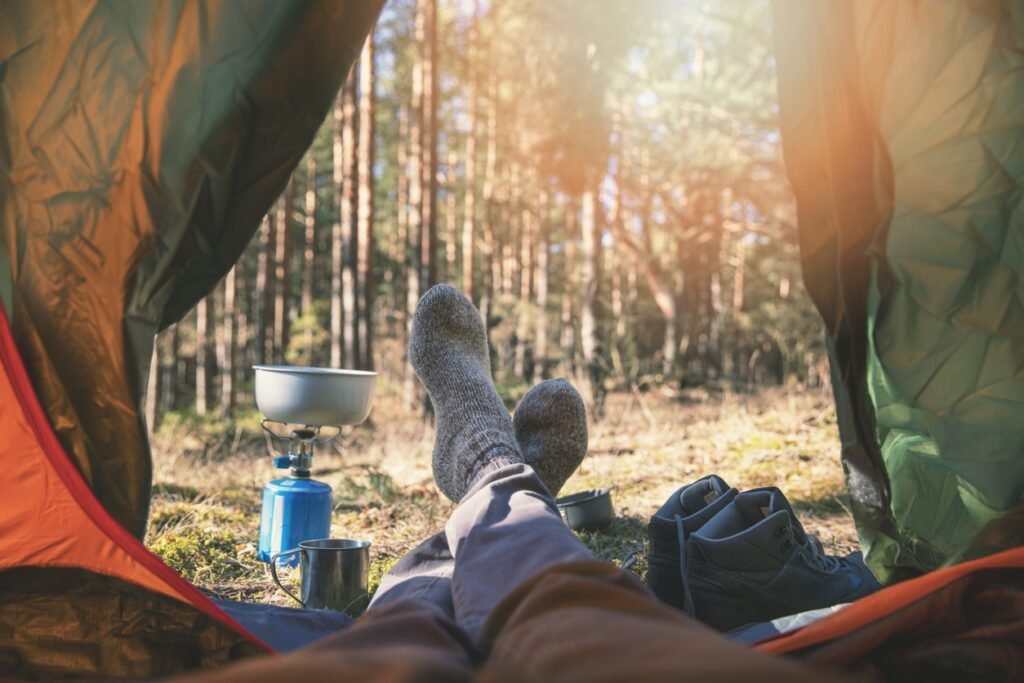 3. Camping Capo Ferrato Village
This family friendly campsite is situated right by one of the best beaches in Sardinia, with stunning crystal clear water. You can also expect incredible sunrises if staying here!
If you can get a seaside pitch, then this is hands down our favourite campsite in Sardinia due to the location and scenery. Our advice is to request a beachside pitch when booking.
While the star of this place is the beach, that isn't all this Sardinian campsite has. In fact the facilties here are excellent.
They have a bar, pizzeria, sports fields, playgrounds, free WiFi, bike and scooter rental, and even organised tours and campsite entertainment. In short, there's so much to do here, especially for families!
On top of that the Sette Fratelli Park – which is full of waterfalls, mountains and wildlife – is just a few miles away.
Address: 09043 Costa Rei, Muravera Metropolitan City of Cagliari
4. Cala Gonone Camping Sardinia
This is one of Sardinia's most popular campsites, and for a reason.
Cala Gonone's location on the east coast is close to many good restaurants, while it's also close to the sea, and a short drive from Sardinia's mountainous interior.
That makes this Sardinian camping option a perfect base for exploring this gorgeous island.
The facilities are also excellent, including a fantastic swimming pool – great after a day's hiking!
The pitches are also spacious, surrounded by lovely Sardinian forest and provide plenty of shade.
Address: Via Collodi, 1, 08020 Cala Gonone NU
Wild Camping In Sardinia: Everything You Need To Know!
DISCLAIMER: Below we give general advice, but we always recommend staying in an official campsite. If you choose to go wild camping/dispersed camping, then make sure you do so with someone who already knows the area where you're planning on camping for your own safety.
Unfortunately, wild camping in Sardinia is illegal. This is mainly due to the authorities want to stop any threat of a forest fire.
However people do still go wild camping in Sardinia. And it is generally tolerated if campers stick to the following set of guidelines:
You should camp in the same place for one night only, and pitch your tent discretely and in a remote place. Therefore don't camp in or near settlements, someone's farm or on cultivated land. If you think you're on private land, always seek out the landowner and ask permission. Don't camp right beside walking and hiking trails. Be quiet and don't camp in a big group.
Campers should set up their tent at dusk and take it down at dawn. A tent that is discreet and pitches quickly is best. Therefore a lightweight walking and hiking tent like this one would be a great investment for someone planning to camp in Sardinia.
When wild camping in Sardinia you must never make a campfire. You might want to think about bringing a storm cooker with you for cooking. They tend to be safe, and are often fine to use – but you should check local laws first.
And of course, take any trash with you, and leave your camping spot the way you found it.
As one important thing to note, the Italian police (Polizia) may stop and ask what you are doing if they see you wild camping in Sardinia. In cases like this be polite and friendly – most of the time they will allow you to continue if you are following the guidelines above. If they tell you wild camping is illegal you can always tell them you didn't know.
However if the police ask you to move then don't argue. It would then be best to pack up your tent and find a campsite, especially if you plan on staying in the same area.
Below are our must-know tips for camping in Sardinia.
Tips For Wild Camping In Sardinia
If there is no toilet near your pitch then only go to the toilet far from water sources, such as rivers and lakes. Make sure to use a trowel (like this folding one) to bury any human waste – don't just leave it out in the open.
Thunderstorms and heavy rain can happen in Sardinia – even during the holiday season. Make sure you have a durable, rainproof tent that can survive heavy rain. A lightweight one-man hiking tent like this or similar would be perfect. For a good value tent that fits more than one person, this mosquito-proof one would work well too.
Remember to always have plenty of water on you when you're walking and camping. A space-saving collapsible water bottle would be a good purchase.
Like many rugged and wild rural areas around the world, there are flora and fauna to be aware of. So read up and make sure you know what to expect in the region or area you are planning to wild camp in.
Recommended For Your Trip To Sardinia
Tempted to go camping elsewhere? Check out our guides to camping in, Estonia, Finland, Lanzarote, Norway, Patagonia, Pyrenees, Tenerife, and many others!