Wandering our World is reader supported! If you purchase anything through a link on our site, we may earn a commission at no extra cost to you.
Last updated on November 17, 2023 by Wandering our World
Of all the many European capital cities, Athens and Rome stand out for their extraordinary pasts. The former is famed as the beating heart of Ancient Greece and the birthplace of democracy, while the latter is often regarded as the "Cradle of Western Civilization" and was once by far the most powerful city on the planet as the capital of Roman Empire.
There are thousands of years of history behind both of these cities, and even an entire library couldn't hold all the stories they have to tell. What's more, many of their most iconic ancient landmarks are still standing, like the legendary Colosseum of Rome or the extraordinary Acropolis of Athens.
But history isn't the only wonderful thing about these super cities. They're also both amazing places to shop, dine, and indulge in all sorts of exciting and enjoyable activities. But, if you've only got time to see one of them, which should it be – the Greek capital of Athens or the Italian capital of Rome?
Well, it's not an easy decision to make, and there are lots of arguments in favor of both cities. Fortunately, this guide is here to help. Below, we'll dig into Athens vs Rome, comparing the two historic capitals in several key areas, from their average weather conditions and hotel prices to their top landmarks, activities, and dining scenes.
Contents:
A Quick Overview Of Athens vs Rome
Which Has The Best Weather?
Which Is Best For Activities?
Which Is Best For Beaches?
Which Is Best For Day Trips?
Which Is Best For Nightlife?
Which Is Best For Shopping?
Which Is Best For Food?
Which Is Best For Families?
Which Is Best For Couples?
Which Is Best For Backpackers?
Which Is Cheapest?
Where To Stay According To Your Budget?
Athens vs Rome: Which Is Better?
A Quick Overview Of Athens vs Rome
Athens: A Quick Overview
Athens is the capital and biggest city in Greece. It's located in the Attica region, on the eastern edge of the Central Greece mainland. More than 3.1 million people live in the Athens metropolitan area, making it one of the biggest urban areas in the entire European Union, though it's notably smaller than Rome.
This city is famed far and wide for its rich past. Indeed, it's one of the oldest cities in the world, with more than 3,400 years of recorded history. Named after the Greek goddess Athena, it was, for a long time, one of the most powerful cities on the planet, as well as being the epicenter of many political, spiritual, artistic, and educational developments.
It's not quite as globally influential nowadays, but Athens is still a prosperous and significant city. It's a vast metropolis, serving as the economic, financial, and cultural center of modern Greece, and it's by far one of the most-visited cities in Europe, with people coming from across the globe to see iconic ancient sights like Acropolis and Parthenon for themselves.
Much of the history and splendor of the city's ancient past is still on display in those old landmarks, giving visitors a deep dive back in time. But there's also a more modern side to Athens, with lots of interesting museums and galleries, fantastic food, exciting live entertainment, and trendy neighborhoods to explore.
Rome: A Quick Overview
Rome (or "Roma" in Italian) is Italy's capital city and largest city. More than 2.7 million people call this place home, with an estimated 4.3 million people in the full metropolitan area – that means that Rome is currently the third-largest city in the whole of the European Union. It's situated in central Italy, in the Lazio region.
Just like Athens, Rome is synonymous with ancient history. It was the heart of the mighty Roman Empire, one of the most powerful forces in history, which ruled over large parts of the world for many centuries. Rome has also contributed to the world in many fields, from religion to culture, art, and philosophy.
And, just like Athens, modern Rome doesn't have the same far-reaching power and influence it once held, but it remains a great city in more ways than one. It's the cultural and economic center of Italy, as well as being one of the most touristic cities in the world, renowned for its awe-inspiring landmarks and exciting, romantic atmosphere.
From the Colosseum to the Forum, Rome has a long list of must-see sights. It's also where you can find Vatican City, home of the Catholic Church and all of its glorious treasures and artworks. And, when it comes to fascinating museums, breathtaking galleries, delicious food, and world-class shopping, few cities on Earth can compare with Rome.
Which Has The Best Weather?
Despite being quite far apart – around 650 miles separate Rome and Athens – these two historic capitals have quite similar weather conditions. Visitors can expect to enjoy hot summers, warm shoulder months, and cold winters, with relatively low amounts of rain for large parts of the year.
However, there are a couple of key differences. Since it's slightly further south, closer to the equator, and with a prime coastal location, Athens has slightly warmer temperatures than Rome. You can expect it to be a few degrees warmer here pretty much all year long. Athens also has less chance of rain than Rome, though it is a little windier.
All in all, the weather is generally better in Athens, though there isn't a gigantic climate difference between the two cities.
Which Is Best For Activities?
One of the reasons why so many people head to Athens and Rome each year is due to the huge range of activities on offer in both of these cities. From ancient archaeological sites to world-renowned artworks, there's lots to see and enjoy, and here's a quick comparison of the best things to do in Europe's two oldest capitals.
Athens: The Activities
In Athens, unsurprisingly, most of the focus is on ancient history, and there are some iconic sights to see. The Acropolis is, without doubt, the best place to begin. Rising up in the city's center, this is where you'll find the Parthenon and a range of temple ruins – you can almost feel the spirits of philosophers, actors, scholars, and nobles from thousands of years ago.
The Agora is another amazing place to explore ancient Athens – this old market has been around for more than 5,000 years! Nearby, the Temple of Hephaestus is one of the best-preserved temples in the city, with its towering columns still standing proudly to this day. The Roman Agora, Hadrian's Library, and the Temple of Zeus offer even more glimpses of an age long ago.
Touring ancient sites is one way to learn about Ancient Greece, but Athens also has lots of museums with vast collections of artifacts, artworks, and exhibitions to help you discover even more about the past. The National Archaeological Museum is a veritable treasure trove of Greek antiquity, while the Benaki Museum is an artistic haven, and the Acropolis Museum is a must-see.
Beyond all the historical delights, Athens also has plenty of gorgeous churches, lively squares, and trendy neighborhoods to explore. The Plaka neighborhood is an awesome place to embrace the city's charms, with its twisting, romantic paths, while Psyrri is totally worth checking out too, with funky street art, cozy coffee shops, and indie boutiques galore.
Rome: The Activities
As in Athens, many travelers flock to Rome in search of ancient history. And when it comes to ancient landmarks, this city has some of the best around, starting off with the legendary Colosseum. Open for guided tours and solo explorations, this famed amphitheater is very well-preserved and hosted everything from gladiatorial battles to theatrical dramas.
Beyond the Colosseum, Rome's other ancient landmarks include the Pantheon and the Forum. Expert guides are standing by, ready to take you around and tell you all about the fascinating pasts of these special places, or you can roam around at your own leisure. There are also lots of gorgeous churches and religious buildings, like St. Peter's Basilica or the Basilica di San Giovanni.
Speaking of religion. Rome is also built around Vatican City. There, in this tiny city-state, travelers can see the home of the Pope, admire Michelangelo's handiwork in the iconic Sistine Chapel, or tour the amazing Vatican Museums, home to some of the greatest works of art from the Renaissance period.
There are lots more museums and galleries all over the Italian capital, like the Galleria Borghese and National Museum of Rome, as well as dozens more memorable landmarks, from Trevi Fountain to the Spanish Steps. Theme parks, gardens, shops, and beautiful neighborhoods give you many more ways to spend your days.
All in all, there's plenty to enjoy in both cities. They're both world-class when it comes to history and museums, but Rome has a little more diversity and wider range of activities, so you may need a couple more days to fully appreciate the Italian capital.
Which Is Best For Day Trips?
Even though Athens and Rome are very exciting cities, with much to see and do, you might like to plan a day trip or two during your time in Greece or Italy in order to explore some other cities and areas. But, which of these two capitals is best-placed for the most exciting and enjoyable day trip experiences?
Well, if you're heading to Rome, you'll be able to take advantage of the city's central location and strong transport links. There are some super nearby spots to check out, like historic Tivoli, as well as cities that are further away, but still highly accessible, like Naples, home of some of Italy's best pizza, or the artistic and romantic haven of Florence.
From Athens, you can either rent a car or join a guided tour to various local coastal resort areas, islands, and other interesting locations. Those who can't get enough of history can head to Mycenae and the Tomb of Agamemnon, while those in search of a Greek island escape can hop across the Saronic Islands for beautiful beaches and summer sunshine.
Overall, while both cities offer fun day trips, Rome is the better option. It's got easier access to lots of thrilling big cities and coastal spots.
Which Is Best For Nightlife?
Like to stay out late, mingling with locals and visiting big city bars and clubs instead of heading back to your hotel for an early night? In that case, you'll definitely be eager to learn which of these two cities has the more exciting nightlife scene.
Unsurprisingly, as a big European capital, Athens has an impressive nightlife scene. It may not be as raucous as Mykonos, but there are still lots of exciting clubs here where you can dance the night away and party until the early hours, along with more laid-back live music venues, craft bars, and trendy taverns.
Travelers can explore districts like Gazi and Monastiraki for the wildest parties – this is where big-name DJs tend to perform when stopping over in Athens. Exarchia and Koukaki are also good nightlife areas, with trendy drinking holes and music venues aplenty.
Not to be outdone, Rome also has a very lively, dynamic nightlife scene. Whether you want a cocktail bar, a rooftop lounge, an underground party zone, or a thumping dance club, you can find it all here, with dozens of options to suit all tastes, ages, and lifestyles.
In terms of the best areas, Rome's historic center is particularly well-stocked with bars, with many great places to indulge in fine drinks and food around the gorgeous Piazza Navona. Trastevere is also a popular student party hub, and Monti appeals to a more mature audience with its cozy wine bars and charming music clubs.
Overall, both cities have more than enough nightlife to keep you entertained throughout your evenings and into the early hours, but Rome's is a little more developed and diverse.
Which Is Best For Shopping?
Shopping is always a popular way for travelers to pass the time in big European cities, and it should come as no surprise that Athens and Rome are both terrific places to shop, with malls, markets, and boutiques all around. However, one city is a little more appealing for shopaholics than the other.
And it's Rome that takes the win in this particular category. In fact, some travelers go to Rome purely for its shopping scene, which is one of the best on earth, good enough to rival the likes of London, New York, and Paris. Whether you want traditional crafts, upscale clothing, antiques, accessories, gifts, books, food, wine, or anything else, you can find it all here.
Rome has got some gigantic department stores to explore, like La Rinascente, which has been around since the 19th century, along with several streets dedicated to one particular type of store – there's the Via dei Coronari for antique dealers, for example, or the Via dell'Oca for jewelers and designer ateliers.
The shopping scene of Athens is mainly dominated by markets and charming independent stores. Monastiraki Square and Avysinias Square are great places to browse for traditional gifts and goods, while the famed Central Market is ideal for those who want to stock up on fresh farm produce and tasty treats. It's just not quite as deep or diverse as Rome's shopping experience.
Which Is Best For Food?
When it comes to the food of Athens and Rome, this is really a battle of Greek cuisine vs Italian. Both of those culinary styles have their merits and rank among the best in Europe, with Greek food featuring lots of tasty dips, olives, grilled meats, and herby dishes, while Italian food is famed for its globally-beloved creations, like cheesy pizza, saucy pasta, and rich lasagna.
Which one is best? Well, that all depends on your personal preferences, but general consensus tends to lean towards Italian cooking being the best in the world. Lots of people of all ages enjoy typical Italian fare, and Rome is one of the best places of all to enjoy all those Italian classics you know and love in luxurious restaurants with romantic vibes and spectacular city views.
At the same time, Greek food is, in many ways, equally appealing to Italian cuisine, and Athens also has lots of top class restaurants, including many with views of historic landmarks or prime locations down by the water. There's great seafood here, and it's easily one of the top spots for enjoying traditional Greek delight like moussaka and souvlaki.
Which Is Best For Families?
Rome and Athens are both popular destinations for family vacations, and it's not hard to see why. They're both terrific places to take kids of all ages, with educational museums, enlightening galleries, and extraordinary historic landmarks to enjoy. But which one is best for the average family?
Well, if you head to Athens, you'll be able to introduce your children to some of the most awe-inspiring ancient sites around. This city has lots of well-preserved temples and other ruins dating back thousands of years, providing a rich look into the past. Kids who are interested in Greek mythology, in particular, will be in awe at the city's many famous landmarks.
Over in Rome, there are also plenty of fascinating historic landmarks. Kids are sure to enjoy the Colosseum and learning about the events it hosted. And older children can appreciate the city's many galleries and iconic artwork. Rome also has lots more typical family attractions, like water parks, theme parks, and kid-themed museums, like the VIGAMUS video game museum.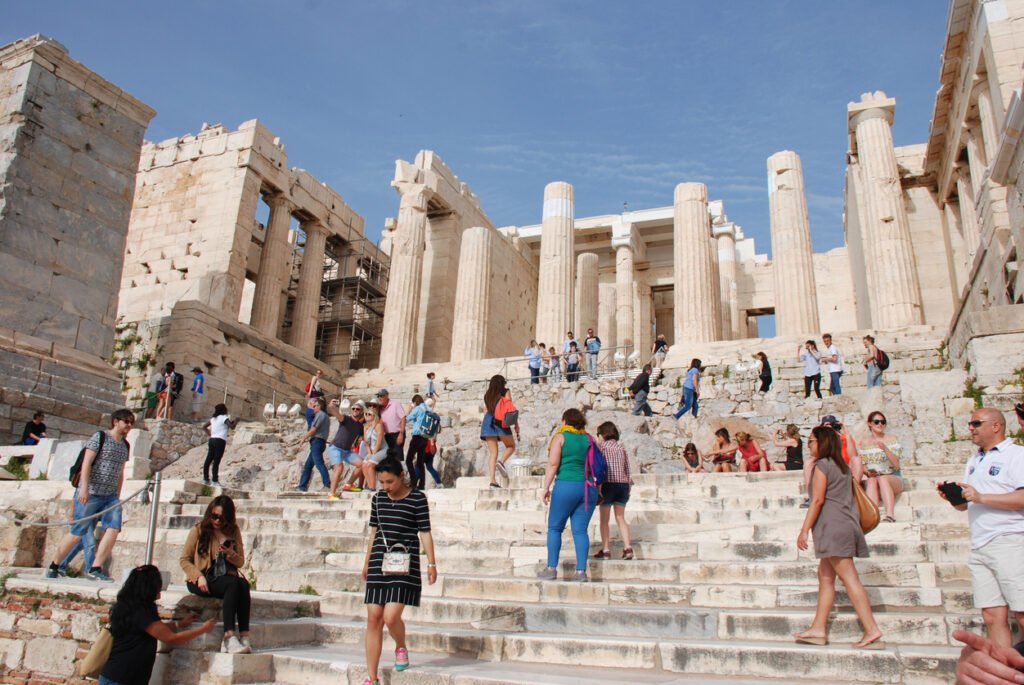 Overall, with a slightly wider range of activities, Rome is the better choice for most families. However, if your kids are particularly interested in Greek history, then Athens will obviously be the right option for you.
Which Is Best For Couples?
Couples can also have a terrific time visiting Athens or Rome. Rome is often described as one of the most romantic cities in the world, right up there alongside Paris. And it's easy to see why. This city has some really luxurious restaurants and fancy hotels, along with charming streets and a distinct, elegant ambiance in the air, especially in the evenings.
Athens can also be a fine place for a lovers' escape, especially if you and your partner are interested in history. You can easily while away the hours visiting old temples, ancient ruins, and vast archaeological sites, both within the city limits and in the surrounding area. There are also plenty of romantic places to walk and dine down by the waterfront.
Overall, both cities are excellent for couples, but Rome has a slight edge, thanks to its wider selection of things to do and slightly better dining and shopping scenes.
Which Is Best For Backpackers?
For backpackers, Athens is an awesome destination. It's got lots of great hostels and cheaper prices than Rome in most key areas. And, with so many iconic landmarks to see, it's one of those "bucket list" destinations that every backpacker should try to see at least once, even if it's just for a few days and nights.
Rome is more expensive, but also a great place to have a backpacking city break. You can find several cheap and friendly hostels around the city center, and there are affordable places to eat, too, if you avoid the obvious tourist traps. Plus, with museums, galleries, parks, gardens, and more, you'll never run out of things to do in the Italian capital.
Overall, both cities are equally appealing for backpackers. If you're on a tight budget and want to make it last, head to Athens. If you're looking for a wider range of activities and a more active nightlife scene, opt for Rome.
Which Is Cheaper?
In terms of cost, there's also a distinct difference between Athens and Rome. The Greek capital is notably cheaper than its Italian counterpart for accommodation and food. The prices of touristic activities and public transport are similar in both cities, but it's easier to have a budget-friendly stay in Athens than in Rome.
Where To Stay According To Your Budget
Athens
Budget: COCO-MAT Athens Jumelle emanates timeless elegance in Athens, Greece. This boutique hotel captivates with chic design, harmonizing modern luxury and classical charm. Opulent furnishings, soothing palettes, and meticulous details create a sanctuary of aesthetic beauty, inviting guests to indulge in a haven of sophisticated comfort.
Luxury: Four Seasons Astir Palace Hotel Athens epitomizes coastal luxury. Overlooking the azure Aegean, this haven in Athens, Greece, boasts stunning sea views. Impeccable architecture, private beaches, and lush landscapes create an opulent retreat. Elegant interiors, world-class amenities, and refined details redefine the epitome of beauty and tranquility on the Athenian Riviera.
Rome
Budget: The First Dolce – Preferred Hotels & Resorts is a masterpiece of elegance. Located in Rome, Italy, this boutique gem exudes sophistication. With timeless architecture, sumptuous interiors, and meticulous attention to detail, it offers a refined haven. A harmonious blend of luxury and charm defines this enchanting destination in the heart of Rome.
Luxury: By the Spanish Steps, Hassler Roma radiates refined luxury in Rome, Italy. Exquisite architecture frames breathtaking views of the Eternal City. Interiors, rich with classical charm, create an enchanting ambiance. Impeccable service and attention to detail define this iconic hotel, a haven of timeless beauty.
Athens vs Rome: Which Is Better?
Overall, in the big clash of Athens vs Rome (or Ancient Greece vs Ancient Rome), it's really tough to call a clear winner. Both cities are worth visiting and both of them rank among the best destinations not just in Europe, but worldwide. They're filled with some of the most incredible landmarks known to man, with so much history, art, and culture to soak up.
However, if you simply have to pick one over the other, Rome is the slightly better option for most travelers. It simply has more things to see and do, with a wider range of activities beyond the big historic landmarks. Rome also has better shopping and nightlife compared to Athens, and many people may also prefer the Italian food on offer in this city.
With that said, Athens is still more than worth considering for your next big European getaway. There are very few cities on the planet that can rival Athens for history and depth, and some of the ancient ruins and structures here simply need to be seen to be believed. There's also sunnier weather in Athens, and a slightly more laid-back vibe compared to hectic Rome.