Wandering our World is reader supported! If you purchase anything through a link on our site, we may earn a commission at no extra cost to you.
Last updated on July 2, 2023 by Wandering our World
The stunning Dartmoor National Park is one of England's most iconic regions, which is why camping in Dartmoor is becoming more popular. And with the open moorlands, rare flora and fauna, and gushing rivers, it's no surprise why.
There are several great campsites in and around this rugged region that are really worth staying at – and we recommend some of our favorites further down in this article.
However what makes this region so special for camping enthusiasts is that unlike most of England, wild camping in Dartmoor is legal in many areas of the national park!
We show you where those areas are, and the rules around wild camping in Dartmoor, next!
Wild Camping In Dartmoor
DISCLAIMER: Below we give general advice, but we always recommend staying in an official campsite. If you choose to go wild camping/dispersed camping, then make sure you do so with someone who already knows the area where you're planning on camping for your own safety.
It's rare that wild camping is permitted in an area of England, even more so in a protected national park. Unsurprisingly then, there are rules that apply to wild camping here.
Officially, you are allowed to wild camp in Dartmoor for two nights maximum, and as part of a multi-day walk or hike. The areas where you are allowed to wild camp can be seen highlighted in purple on this map.
A good walking and hiking book like this one, will show you some of the great trails available, and can help plan what area you will wild camp in.
Some moorland areas have no phone signal, and can be hard to navigate when weather worsens. Therefore make sure you plan your walking and camping trip in advance. Taking a Dartmoor map with you would also be a good idea.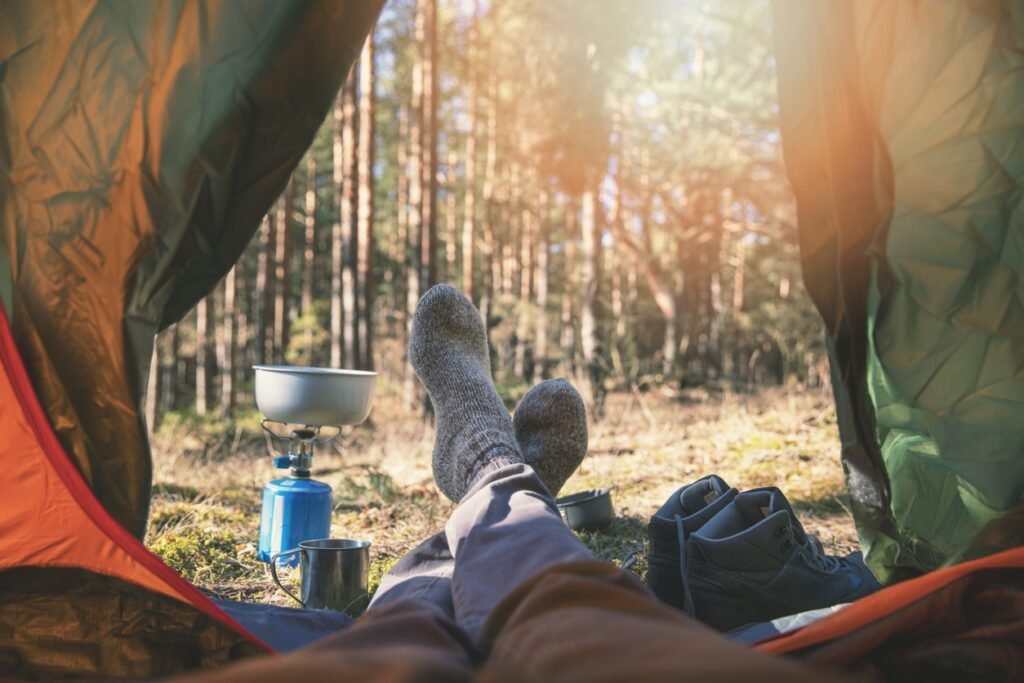 Wild camping in large groups is not allowed in Dartmoor, and neither is using a large tent. A lightweight, discreet hiking tent would be advised.
Furthermore, you must camp at least 100m from any road. The ground where you pitch your tent must be left undamaged, and you must take all rubbish with you.
Some of our favorite wild camping spots in Dartmoor include Birch Tor Mine – you can see how to get there at this link.
The Bellever/Riddon Ridge area is also a very beautiful spot that lies beside the River Dart, and there are toilets close by at the Forestry Commission car park.
If you're walking the Two Moors Way, we would recommend wild camping at Ugborough Moor. The views There are unrivaled across Dartmoor.
Below are our must-know tips for camping in Dartmoor, followed by some of the best campsites in the region!
Tips For Camping In Dartmoor
When wild camping in Dartmoor you must never make a campfire. You might want to think about bringing a storm cooker with you for cooking. They tend to be safe, and are often fine to use – but you should check local laws first. Our recommendation would be the Swedish brand Trangia, as their storm cookers are safe and virtually indestructible.
Keep an eye out for animal poo – if there's a lot near your perfect camping spot, you may end up being woken up by some enthusiastic animals at 3am!
Heavy rain can happen in Dartmoor – even during the summer months. Therefore make sure you have a rainproof tent that can survive rain. A lightweight one-man walking tent like this or similar would be perfect. For a good value tent that fits more than one person, this mosquito-proof one would work well too.
If you're wild camping, then go to the toilet at least 30-50 meters away from water sources, such as rivers. Make sure to use a trowel (like this folding one) to bury any human waste – don't just leave it out in the open.
There are many water sources in Dartmoor but remember to always have plenty of water on you when you're walking and camping. A space-saving collapsible water bottle would be a good purchase.
Like many rugged and wild rural areas around the world, there are flora and fauna to be aware of. So read up and make sure you know what to expect in the region or area you are planning to wild camp in.
Below we recommend some of the best campsites in Dartmoor!
The Best Campsites In Dartmoor
1. River Dart Country Park
This family-friendly campsite is not only located in some of Dartmoor's most stunning scenery, it also has a wide array of activities available due to being part of a 90 acre water and adventure park!
There's many children's playgrounds, walking and bike trails, and activities like clay pigeon shooting and pony rides. Situated beside a river, you can also go kayaking.
2. Hennock Hideaways Campsite
Whilst a more basic camping experiencing than River Dart, Hennock Hideaways is the perfect campsite to immerse yourself in nature. They have tent campsites, as well as glamping options.
The facilities like showers and toilets are modern and clean, and there's a children's play area, charging points, and a pet's corner with goats and chickens!
Sitting above the Teign Valley, the views are spectacular, and the site is perfectly located to explore the region on foot or bike.
3. Ashbourne Woods
This woodland camping site is spread over 68 acres of forest, giving the feeling of wild camping but with facilities! Those facilities include toilets, showers, a laundry/ washing up area, and coin operated laundry machines
Each of the pitches also has a fire pit you can use, so the evening atmosphere here is pretty special. Close to many Dartmoor attractions, there's also donkeys beside the campsite!
4. Runnage Farm
This little known campsite is one of Dartmoor's hidden gems. Cheap and cheerful, this site is located on a working farm, and is surrounded by great walking trails, and gorgeous countryside.
Expect a peaceful time, and some spectacular starry nights if staying here.
Recommended For Your Trip To Dartmoor
Tempted to go camping elsewhere? Check out our guides to camping in the Lake District, New Forest, Norway, Patagonia, Pyrenees and many others!