Last Updated on October 7, 2022 by Wandering our World
When it comes to tropical island paradises, you can't get much better than the Maldives or Bora Bora.
However due to their remote nature, visiting either is costly and the airplane journey long. So making the right decision for your dream getaway or honeymoon is vital.
Both have spectacular turquoise lagoons, white sand beaches, and those iconic romantic overwater bungalows. However there are some significant differences between both destinations.
After visiting both, we compare Bora Bora vs Maldives below, so you can decide your next vacation destination.
We show you which has the better beaches, what excursions are available, compare the culture, food and more!
CONTENTS:
A Quick Overview
How Do The Beaches & Landscape Compare
Explore The Sights & Experience The Island
A Taste Of Island Life: How Does The Cuisine Compare
Which Is The Better Choice
A Quick Overview
Expect great beaches, sparkling gin-clear lagoons, and overwater villas in both of these trendy vacation spots. However Bora Bora is more beautiful when it comes to the landscape, while the Maldives is more breathtaking when it comes to the sea.
Bora Bora not only has a stunning coastline, but as a volcanic island it also has a spectacular backdrop of rainforest-clad mountains that rise out of the Pacific. In fact Bora Bora's highest peak stands at 727 meters. In comparison, the highest point in the Maldives is just 2.4 meters!
However if your priority is beaches, then the Maldives is a better choice than Bora Bora. The beaches in the Maldives are world-class, with the nation coated in soft powder-like white sand. It's the sort of place you can walk around barefoot all day.
The beaches in Bora Bora, while stunning too, are not as soft. If you have reef shoes you will use them more in Bora Bora than in the Maldives.
The snorkeling in Bora Bora is very good, with many opportunities to see reef sharks and other underwater life. However the shore snorkeling in the Maldives is exceptional and unparalleled. So if you're a keen snorkeler or diver, the Maldives may be the best choice.
Yet as the resorts in the Maldives are almost always based on their own private secluded islands, it can be difficult to move around and see other parts of the country. In Bora Bora this isn't the case, which makes it much easier to move around, explore, eat at a different resort, and mingle with the local community. So if you're looking for a bit of adventure alongside cocktails on the beach, then Bora Bora is probably the better choice.
Choosing to visit Bora Bora also opens up the opportunity to spend some time on the neighboring islands of Moorea, and Tahiti. Both have their own charm, are stunning, and quite different from Bora Bora – as we've written about before.
In regards to overwater bungalows/villas, both the Maldives and Bora Bora have them. In Bora Bora due to the depth of the ocean, you can often jump straight from your hut directly into the lagoon. That's not always possible in the Maldives where the water is more shallow. However the privacy tends to be better in the Maldives, as Bora Bora has more water traffic (boats, jetskis etc) passing by its resort villas. In comparison the resorts in the Maldives tend to be much more secluded.
Below we look at both in more detail, before comparing the culture and local food you will find in each!
How Do The Beaches & Landscape Compare?
Bora Bora
The French Polynesian island of Bora Bora is undeniably beautiful when it comes to sparkling blue lagoons, and picturesque palm trees languidly lining its sandy beaches.
It's the perfect place for an upmarket holiday where you can easily while away your time in Bora Bora's iconic overwater bungalows on stilts or sipping cocktails on the beach.
For one of our favorite beaches though, head to Matira Beach for white sands surrounded by greenery.
Although best known as a romantic destination, the turquoise lagoons of Bora Bora also provide the ideal conditions for kayaking, snorkeling, diving, kite-surfing and other water sports.
One of our favorite areas is Bora Bora Lagoon. This colorful reef is a great snorkeling spot to watch rays, reef sharks, and countless multi-colored fish!
If you want a break from the sea, you can also opt to trek through the island's jungles! Hikers will revel in climbing Bora Bora's highest peak, Mt Otemanu. This old volcano is best scaled with a local guide, but it will be well worth it.
The dramatic volcanic peaks on this island – and French Polynesia – are breathtaking, and the views unmatched. In fact in our opinion, this is probably the most beautiful island in the world.
Recommended: Hiking in Bora Bora
If you're traveling to Bora Bora from June to November then it's also peak whale-watching season! Humpback whales migrate to the island to breed during this time, and can even be spotted while snorkeling around the island. Having a great underwater camera – such as this one – is a must.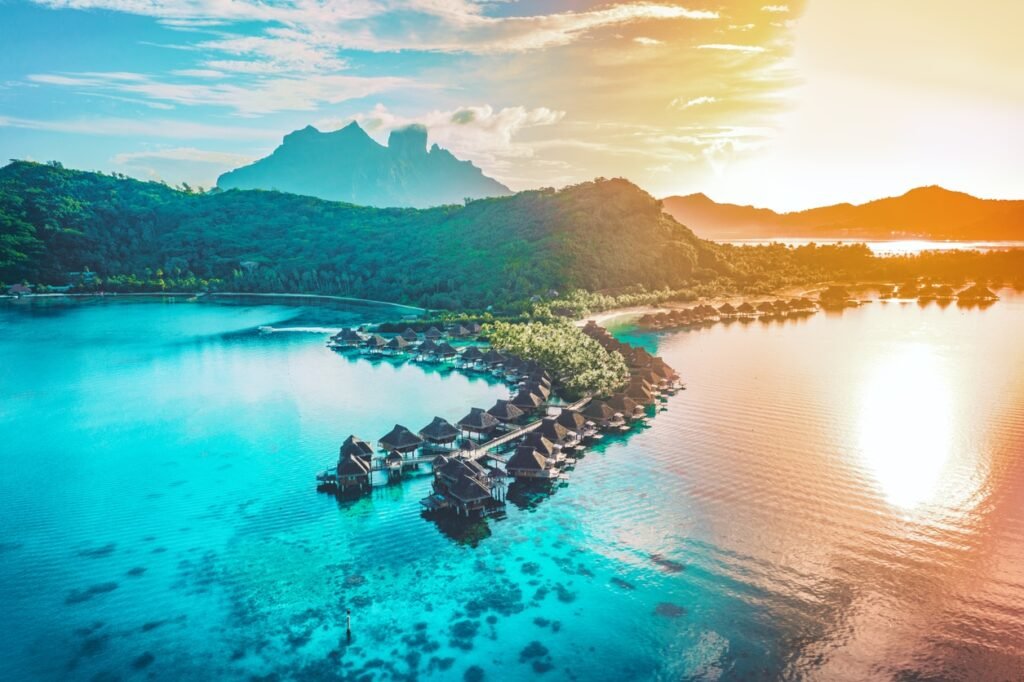 Maldives
Relaxation, calm, isolation, and quiet. That's what you should expect in the Maldives, a country that specializes in upmarket resorts and honeymoon vacations.
Some of the world's best beaches happen to be in this nation too. One of our favorites is the powder white coastline at Lhaviyani Atoll where the palm tree lined beaches look like a computer screensaver. We've found that the west side of the atoll has wider beaches and softer sand, so is perfect for a day's sunbathing.
Many of the over 1000 islands in this country are privately owned by resorts. So you may be limited as to where you can go on each island in the Maldives. In general, that's less of an issue in Bora Bora where it's easy to roam. However what you will get in the Maldives is an exceptional level of privacy, and a real feel of seclusion.
Having a resort on a private island also means that you are guaranteed to have a spectacular beach, and a coral reef for snorkeling, right beside your room. When it comes to high-end beach vacations, this country really does excel.
It also excels when it comes to snorkeling, with a spectacular colorful underwater life that can be seen easily thanks to the crystal-clear water. However most snorkeling is done with a resort, due to the privately owned nature of many islands in the Maldives.
One of the best snorkeling spots is Manta Point, which is home to Manta Rays! Also known as Emas Thila, this is probably one of the best places in the world to swim alongside these gentle giants. Just make sure you take a great underwater camera with you – like this one.
For a burst of color, Banana Reef is another great spot to snorkel and dive. Here you'll see rays, sharks, and many different types of reef fish including Royal Blue Tangs. You might not have heard that name before, but you will recognize the fish if you've seen 'Finding Nemo' – 'Dory' was a Blue Tang!
Recommended: Snakes and Sea Snakes in the Maldives
Explore The Sights & Experience The Island
As both Bora Bora and the Maldives focus on upmarket resort-based holidays, interaction with the local community and culture is often limited. That's unless you make a trip away from the island resorts, and into the population centers.
The resorts in the Maldives tend to be more isolated than in Bora Bora though, mainly due to how spread out the country is among so many islands. Therefore interacting with the local community, as well as events and excursions happening outside of the hotel is typically hard.
That's easier in Bora Bora where traveling to the island's main town is easy and quick. It's also quite easy to visit neighboring culture-rich islands in French Polynesia too – like Tahiti and Moorea.
Bora Bora
Visiting the French Polynesian island of Bora Bora affords visitors a unique opportunity to delve into the lives of early settlers and learn more about the arrivals from Europe. From the famous story of the 'Mutiny on the Bounty' to the oral history shown through dance and song, you can learn a lot through the cultural experiences on offer here.
Recommended: Traveling to Bora Bora? Here's the Culture Guide You Need
Try your hand at spearfishing and learn the incredible meanings behind traditional Maori tattoos. On islands like Bora Bora and nearby Tahiti, you will also find dance performances of the 'Ori Tahiti', and there are also places to take lessons with locals.
A trip to Bora Bora's only town, Vaitape (pop: 5000) is worth it in order to experience some of community life. Although the town is focused on the tourist trade, a visit there will give you a chance to try out local cuisine. Some of which we recommend later in this article. In fact this is one of the advantages of Bora Bora. You can try out food outside of your resort, something that is much harder to do in the Maldives.
Maldives
As a majority Muslim country, the Maldives is a conservative nation. Although within resort complexes you are free to act as you would in any liberal Western country. However if you plan to make any excursions into population centers – like the capital Malé or public beaches – then be sure to dress conservatively, and avoid things such as alcohol.
The culture in the Maldives is vibrant, interesting, and definitely worth discovering though.
Bodu Beru is a traditional rhythmic dance performed by upwards of 15-20 people, and was introduced to the Maldives around 1000 years ago. It's been a tradition here ever since, and many resorts have cultural nights where dancers perform.
If venturing into Malé, a visit to the Maldives National Museum is a must. Not only does it give an insight into the history of this nation, but it also has a great collection of historical artefacts from the region, some several centuries old.
A Taste Of Island Life: How Does The Cuisine Compare?
With both being tropical island paradises, expect an abundance of fruit, coconuts and fresh fish. Still, there are some local dishes which might surprise you!
Bora Bora
In Bora Bora, the food is mainly seafood based. Try raw fish with coconut milk. Usually, this is made from tuna or bonito fish. It is sliced into cubes and marinated in coconut milk, lemon juice, onion, cucumber, tomatoes, garlic and spring onion.
With such a big Chinese-Polynesian population, there is a wonderful fusion of cuisines on French Polynesia. Chao men (fried noodles with vegetables, meat and shrimp), chicken with lemon sauce, chao chap (roasted duck), and mapo tofu are popular dishes on the islands. Raw fish is also very prominent in Chinese cooking on French Polynesia.
A notable French influence in Bora Bora also shines through in sweet treats such as firi firi (Tahitian doughnuts) and banana crepes. A favorite breakfast food is coconut bread!
Related: Exceptional Restaurants in Bora Bora
Maldives
As the first settlers to the Maldives came from India and Sri Lanka, a lot of the food has an Indian twist.
Curry is therefore one of the most popular dishes. We recommend trying Mas Riha. Made with freshly caught tuna, coconut, and a good number of chilies, this is a truly unique and delicious Maldivian dish.
Seafood is also popular and traditional dishes include Garudhiya (a type of fish soup) and Kulhi boakiba, which is a fish cake made from smoked tuna, coconut, ginger and rice.
As for what to drink, resorts in the Maldives have countless number of cocktails to try. However the coconut water in the Maldives is delicious and refreshing – especially when enjoyed direct with a straw.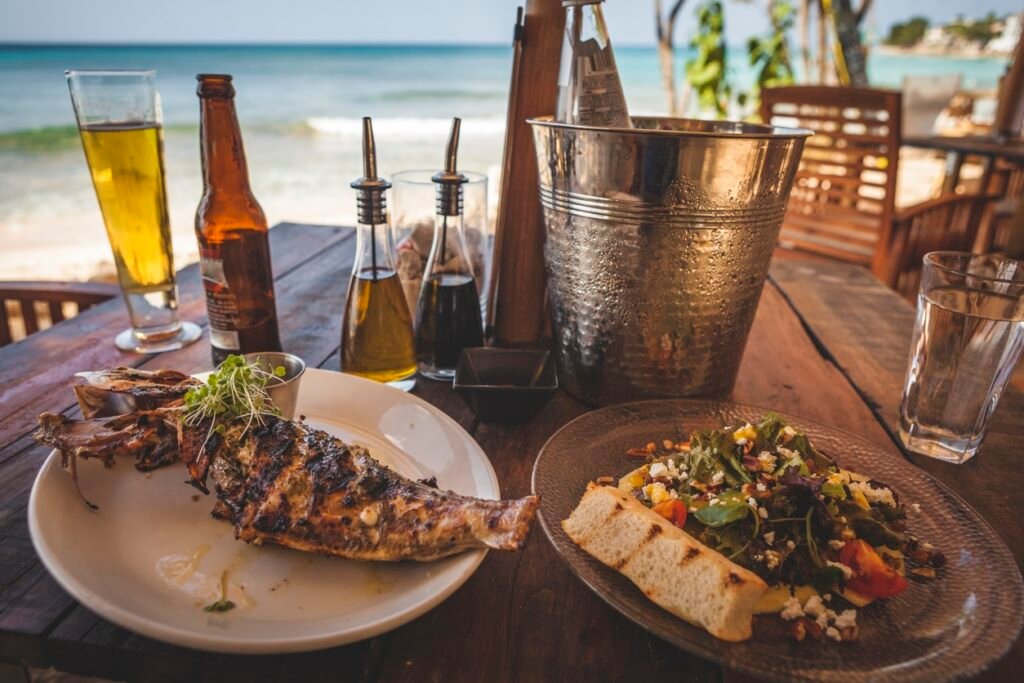 Bora Bora Or Maldives: Which Is The Better Choice?
The Maldives is all about relaxation and the sea. So if you want to spend as much time as possible on a resort beach and in the water then the Maldives would be a better choice. The scenery isn't as breathtaking as Bora Bora, but the beaches and snorkeling are world-class.
Bora Bora is perfect for tourists who wish to relax in stunning surroundings, but also want to do some exploring or island hopping. As the resorts in Bora Bora are more integrated into the community than the Maldives, it's also possible to eat out at different restaurants, or go on a variety of excursions.
Recommended For Your Trip To Bora Bora Or Maldives
*This article may contain affiliate links which allows Wandering our World to make a small commission on any sales made – and keep the coffee flowing! It involves no extra cost to yourself. As an Amazon Associate we earn from qualifying purchases, but only recommend products we believe in.