Wandering our World is reader supported! If you purchase anything through a link on our site, we may earn a commission at no extra cost to you.
Last updated on June 4, 2023 by Wandering our World
Dreaming of an island getaway, far from the hustle and bustle of city life? If so, Bora Bora and Hawaii are two idyllic destinations that are likely on your bucket list. No wonder too, these beautiful places have a whole lot to offer, world-class beaches with crystal clear waters to vibrant wildlife and gorgeous resorts.
But, with these fabulous island hotspots being over 2,500 miles apart, it's not common for people to visit both of them on the same trip, never mind visit both in their lifetime. Which is exactly why making the right decision is so important – especially as Bora Bora and Hawaii are actually very different.
For example, with its more laid-back vibe, secluded beaches, famous overwater bungalows and warm weather all-year long, Bora Bora may be best-suited to those seeking a soothing, sunbathing kind of getaway.
Hawaii, meanwhile, is arguably the more diverse destination, offering lots of different activities, landscapes, and lively cities that will appeal to families or those with an adventurous spirit.
However, with so much to see and do in both of these locations, it's impossible to sum them up in just a couple of sentences. That's why, in this guide, we'll be providing an in-depth comparison of Bora Bora and Hawaii.
We'll take a detailed look at which location has the best beaches, nightlife, and activities, as well as examining which is best for budget-conscious travelers and much more. By the end, we're sure your mind will be made up. Let's dive in!
CONTENTS:
A Quick Overview
Which Is Easier To Get To?
Which Is Easier To Get Around?
Which Is Better For Beaches?
Which Is Best For Activities?
Which Is Better For Nightlife?
Which Is Best For A Honeymoon?
Where You Should Stay According To Your Budget
Which Is Better For A Family Trip?
Which Is Cheaper?
A Quick Overview Of Bora Bora vs Hawaii
Bora Bora: A Quick Overview
Part of French Polynesia, Bora Bora covers just 30.55 square kilometers, or 12 square miles, making it tiny compared to Hawaii. Yet as small as it may be, it certainly packs a punch.
Bora Bora is famed for the beautiful blue lagoon that surrounds it, as well as its own barrier reef and central volcano (which, thankfully, is now classed as extinct). But it's the gorgeous overwater bungalows – private resort bungalows that sit over the lagoon – that really draw tourists year after year.
The weather in Bora Bora is primarily warm all year long, but there is a rainy season from November through to April.
Even though it's part of French Polynesia and locals natively speak either French or Tahitian, many people here have a decent level of English too, especially the staff of the island's famous luxury resorts and hotels.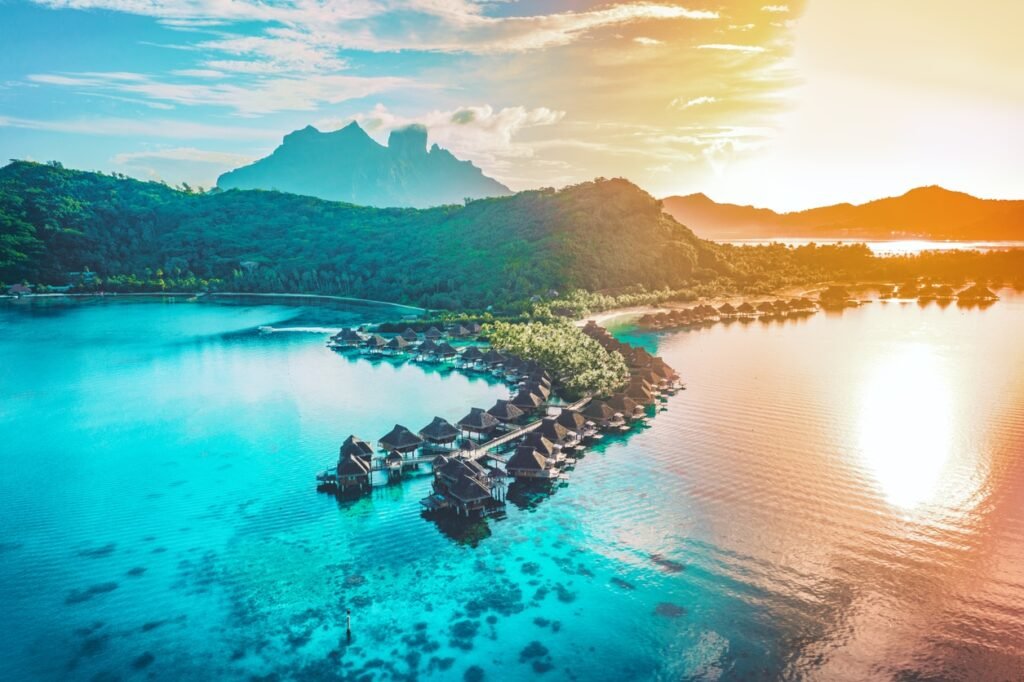 Hawaii: A Quick Overview
Hawaii is a US state, situated in the Pacific Ocean. Known as the Aloha State, Hawaii is made up of 137 different islands, although most of them are uninhabited, and the majority of Hawaii's population lives on the island of O'ahu, which is also home to Hawaii's capital, Honolulu.
In total, Hawaii's islands cover more than 16,000 square kilometers, or over 6,400 square miles, of land, and it's possible for travelers to hop between islands using local plane and boat services. So if you fancy some island-hopping adventure, you know where to visit!
Just like Bora Bora, Hawaii is known as a warm and sunny destination, but the average temperatures are a little cooler, especially around December, January, and February, and rain is also common from November to March.
Locals in Hawaii have their own native Polynesian language, but also speak English.
The islands are very diverse, with rainforests, mountains, volcanoes, and beaches to explore, as well as lively cities, like Honolulu, so in that sense it's a very different place from much smaller Bora Bora.
Incredibly this state is so diverse in its landscape it's even possible to ski and snowboard during some months of the year – as we've written about previously!
Which Is Easier To Get To?
One of the first things to focus on when you're planning a trip is how you're going to get to your destination, and this is an area in which Bora Bora and Hawaii have some major differences.
Situated in the Pacific Ocean in the Southern Hemisphere, Bora Bora has its own airport, but you won't be able to take a direct flight there from places like the US or Europe. Instead, most travelers fly into Papeete in Tahiti, and then take a 50-minute flight across from there.
It's not exactly difficult to get to Bora Bora, but it will take a long time for most people, especially travelers coming from the US or Europe.
For example, journeys from New York to Bora Bora will routinely last 30 hours or more, and flights from London will also often take over 30 hours and involve a few stops along the way! Even if you're coming from Australia, flights can take 25-30 hours, on average.
Hawaii, on the other hand, is significantly easier to get to for most travelers. It's situated in the Northern Hemisphere, far closer to the mainland US than Bora Bora.
This makes it very accessible for American travelers, with flights from LA to Honolulu taking less than six hours, and flights from New York available at around 11 hours in duration. A non-stop flight from Sydney to Honolulu can also be completed in around 10 hours.
For Europeans, the journey will be longer. A flight from London to Hawaii, for instance, may take around 20 hours, with one or two stops along the way, but this is still significantly faster than flying to Bora Bora.
Which Is Easier To Get Around?
Getting to Bora Bora might take a while, but once you're there, getting around the island is quite easy. It's a relatively small place, so there's no need to worry about lengthy journeys from one part to another, and you can even cycle across the entire island in just a few hours.
Bikes are indeed one of the best options for getting around Bora Bora if you feel like getting some exercise on your trip.
Or, if you prefer something more relaxing, you can use the island's own public transport system, known as "Le Truck".
Of course, many of Bora Bora's fancy hotels and resorts also offer their own private shuttles for guests, and you can take boats around the lagoon or opt for a taxi on dry land.
Given that Hawaii is significantly larger and comprised of multiple islands you might like to visit, getting around can be a little more complicated.
Fortunately, there are plenty of inter-island flights that connect places like O'ahu, the Big Island, Kaua'i, and Lana'i.
These flights are handy, but the costs can add up, especially if you don't book in advance, so travelers are advised to plan out their itinerary ahead of time and get tickets booked.
Otherwise, you might choose to simply stay on O'ahu, Hawaii's most popular island, where you can use public transport or a rental car to get around quite cheaply.
Which Is Better For Beaches?
If you love spending time on the beach and want to choose between Hawaii and Bora Bora, there's really no wrong answer as both of these locations can boast of some of the most breathtaking beaches on the planet.
With soft sands, clear waters, and majestic views, combined with warm, sunny weather for large parts of the year, Bora Bora and Hawaii both have the kind of stunning beaches you tend to see on the prettiest postcards. However, there are definitely some differences to be aware of.
The biggest difference is in terms of size and quantity. As you would expect, since Hawaii is much larger, it has a greater number of beaches and many more miles of sandy coastline than Bora Bora.
The greater quantity of beaches in Hawaii gives you more options to pick from, from smaller and more secluded beaches to big sandy expanses with great surfing conditions.
Many Hawaiian beaches are also quite lively, with big crowds and lots of activities, like windsurfing and parasailing.
Hawaii certainly has the quantity, but Bora Bora arguably has the quality. Its beaches are generally regarded as being the most beautiful of all, and they're also significantly quieter than most of those in Hawaii.
Because of this, you get a totally different vibe while relaxing on the white sands of a Bora Bora beach and looking out over the tranquil waters of the lagoon when compared to the lively vibes and crowds of the Hawaiian coastal hotspots.
Below we look at what to expect at the beaches in both, so you get a better idea of which destination would suit you best:
Bora Bora: The Beaches
The main public beach in Bora Bora is Matira Beach, and it's widely-regarded as one of, if not the best beach in the world.
This is the kind of beach that people dream of, with white sand, clear water, and some nice local eateries just a short walk away.
Aside from Matira, there aren't too many other public beaches in Bora Bora. But a lot of the island's resorts have their own private beaches for guests to enjoy, like the Conrad Bora Bora Nui Resort, which is a super spot for snorkeling, or the Bora Bora Pearl Beach Resort, which is beloved by couples.
A lot of the beaches here are small and quiet too. They have decent amenities, but aren't overcrowded, nor will you need to worry about pesky sellers or noisy crowds, making Bora Bora's beaches ideal for those who just want to relax.
It's also worth noting that, due to the presence of Bora Bora's huge lagoon surrounding the main island, the waters tend to be really calm and very warm, too.
That makes them ideal for dipping your toes while walking along the shore, or for easy swimming and snorkeling.
Recommended: The Best Restaurants In Bora Bora
Hawaii: The Beaches
There's a long list of fabulous beaches in Hawaii, and part of the appeal of this destination is the number and variety of the beaches on offer.
Many of them are long and visually impressive, like Polihale Beach, which runs for 17 miles in total, perfect for long walks as the sun sets!
In fact, most of Hawaii's famous beaches, like Waikiki Beach, Waimea Bay, and Hanalei Bay, are relatively large and often enjoy amazing mountain views, as well as direct access to restaurants, snack shacks, and hotels.
There are some smaller beaches dotted here and there around the Aloha State, but they can be hard to get to. This may be a problem if you prefer to sunbathe in peace and quiet, as the big beaches tend to get very crowded, and it can be hard to find a quiet spot.
This won't matter to everyone, and some people love the vibrant atmosphere of a Hawaiian beach, but if you prefer something silent and secluded, Bora Bora might be the better option for you.
In terms of the water, Hawaii's beaches look directly out onto the Pacific Ocean, and water conditions can be quite choppy. But those big waves make the Aloha State a popular place with surfing and parasailing enthusiasts, albeit less friendly for swimmers and paddlers.
Which Is Best For Activities?
As well as spending time on the beach, you might want to enjoy various other activities during your stay in Bora Bora or Hawaii. Both locations have a range of activities available for travelers to fill their days.
Bora Bora: The Activities
Given that Bora Bora is a relatively small location, visitors shouldn't expect an endless list of attractions and activities here. Most of the activities to enjoy on the island are focused on the lagoon, such as boat tours or snorkeling.
The lagoon is absolutely teeming with life, with hundreds of different kinds of tropical fish, as well as rays and more. Anyone who loves nature and wildlife will have the time of their lives watching all of these denizens of the deep swimming by.
Different companies also offer guided excursions and provide you with snorkeling gear, for a cost of course. Or you can simply hire a boat or paddle your way out in a kayak and then dive down to explore.
There are multiple colorful coral gardens to swim around, and it's also possible to swim with sharks, if you're looking for something a little more thrilling. Or, to enjoy the lagoon without getting wet, you can simply hop on a boat tour and sail around.
Those who prefer to keep their feet on dry land might like to take a hike up Mount Otemanu. Rising just over 2,400 feet, this ancient volcano is one of the island's most distinctive landmarks. It's also quite a tough climb, so you'll probably want to hire a guide to lead the way.
There are a small selection of other hiking trails, and many visitors to Bora Bora enjoy riding bikes around the island, too. While the island isn't going to rival Hawaii for hiking, the trails are decent and good fun – as we've written about before.
Hawaii: The Activities
The activity selection in Hawaii is much more robust compared to Bora Bora, with many more things for travelers to do, starting off with beach and water-based activities like parasailing, jet skiing, surfing, and scuba diving.
You can also take boat and fishing tours around the islands and out into the Pacific in the hopes of reeling in some of the local fish. Or, if you prefer to simply admire marine life, dolphin spotting and whale watching boat trips are also available.
There are dozens of hiking trails around Hawaii, too, especially on the island of Kaua'i – which was actually used for landscape scenes in the movie Jurassic Park. However one of the best hikes is actually on Oahu and leads up to Diamond Head, providing incredible overhead views of Honolulu.
Otherwise, you could head to the Hawai'i Volcanoes National Park – home of active volcanoes and lava flows – and trek along the trails to spot landmarks like the Pu'uloa Petroglyphs or Keanakāko'i Crater.
As stated earlier on, there's a real mixture of landscapes in Hawaii, which will certainly appeal to amateur photographers and those who enjoy seeing something different each day.
And since there are so many hiking trails across the various islands, you can find simpler ones to enjoy as a family or tougher ones if you feel like taking on a challenge.
Aside from hikes and watersports, Hawaii also has some great cities, such as Honolulu and Kailua-Kona. The former is a super place to shop, dine, and visit cultural attractions like the Iolani Palace, Bishop Museum, and Pearl Harbor National Memorial.
There's even a zoo in Honolulu, as well as galleries and museums, providing lots of options for families, history buffs, and other kinds of travelers.
Which Is Better For Nightlife?
If you like to party or stay out and about after dark, you'll want to know which of these two island destinations boasts the best nightlife. And in this department, there's one clear winner: Hawaii.
Generally-speaking, Bora Bora has very little nightlife. Aside from watching the sun go down on the beach, enjoying a romantic meal at a resort restaurant, or taking an evening boat ride, there's not too much to do at night.
While this may not appeal to those who like clubs and bars, it's worth noting that Bora Bora's lack of nightlife makes it a very quiet and peaceful place, perfect for couples looking for a romantic getaway.
Hawaii, on the other hand, has a pretty active nightlife scene. There are plenty of nightclubs, especially in and around Honolulu, with examples such as The District Nightclub, Scarlet Bar, and The Republik offering a good mixture of music and tropical cocktails.
You can also find no shortage of bars along the coast with live music and DJs, parties on the beach, and various live events to enjoy in the evenings throughout the year, such as concerts or fireworks displays.
Which Is Best For A Honeymoon?
If you're planning a romantic honeymoon, both Bora Bora and Hawaii are prime locations you might have at the top of your list, but which one is best?
Well, that will ultimately depend on what kind of couple you are and what you like to do the most.
Bora Bora is generally considered to be the more romantic and relaxing option of the two. With its tranquil lagoon and 5-star resorts, it offers the luxurious amenities and blissful setting that many people crave for a romantic getaway.
You and your new spouse can while away the hours on Bora Bora's peaceful beaches, spend time snorkeling with the fish, and enjoying the couple-friendly vibe of the entire island.
Plus, Bora Bora is home to its world-famous "floating bungalows" (aka overwater bungalows) which are wonderful to stay at on a honeymoon.
In general, you'll also find that a lot of the people who visit Bora Bora tend to be couples without kids, which adds to the feeling that this is one of the best places in the world to visit with a loved one.
Hawaii is by no means a bad place to go for a honeymoon, either, but it definitely has a different vibe. It's much busier, with lots of families and children of all ages, which can make it feel a little less romantic. However, thrill-seeking couples will appreciate the variety of activities on offer.
Where You Should Stay According To Your Budget
Bora Bora
Shoestring: Bora Bora is an island synonymous with luxury, so finding somewhere great on a tight budget isn't easy.
However at Oa Oa Lodge you get beachside accommodation, your own private garden villa, exceptional service, and an unbeatable location within walking distance of Vaitape – the island's largest city. And all of that for a fraction of the price of other accommodation on the island. See photos and rates!
Budget: What's better than staying at the beach? Staying at the beach on a private island of course! Fare Ahuna is an exclusive property located on Motu Ahuna Island, which is a 3km boat trip from Vaitape.
You'll get incredible sunset views over Bora Bora as you stay on your very own private island paradise in the lap of luxury. See photos and rates!
Luxury: It's Bora Bora, an island famed for overwater bungalows. And you'll find arguably the best at the five-star InterContinental Bora Bora & Thalasso Spa.
The bungalows come with a celebrity price tag, but you'll get celebrity treatment, a private swimming pool and the best seat (and bed) in the house. Simply put, staying at this resort is a once-in-a-lifetime experience. See photos and rates!
Hawaii
Shoestring: Just one minute from the beach and with free bike rental, Hakuna Matata Hostel on Maui is fun, cheap and friendly. You'll be making memories in no time here, and without damaging your bank account. See photos and rates!
Budget: Located in the heart of Waikiki, 2 minutes walk to the famous Waikiki Beach and surrounded by shopping and dining is the luxury boutique Halepuna Waikiki hotel.
This four-star hotel will stretch budgets, but the panoramic views of the ocean and city – alongside the gorgeous infinity pool – will be worth it. See photos and rates!
Luxury: Montage Kapalua Bay on Maui is one of those hotels we all wish to stay in one day. It's extravagant beachfront luxury on a 24-acre landscaped resort with unparalleled views to the sea and beach access. It's everything you'd expect of a five-star resort and more. See photos and rates!
Which Is Better For A Family Trip?
Looking for an island getaway for your next family vacation? If so, Hawaii might be the best option of the two, as it boasts more things to do with kids.
From dolphin and whale watching tours to big city malls and the Honolulu Zoo, there are lots of activities and attractions that are family-friendly in Hawaii. So, if your kids tend to get bored just sitting on the beach, you'll have plenty of other ways to keep them entertained.
Recommended: The Best Island In Hawaii For Families
Even older kids and teens can find plenty of fun things to do, like Hawaii's Wet'n'Wild water park, forest hikes, surfing spots, or zipline tours.
Plus, since traveling families are more frequent in Hawaii, there's a better chance of your kids making friends and socializing with people their own age.
In contrast, Bora Bora isn't the most kid-friendly destination. It can still appeal to older kids with its beautiful scenery and snorkeling opportunities, but younger visitors might get a little bored of the beach after a while and may not find much else to do.
In addition, it's worth noting that several of Bora Bora's top resorts and hotels are adults-only, so you'll have a more limited selection of accommodation if you choose to travel here with little ones.
Which Is Cheaper?
Of course, cost is another key factor to consider when planning any kind of vacation, and this could be the most important aspect in determining which place you choose between Hawaii and Bora Bora.
Well, neither of these destinations are particularly cheap, but one is more expensive than the other; a trip to Bora Bora will almost always cost more than a stay in Hawaii.
As explained above, the flights to Hawaii are shorter and more accessible, which also makes them quite a lot cheaper. In addition, Hawaii has a greater range of accommodation, and it's possible to find some relatively cheap places to stay.
You will need to spend money on the various activities and excursions you enjoy during your time in Hawaii, but since there's quite a lot of competition among tour companies and a good selection of attractions, it's possible to enjoy a fulfilling itinerary on a limited budget.
Bora Bora, meanwhile, is a more exclusive destination with higher prices all around. The flights usually cost a lot more, as you have to travel further and pay for the connection from Papeete or another local airport.
Not only that, but a lot of the accommodation at Bora Bora consists of fancy resorts, with high average prices per night. And with fewer options for excursions and restaurants, costs can quickly add up.
Bora Bora vs Hawaii: Which Is The Better Choice?
Overall, both Bora Bora and Hawaii are amazing places with so much to offer. But, even though they're both islands in the Pacific Ocean, they're surprisingly different in quite a few ways.
Bora Bora is the quieter and calmer of the two, offering a peaceful retreat and genuine escape from urban life, while Hawaii is more diverse, with a wider range of activities to cater to every kind of traveler.
It's because of this diversity that we would generally recommend Hawaii to most people, especially families or those who want an adventurous vacation with lots of activities. It's also the better choice for those on a budget.
However, Bora Bora is probably the better location for honeymoons and romantic trips with its tranquil waters, overwater bungalows and unbeatable beaches. It comes at a higher price, but the breathtaking beaches and calm setting might be worth the extra money to you.
Many people who have visited both locations also say that Hawaii has more of an American, family-friendly feel, while Bora Bora is more distinctly French Polynesian in terms of its culture and food.
Ultimately, the right choice for you will depend on your preferences and what kind of vacation you're looking for. But no matter which island you choose, you're sure to have a magical, memorable time.