Wandering our World is reader supported! If you purchase anything through a link on our site, we may earn a commission at no extra cost to you.
Last updated on May 22, 2023 by Wandering our World
Although most people come to Bora Bora for the spectacular lagoons and gorgeous overwater bungalows, we will let you into a secret – this tropical paradise is actually a wonderful hiking destination too.
Bora Bora has an incredible rainforest-clad interior with majestic mountains and trails that will take your breath away. With great weather, and many achievable trails, hiking in Bora Bora is a must for any visitor to this Pacific paradise.
However there definitely seems to be a push in Bora Bora to get tourists to use guides when hiking – some of which charge huge prices for hiking trips. Yet there are several hikes that you can do without guides – as we show below. (Recommended: Bora Bora vs Tahiti vs Moorea).
So strap on your walking boots and get ready for a hiking in Bora Bora adventure, as we share with you some of this island's best trails!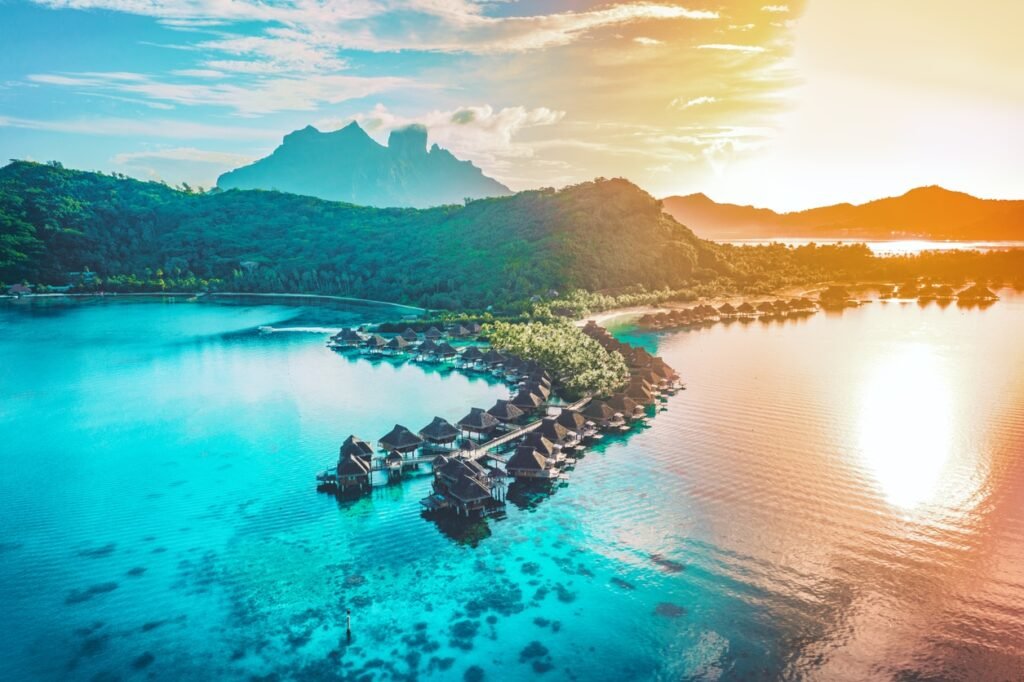 Hiking In Bora Bora: The Best Trails On The Island
1. Hike to the WWII Guns at Faanui
This short but steep hike combines nature with history, as it will take you to two old artillery guns used by the Americans in WWII.
They're a little hidden away amongst vegetation, but the views out towards the ocean are fantastic and some of the best in Bora Bora.
The guns are located on a hill in Faanui, and there's no road signs to find them. However the start of the driveway that takes you up to the guns is opposite Chancelade Base in Faanui.
In total you can go up and down in 30 minutes. Remember to wear proper shoes though as the hike can be quite steep in places.
2. Matira Beach
This isn't a hike, but it is one of our favourite places to walk in the evening.
Matira Beach is the largest public beach in Bora Bora and is a lovely spot for a sunset stroll. The water here is incredibly shallow – even 200-300 yards out into the sea – so it's perfect for walking in water and watching the colorful fish swim around your legs.
The white sand is soft and the water crystal clear. There's a few small bars and restaurants near the water's edge too, so you can easily grab a drink or something to eat. (Related: Exceptional Restaurants in Bora Bora).
3. Mount Pahia
The top of Bora Bora – Mount Otemanu – cannot be hiked due to its sheer rock face, however you can hike to the top of Mount Pahia which sits beside Otemanu at 658 meters tall.
From the peak you will get spectacular panoramic views across Bora Bora and out into the Pacific Ocean – it's arguably the best view anywhere on the island, but you need to be an experienced hiker to get there.
The route starts at Vaitape. To find the trailhead make your way to Hina Pearls, head down the road from there and take a left near the end – that road then turns into a hiking trail. It's easy to get lost at this initial stage, so feel free to ask a local when you're in the right area.
From then on the hike steadily gets steeper, and there will be markings on trees to show you which way to go – keep a close eye on them during the ascent as they're easy to miss.
As the trail turns more into a rock climb than a hike, there's rope to help you climb in several places. Just make sure you have a good level of fitness and some upper body strength before hiking this trail.
Parts of the route near the top are very narrow and eroded so it's best to avoid hiking this peak in the aftermath of rain.
However, all in all the views are spectacular and well worth the difficult hike. That said, only hike as high up as you feel comfortable – the views are stunning halfway up the mountain too.
Expect the Mount Pahia trail to take around 8 hours there and back.
4. Povai Bay to Mata Pupu
This lovely hike will take you up into Bora Bora's mountainous interior to the peak of Mata Pupu – a cone shaped mountain that sits behind Povai Bay.
From there you can walk along a mountain ridge towards the island's highest mountain, Mount Otemani.
The sensational views out across the lagoon from this ridge and Mata Pupu are out of this world. This hike is quite difficult and steep in places, and you will need proper footwear.
You can see a lovely detailed review of this hike – and how to find the trailhead – at this link.
5. Bora Bora Loop
If you're feeling super adventurous and up for a challenge, then you can walk around the whole island of Bora Bora using the coastal road.
This 20 mile trail is called the Bora Bora Loop, and is a moderate to difficult hike due to the different forms of terrain you'll come across on the way.
Along with walking through stunning beaches and passing by remote lagoons, you'll hike the breathtaking Mt Pahia so won't miss out on the best views Bora Bora has to offer.
The trail will take 2-3 days to complete, and you will need to find accommodation on the way. That shouldn't be difficult as the trail encircles the island and goes through the towns and villages. To see a map of the trail, click here.
6. Mount Otemanu
It's impossible to hike to the top of Bora Bora's highest mountain due to the sheer rock face and its fragile rock. However, it is possible to hike up the base of the mountain to around halfway where a massive cave exists.
The hike gets steadily harder and steeper as you ascend, and you will then reach sections that have ropes to help haul yourself up the mountain – at this point it is more rock climbing than hiking.
Look out for the old WWII remnants and guns when hiking through the lush jungle, as well as the relics of ancient Polynesian temples. Of course the higher you get up, the more spectacular the views across the lagoon become too.
This hike is probably best to do with a guide though as the path is tricky, hard to follow and it's easy to get lost.
A guide will also be able to show you to the entrance of the huge cave that clings on to the top of the slope. This cave is believed to be haunted, but the views from the cave out towards the ocean are worth the risk! Up and down, the hike to the cave should take 4-5 hours.
Some Final Thoughts On Hiking In Bora Bora
There are several more potential hiking routes on Bora Bora, however the big issue is that many are on private land and/or use private roads. If you do go hiking but are confronted for being on private land, be polite and say you didn't know.
This map on AllTrails shows hiking routes people have added after discovering new ones on the island. There's little information on each, however, so the quality of the trail and where it starts and ends is often unknown.
There are some small hiking routes and viewpoints on the island where you have to pay a fee to use them, but this should be paid and explained at the start of any hike, not halfway through or at the end. If you think someone is scamming you, phone your hotel to ask advice.
Lastly, enjoy hiking in this beautiful part of the world but do remember to show respect to the land while there. The mountains and jungle in Bora Bora were sacred places to ancient Polynesians as this was where the spirits of their ancestors lived. To this day, the nature in Bora Bora remains very important to locals.
Recommended For Hiking In Bora Bora