Wandering our World is reader supported! If you purchase anything through a link on our site, we may earn a commission at no extra cost to you.
Last updated on October 7, 2022 by Wandering our World
We always find ourselves back in Harrogate year after year. This historic town with its mineral health spas and beautiful architecture has so much to offer. Be that shopping to strolling through the scenic Valley Gardens while exploring 17 acres of Grade II listed parkland.
If you're like us, then grabbing some good food and a drink is always a priority after exploring the town. Luckily there are some cosy pubs in Harrogate that are perfect for enjoying a real ale, sitting outside and admiring the scenery or listening to some live music in the evening.
As we know this place well, we've put together a list of our ten favourite pubs in Harrogate. Whether you're looking for live music, drink deals, classic pub grub or somewhere dog-friendly, we know the best spots in town.
We even know somewhere you can have a drink and go ghost spotting – if you're brave enough! So read on to see our picks of the best pubs in Harrogate.
The Ten Best Pubs in Harrogate for Good Food, Beer & Fun
1. The Harrogate Arms
Spent the afternoon exploring the town center and now looking for a place to relax and unwind?
Then head to The Harrogate Arms as it's a pub which has pretty much everything you could ask for.
Their large food menu offers up British dishes but also sharing items such as nachos alongside crowd pleasing classics like stone baked pizza and burgers.
Many of the pizzas and burgers are also part of the promotions they hold, so you can often grab yourself a cut price beer alongside your food.
If you're wanting to spend some time here then you could always go for the bottomless brunch option. Whilst most places offer just prosecco with their bottomless brunch, The Harrogate Arms has far more options as you can have unlimited Espresso Martini, Aperol Spritz, Passion Fruit Bellini, Amstel or Peroni instead.
There's also TVs for live sport, frequent 2 for 1 cocktail deals, and CAMRA members receive a discount on Sharp's Doom Bar, Theakstons and Timothy Taylor Landlord.
After after a few of those tasty drink deals why not play some pool or darts. Like we said, this place has pretty much everything you could ask for from a pub. It's dog friendly too!
Address: 11 Parliament Street, Harrogate, HG1 2QU
2. Little Ale House
If you're looking for draught lager, then this probably isn't the place for you. But if you want fine ales in an atmospheric micro-pub, then you're in for a treat!
The Little Ale House prides itself on being one of the first micro-pubs in Harrogate. The atmosphere is warm and welcoming and conversation flows easily. There's no TVs or background music, instead this pub is trying to save the dying culture of what a pub used to be about – good conversation and even better drinks.
As with many Harrogate pubs, the ale is ever changing to give small independent brewers a chance to showcase their abilities. There's usually five cask ales available alongside five keg beers with a mix of strength and styles to ensure there's really something for everyone.
They have a growing selection of local artisan gin and whisky available too, and after a few drinks you may be tempted to buy some of the art that decorates the walls! That art is made by a local artist and if you like something, just speak to the bartender about buying it.
Occasionally there will be live music and tasting sessions too, whilst there's also a small beer garden for those warm days where you want to drink beer in the sun.
On top of that, dogs are welcome too. This may be a little place, but it packs one hell of a punch!
Address: 7 Cheltenham Crescent, Harrogate, HG1 1DH
3. Harrogate Tap
Fresh off the train and in need of some refreshments? Then you're in luck as the cosy Harrogate Tap is located within the only remaining part of Harrogate's original train station.
This classic looking pub is fitted with Victorian fixtures, dark wood panelling and tiled floors, and really is a great fit for any history lover. Behind the impressive bar you'll find a range of beer from around the world (they specialise in international beers), alongside 12 traditional cask handpulls and 15 modern keg taps! We don't know about you, but we think this is a beer lover's paradise.
Recently added (at the time of writing) was Deception Peak by the Bristol Brewing Company which really embodies the modern IPA, so give that a try if you get the chance.
However the ale changes so regularly here there are actually weekly updates on their Facebook page so you can see what's on tap in advance of your visit. Of course it's not all ale and there is a wonderful wine list that is fairly priced by the bottle.
Address: Station Parade, Harrogate, HG1 1TE
4. Hales Bar
Ghost hunters rejoice! We have the perfect pub for you.
Hales Bar is the oldest pub in Harrogate so it's no surprise there's plenty of stories about strange things going on here. Those include poltergeists, manic laughter, glasses falling to the ground but never smashing, and mysterious shadows moving across the bar.
In keeping with history, many Victorian-era fixtures have been kept in this pub, including gas lighting which provides a wonderful ambience!
If you're more interested in ale than history and ghosts, then you'll be pleased to find out that they serve some great choices including Daleside Old Leg Over, Greene King and Robinsons Dizzy Blonde.
A few nights a week things get lively too. Every Thursday there is karaoke from 9pm, there's 'Ultimate Cheese' night on Saturdays for a bit of a party, and then on Sundays they have 'Gas-lit Acoustic Afternoon' from 4pm with a range of local performers showcasing their talent.
With the great drinks, entertainment and history, Hales Bar is easily one of the best pubs in Harrogate.
Address: 1-3 Crescent Road, Harrogate, HG1 2RS
5. Blues Bar Cafe
On the subject of music, if you are looking for one of the best music venues in Harrogate, you can't do much better than the Blues Bar Café.
This single room pub/cafe overlooks the beautiful Montpellier Gardens so during the day you can gaze out the big windows and watch the world go by. But what this place is really known for is having live music nearly every day of the year!
In fact on Sundays there will often be three separate shows! Naturally there's a lot of blues bands that play here, but there's also acoustic nights to relax as well.
And if you get hungry, then head upstairs to their Gin Bar and Yorkshire Tapas restaurant and you'll be able to watch the live music from a TV there while enjoying some of the best tapas around! That's a unique way to make sure no one misses out on the evening entertainment.
As for ale, there are four changing taps, often with varieties of Daleside, Ossett and Rooster's. It may not be a classic pub, but this place certainly deserves to be on our list of the best pubs in Harrogate.
Address: 4 Montpellier Parade, Harrogate, HG1 2TJ
6. The Disappearing Chin
What makes a pub feel even more like home? When they not only have comfy sofas, but they also allow you to take in your own food to enjoy with your pint. That's exactly what you can do at The Disappearing Chin. In fact you can even order takeaway to this pub!
This Harrogate pub has a very strong focus on real ale and craft beers, so you'll find a great selection of both. Beer wise, they have three rotating cask ales and eight keg lines. And if beers aren't your thing there's plenty of wine, spirits and cocktails to ensure everyone is satisfied.
If you don't manage to get one of their comfy sofa seats, there's also seating available outside if you want to enjoy the weather and some fresh air with your drink.
And lastly be sure to check out their Facebook page ahead of your visit as they will often announce upcoming events like live music and quiz nights with cash prizes!
Address: 38 Beulah Street, Harrogate, HG1 1QH
7. Alexandra
Looking for a gastropub vibe but with affordable prices? That's what we've found at Alexandra.
This pub's building is as grand and historic as they come. Inside you'll find woodwork that resembles something from the Victorian era and many prints and photos showcasing some of the history of Harrogate. There's plenty of modern features too, like screens to watch live sport as you enjoy your food and drink.
Black Sheep Best Bitter, John Smith's Bitter, and Leeds Pale are some of the regular ales on offer, but there are also four pumps dedicated to rotating ales so many of the smaller local brewers have a chance to be featured too.
And if you want some food, their menu is bursting with delicious options – pies, burgers and steaks alongside vegan and vegetarian dishes to name a few.
Dogs are welcome here as well so bring your four legged friend along. With such a lovely atmosphere, fair prices alongside great food and drink, it's easy to see why we like this place so much!
Address: 11 Prospect Place, Harrogate, HG1 1LB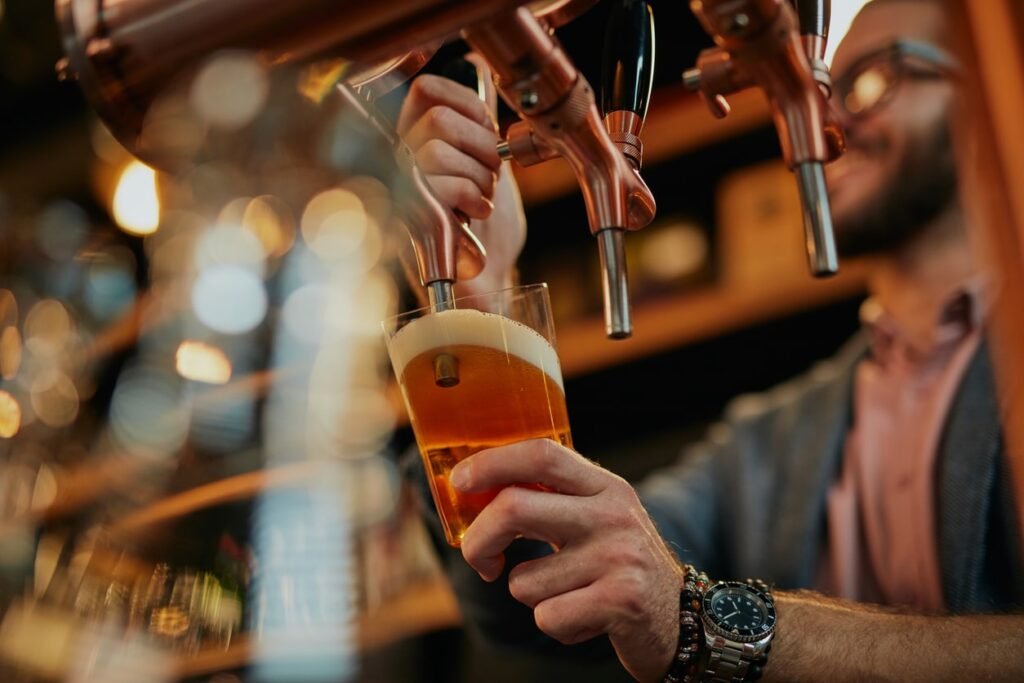 8. Montpellier
One of Harrogate's most exclusive shopping areas is the Montpellier Quarter, which boasts around 50 shops and award winning restaurants along pretty cobbled streets. Nestled amongst it all you can find the Montpellier pub.
Modern yet cosy – complete with fire place – this place is one of those pubs where you sink into a seat and don't leave for hours.
Of course if it's a sunny day you may want to take your drink to their outside seats and soak in the surroundings. Regular ales on tap include Theakston and Timothy Taylor Landlord.
If you want to eat then there are all the usual pub favourites like fish and chips, burgers and roast beef, as well as several vegetarian offerings too. Although there's no food served on Tuesdays or Thursdays.
Address: 14 Montpellier Parade, Harrogate, HG1 2TG
9. Devonshire Tap House
It isn't just ale that's received a massive boost in popularity in the last decade, vinyl has made a bit of a comeback too. If you've been browsing records at Harrogate's P&C Music then close by is the wonderful Devonshire Tap House.
This is a proper cask and craft ale house that's held onto some of the old charm of the building it resides in, such as the semi-circular counter, wood flooring and benches.
That makes this place almost as photogenic as the ales they have on offer. Those ales showcase Yorkshire and northern brewers with the likes of Ossett, Brass Castle and Wilde Child just some of the options available.
If you end up feeling peckish there are cheese, meat and vegan boards available, alongside some delicious locally made pork pies and sausage rolls.
And it gets even better as they frequently have live music in the evenings! In our opinion, this place is easily one of the best pubs in Harrogate.
Address: 10 Devonshire Place, Harrogate, HG1 4AA
10. Woodlands Hotel
Once a year there is the fantastic multi-day Great Yorkshire Show which is one of the biggest agricultural events in the English calendar. If you go you may find yourself staying at the nearby Woodlands Hotel – lucky you if so!
You'll get a friendly welcome, good drinks and hearty portions of classic pub grub at this cosy spot. And with an open fire to enjoy and stained glass windows to admire, you get that old pub vibe when drinking here.
As for food, there's plenty of British cuisine and pub classics on offer. And the portions are generous sized and will probably leave you with no room for dessert.
On warmer days take your food and drinks outside and enjoy the garden terrace. And if you're visiting on a Tuesday or Wednesday be sure to take part in the pub quiz at 9pm!
Address: 110 Wetherby Rd, Harrogate, HG2 7AB