Wandering our World is reader supported! If you purchase anything through a link on our site, we may earn a commission at no extra cost to you.
Last updated on October 7, 2022 by Wandering our World
A peaceful town with glorious views, it's no wonder Hebden Bridge is a place people return to year after year. During the morning you can't beat a stroll along the canal or cobbled streets, and if you travel just a little out of town there is the fantastic Hardcastle Crags which is run by the National Trust. There you can explore the woodlands while spotting wildlife as you go.
Regardless of how you choose to spend your time in Hebden Bridge, if you're like us then after a day of adventuring you'll want some fantastic food or a refreshing pint – and sometimes both!
Luckily, we know this delightful town well. So we've put together a list of what we believe are the best pubs in Hebden Bridge.
As you'll see, there's plenty of specialists in town that know their stuff when it comes to beer and food.
So sit back and relax as we guide you through the best pubs in Hebden Bridge.
1. Fox and Goose
Welcome to the Fox & Goose, the first pub in West Yorkshire to be run by the community! This traditional Yorkshire pub, complete with exposed wooden beams, has a real friendly, cosy feel.
This place feels very multi-purpose too. The main bar area is a great place to relax, enjoy the log fire and strike up a conversation. To the left there is a room often used for live music and entertainment, while the room on the right is another good social space complete with dartboard.
The best part about the Fox and Goose? Well it has to be their hillside beer garden which has fantastic views. It's covered in parts so there's no need to run inside should the rain start.
There's a wonderful variety of drinks to choose from too, with ales available from microbreweries, as well as cider and craft beer on tap. And if you want some snacks to go with your drink, then they even have some pork pies, vegan pasties, and homemade cakes available.
On top of that, every Monday night is quiz night if you like a challenge with your pint.
For us, this is one of the best pubs in Hebden Bridge to pop in and recharge your batteries for a while in the middle of the day. Especially with that superb beer garden.
Address: 7 Heptonstall Road, Hebden Bridge, HX7 6AZ
2. Vocation & Co
Things may look a little minimalist here when it comes to the décor, however we think that gives Vocation & Co a very fresh look.
This place is well known for being one of best bars and pubs in Hebden Bridge for craft beer – and we can see why! Split into two areas, the main bar has a wall of beer taps so there's plenty on offer, while the smaller room to the right has a more intimate feel and is mostly used for patrons who have come to enjoy the food on offer.
Back to the beer! The choices on tap are ever changing so you'll often find things that the pub's own brewery, Vocation Brewery, have created. That's alongside collaborations with other brewers and breweries. If you want to browse what will be available before your visit, the tap list is kept up to date on their website.
Should it be food you're in for, the kitchen is run by Slap & Pickle and they specialise in creative juicy burgers and some of the best fries around, alongside Mexican inspired cuisine.
There is some seating available outside for those sunny days too, and if seated there you're welcome to bring your dog along.
Address: 15 New Road, Hebden Bridge, HX7 8AD
3. Nightjar
Vibrant and a little quirky, Nightjar in Hebden Bridge may quickly become one of your favourite places to visit.
Exposed brick walls, wooden ceiling and gentle hue lighting creates a real ambience and very cosy feel. And one of our favourite things are the fact the tables look like they may have been made using driftwood. Basically, this is a very photogenic place to enjoy a pint!
There are a range of craft beers and ales available, and often there will be options from Blackedge, Britol Beer Factory and Nailmarker.
As it's a micropub, when things get busy it can feel a little crammed but for the most part it's a fairly quiet pub with lots going for it. Small in size, big in character and they have plenty of fantastic drinks on offer.
Address: New Road, Hebden Bridge, HX7 8AD
4. White Lion
This historic building dates back to 1657 when it was called King's Farm, and is actually the oldest building in Hebden Bridge.
Ideally located right next to the river, this hotel and pub has a lovely modern-looking dining room that's kept in touch with history thanks to the wooden beams and grand fireplace.
The bar area has a cosy feel and is decorated with old pictures and books. But it's the nice patio garden by the river with fantastic waterside views that we love most about this place.
There's no doubt this is a lovely place to have a drink, but this is also one of the best Hebden Bridge pubs for food.
The large seasonal menu makes use of the best of local produce and you can taste the quality when dining here.
Take your time, pick a bottle of wine from the nicely curated selection and start browsing your options. If it's available, start with the Pomegranate Cured Salmon to build yourself up to either a classic British meal like Steak & Ale Pie or a European inspired dish like the Beetroot & Sauvignon Risotto. There are plenty of deserts to finish things off with the Daily Cheesecake, Chocolate & Hazelnut Tart or Cheeseboard all great options.
Wine isn't for everyone when it comes to their meal, so why not wash it all down with some great ale. Black Sheep Best Bitter, Copper Dragon Golden Pippin and Timothy Taylor Landlord are often all available at The White Lion.
Address: Bridge Gate, Hebden Bridge, HX7 8EX
5. Old Gate Bar
If you've been out shopping in Hebden Bridge and need a rest, you can't go wrong with a visit to Old Gate. This vibrant, modern bar is split into two levels with disabled access in both levels which is a big plus point.
The downstairs boasts an impressive copper coated bar where you just want to grab a stool and a drink, while the upstairs has more of a restaurant feel.
You may well pop in here for just a coffee, but after noticing the impressive amount of ale on offer you'll likely want to indulge! At the time of writing there were nine real ales to choose from alongside a diverse wine & cocktail menu. If you aren't into those drinks, you'll be pleased to learn they've got everything from Aspalls Cider to some great whiskys.
So what about dining in? Well there's a real emphasis on great food at the Old Gate. Treat yourself to their Chicken Supreme, or something from the grill menu with burgers and steak available. There's a kids menu too!
Address: 1-5 Old Gate, Hebden Bridge, HX7 8JP
6. The Pub
Known by many locals as 'Calans', which was this establishment's previous name, this unpretentious micropub could be one of the best kept secrets in Hebden Bridge!
There's a big sun-trap courtyard where you can enjoy your drink, which also has a covered section and can be heated up during the colder days. So no matter the weather you can enjoy sitting outside.
You're unlikely to find music being played in the background here, but that just means there's nothing to interrupt the flow of conversation. And as a big plus point, you can grab food from the adjacent pizzeria and bring it into The Pub to enjoy!
The ales on tap at The Pub regularly change to give brewers a chance to shine, but you'll often find some by Fell, Thornbridge or Wilde Child. There's a choice of five ciders available too along with craft beer, gin, wine, and more. In fact, The Pub's tendency to feature local brewers has even won them an award in the past!
Address: 3 The Courtyard, Bridge Gate, Hebden Bridge, HX7 8EX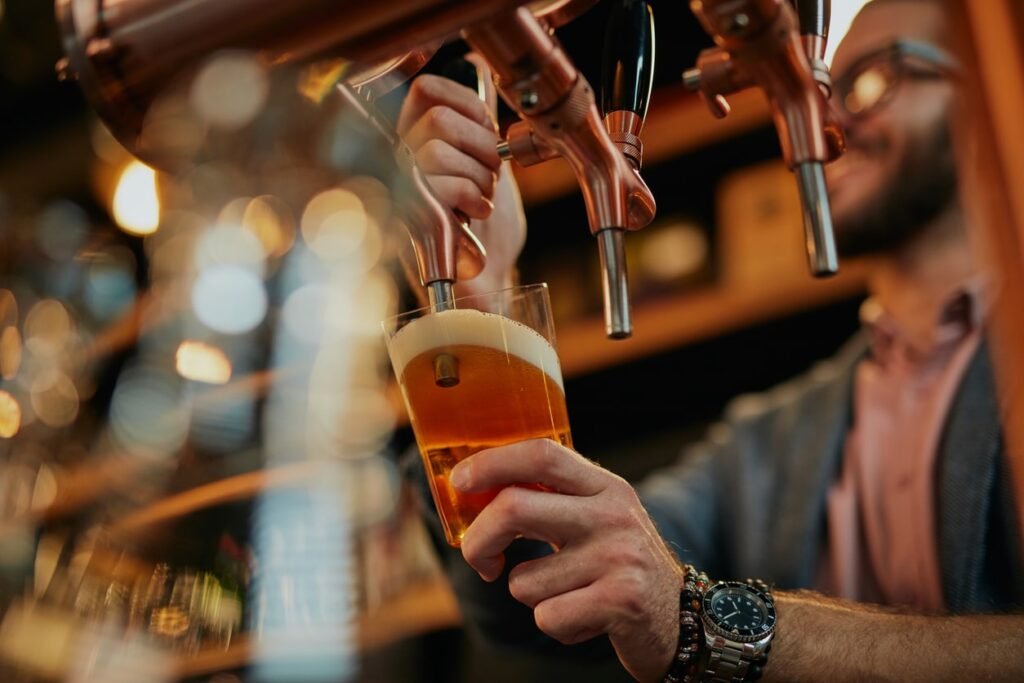 7. The Trades Club
This place is no secret to locals – in fact it's even been recognised as one of the best small music venues in the UK by NME Magazine.
Open every day of the week, you can pop in for some ale with Stod Fold Gold regularly available alongside two changing taps.
And if you're hungry why not try some of the delicious Indonesian food available, there's no need to book a table just let a member of staff know you're in to eat.
However The Trades Club makes our list of the best pubs in Hebden Bridge for the entertainment!
There's often live music in the evenings from great local and touring bands. And as this place serves as a community hub, there are often fundraisers such as quizzes. You can find out about all upcoming events on their Twitter page.
Address: Holme Street, Hebden Bridge, HX7 8EE
8. The Railway
This friendly, traditional pub on the main road in Hebden Bridge sits near the canal and is an ideal place to pop in after a walk with your dog.
With a fireplace to relax beside on those cold days and a television to watch live sports, this is a place to come if you want no nonsense drinks and some good conversation.
This is also one of the few Hebden Bridge pubs to serve Castle Rock Harvest Pale, which is a big plus. They've also got Black Sheep Best Bitter and a couple more rotating hand pumps.
Address: New Road, Hebden Bridge, HX7 8AD
9. The Stubbing Wharf
This fairly traditional pub is in a wonderful setting, as you can sit outside in the summer and watch canal boats go by! Or if it's chilly outside then settle by the fire inside.
There's a fine selection of ale from local brewers available at The Stubbing Wharf, alongside lager, cider and spirits including top quality gin and the best single malts money can buy.
And if it's food you're after, the homemade menu has plenty that will fill you up. The Soup of the Day or Garlic Mushrooms is a fantastic way to start, while the Leek, Cheese and Onion Pie or Sausage & Mash are great choices to refuel after a long day.
But if you want something a little lighter – yet still filling – there's a good selection of sandwiches available. The kitchen staff have no problem making children sized portions from the options on the menu too.
Address: King Street, Hebden Bridge, HX7 6LU