Last Updated on October 7, 2022 by Wandering our World
When it comes to dream getaways, Barbados and Bermuda are two destinations top of most people's lists.
Both of these island paradises can offer amazing experiences, especially if you're looking for sun, sea, and sand.
Choosing whether to visit Barbados or Bermuda for that once-in-a-lifetime vacation or honeymoon can therefore be difficult.
Having visited both, we compare them below, and show you what each has to offer.
We look at which has the better beaches, nightlife, what activities you can do in each, how the vibe compares, and more!
CONTENTS:
How Do The Beaches & Natural Scenery Compare
Explore The Sights & Experience The Tropics
A Taste Of Island Life: How Does The Cuisine Compare
Which Is The Better Choice
How Do The Beaches & Natural Scenery Compare?
Although made up of 138 islands and cays, Bermuda has 64 miles of coastline, whilst Barbados possesses 60 miles of coastline.
Both have stunning coastlines and those picture-perfect white-sand beaches you expect from a dream tropical holiday. However if beaches are your main priority, we think Bermuda probably shades it over Barbados and is a better holiday choice for beach-lovers. The beaches in Bermuda are not only gorgeous, but there's a big variety of them. There's even pink sand beaches!
It's worth mentioning that the most popular sites in Barbados tend to attract hawkers who can be quite persistent too. Bermuda, on the other hand, seems to have avoided this fate at their most popular beaches and destinations.
However Bermuda is a much more expensive destination than Barbados, although both have a decent public bus system. So getting around each island can be cheap and easy.
Expect potential beach weather year-round in Barbados. But in Bermuda the temperatures from mid-December to March can be relatively cool.
Barbados: Beaches & Scenery
Make your way to Oistins and Miami Beach for great swimming waters and one of the best sunsets in the Caribbean.
You can find turquoise water and perfect beaches up and down Barbados. One of our favorites is Bottom Bay. It's not a great swimming spot, but it's secluded, romantic, and with swaying palm trees it has a real deserted island feel to it. Beautiful beaches like this are one of the reasons Barbados made our list of the best Caribbean islands for couples!
Barbados' teeming sea-life can also be viewed when out and about swimming and snorkeling. Bell Buoy reef, near Accra Beach is the perfect place to spot angel fish and parrot fish. A great underwater camera – such as this one – is a must.
At Carlise Bay Marine Park you can dive among numerous ship wrecks that have been taken over by colorful fish, nurse sharks, and manta rays! Some of the best reefs to explore in Barbados can be found in this.
Recommended Stay in Barbados:
Radisson Aquatica Resort Barbados: Perched on a white-sand beach this resort is right in the centre of the action and offers breathtaking island and ocean views. Snorkel in the turquoise water directly outside the resort, or swim in their wonderful outside pool. And all for very reasonable prices. See more info and photos by clicking here!
Bermuda: Beaches & Scenery
This little British island territory has some stunning stretches of coastline, with white, golden, and even pink sand beaches. Bermuda's longest beach, Warwick Long Bay, is a great place to dip your toes for a romantic walk along the shore.
One of our favorite beaches is West Whale Bay, which has unbelievable turquoise-clear water. As the name suggests, you can also spot migrating humpback whales here during April.
For a more secluded and private beach, head to Clarence Cove, which also has safe calm swimming water. However if you want a snorkeling spot, we would recommend Church Bay. The reef lies very close to the shoreline, so you can rent snorkeling equipment from the refreshment stands nearby and swim out to the colorful sea-life.
For such a small nation, Bermuda packs a punch in terms of natural attractions. When you need a break from sunbathing and swimming, then make your way to Walsingham Nature Reserve. Here you can explore the magnificent Crystal Caves that are 120 foot below the ground – one of dozens of caves on the island.
For a dip, you can go to the natural swimming lakes situated throughout the mangroves in Blue Hole Park – there are several walking trails to enjoy that take you to and from these swimming spots.
Explore The Sights & Experience The Tropics
Along with the natural scenery on offer, both Barbados and Bermuda have a wealth of attractions and cultural experiences worth checking out. Both have no casinos though, as gambling is illegal in each.
In terms of nightlife, Barbados probably shades it, although neither are party islands. St Lawrence Gap in Barbados has some decent bars and clubs, can get a little rowdy, and attracts a younger tourist crowd.
Bermuda feels more 'local' than Barbados, with the latter probably more tourist-focused.
Barbados
With a mix of West African and British influences, Barbados is a fascinating country with a rich blend of Caribbean traditions and a culture that emerged out of plantation slavery economy. The British influence in particular is very strong.
Historic Bridgetown is where you should head if you want to learn about the colonial past in Barbados. A walking tour will introduce you to the country's tumultuous past, and the colonial relics and architecture that still stand today. You can also tour St Nicholas Abbey, a Jacobean plantation house.
As with many countries that were colonized by the British, cricket quickly became the national sport and a way to beat the occupiers on the playing field! Take a trip to Kensington Oval Barbados to watch a game.
Barbados also has one of the oldest horse race tracks in the world, the Garrison Savannah. Situated just outside of Bridgetown, locals and tourists mix on race day as excitement builds. In fact a visit here is on our list of the best things to do in Barbados!
Bermuda
As an overseas territory of the UK, expect British influences. However American culture, as well as Native American and African influences have all left their mark on this fascinating little island.
The capital of Bermuda – Hamilton – with it's multi-colored houses is a great place to learn more about this mash up between British colonial history and African heritage. Bermuda National Gallery and the The Museum of the Bermuda Historical Society are both worth visiting if the island's history and culture is of interest.
If you're on vacation in Bermuda for a week or more, and are exploring the island's towns as well as beaches, then expect to come across Gombay! These colorful Bermudan dance troupes perform on the streets and at festivals throughout the year to rhythmic drumming in a tradition that dates back to the 1800s.
A Taste Of Island Life: How Does The Cuisine Compare?
Both Barbados and Bermuda will provide a treat for your taste buds, with cuisine focused around seafood.
Barbados
Unsurprisingly, fish features heavily in Barbadian cuisine too, and fried flying fish is one of the national dishes of Barbados! However with such a mix of cultures here, food is influenced by West African, British, and even Indian tastes.
Here popular dishes include chicken curry, barbecued pig tails and even Macaroni pies!
Just like many Caribbean islands, rum is the drink of choice in Barbados. Luckily for visitors, they make great rum too! Get yourself along to Mount Gay Rum Distillery for a tour and some free tasters.
Bermuda
Bermudan cuisine is a real mash of English and Caribbean influences, and subsequently favorite dishes here include salted codfish and potatoes (a common breakfast), fish chowder, and fish and chips.
Seafood is therefore a big deal in Bermuda, and locally caught rockfish and wahoo are almost always on the menu around the island.
For desert, bananas are king. Banana crumble and Bermuda Banana cakes are well worth trying.
To wash it all down, rum – like most tropical islands – is the drink of choice! Try the Dark 'n Stormy cocktail, a blend of rum with ginger beer.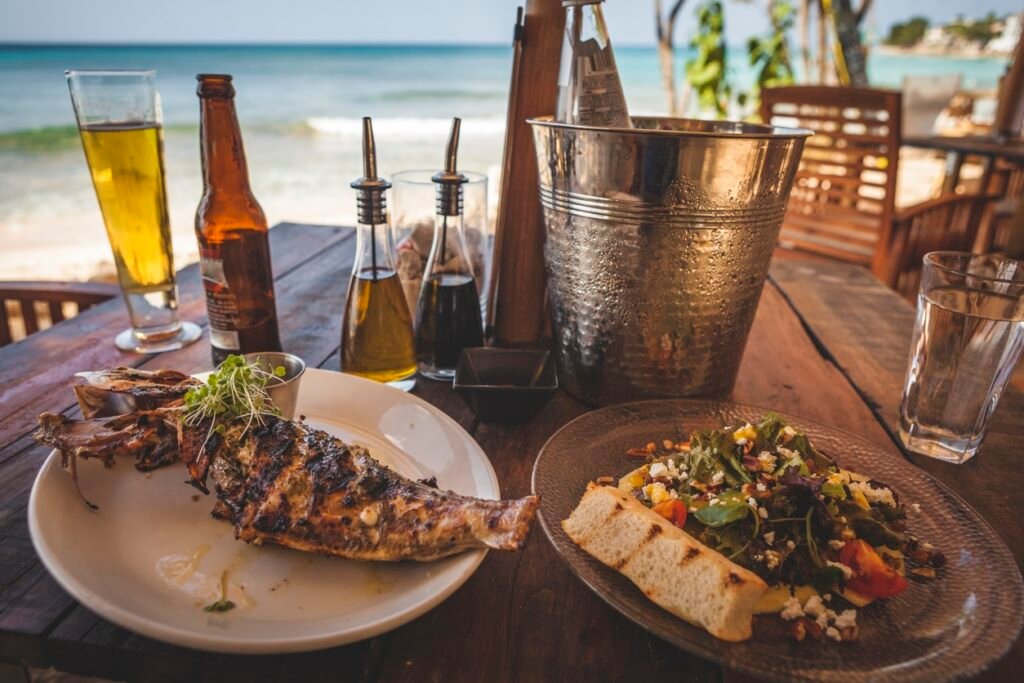 Barbados vs Bermuda: Which Is The Better Choice?
Both islands have similarities in terms of beaches, although Bermuda is often considered as the slightly more beautiful island. Locals are incredibly welcoming, and the island feels less 'touristy' than others in the region.
In many ways Barbados is similar to Bermuda, but is a little cheaper, catered more towards tourists, and has better nightlife.
Recommended For Your Trip To Barbados Or Bermuda