Last Updated on October 7, 2022 by Wandering our World
When it comes to dream getaways, the Bahamas and Barbados are two destinations that sit top of bucket lists around the world. Both of these Caribbean paradises can offer amazing experiences, especially if you're looking for sun, sea, and sand.
Choosing whether to visit the Bahamas or Barbados for that once-in-a-lifetime holiday or honeymoon destination can therefore be difficult. But it's an important decision because these two island nations provide very different vacations.
Luckily as we know them both well, we compare them honestly below, and show you what each has to offer.
We look at which has the better beaches, what activities you can do in each, how the nightlife compares, which is cheaper and much more!
We're sure by the end of reading you will know which island is best for you.
CONTENTS:
How Does The Scenery & Landscape Compare
Explore The Sights & Experience The Tropics
Where You Should Stay According To Your Budget
A Taste Of The Caribbean
Which Is The Better Choice
The Scenery & Landscape
For tourists looking to sunbathe and swim, the Bahamas and its hundreds of beautiful islands seem the natural choice. The Bahamas is huge compared to Barbados, and there are countless islands and beaches to discover. Therefore if you're wanting a holiday where you can explore and island hop, then the Bahamas may suit you better than Barbados.
In fact Barbados has 60 miles of coastline in comparison to the Bahamas' 3,542!
There is a tourist vibe in both though. So it's not uncommon to get harassed by street sellers trying to hawk their goods to sun-seekers on the most popular beaches.
When Barbados does have an upper hand is infrastructure. This island is very easy to get around, and cheap to travel around too. In theory that means you can get from beach to beach, town to town, in Barbados a lot easier than in the Bahamas. Buses are cheap and easy to get between resorts, which is another big plus point. In fact that is one of the reasons Barbados makes our list of five cheapest Caribbean islands.
We look at the natural scenery and beaches in each destination in more detail next. Before moving on to the sights, culture, nightlife and food.
The Bahamas
Prepare to be spoiled for choice when it comes to beaches in the Bahamas. That's thanks to countless sandy bays and coves spread across 655,000 square kilometers!
In fact when it comes to beaches, we believe the Bahamas has better choices than Barbados. The Bahamas has uninhabited islands with swaying palm trees and soft white sand. But it also has busy beaches with a party vibe and lots of action. This is a nation which probably has the most diverse beaches in the Caribbean, and therefore something for everyone.
One of our favorites beaches is Greenwood Beach on Cat Island. This long sandy stretch is far less touristy than other beaches. In many ways this is where the Bahamas shines over Barbados. Here it is still possible to find beaches to enjoy in peace and quiet. Whereas in the much smaller Barbados, it's hard to find a beach that isn't very touristy.
That said, beaches on the most popular islands in the Bahamas are also very tourist orientated. So to find your own slice of (quiet) paradise you do have to go off the beaten track.
Iconic and popular beaches such as Pig Beach on Big Major Cay are a must visit too. It's famous not for the turquoise-hued waters, but the pigs that swim here! Visiting this uninhabited Bahamian island can be expensive though. (Recommended: The Best Island in the Bahamas For You).
A more accessible, and equally iconic beach, is Gold Rock Beach in Grand Bahama. Regarded as one of the best swimming spots – and beaches in the Caribbean – the sunsets here are unparalleled. In fact it's the sunset reflecting off a nearby cay that gives this beach its name.
The Bahamas also have some of the world's best diving spots in arguably the world's clearest water. And with 340 days of sun a year, there's rarely a day when scuba diving and snorkeling isn't possible.
Exumas Cays Land and Sea Park is probably the best snorkeling experience in the country. There you can see a huge variety of colorful sea-life. A great underwater camera – such as this one – is a must.
Although the Bahamas lacks mountains and rainforests, it's not all beaches and coral reefs. There are forests to be explored in northern Bahamas, especially on Grand Bahama and Andros. However, this country is definitely suited more to a sun-seeker, than an adventure-seeker.
Recommended: Are There Snakes in the Bahamas
The Bahamas is that picture-perfect Caribbean holiday many people are looking for. Thanks to its upmarket hotels, and beach-side bars set on stunning coasts. But all of that comes with a price. So you'll find beachside hotels, restaurants, and tourist excursions will cost more in the Bahamas than in Barbados.
Barbados
Smaller Barbados is perfect for sun, sea, and sand, but the island can be easily explored within a week. That makes it perfect for a short holiday, whereas the Bahamas may be suited to a longer one.
Make your way to Oistins and Miami Beach for great swimming waters and one of the best sunsets in the Caribbean. However, the beaches in Barbados can get busy with tourists. And it's definitely harder to find a secluded beach here than it is in much larger Bahamas.
You can find turquoise water and golden sandy beaches up and down Barbados though. One of our favorites is Bottom Bay. It's not a great swimming spot, but it's secluded, romantic, and with swaying palm trees there's a real deserted island feel. Beautiful beaches like this are one of the reasons Barbados made our list of the best Caribbean islands for couples!
Barbados' teeming sea-life can also be viewed when out and about swimming and snorkeling. Bell Buoy Reef, near Accra Beach is the perfect place to spot angel fish and parrot fish.
While at Carlise Bay Marine Park you can dive among numerous ship wrecks that have been taken over by colorful fish, nurse sharks, and manta rays! Some of the best reefs to explore in Barbados can be found in this.
Explore The Sights & Experience The Tropics
Along with the natural scenery on offer, both the Bahamas and Barbados have a wealth of attractions and cultural experiences worth checking out.
Barbados has no casinos though, as they are illegal. So if you want to try your hand at blackjack, the Bahamas is the place to be.
Where Barbados does excel, in comparison to the Bahamas, is its Caribbean vibe. The island feels far more authentic and local than the Bahamas, which has become overly developed and 'Americanized' in recent years.
The Bahamas
The Bahamas is a fascinating mix of culture, with African, British and American influences. In fact with its close proximity to the U.S., there's a very 'American' feel to the Bahamas. That's not so true for Barbados, which definitely feels more 'Caribbean'.
That's had a knock-on effect when it comes to nightlife too. You can find plenty of places to party all night in the Bahamas – such as on Paradise Island and Nassau. Whereas Barbados in general has a more laid-back nightlife, thanks in part to the Caribbean vibe that remains on the island.
However despite the American fast food restaurants and chain hotels, the Bahamas still has lots of culture on offer.
The vibrant rhythmic national music of the Bahamas, Goombay, was created as a way for slaves to pass down traditions and customs. Goombay continues to this day, and is a staple of fun summer festivals in the country. The Heritage Museum of the Bahamas in Nassau is a good place to visit to find out more about the history of the Bahamas.
There's no doubt that the Bahamas is also a country synonymous with having a good time, so if you fancy a flutter then head to Paradise Island. Here you can try your hand at the casinos, and grab a beach-side cocktail at one of its high-market resorts.
For something a bit more historical then visit Fort Charlotte, which sits on a hill overlooking Nassau. This 18th century fort will introduce you to what the Bahamas was like when piracy was rampant a few centuries ago.
Barbados
With a mix of West African and British influences, Barbados is a fascinating country with a rich blend of Caribbean traditions and a culture that emerged out of plantation slavery economy.
Historic Bridgetown is where you should head if you want to learn about the colonial past in Barbados. A walking tour will introduce you to the country's tumultuous past, and the colonial relics and architecture that still stand today. You can also tour St Nicholas Abbey, a Jacobean plantation house.
As with many countries that were colonized by the British, cricket quickly became the national sport and a way to beat the occupiers on the playing field! Take a trip to Kensington Oval Barbados to watch a game.
Barbados also has one of the oldest horse race tracks in the world, the Garrison Savannah. Situated just outside of Bridgetown, locals and tourists mix on race day as excitement builds. In fact a visit here is on our list of the best things to do in Barbados!
Where You Should Stay According To Your Budget
Barbados
Shoestring: If you want attractive, cosy, convenient, and inexpensive lodging on the south coast of Barbados, look no farther than Adulo Apartments (see photos here). These apartments have patios that face out onto a tropical garden, and they are only a short stroll from the renowned Rockley Beach and the magnificent South Coast Boardwalk.
Each apartment features a kitchen, cable TV and balcony with views of their Caribbean garden and pool so you can savour your home-cooked meals. For your convenience, the entire property has free high-speed WiFi, and they offer maid services and laundry facilities. The Adulo's front desk personnel can assist with making arrangements for taxi services, island tours, vehicle rentals, and other activities.
Budget: The Pool House (see photos here) holiday home is the perfect place to stay if you want a quiet getaway away from the main tourist area. It's a beautiful villa with a stunning pool and lush landscaping that offers peace and tranquillity while being at one with nature.
Situated in Saint Philip, The Pool House sits a few steps from Foul Bay Beach. You'll have access to all the activities like boating, snorkelling, and scuba diving. It also has a private outdoor swimming pool that you can use anytime. With a fully furnished kitchen and a spacious lounge area, The Pool House is perfect for people who love to entertain as much as they like being alone together.
The interior is decorated with modern furniture and accessories, giving you everything you need to feel right at home. You can enjoy breakfast on the patio in the mornings while listening to birds chirping and watching the sun rise over the water. Bliss.
Luxury: When looking to experience the best in luxury and world-class service, it's hard to beat the 5-star Coral Reef Club (see photos here) resort. It's located on the island's west coast, within walking distance of many famous beaches. The rooms are spacious and comfortable, with high-quality furnishings and amenities and a lovely balcony.
The hotel offers a buffet breakfast every morning with extensive facilities for guests. There's a bar, an on-site restaurant that serves various international dishes and vegetarian options, a fitness centre with state-of-the-art equipment, a spa with massages and facials from local experts in the field, and an outdoor swimming pool overlooking the sea below. You'll also enjoy all kinds of activities on the property, including cycling, windsurfing, snorkelling, scuba diving and more.
Bahamas
Shoestring: Situated in Nassau, BELL At The Airport Suites- Adults Only (see photos here) is ideally located for exploring this island paradise's many sights and sounds. It's just a short walk from the airport, but you'll feel far away from all the hustle and bustle when you step into its lush tropical garden. And even though it's close to everything, the hotel is tranquil and peaceful, the ideal location to recharge after a strenuous day of exploring.
Inside, you'll find beautifully decorated guest rooms with modern amenities like a flatscreen TV and cable channels. Plus, each room comes with a kitchenette where guests can prepare their meals if they choose to do so. You can also enjoy free WiFi throughout the property, on-site parking, and shuttle service around town if needed.
Budget: Pineapple Fields Resort Eleuthera (see photos here) is worth checking out if you're looking for a relaxing getaway with quiet time and fun activities like parasailing or jet skiing. If you don't feel like swimming in the ocean, you can sit back on your lounge chair and admire the beautiful scenery around you.
Located on the stunning Eleuthera Island, there's an outdoor pool here, free WiFi and the beach is just a a short walk away. Leon Levy Native Plant Preserve is a short distance from Pineapple Fields, and Governor's Harbour is just 4 kilometres away too.
Luxury: If you want a place to relax, unwind, and enjoy the warm sun on your face, The Island House (see photos here) is the place for you. This gorgeous property is one of the most luxurious hotels in Nassau and offers guests an unparalleled luxury experience at a surprisingly affordable price.
The Island House has an outdoor pool open all year, a spa, and a restaurant where visitors can dine. Flatscreen TVs, authentic local artwork, and energy-saving automated lights are all included in the rooms.
The beach beside the resort is perfect for swimming or hanging out on the shore with your friends and family. You'll never get bored too as you leave your room and go snorkelling, fishing or scuba diving. The Island House offers everything you need for a perfect vacation in the Bahamas.

A Taste of the Caribbean
Both countries will provide a treat for your taste buds, with cuisine focused around seafood.
The Bahamas
As a nation made up of numerous islands, it's no surprise that Bahamian cuisine is focused around seafood. So if you are a seafood lover, this is the island nation for you!
Fried conch (aka cracked conch) is a popular dish served in a variety of ways – look out for it on menus. Baked crab is another very popular dish. It's made up of crab meat, bread crumbs and egg, all baked within the crab shell itself.
As for what to drink, you can't say no to coconut water in the Bahamas! You also have to try Switcha – this is like Bahamas' version of of lemonade, albeit it's made with limes.
Want something a little stronger? The beers made by the Bahamian Brewery are definitely worth trying, as are the delicious rum cocktails served up and down the archipelago. The Yellow Bird is a favorite rum cocktail of many Bahamians.
Barbados
As you'd expect, fish features heavily in Barbadian cuisine too, and fried flying fish is one of the national dishes of Barbados! Give that a taste for a foodie story to take home with you.
However with such a mix of cultures here, you'l find that the cuisine scene in the Bahamas is influenced by West African, British, and even Indian tastes.
With that being the case, popular dishes include chicken curry, barbecued pig tails and even Macaroni pies!
And just like many islands up and down the Caribbean, rum is the drink of choice in Barbados. Luckily for visitors, Barbadians know how to make some fantastic rum too! Get yourself along to Mount Gay Rum Distillery for a tour and some free tasters.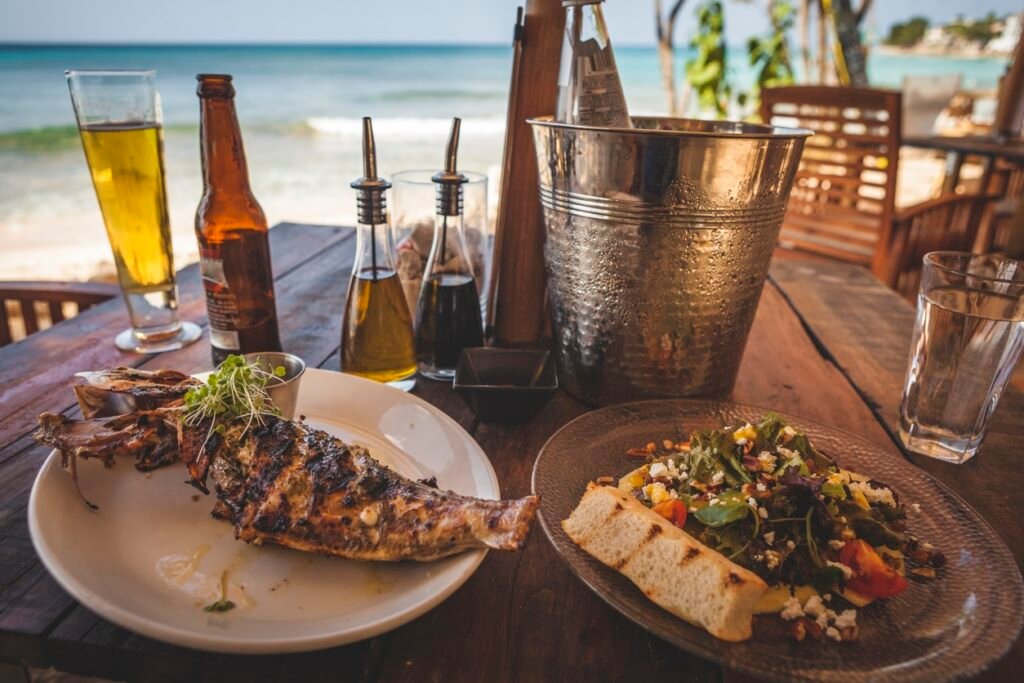 The Bahamas Or Barbados: Which Is The Better Choice?
Both the Bahamas and Barbados make excellent holiday destinations, and both have gorgeous beaches and vibrant cultures.
However if you're looking for more of an adventure, great nightlife, and postcard perfect beaches, then Bahamas could be the better choice. This nation has a huge variety of beaches, and so many island hopping adventures.
Traveling around the Bahamas can be expensive though. Especially if you want to visit some of the most beautiful islands, many of which are uninhabited. The Bahamas is also one of the most expensive Caribbean destinations when it comes to hotel accommodation too.
Being much smaller, Barbados is better suited to tourists who wish to have all the sights and tourist hot-spots in close reach. It's cheaper than the Bahamas as well, and has a more Caribbean feel to it, in comparison to 'Americanized' Bahamas.
Recommended For Your Trip To The Bahamas Or Barbados