Wandering our World is reader supported! If you purchase anything through a link on our site, we may earn a commission at no extra cost to you.
Last updated on May 23, 2023 by Wandering our World
Tucson, Arizona, the land of cacti, snakes, sun and… beer? Yes! Tucson is a fantastic city to visit if you are looking for a craft beer tour. With a budding craft brewery scene, and plenty of options within the city limits, there are many taprooms for you and your friends to pop in for a drink or two before heading to the next place, or sit down, sip and stay for a few hours.
Going on a craft beer tour here can be a lot of fun for couples, friends, and families – even those with kids as many Tucson breweries have a kids food menu, as well as activities for them to enjoy while mom and dad have a well-deserved beer.
Plus, what makes Tucson special on the craft beer scene is the local elements and ingredients they use such as desert fruits and herbs.
So we've decided to do our good deed of the day and give you a virtual tour of Tucson breweries, showing you the best to visit, which beers you must try and more! Afterall, what sounds better than sipping a nice cold beer after a day exploring sunny Arizona!
Why Tucson breweries are the best in Arizona
Tucson is known for being a young, hip town, and trends that sweep across the nation definitely make their way through this city and leave their mark. What we've discovered is that when it comes to craft beer, that trend-setting happens here too.
The breweries here always have their ear to the ground when it comes to invention and experimentation in the brewing business. That innovation has bred competition and created a craft beer boom in Tucson, and the result is superb beers that are unlike anywhere else in the world. And with no major brewery taking over the craft beer niche here, Tucson is perfect for people like us who love a city brewery tour.
Our Top Six Tucson Breweries
There are tons of breweries throughout Tucson that you can visit. However for us, there's six breweries that really stand out. A visit to any (or all!) of these six is sure to make your trip to Tucson extra special:
Borderlands Brewing Company
Known for their excellent craft brews, Borderlands Brewing is especially famous for their delicious German Chocolate Cake Porter, considered to be one of the best craft beers in the state. This place is hoppin' (see what we did there….) as it often hosts live music, beer festivals and art exhibitions, and is popular with students studying at the nearby University of Arizona campus.
We'll get more to beer in a minute, but we also have to mention the setting. The brewery is located within an old industrial train depot – it's rustic, atmospheric and the interior is full of character. So full of character that some believed the building is haunted.
Don't let that put you off going though, as the beer is exceptional.
This is a true desert brewery, so you will be able to sip year-round on beers that are derived from local spices, fruits, and herbs. Try their Cashmere Cactus Pale Ale for something special.
If you're looking for great beer created in a unique location and in a fun and friendly setting, then look no further.
Address: 119 E Toole Ave
Wandering our World recommends: Cashmere Cactus Pale Ale
1912 Brewing Company
This is a low-key, unpretentious brewery, and the result is homely original beers brewed and served in a welcoming environment, as well as frequent tap takeovers and beer-themed events and activities.
1912 has humble beginnings, having started out in the garage of the cofounders. The aim was to create a beer that was a homage to Arizona – from that, 1912 Brewing Company (named after the year Arizona achieved statehood) was born.
Using only local ingredients and with a rotating tap of their own craft creations, alongside guest local beers and wine, you will get a true taste of Tucson here.
Inside the brewery are exhibitions by local artists, while outside you can find food trucks. By coming here for a drink you're actually getting a cultural tour of Tucson, with street food and art thrown in. They often host charity nights too, with a portion of the sales going to local and statewide nonprofits.
With over 20 beers on tap and some snacks available to munch on while you drink, this is the perfect place to relax while playing bar games or watching sports.
They're constantly updating their drink menu so be sure to check out their website before heading over. However our favorites include Ta Weno, an amber ale with notes of caramel and toffee, and Weiz the Hell Not, a traditional German style wheat beer with notes of banana and clove.
Address: 2045 N. Forbes Blvd
Wandering our World recommends: Weiz the Hell Not
Barrio Brewing Company
Founded by a husband-and-wife duo, Barrio Brewing Company is actually one of the first craft breweries in Arizona. Even though this is the state's third largest independent brewer, there is a unique homey vibe here that you will experience as soon as you walk in.
You can find classic options like amber and pale ales, but also some lovely distinctive flavors like a coffee-based stout and a Scottish ale that was a 2016 American Beer Festival Silver Medal Winner. That award-winning ale, the Barrio Rojo, has some wonderful caramelized malt tones and just a hint of toffee. It's an exceptional craft beer.
Open seven days a week, they do food and drinks to go but we recommend staying for a while. There's an added bonus to staying too – due to the brewery's proximity to some rumbling train tracks, whenever the train crossing guards are down, your drinks are discounted!
All in all, we've found this to be a great place for families and gatherings. They have a full lunch and dinner menu, so you will never go hungry while enjoying their delicious IPAs.
Address: 800 E 16th St
Wandering our World recommends: Barrio Rojo
Dragoon Brewing Company
Dragoon Brewing got into the craft beer business early, and is an exciting growing tap house which also happens to be one of the few Tucson breweries that ships their products throughout Arizona. Thankfully it's still possible to try their fantastic beers from a cozy taproom in Tucson, where the conversation flows as much as the beer.
They have a flagship IPA – the Dragoon IPA – that really put them on the craft brewing map, but they also make other, equally amazing, beers. However what you'll find, is that they brew three particular beers all year round, whilst their other offerings are speciality beers that they often brew just once a year. What that essentially means, is you can come here and grab a drink and could be the last one who tastes that beer for months.
One of the mainstays is the Santa Cruz'R which is a pale, refreshing golden ale. If it's available try the Tartan 479 – a lovely Belgian style blonde ale with a subtle fruity taste. A portion of the sale of every Tartan 479 goes towards the Tucson Fire Department's Pipes and Drums Corps, so you'll be doing some good as you drink.
We also recommend trying a pint of their award winning sour barleywine beer Lazarus. It's creation was a result of a mistake, but what a great mistake it was! You will taste a dark-fruit flavoring that's unique to this brew.
Address: W Grant Rd 111
Wandering our World recommends: Lazarus
Crooked Teeth
Located in an old mechanics shop, this Tucson brewery initially looks like it exists in a hole in the wall, however it opens up into a large open patio and seating area which is perfect for enjoying the rotating menu of Crooked Teeth originals on tap.
This quirky brewery hosts trivia nights, pop-up markets, and sometimes live music making it easy to spend several hours here enjoying the fun and laid-back atmosphere. An added bonus is that next door there is an artisanal pizza place called 'Anello's'. Pizza and craft beer tonight? Has anyone in the history of humankind ever said no to that!
As for what to try, make sure you taste Three Word Beer Name. This IPA is usually on tap and has notes of melon and mango. Special mention has to go to their imperial porter, Barrel Aged Wiracocha Moon – this strong beer has notes of chocolate and vanilla.
Address: 228 E 6th St
Wandering our World recommends: Three Word Beer Name
Pueblo Vida Brewing
Pueblo Vida Brewing is housed in a historic building on Broadway in downtown Tucson, and it's easy to forget your in a taproom as the whole interior has the feeling of a stylish low-key bar.
The brewers here work hard to perfect their regular beers, but they're also known for experimental infusions where their standards barrels are mixed with an extra ingredient to create a unique one-time only batch. For us, there's nothing better than sipping on a craft beer knowing it's a one-barrel edition.
As for what to try, get your hands on their Microburst Pale Ale which has some lovely subtle tropical and citrus notes. For a lager choice, we enjoyed their Sommer – a soft Helles-Style lager.
If you're looking to enjoy more than just Pueblo Vida Brewing's delicious beers, you can join in on some of the events they hold like yoga classes and beer release parties.
Address: 115 E Broadway Blvd
Wandering our World recommends: Microburst Pale Ale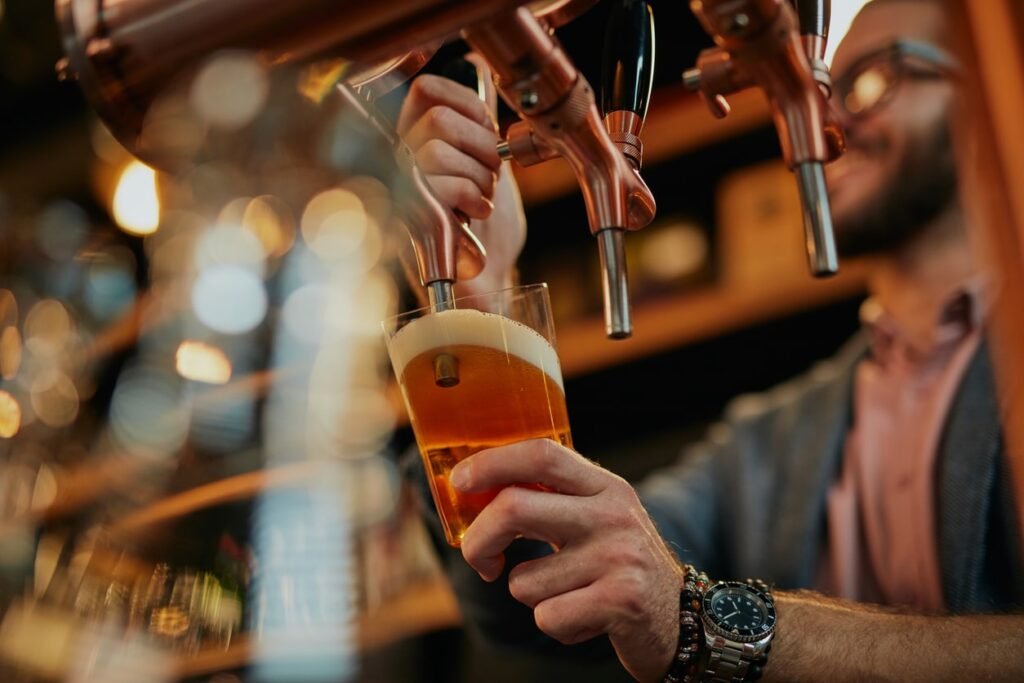 The Best Time Of The Year To Visit Tucson Breweries
Of course, nothing beats drinking a beer on a patio while you enjoy wonderful weather, and with Arizona famously known as being a hot, dry state, craft beer and Arizona go hand in hand.
While you can enjoy a Tucson beer tour at any time of the year, the best time to plan a visit to Tucson is usually from April to May and September to October. Known as "shoulder season," there are comfortable and pleasant outdoor temperatures during these months.
If you are trying to avoid winter in the northern United States, then a trip to Tucson may suit you as the temperatures are more mild here than elsewhere. However hotels and rentals get booked up fast so make sure you reserve in advance.
If you want the least amount of crowds (and typically the cheapest rooms), then the hotter summer months might be perfect. However no matter the time of year, we know you will have a great time touring round Tucson's best breweries.
Recommended For Your Trip To Tucson