Wandering our World is reader supported! If you purchase anything through a link on our site, we may earn a commission at no extra cost to you.
Last updated on May 26, 2023 by Wandering our World
El Paso is a vibrant and energetic town nestled between the majestic Rio Grande and the towering Franklin Mountains. Located on the Mexican-US border, it is steeped in history and rich in culture – walk down El Paso Street and follow in the footsteps of Wyatt Earp, Pat Garrett, and Billy the Kid.
Back in the early 1900s this town was home to over 80 saloons and was known as Six Shooter City, an authentic wild, wild, west boomtown. Legend has it that Billy the Kid freed the only man to ever escape from the old El Paso Jail.
But now it's known as the Sun City, one of the few places to experience over 300 days of sunshine a year.
After a day of fishing, kayaking, or biking along the Rio Grande, exploring the Aztec caves, hiking to the peak of the Franklin Mountains, or visiting one of their many art galleries or famous vineyards, El Paso nightlife is waiting.
El Paso is the perfect collision of American and Mexican cultures and we love the variety that's on offer here.
We know this place well, so we're about to show you everything you need for the best El Paso nightlife experience possible.
From where you can watch live music, to the best happy hours, late night food, party spots, and best El Paso bars. We even guide you on where's the best spot to visit for every day of the week!
Whether you are looking for the perfect margarita, craft beer, that all-important BBQ, the best tacos, or somewhere to party the night away, we know the best spot for you.
So read on to begin your El Paso nightlife adventure!
Our Favorite Picks for Sundowners in El Paso
You can't beat a Texan sunset and especially in El Paso – it's an array of color and often a welcome respite from the heat of the day.
But when it comes to sunsets, they have to be celebrated with the obligatory glass of wine, cocktail, or beer.
If you're up to the drive, you can't beat the sunset views from the Franklin Mountains State Park, but if you're like us and you simply want a laid-back atmosphere where you can be served the perfect cocktail or glass of wine, then here are our top picks.
1. DoubleTree by Hilton
The Double Tree's Sunset Terrace Bar is the ideal spot for watching those breath-taking Texan sunsets.
Located on the 7th floor of the hotel, this is the perfect spot to sit back and relax before taking on El Paso nightlife.
The Sunset Terrace Bar is open daily from 5:00 pm to 9:00 pm.
Address: 600 N. El Paso Street
2. The International – INTL
This modern trendy craft cocktail bar has incredible rooftop views.
We love the casual vibe of this industrial-styled bar with its brick walls, iron, and wooden finishes, and concrete floor.
Handcrafted cocktails are the order of the day here, and we love their signature James Bond themed drink. This fiery, fruity, crisp cocktail is a great way to kick off the evening, made with Lillet Blanc, Roku Gin, Peach Vodka, Firewater Tincture.
And if you're a whisky drinker keep an eye on the menu as you're likely to find that elusive bottle you've been looking for. Although the rooftop bar is the perfect sunset drink option you may find yourself staying here all night.
The International is open 7 days a week, closing at midnight except on Friday and Saturday nights where they stay open until 2:00 am.
Address: 114A Mills Ave. El Paso
El Paso Nightlife: Our Top Bars and Party Spots in El Paso
Craft beers, cocktails, wine, live music – El Paso nightlife has it all.
In fact the margarita was supposedly "discovered" in the 1940s in the El Paso/Juárez region. One of the stories behind the classic Margarita is that back in 1942, Pancho Morales created that magical combination of Tequila, Cointreau, and Lime, in a salted-rimmed glass by accident when a woman had placed an order for a Magnolia.
Nowadays El Paso boasts that it is home to the highest quality margaritas around, and through our many tastings, we happen to agree.
El Paso has its own unique and authentic vibe – a party is always just a tequila or song away.
So with that the case, here are our favorite bars and places to party away and experience that famous El Paso nightlife.
1. DeadBeach Brewery
DeadBeach Brewery is renowned for its craft beer and soulful food. They claim to make big, bold beers that don't hold back on flavor and they have one of the best food trucks around.
Their Tap menu changes weekly depending on what's available and they are always trying to come up with something different and fun.
They slow smoke their meats the Texas way, and make some of the best snacks and sandwiches this side of the Rio Grande. You won't regret giving their house pastrami or St Louis-style ribs a try – we think they are the perfect complement to all of that beer.
DeadBeach has live entertainment on Friday nights to, and if you're looking for something to do on a Sunday evening, then join them for their Geeks Who Drink trivia night which kicks off at 5:30 pm!
DeadBeach Brewery is open 4 days a week, Thursday through Saturday until 1:00 am and until 8:00 pm on Sundays.
Address: 406 S. Durango, El Paso
2. Erin's Bar
A place is not really a place unless it has an Irish Pub! And this quintessential Irish pub has everything you need for a great night out.
Here at Erin's, you will find the perfectly pulled pint, those delicious drink-too-many cocktails, pool tables, darts, and nightly entertainment. Order a pint of Guinness, grab a pool cue or set of darts and as they say, blow off a bit of steam.
Happy hour at Erin's happens daily from 3:00 pm to 7:00 pm, so this is one of those places where you pop in for a "few" and find yourself there well after midnight. The local music scene is fantastic and they love to showcase the best local talent around. Not just any night, but every night!
If the hunger pangs set in, you can order food from En Route Burger, the yellow food trailer in the parking lot of Erin's Bar. They pay homage to that all-American favorite, the beef burger, and claim it's the best in town.
Erin's Bar is open 7 days a week until 2:00 am
Address: 6306 N Mesa St, El Paso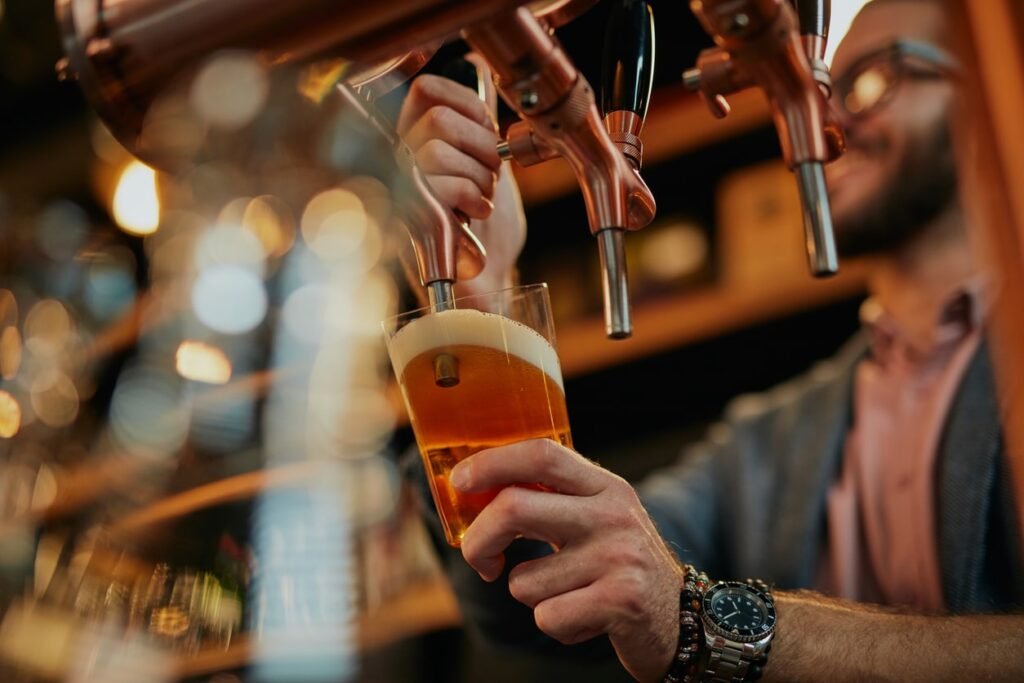 3. Hope and Anchor
Hope and Anchor has a full-service bar and an extensive beer menu with everything from Pale Ales and Ciders to Lagers, and Stout. When it comes to trying something different, we love their novel drinks menu, with must-try drinks like the Capital Punishment or Paloma Old Fashioned.
The Capital Punishment will definitely clear any cobwebs as it's known to give a bit of kick – made from their ghost pepper vodka combined with their own bloody mary mix and pepped up with an Italian salt rim.
The Paloma Old Fashioned is a firm favorite, made from grapefruit Tequila, enhanced with in-house grapefruit bitters and a touch of agave sweetener, served on the rocks.
If you're in need of a bite, you can't go wrong with their Bar Nachos or the Spicy Wings either. We love the large outdoor patio with its strings of lanterns – the perfect setting for those late nights.
Hope and Anchor is open 5 nights a week, Tuesdays to Saturdays until 2:00 am.
Address: 4012 N Mesa St, El Paso
4. Later Later
This contemporary rustic bar oozes late-night drinks and we love the décor with its brick walls and living room furniture.
When it comes to cocktails, you have to give their "Worst Behavior" a bash – made from Bombay Sapphire Gin, Orange Juice, and Strawberry Cordial. Or try their "Later Later Water" a concoction of Topo Chico, Espolon Tequila, Lime, Sugar, and Salt which is also a firm favorite of ours.
But if cocktails aren't what you're looking for, don't worry they have a wide selection of wines, craft beers, and other spirits as well.
They also do Wine Wednesdays, which has to be our new favorite day of the week! Every glass of wine is half price, so grab a table and join us on the patio for a few.
Later Later is open Tuesday to Sunday, from 5:00 pm to 2:00 am.
Address: 109 N Coldwell St, El Paso
5. Little Bit Of Texas
Known as "Lil Bit" by the locals, this is a great place for a night of fun!
This local bar/dance club is for those of you wanting to throw on those cowboy boots and get down to a bit of line dancing. Get ready to listen to country music and top 40 hits, with line dancing lessons thrown in for free on Thursday and Friday nights. This is a happy place!!
We love the fabulous atmosphere which will have you dancing no matter your skill level, and we haven't even gotten to the drinks and food yet.
Happy hours at Lil Bit are somewhat different and we love them! Thursday Rodeo Nights mean discounted beers and mechanical bull rides and U-Call-It happy hour from 7:00 pm to 11:00 pm.
Whilst Saturday night is Ladies' night and their happy hour from 7:00 pm to 9:00 pm is definitely worth every penny.
Open 3 nights a week, Thursday to Sunday from 7:00 pm to 2:00 am.
Address: 5500 Doniphan Dr, El Paso
6. Raves Club
Raves is the perfect place to burn the midnight oil; they have it all – one of the best dancefloors in El Paso, a full-service bar, and great food.
Known as El Paso's premier all-genre concert venue, it's one of our top picks for that all-night party. Local DJs and live bands are always on stage pumping out the latest beats. Raves boasts state-of-the-art equipment and those booming sound systems will make sure the party never ends.
There is always something happening at Raves so make sure to keep an eye on their FB page for the latest events.
They are open 5 nights a week, Wednesdays through to Sundays, and close at 2:00 am except for Sunday nights when they are only open from 3:00 pm to 7:00 pm.
Address: 6816 Commerce Ave, El Paso
7. The Hoppy Monk
This family-owned bar has one of the most extensive drinks menus we've ever seen – beers in bottles, beers on tap, mezcal, whiskey, wine, cocktails, spirits and to top it all off they even have a great selection of cigars and next-level bar food!
It's difficult not to get excited when you get hold of their menu – head straight for the "Flight" section and have your own tasting session. Beer, Whiskey, Mezcal, and Tequila Flights are the perfect way to kick off the evening.
And after all that tasting, you're bound to have built up an appetite. We recommend their Ribeye Sandwich made from 100% grass-fed ribeye served with provolone, a balsamic reduction, basil aïoli, and grilled red onions. Or try the Fish and Chips – beer-battered wild Icelandic cod paired with frites and citrus aioli.
Happy hour or as they say, 'Hoppy Hour' is from 4:00 pm to 6:30 pm on Thursday and Friday nights but they have a whole Hoppy Day on Wednesdays (another reason why we love Wednesdays in El Paso). So do make sure you get your hands on the Hoppy Hour menu and try a margarita or two.
The Hoppy Monk is open Wednesday through to Sunday, closing at midnight on Wednesdays and Thursdays, 2:00 am on Fridays and Saturdays, and at 10:00 pm on Sunday nights.
Address: 4141 N Mesa St, El Paso
8. Puff Social Hookah & Cocktail Lounge
Welcome to El Paso's only cocktail and hookah bar! From the moment you walk through the door, you know you are in for a party.
The atmosphere is electric and the Middle Eastern décor is spectacular with attention to detail being key. They are not only renowned for their hookahs but also for their great service and friendly staff.
This Middle Eastern wonder serves up premium tobacco in traditional Syrian and Egyptian hookahs and there are over 40 flavors to choose from. Puff's has 2 full-service bars where you can order everything from their signature cocktails and craft beers to authentic Turkish coffees or teas.
There is a variety of live entertainment in the form of local and international DJs, as well as other live acts like belly dancing! The combination of hookahs, cocktails, and great music will have you partying until closing.
Puff's is only open on Friday and Saturday nights until 1:00 am.
Address: 3800 N Mesa St, El Paso
El Paso Nightlife: Our Favorite Places To Eat
The fusion of Texan flair and Mexican flavors defines El Paso's culinary scene and has led to some of the most innovative dishes around.
When we think of Tex-Mex, we think of vibrant colors, bold, punchy flavors, and meat with smokey hues. Here in El Paso, eating is simply one of the best things you can do.
With a host of restaurants to choose from, you will find everything from the perfectly grilled succulent steak, to authentic Mexican foodie-fiestas and everything in between. Here are our top 3 picks for a meal to remember.
1. Julio's Mexican Food
At Julio's they promise that "every recipe is cooked with love and great pride". They prepare all ingredients from scratch to bring that authentic Mexican flavor to your table. They do that so well, that Julio's is actually our top Mexican restaurant in El Paso.
Mexican food is a celebration of life here, and the perfect way to start any meal is with their "shareables". Try the Julio Sampler, a platter of nachos, flautas, and quesaditas, a flour tortilla folded over melted Monterrey Jack, and marinated chicken fajitas served with guacamole, sour cream, and a cup of molten chile con queso.
For mains, we highly recommend their specialty, Cochinita Pibil which is a traditional Mayan dish of slow-roasted pork in an achiote and orange juice sauce. It is served with citrus red onions, pico de gallo, guacamole, and refried beans. They also have a great selection of steak, seafood, enchiladas, and chimichangas.
We suggest you take it slowly and keep some space for dessert as you simply can't leave without tasting the Crepes de Cajeta. These thin crepes with a touch of orange are flamed with tequila and brandy and served with a drizzle of caramel and a sprinkle of pecans.
Julios is open for dinner Monday to Saturday and closes at around 9:00 pm.
Address: 8050 Gateway Blvd E, El Paso
2. Taft Diaz
Located in the luxurious Stanton House Hotel, Taft Diaz is one of our favorite fine dining restaurants in El Paso.
They are all about fresh produce and pride themselves on working with local farmers to source the freshest seasonal ingredients. The contemporary innovative menu never fails to impress and as they say, "Experience the tantalizing mix of Mexican flavor, American influence and five-star service."
This is foodie heaven, their beautifully prepared and plated food will have you savoring each mouthful.
When it comes to starters, the clams served with freshly baked sourdough bread and pancetta is always the perfect choice.
For mains, we highly recommend the Prime Taft·Diaz Ribeye, paired with Charred Avocado, Mashed Potatoes, and Roasted Onions or the Duck Breast served with Radicchio, Black Bean Demi, and Duck Confit.
The Taft Diaz has an extensive wine list and their knowledgeable staff can help you select the perfect bottle to complement your meal. Taft Diaz is open for dinner, Tuesday through to Sunday until 10:00 pm.
The Stanton Hotel bar is also worth a visit for those quieter drinks and that all-important happy-hour which is Mondays to Thursdays from 4:00 pm to 6:00 pm. Be prepared for some unique combinations using locally sourced products and crafted spirits.
Address: 209 N Stanton St, El Paso
3. Trattoria Bella Sera
When you enter Trattoria Bella Sera you know you have found a little bit of Italy right here in Texas. This Italian restaurant is owned by Guliana Leardine and her personal touch can be found across all aspects of this delightful restaurant.
The dishes have been made from tried, tested, and loved recipes that have been passed down from generation to generation. Trattoria (meaning homemade) Bella (meaning beautiful) and Sera (meaning lovely evening), is the perfect name for another of our favorite food destinations.
With the aroma of authentic Italian cooking filling the air and relaxing Italian music in the background, you have no other option but to order a glass of wine and the Pizzette Fresca, a crisp dough topped with oven-roasted tomatoes, fresh mozzarella, and basil while you peruse the menu.
When it comes to mains, you won't be disappointed by the endless choices and if you're feeling like seafood we recommend Segovia's Special, a dish of tender scallops, jumbo shrimp, clams, calamari, and mussels in a white wine sauce served over linguini pasta.
Just make sure you save space for their famous Tiramisu!!
They are open Monday to Thursday until 8:00 pm and on Friday and Saturday nights until 9:00 pm.
Address: 3512 N Yarbrough Dr Suite B, El Paso, TX 79925
4. L&J Café – The Old Place by the Graveyard
We've saved the best for last!
L&J Café is El Paso's most famous restaurant and the odd celebrity has been spotted dining in this historic restaurant. The L&J Café links the past and present through thoroughly great food and drink, two of our favorite things.
The restaurant originally opened in 1927 and was known as "Tony's Place" and was renowned for home cooking, homebrew, and slot machines. It was later renamed L&J and now four generations later, the family tradition of providing delicious, authentic food and drink continues.
Don't forget to buy a bottle of their Salsa on the way out, well that's if you can cope with the heat!
L&J is ideal for those early evening meals as they close at 7:00 pm, Thursday through to Saturday.
Address: 3622 E. Missouri Ave, El Paso
El Paso Nightlife: Late-Night Food Options
You won't battle for late-night food as most bars and clubs keep their kitchens open quite late but just in case, here is our go-to places for that late snack.
Chico's Tacos
Luckily there happens to be three Chico's Tacos in town!
This is the perfect spot for that late-night bite as they are open 7 days a week until 11:00 pm.
This is not fine-dining but at 11:00 pm we're just looking for great authentic, fresh tacos and that's what you will get here at Chico's Tacos – counter service par excellence.
Address: 3401 Dyer St / 4230 Alameda Ave / 1365 George Dieter Dr, El Paso
And For Something a Little Different…
El Paso is also known for hosting some of the best festivals in Texas and if you happen to be there at the right time, you are in for a treat.
Viva El Paso
This is a celebration of the town where the story-telling of El Paso's history is relayed through song, dance, and drama.
Performances occur every weekend for 3 months from June to August where more than 50 dancers tell the El Paso story from the Wild West to the conquest by Spain and the control of Mestizo Mexicans.
These are nights filled with dancing, cannon fire, acrobatics, parades and so much more. This is no small affair and has annual crowds of more than 25,000.
Country Club Night Market
This is one of El Paso's longest seasonal night markets and is a brilliant fun night out with a multitude of food trucks in attendance. So many, that they like to refer to it as a food truck rally!
If you happen to be in El Paso for the Springtime, make sure to head down to the market for an al fresco evening filled with food, drinks, and fun.
The night market is open Friday and Saturday nights from 6:00 pm. – you can find it in the upper valley off of Country Club Rd.
El Paso Nightlife: The Best Places to go on Certain Nights of the Week
This, vibrant, multi-cultural town steeped in history is a place you wont forget in a hurry.
El Paso has a way of capturing your heart – we're never sure if it's the tacos, margaritas, or those spectacular Franklin Mountains – but we do know it's one of those places you wont want to leave.
While it's easy to spend a few days in El Paso, if you're just passing through for one day, here's what we believe are the El Paso nightlife highlights for each day of the week!
Monday
Monday isn't the liveliest night in El Paso, but Erin's Irish Bar is open until 2am and happy hour is from 3pm -7pm. They also tend to have live music on Mondays too!
Tuesday
Tuesdays tend to be quite quiet too, but head to Hope & Anchor which is open until 2am for fantastic drinks and bar snacks.
Wednesday
Head to Hoppy Monk where their happy hour runs from morning to evening on Wednesdays! But if you're a wine lover then make your way to Later Later where 'Wine Wednesdays' will see you able to pick up half price wine!
Thursday
Little Bit of Texas is the place to go on Thursdays, which is Rodeo Night at this popular local haunt. That means discounted beers and mechanical bull rides and U-Call-It happy hour from 7:00 pm to 11:00 pm. On top of that there's free line dancing lessons!
Friday
It'll come as no surprise that El Paso nightlife can get lively on a Friday, and anywhere you go should be good fun. But we usually head to Raves when looking to get into party mode.
Saturday
Puff's is only open on Fridays and Saturdays (until 1am on both) so we recommend getting down there to enjoy some hookah and good Middle Eastern food. On top of that expect entertainment, DJs and even belly dancers!
Sunday
El Paso nightlife tends to quieten down by Sunday, so why not go to DeadBeach Brewery and enjoy some fantastic beers and join their Geeks Who Drink trivia night which kicks off at 5:30 pm every Sunday.