Wandering our World is reader supported! If you purchase anything through a link on our site, we may earn a commission at no extra cost to you.
Last updated on October 7, 2022 by Wandering our World
We've really enjoyed our stays in Scarborough, and it's easy to see why it draws in so many people every year. A stroll along the clean, sandy beach in the sunshine here is always such a lovely feeling, but so is exploring other parts of the town like Peasholm Park where you can rent a pedalo and have fun on the lake!
But regardless of where we go in town, after a busy day out there's always one thing we end up doing – and that's enjoying the fantastic pubs in Scarborough!
As we know this place well, we've put together a list of our ten favourite places to drink and grab some pub grub.
So whether you're looking for some live music, brilliant pub food, somewhere dog friendly or a place to step back in time with no technology allowed, at least one of the Scarborough pubs in this list should suit you perfectly.
So sit back and relax while we guide you through Scarborough's pub culture.
The Best Pubs In Scarborough for Food, Beer and Fun!
1. Old Scalby Mills
If you're looking for food and drink with a view, you can't beat this place.
With stunning sea views from their sheltered patio, conservatory and lounge, it's easy to see why the Old Scalby Mills is so popular with tourists and locals alike.
Couple those knockout views with some lovely ale and terrific food, and you've got a 'can't miss' destination. And with the aquarium nearby, it's easy to explore the sea life then enjoy some great food with sea views here!
Old Scalby Mills use only local fresh ingredients to create home cooked food, and the result is a range of delicious British pub classics. Try the Steak Pie or Giant Yorkshire Pudding with Roast Beef, or the Haddock and Homemade Chips if you need something to really fill you up.
And if you're vegetarian, you can't go wrong with the Three-Bean Chilli & Nachos or Veggie Burger.
Around five ales are usually on offer year round. As for what you should try, Wainwright is rich and golden, Mishka is a rather traditional bitter, and Greene King IPA is perfect if you want something full of flavour but maybe not too strong.
And to top it all off, Old Scalby Mills isn't just family friendly but dog friendly too! It's easily one of the best pubs in Scarborough, and not just because of those fantastic views.
Address: Scalby Mills Road, Scarborough, YO12 6RW
2. The Golden Ball
Do you remember when people went to the pub to just relax with a drink or make conversation about the topic of the day? They didn't need background music, mobiles or laptops as social crutches.
If any of that sounds appealing to you, then The Golden Ball will be right up your street.
Getting back to basics and talking to each other aren't suggestions here – they're the actual rules of this Scarborough pub! No music. No mobiles. No laptops.
That makes this place the perfect spot to enjoy some ale with no distractions, and with the open fire adding to the already relaxed atmosphere, it's a nice spot to settle in and enjoy the simple things in life.
There are multiple rooms to choose to be seated in, with some having glorious views of the sea that you can enjoy while sipping away at Samuel Smith Old Brewery Bitter.
Step back in time and try something different if you haven't experienced a pub like this before. It feels refreshing to be freed from technology at times, so why not do just that at one of the best pubs in Scarborough while visiting.
Address: 31 Sandside, Scarborough, YO11 1PG
3. Hole in the Wall
Most hole in the walls are considered small or obscure, but this place is anything but.
This friendly pub in the heart of Scarborough is split into two levels filled with plenty of comfy seating area which is partly why we like this place so much.
On warm days be sure to spend time in the large popular beer garden, and for those colder days, settle by the fire to enjoy your drink.
If you're wanting to watch live sport and football then they show it on screens, and if it's live entertainment you're after then you may be in luck as there's often musicians playing during the weekend, alongside an open mic night on Mondays.
As for drinks, this pub is well stocked and if it's ale you're after, you're in for a treat. There are usually 4-7 ales available, and recently added was Island Life by the Orkney Brewing Company which goes down a little too easily!
Want to take your dog along? That's no problem here, this is one of the most dog friendly pubs in Scarborough too!
All in all this place is a fantastic spot for beer garden drinks, entertainment and watching sport.
Address: 26-32 Vernon Road, Scarborough, YO11 2PS
4. Scholar's Bar
If your legs are tired from walking around the shopping centre and you're in need of some refreshments, then luckily Scholar's Bar is nearby!
The interior has a very traditional pub look with lots of wood being complemented by stools and high tables that have a good view of the large TV if you're in to watch sport.
But what we really love about Scholar's Bar is that every Thursday is Quiz Night, and the prize is the chance to win a ridiculous 28 pints alongside cash!
So what pints are on offer here? Well there's five rotating ales, often from the Yorkshire region, and a few regulars like Hambleton Nightmare Porter – a delicious full bodied ale that's even won an award from CAMRA.
Address: 6 Somerset Terrace, Scarborough, YO11 2PA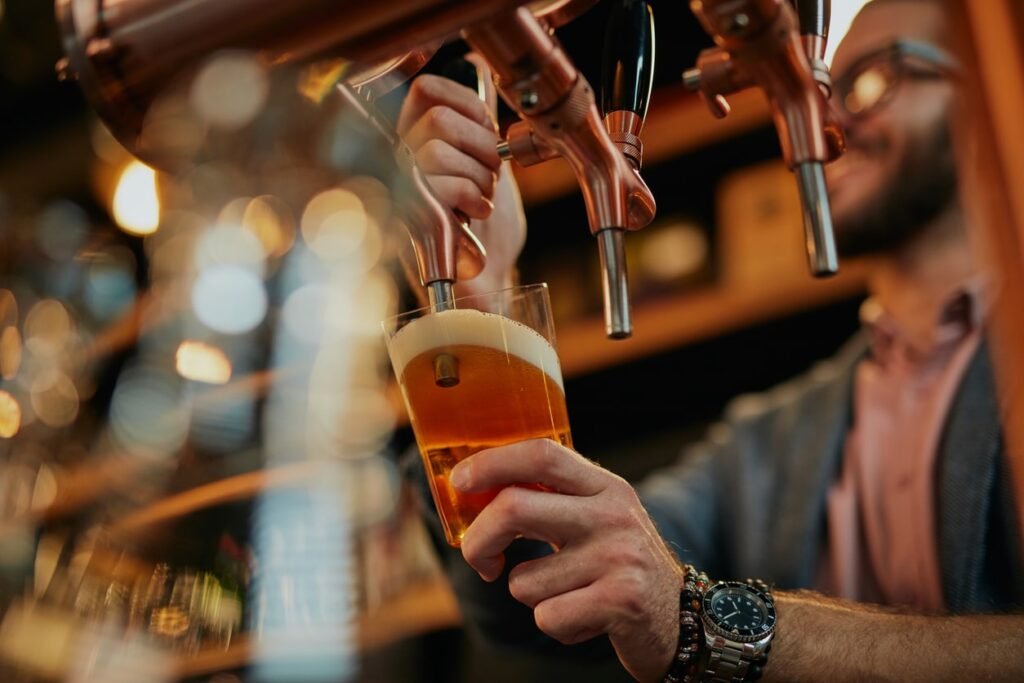 5. Sanctuary Bar
Looking for some affordable food in a warm friendly atmosphere with fantastic drinks? If so Sanctuary – with its menu of over 60 cocktails – will be perfect.
This modern looking bar is a great spot for a coffee with a friend during the day or ideal for a meal and drinks with a loved one at night. The menu is bursting with offers on incredible food, and from Monday to Friday you can pick up 2 burgers or 2 pizzas for £12! Can you also get two cocktails for the same price? Of course you can!
Some other pub classics turn up on the menu like Nachos and Hunters Chicken, but if you want something lighter there's sandwiches and wraps available too.
There's not much in the way of ales on tap but there is craft beer available, along with fine wine and the many delicious cocktails they serve up.
And if you're looking for an energetic evening then on popular evenings they sometimes have a DJ!
Address: 4-13 St Nicholas Street, Scarborough, YO11 2HG
6. The Scarborough Arms
So what about if you're looking for good food and good ales? Well then one of the best pubs in Scarborough for you is probably The Scarborough Arms!
Located near St Mary's Church, which is very popular with tourists, this family friendly pub offers somewhere to relax from midday to midnight every day of the week.
This pub is known for two things locally: its medieval theme and for serving quality food.
The menu consists of classic British pub options, and starting off with their always delicious soup is never a bad idea. As for mains, there are classics like Steak & Ale Pie, Lasagne, Steak, and Roast Dinners available. Of course vegetarians are catered for with several options too.
And if you're still somehow hungry after all of that, or just want to test your stomach's limits, then you can't get much better than their Homemade Apple Pie or Hot Chocolate Brownie. Then wash it all that down with some delicious ale!
The ale changes regularly here so we can't tell you what will be on offer when you visit, but for us we enjoyed the Wychwood Hobgoblin Ruby which was delicious.
On top of all that, Saturday nights here often feature live music and if you need to keep an eye on the score, there's a TV that plays live sports. When it comes to Scarborough pubs, The Scarborough Arms is great all-rounder!
Address: 1 North Terrace, Scarborough, YO11 1HU
7. The Dickens Bar & Inn
Another location ideal for a pint and watching sport is The Dickens Bar & Inn, which is located perfectly in central Scarborough.
Comfortable seats throughout the bright and open bar make this place an easy spot to spend an hour or three with friends.
But if your visit extends into the evening on a weekend you'll likely be entertained by a solo musician, band or the resident DJ!
The fully stocked bar offers a fantastic selection of drinks including a few ales, usually with Black Sheep Best Bitter and Sharp's Doom Bar on offer. There's a fine selection of wine and plenty of bottled beer to enjoy too.
This is definitely one of the best pubs in Scarborough for drinks and entertainment.
Address: 41 Huntriss Row, Scarborough, YO11 2ED
8. The Stumble Inn
We love somewhere small, cosy and friendly so we were delighted to 'Stumble Inn' here. Dad joke we know, but we had to do it…….
Known as the first micro-pub in Scarborough, at this award-winning place you'll receive a warm welcome from knowledgeable staff who really know their stuff when it comes to ale and beer.
Beer festivals are regularly held here, and there's a popular pub quiz the last Sunday of the month. Your mobiles aren't banned here but there's no gaming machines, WiFi or TV, just good old fashioned chat and laughter. Dogs are welcome and there's some seating available outside for those sunny days.
And incredibly, if you happen to be the designated driver, you'll be treated to free soft drinks or coffee!
As for the alcoholic drinks, there are five regularly changing ales on offer, often featuring Wensleydale, Durham or Rudgate Breweries.
If ale isn't your thing there's craft beer, draught beer, bottled beer and cider, alongside some delicious top shelf whisky – you just can't beat the likes of Jura, Glenfiddich or Laphroaig.
Address: 4 Garthway Arcade, Northallerton, DL7 8NS
9. Craft Bar
We love craft beer as well as real ales, and in the craft beer world the game is ever changing as more and more unique flavours appear every year as companies try to outdo each other. For beer fans like us, we love it!
And we love places that concentrate on craft beer too – which is exactly what Craft Bar does.
This tap room, close by the Stephen Joseph Theatre, has over ten craft beers on tap along with several ales and ciders. With all of those options on offer, don't expect to pop in here for just an hour!
There's occasionally quiz nights here where you can win a £40 bar tab, as well as gigs featuring solo acoustic artists and bands, so be sure to check out their Facebook page in advance to see what you can expect when you visit.
Address: 7 Northway, Scarborough, YO11 1JH
10. The Farrier
If you want some of the best gastropub food in the area, then a short drive outside the centre of Scarborough will take you to the highly rated, luxurious, The Ferrier.
And make sure you get that camera ready too, as every part of this establishment is photogenic – be that the outside, restaurant or the gin lounge. You read that right, they even have a gin lounge!
Lunch is served between 12 and 2pm, however we recommend showing up for dinner between 6 and 9pm (6-8 on Sunday). That's because you can also indulge in their fantastic wine selection, which has been curated to ensure that there's something to pair with everything on the exquisite mainly British-based menu.
So what should you try? Well the Braised Beef Brisket is a taste sensation, as is the Catalonian Style Samfaina if you are looking for something vegetarian.
If you're not looking for a full meal but rather something to nibble on with your pint, then you can't go wrong with their chunky chips or onion rings.
There are a few ales on offer with Theakstons Best Bitter and Timothy Taylor's Landlord usually available, alongside lager, bottled beer and cider options.
The Gin Lounge is fully stocked with an extensive menu covering everything on offer. Whilst gin and cocktails dominate, there's also a good selection of whisky and other spirits too.
Although described by many as a gastropub, this may end up feeling more like a fine dining experience with fair prices. You are in for a treat if you visit.
Address: 89 Main Street, Cayton, Scarborough, YO11 3RP