Wandering our World is reader supported! If you purchase anything through a link on our site, we may earn a commission at no extra cost to you.
Last updated on April 30, 2023 by Wandering our World
As a child, there were always a few places that seemed impossibly far away. Fiji and Tahiti – two paradise islands in the Pacific Ocean – were exactly that.
Luckily, these island groups can be reached by intrepid tourists. However both are more different than many realise, which means making the right vacation decision between Fiji and Tahiti is very important.
For example, if beaches are your main priority then Fiji is probably the better choice. The white sandy stretches of coastline on this island are world class and arguably better than those in Tahiti. And as an added bonus, Fiji is an English-speaking nation that also tends to be a cheaper destination than Tahiti too.
However if you're looking for a vacation with the 'wow' factor, then the spectacular backdrop of mountains beside the breathtakingly blue lagoons of Tahiti and her neighboring island of Bora Bora can provide that. This destination is expensive, but if you can afford the spectacular overwater bungalows that French Polynesia is famous for, it's going to be well worth it.
Of course that's just the start when it comes to how these two destinations are different.
That's why after spending time in both, we decided to compare Fiji vs Tahiti below. We look at which has the better beaches, what excursions are available, compare the culture, food and lots more!
CONTENTS:
A Quick Overview & Comparison
How Do The Beaches & Landscape Compare?
How Does The Culture Compare?
Which Is Better For Snorkeling & Diving?
Which Is Better For Nightlife?
Which Is Better For Families?
Which Is Better For Couples & Honeymoons?
Which Is Cheaper?
Which Is Safer?
Where To Stay According To Your Budget
A Taste Of Island Life: How Does The Cuisine Compare?
Which Is The Better Choice?
A Quick Overview & Comparison: Fiji vs Tahiti
As vacation destinations go, you can't get much better than either.
However if you're looking for spectacular scenery then Tahiti wins over Fiji. The dramatic mountain peaks on Tahiti and its gorgeous turquoise lagoons are breathtaking – even more so on neighboring islands like Bora Bora. It's romantic, and the perfect honeymoon destination.
But if beaches are your priority, then Fiji would be the better choice.
Fiji has countless soft white sand beaches, many of which have a real deserted island feel to them. That's especially true of the beaches that exist on Fiji's remote outlying islands. Tahiti has some great beaches too, but often they're not as soft as Fiji's.
In fact if you're on the look out for a luxury beachside resort holiday, the options in Fiji are better than Tahiti in our opinion. Why? Well Tahiti's sister island Bora Bora tends to attract the luxury market in French Polynesia, whereas Tahiti has more budget options.
In contrast, Fiji is the luxury vacation island in its part of the Pacific. The way Bora Bora is in French Polynesia.
However the other Society Islands (like Bora Bora and Tahiti) became so trendy due to their many luxurious overwater bungalows – an invention that came from these very islands. So if you're looking to stay in these iconic wooden huts, then Tahiti may be the place to go.
However there are a few resorts in Fiji that have them too (and we recommend one later in this article).
Yet the Society Islands' popularity due to these luxury resorts has also made the region and Tahiti quite overbuilt. In contrast, Fiji is much less commercialized, so feels a little less 'touristy'.
In terms of expenses, both Tahiti and Fiji can be done on a budget. You can find rooms in guest houses in both for 50-100 USD a night – albeit far more exist in Fiji. Some will have communal kitchens so you can cook. There are also food trucks in both islands that have affordable options when it comes to eating out.
Below we look at both islands in more detail, before comparing Fiji vs Tahiti in terms of culture, food, accommodation choices and more!
How Do The Beaches & Landscape Compare?
Fiji: The Beaches & Landscape
As a general rule, the more remote you go in Fiji, the more spectacular the beach. And some of our favorite beaches are on the dreamy Mamanuca Islands.
This group of 20 outlying islands has a real castaway feel to them, and no wonder – it's here that the U.S. television series Castaway was filmed. Just be careful, as seven of the islands are covered by water at high tide!
There are beautiful beaches on the main island too, like the one at Natadola Bay. The crystal clear water here lapping against the sun-kissed sand makes it the perfect spot to relax and enjoy a beer.
One of our favorite snorkeling spots is Rainbow Reef at Taveuni. As the name suggests, expect multi-colored coral to go with the multi-colored fish you will see! Just make sure you take a great underwater camera with you – like this one.
However Fiji is also a destination where there are many things to do away from the beach too. This volcanic island nation has a lush mountainous interior that is begging to be explored. Recommended: Are There Snakes in Fiji
On Taveuni, hike through the rainforest at Bouma National Park and head to the towering Tavoro Falls. This group of three waterfalls have pools that are perfect for swimming, all within a spectacular forest backdrop. While there keep an eye on the trees – Fiji is home to many colorful species of parrot.
Feeling energetic after a few days resting on the beach? Then tackle Fiji's highest peak Mount Tomanivi on Viti Levu.
The hike can be tough going, but the panoramic views across Fiji and the Pacific from the top are just breathtaking.
However with Fiji's highest peak standing at 1324m compared to the highest in Tahiti which stands at a mammoth 2241m, serious hikers may prefer the trails and panoramas in the dramatic landscape of Tahiti and French Polynesia more than those offered in Fiji.
Tahiti: The Beaches & Landscape
Often underrated, Tahiti is seen as the gateway or launchpad to the rest of the Society Islands such as Moorea and Bora Bora – which is well renowned for its tropical allure and luxury hotels.
But the reality is Tahiti is an island that's perfect for tourists looking for luxury interspersed with a bit of adventure.
Tahiti has some wonderful beaches, and one of our favorites is Plage de Toaroto. This gorgeous stretch of white sand is a perfect place to relax for the day. The water at this beach is also calm, and a great spot for swimming and snorkeling.
A quirk of Tahiti is the island's many black sand beaches – a byproduct of volcanic activity. Lafayette beach is one of the best on the island. The sand is soft and comfy, and the beach a real sight to behold.
Tahiti is also well-known for Teahupoo Lagoon, where the world's most prolific surfers come to test their skills on the island's famous sharp reef breaks.
However like Fiji, Tahiti has much to offer away from the coast. This volcanic island is perfect for jungle trekking, hiking up mountains, and swimming in waterfalls. It's a spectacularly beautiful and dramatic landscape, arguably more so than Fiji.
Recommended: Incredible Hiking Trails In Tahiti You Should Try
One of our favorite hikes is Aorai Mountain, although it's recommended for experienced hikers only.
However throughout the island you'll find many great trails to explore. A trip to nearby Moorea will also expose you to countless waterfall trails too. One of the best is the beautiful Afareaitu Waterfall (Vaioro Falls) which is tucked behind lush mango trees and ferns.
Back on Tahiti, make sure you visit the mysterious Mara'a Grotto, a cave with a rock pool. The cave seems like it rains on the inside, which is the water seeping through from the mountain above.
How Does The Culture Compare?
You will find a friendly welcome in both Tahiti and Fiji, and both are culture-rich regions.
French is the official language in Tahiti, although some people do speak English. However a language barrier will likely exist outside of your hotel or resort. In Fiji, English is the official language and therefore it's a very easy country to navigate for English speakers.
Expect good service in Tahiti but it can also be a little abrupt. In Fiji you're guaranteed a smile everywhere, but be aware that 'Fiji time' exists! This is a laid back nation, and things can move a bit slow. Expect waiters to take their time, and buses to arrive late. It's all part of Fiji's charm.
Below we look at some of the cultural excursions in each island, and what you can expect if you choose to visit!
Fiji: The Culture
Multi-ethnic and multi-religious Fiji has a fascinating culture, some of it stretching back many centuries.
One of their ancient traditions is fire walking, which originated on the island of Beqa. The locals on this island still ceremoniously walk across hot coals, making Beqa a must visit for culture aficionados.
Recommended: The Ultimate Guide to Fiji Culture
This culture rich country is a place where many superstitions still exist – such as believing that coconuts choose who to fall on!
But it's also an incredibly friendly and warm nation, where tourists are encouraged to intermingle with locals.
Some girls are still taught from a young age to weave baskets and bags, and boys are taught to make bowls, spears and even 'cannibal forks' – a fork that was used to eat the flesh of enemies!
Thankfully they're just made as tourist items now, and you can buy them and many other crafts at the Handicraft Market in Nadi.
Fiji is home to a sizable population of Christians, Hindus, and Muslims. The largest Hindu temple in the Southern Hemisphere, Sri Siva Subramaniya Temple, can also be found in Nadi. This ornate colorful building should be on your list of places to visit as you temple hop around the island.
Tahiti: The Culture
Visiting French Polynesia gives visitors a unique opportunity to delve into the lives of early settlers and learn more about the arrival of Europeans in the Pacific.
From the famous story of the 'Mutiny on the Bounty' to the oral history shown through dance and song, you can learn a lot through the cultural experiences on offer in French Polynesia.
On this island you can try your hand at spearfishing and learn the incredible meanings behind traditional Maori tattoos. You will also find dance performances of the traditional 'Ori Tahiti', and there are places where you can take lessons with locals.
Tahiti is awash with museums, including the Museum of Tahiti and Her Islands which focuses on the island's Polynesian history.
The James Norman Hall House – the house of the island's most famous author who co-wrote Mutiny on the Bounty – has a 1920's garden tea-room and library that's worth visiting too.
For a glimpse of the oldest Catholic church in Tahiti, visit the Notre-Dame Cathedral in the capital Papeete. This is an example of the old colonial-style architecture that came with the Europeans.
While in Papeete, don't miss the opportunity to visit Papeete Street Market. It's the perfect place for picking up souvenirs!
Which Is Better For Snorkeling & Diving?
Fiji: Snorkeling & Diving
We've mentioned some of the best places for snorkeling on each island. But if we were to compare them, we would have to give this category to Fiji.
Fiji is widely known as one of the best deep diving spots, not only in the Pacific but in the world. The clear water combined with diverse marine wildlife makes Fiji a fantastic destination for professional divers.
Viti Levu in particular is renowned as the best place to dive with manta rays and sharks. As if that's not mind-blowing enough, if you head to Beqa Lagoon, you can deep dive and see a 190-mile stretch of coral reef formed around an extinct volcano crater!
Another popular diving spot is Rainbow Reef on Taveuni Island. As the name suggests, it's famous for its colorful corals.
However Fiji also welcomes beginners to its waters!
Newbie snorkelers can feast their eyes on colorful coral reefs, and you don't even need to ride a boat away from the beach to do it! Because the waters are so clear, there are plenty of places where you can snorkel and see reefs and colorful fish right off the beach.
In fact, most resorts here have snorkeling lessons that you can do right on the resort beach too.
Some of the best beaches for snorkeling are Natadola Beach on Viti Levu, Blue Lagoon on Yasawa Islands, and Navini Island Resort.
Tahiti: Snorkeling & Diving
Although it's not as popular as Fiji, Tahiti also has some of the best spots in the Pacific for snorkeling and diving. 
The most popular place for beginners is The Aquarium. It's a coral garden no more than 40 feet deep with diverse fish and a colorful coral ring.
The Aquarium is also great for those who love exploring under-the-sea wrecks. There's a Cessna 172 plane wreck located just about 30 feet deep, making it very accessible for divers of all levels.
For seasoned snorkelers and divers, you can meet sea turtles and manta rays on Pointe des Pêcheurs. The currents can be quite strong here so we advise going with local guides.  
There's also a place in French Polynesia known to be great for snorkeling right off the beach, and that's on the island of Moorea, which is around a 45-minute ferry ride from the northwest coast of Tahiti.
When there, head to the northeastern tip of Moorea and enjoy the underwater beauty of Temae Beach, which boasts gorgeous and healthy coral reefs. 
Which Is Better For Nightlife?
Fiji: The Nightlife
Being the busier tourist destination, Fiji definitely has more a bustling nightlife than Tahiti. However, the nightlife in both places is similar in the way that it's very relaxed, with people chilling at beach clubs instead of partying in nightclubs.
On top of that, Tahiti's night scene tends to be mostly concentrated in one place (as we'll talk about later), while Fiji offers many kinds of nightlife throughout the country.
Port Denarau on Viti Levu is known for being the best place for those looking for entertainment, as it's filled with many bars and clubs.
The most popular hangout spot in the area is probably the Musket Cove Yacht Club Island Bar. It's great for chilling and having a nice cocktail on the beach.
Another popular beach club for night hangouts is Cloud 9, located off of the Mamanuca Islands.
Cloud 9 is a floating bar that sits on top of two pontoons, built with the concept of "the raddest lounge bar in the world – a meeting place in the middle of the ocean." We think it's achieved that goal!
But if you're looking for nightclubs, one of your best bets is O'Reilly's in Suva. It's known for being a cozy place to chill and enjoy a few drinks, as well as also to dance and party.
Another choice is Traps Bar – also in Suva – which is a great place to dance with locals and tourists alike.
Tahiti: The Nightlife
Tahiti's night scene is how you'd expect nights on an island – vibrant with a lot of dancing! And almost all of that nightlife scene is concentrated in the capital of Papeete.
If you walk into hotels and restaurants in the capital you'll find traditional Tahitian dance shows which are known to be quite fun.
Papeete is also where you'll find nightclubs and bars. The most popular one is probably The Piano Bar in Vaima Shopping Center, which unlike the harmless, jazzy-sounding name, is actually more of an adults club….
For a more chilled-out place for listening to live music, try out Le Morrison's Café which is also located in Vaima Shopping Center.
Which Is Better For Families?
Fiji: For A Family Vacation
Fiji offers plenty of activities for families who love adventures. For example, many places offer ziplines through the jungle such as the Sleeping Giant Zipline Nadi, Zip Fiji Nadi, and Kula Wild Adventure Park Ziprail.
Although Kula Adventure Park is filled with many other outdoor activities, it was originally built as a bird park. So you can take your kids to play there while at the same time interacting with wildlife – which really is the best kind of activity for families!
Kula Adventure Park is located on Coral Coast, which on its own is also a popular place to stay for families. The coastline landscape is adorned with beaches, bays, and mangrove forests, with beachfront hotels and plenty of family-friendly attractions.
And for parents who love shopping, you can buy many local handmade crafts in Fiji and they're very cheap too. You won't find any trouble finding handicraft markets, especially on touristy islands like Nadi and Suva.
On top of that, Fiji is also more developed than Tahiti. As a result there are more attractions, activities and hotels in Fiji catered towards children, which is why we think it's a better holiday destination for families.
Tahiti: For A Family Vacation
However a family vacation in Tahiti can also be fun!
Expect activities like playing on the beach, snorkeling, and exploring the local culture. But there doesn't tend to be many adventure parks or water parks.
Yet the one perk of Tahiti for families is that because it's less developed, it's also less crowded with tourists. This therefore might suit families with babies or toddlers.
For a great Tahiti family vacation, consider staying at Tahiti Village Resort. It has the most amazing waterpark on the island.
As for shopping, visit Marché Municipal in Papeete, a great "traditional market" where you can buy farm products and local handicrafts. It's also the perfect place to get an idea of the local people and culture.
Which Is Better For Couples & Honeymoons?
Fiji: For Couples & Honeymoons
Along with the likes of Hawaii and Bora Bora, Fiji is one of the best honeymoon destinations in the world. This archipelago is very well-developed with plenty of resorts, while still maintaining the gorgeous raw beauty of its pristine beaches.
A great honeymoon activity you can do in Fiji is island hopping. And this is something you can't really do as easily in Tahiti because the other islands in French Polynesia are further apart.
However you can hop from one island to another in Fiji by a short boat ride, and experience snorkeling and diving from multiple islands with your partner. 
Other popular things to do for couples in Fiji include having a private picnic on the beach and having dinner on the beach while stargazing.
Both Fiji and Tahiti are perfect for couples looking for a private honeymoon too. Many of the resorts in both places are exclusive, having a bungalow or bures style rooms instead of being huge hotel buildings.
Therefore, you can get a whole bungalow just for the two of you without feeling like you're in a huge resort complex.
Tahiti: For Couples & Honeymoons
Whereas Fiji wins in terms of beaches, Tahiti may have the upper hand when it comes to landscape.
Boasting beautiful lagoons with mountains as the background, Tahiti gives off an enchanting vibe perfect for a special couples holiday.
After indulging in classic resort activities – such as enjoying a couple's spa and lounging on private beaches – you can go on adventures to breathtaking waterfalls, hiking the mountains, and snorkeling in the sea.
However all in all, we think Fiji is the better honeymoon destination. That said, Tahiti might be better for those looking for a quiet honeymoon because there are fewer tourists in general.
Which Is Cheaper?
Due to having a wider range of accommodations, from guesthouses to resorts, staying in Fiji tends to be more affordable than staying in Tahiti.
On the contrary, Tahiti is more known for its luxury resorts, with large chain hotels such as Sheraton and Intercontinental lining the coast.
Dining and activities in Fiji are also generally more affordable. However, this all depends on how you spend your vacation.
While not as many as in Fiji, there are also guesthouses and budget-friendly eateries in Tahiti.
Yet flight prices to Tahiti are usually also more expensive, due to its extremely remote location and the fact that there are fewer airlines offering flights to Tahiti.
Which Is Safer?
Both Fiji and Tahiti are extremely safe to travel to. In fact, the US travel advisory for both is just Level 1, meaning they are as safe as they could probably get.
At most, just exercise normal safety precautions in both places, such as being mindful of your belongings and not showing off your luxuries.
Where To Stay According To Your Budget
Fiji
Shoestring: Imagine your own private villa set on the beachfront, an outdoor infinity pool just steps away and free water activities like kayaking and snorkeling just outside your door.
The white sands of Fiji are the first thing you will see when you wake up, and incredibly all of this you can get on a reasonable budget when staying at the five-star Maui Palms. This resort set in Maui Bay is easily one of the best value for money hotels in Fiji. See photos and rates!
Budget: What could be better than a private villa? How about a private villa set on an exclusive private island? That's exactly what you'll get if you stay at Toberua Island Resort, where a 30 minute complimentary boat transfer will take you to a tropical paradise where very few on the world have been, let alone seen.
This place may be serene but it's also licensed to teach scuba diving so if you want some adventure, you have plenty of opportunities! Incredibly, the price tag to stay here is well within most travellers' budgets. See photos and rates!
Luxury: If you want something extra special, then an overwater bungalow is the cream of the crop when it comes to Pacific accommodation. And you can't get much better than the gorgeous much sought-after overwater bungalows that Likuliku Lagoon Resort have.
This adults only resort is all about luxury and relaxation, and as soon as you step through the door you will be treated like a celebrity. Of course all of that comes with a celebrity price tag too. But if you have the money, it's worth it. See photos and rates!
Tahiti
Shoestring: Just a few steps from the beach and with a dramatic jungle and mountain backdrop, Manomano Lodge gives travellers a chance to holiday in style but without the huge price tag.
The location is fantastic for activities, and the beach beside the lodge is one of the best for snorkeling on the island. And if you're lucky, you may even get the chance to eat some of the tropical fruit grown in the lodge's garden. See photos and rates!
Budget: Te Moana Tahiti Resort is luxury, but at a price that won't break the bank. This gorgeous resort set right on the lagoon has an infinity pool, fantastic facilities and views across the ocean that will make anyone jealous.
It's also well located for activities around the island, making it a fantastic choice if you're looking for luxury tied in with adventure. See photos and rates!
Luxury: It was the Society Islands that invented overwater bungalows, and one of two resorts in Tahiti that has them is the InterContinental Tahiti Resort & Spa.
You'll be sleeping above the ocean with lush tropical land one way, and the distant volcanic peaks of Moorea looming ahead. Expect exceptional facilities and food to go alongside the views. See photos and rates!
A Taste Of Island Life: How Does The Cuisine Compare?
With both being tropical island paradises, expect an abundance of fruit, coconuts and fresh fish. Below we pit Fiji vs Tahiti as we look at the local cuisine on offer.
Fiji: The Food
Fiji's cuisine has been formed though a mix of indigenous and Indian influences due to a sizable population with Indian roots.
Freshly caught seafood is popular throughout Fiji, and fish curry – made with coconut milk – is often on the menu. Another fish dish to try is kokoda (see photo below) – this is a raw fish salad that is commonly served in a coconut shell!
If you get invited to a lovo say yes straight away! This traditional Fijian banquet involves cooking a large amount of meat (chicken or pork), fish and vegetables wrapped in banana leaves and then baking it in an oven dug in the ground. It's a real community affair, and the food's delicious.
As for what to drink, the coconut water in Fiji is delicious and refreshing – especially when enjoyed direct with a straw.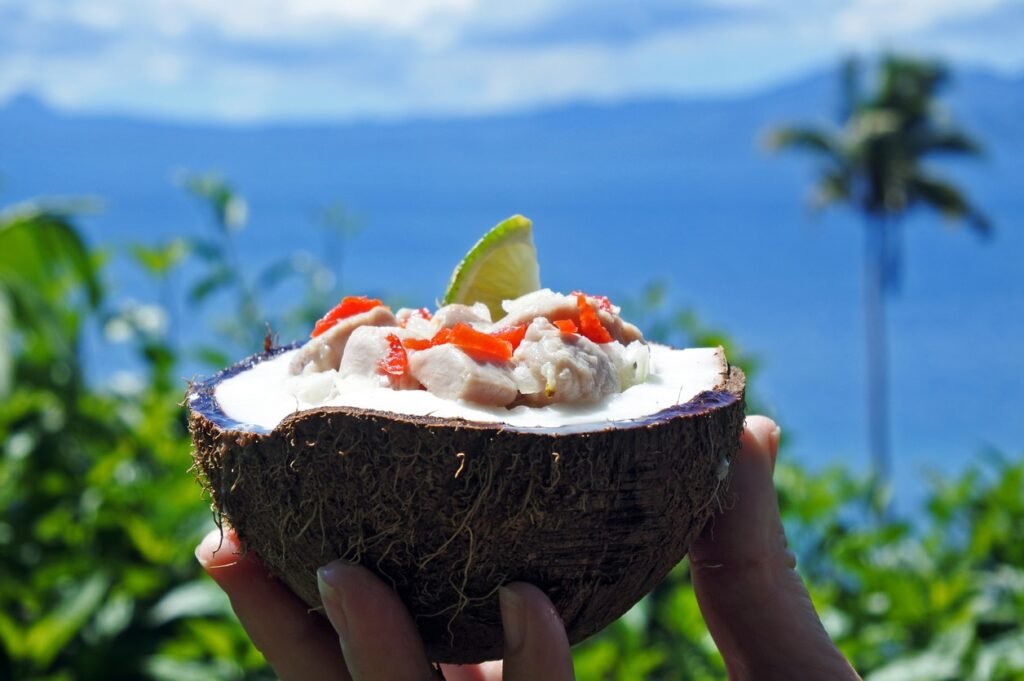 Tahiti: The Food
Unsurprisingly, in Tahiti, the food is mainly seafood based!
Try raw fish with coconut milk. Usually, this is made from tuna or bonito fish. It is sliced into cubes and marinated in coconut milk, lemon juice, onion, cucumber, tomatoes, garlic and spring onion.
With such a big Chinese-Polynesian population, there is a wonderful fusion of cuisines in French Polynesia too.
For example, Chao men (fried noodles with vegetables, meat and shrimp), chicken with lemon sauce, chao chap (roasted duck), and mapo tofu are popular dishes on the islands. Raw fish is also very prominent in Chinese cooking in French Polynesia.
A notable French influence in Tahiti also shines through in sweet treats such as firi firi (Tahitian doughnuts) and banana crepes. A favorite breakfast food is coconut bread!
Fiji vs Tahiti: Which Is The Better Choice?
You're guaranteed a memorable vacation in both Fiji and Tahiti, but if beaches are your priority then Fiji is the better choice.
The white sandy stretches of coastline in Fiji are world class, and it also happens to be a cheaper destination than Tahiti.
However if you're looking for a vacation with the 'wow' factor, the spectacular backdrop of mountains beside the breathtakingly blue lagoons of Tahiti and Bora Bora can provide that.
This destination can be expensive, but if you can afford an overwater bungalow, it's going to be a vacation you'll never forget.
Recommended For Your Trip To Fiji Or Tahiti