Wandering our World is reader supported! If you purchase anything through a link on our site, we may earn a commission at no extra cost to you.
Last updated on April 12, 2023 by Wandering our World
Fiji and its over 300 islands is a destination that has emerged as the perfect place for globetrotters looking for both adventure and relaxation. It's not just perfect because of the stunning beaches though, but also because this country is full of culture and traditions that are unique and fascinating.
In fact this culture rich country is a place where many superstitions still exist – such as believing that coconuts choose who to fall on! But it's also an incredibly friendly and warm nation, where tourists are encouraged to intermingle with locals.
We share the unmissable culture, cuisine, and traditions with you right here in this ultimate guide to Fiji culture, alongside etiquette and things you should see in Fiji when vacationing.
It's a big task to cover all of the rich cultural aspects of Fiji, but see this article as an introduction to customs, local food, etiquette, and more to make sure you're a respectful traveler. All so you can make the most of your holiday!
Fast Facts About Culture in Fiji
Images of beautifully clear water, coral reefs, and luxury bungalows flood the internet upon a quick search of Fiji. So, we're familiar with the scenery, but what about the people who live there? First, here's a few fast facts brief about culture in Fiji:
The official languages are English, Fijian (which has many dialects), and Fiji Hindi, which is a different variety of Hindi than spoken in India. If you're looking to learn a few useful words in Fijian beforehand, bula is a common greeting and vinaka means thank you; however, English is often used in business, government, and other settings.
More than half of Fiji's population is Christian. Around a quarter is Hindu, and the remaining people are Muslim, Sikh, other religions, or non-religious. You can find various temples and churches on the islands (keep reading below)! On Sundays, many shops have limited hours or are completely closed.
The concept of family and community is important to Fijian culture, especially within the indigenous communities. 
Many cultural elements reflect the ethnic divide of Fijians and Fijian Indians. Generally, Fijian and Hindu children attend separate schools, reflecting the political split that exists in the nation. In fact, the term "Fijian" has been controversial: currently, it refers to all Fijian citizens, but for a long time it was used strictly for indigenous Fijians.
A Few Things to Expect
You can expect warm people who are welcoming to travelers – you might be greeted with a wave by a stranger! Fiji is friendly to many animals too – dogs, horses and cows can be seen roaming outside of homes and fences, so be careful if you're driving!
If you're staying on a resort, you won't need to worry about your attire too much – however, if you're out in town or small villages, take some measures to be respectful.
If you go inside, take off sunglasses and hats as the head is viewed as sacred. Women should try to cover their shoulders and avoid shorts and short skirts.
Lastly, island time is a thing in Fiji. Embrace the go-with-the-flow attitude. Schedules aren't strict, even for listed "open" and "close" times on shops.
Let go of your expectations of "on time" and just take your time. That's as important a part of Fiji culture as anything!
All Things Fiji Culture: Arts, Dance, and More
Traditions in Fiji
One Fiji tradition that is well-known around the world is the unique practice of firewalking.
You can go to Beqa island to see firewalkers without gimmicks or performative elements. This is a village ceremony where stones are heated up with fire for several hours prior to men of the village slowly walking across them.
Firewalking is an art which has to be learned, and is a ritual that is absolutely still practiced in some places.
The history of the ritual is rooted in legend, and like many legends they are best learned in person.
But briefly, the Fijian firewalkers are said to be descendants of a Beqa warrior. When this warrior went to spearfish one day, he grabbed an eel that contained a spirit god.
The god had to negotiate for his freedom so he wasn't killed by the warrior, so he offered the warrior the ability to walk on fire without being burned, thus initiating the ritual.
Another important Fiji tradition to be aware of is sevusevu. Several villages in Fiji will require outsiders to participate in a sevusevu, or gift giving ceremony, before entering their community.
You should expect to bring a small gift with you as the Turanga ni Koro, or the head of the village, will likely meet you and welcome you into the community.
Aim to dress rather conservatively for these events, and again, avoid wearing anything on your head.
You can also plan to go with a tour operator that has relationships with the villages, and therefore many sevusevu ceremonies a day aren't necessarily required. (Related: Are There Snakes in Fiji?).
Visual Arts
Traditionally, visual arts and crafts are divided by gender, a legacy which still exists today.
Women make pottery and masi, which are made from bark. They typically feature bold geometric patterns made with colored vegetable dyes, and can be used as decor, blankets, and ceremonial dress.
Pottery and weaving have also been primarily done by women. Voi voi, a type of leaf, is a common material for weaving and has to be picked, removed of thorns, boiled, and hardened before creating into an object. These can serve both practical and more artistic functions.
Traditionally, men carved practical items such as weapons, canoes, and home items. Today, they no longer make these to be used, but rather make them for commercial tourism purposes.
You might consider visiting the Fiji Museum in Suva to see some of these carved items, including war canoes and other artifacts.
Some girls are still taught from a young age to weave baskets and bags, and boys are taught to make bowls, spears and even 'cannibal forks' – a fork that was used to eat the flesh of enemies!
Thankfully they're just made as tourist items now, and you can buy them and many other crafts at the Handicraft Market in Nadi.
The Fiji Arts Council is a good resource to learn more about arts and culture in Fiji.
Something of note is their outline criteria for what makes art "authentic" and "Fijian crafted". These terms are defined by the process, materials, and more, and is worth a bit of research before traveling to Fiji. The Fiji Arts Council is the national agency for arts, and you can read more about their initiatives on their website.
Dance
The most popular dance is the Meke, which you might come across multiple times on your visit.
This traditional dance is a form of legend storytelling, and districts of Fiji have their own unique dance performed in the local dialect.
Women adopt a more graceful presence and wear traditional Fijian dresses, where as men move with warrior-like movements while wearing traditional costumes. Music is added through percussion instruments.
Additionally, there are also some Indian and Chinese dances which are performed at some festivals, showing the influence of these nearby regions.
Popular Sports in Fiji
You can expect to have plenty of options for adventure-marine activities during your holiday in Fiji, like snorkeling, windsurfing, and rafting.
However, if you're an avid sports lover or just want a more cultural experience, you can experience some of the activities loved by locals.
In particular, rugby is very popular. The national sport is Rugby sevens, which is a variant of rugby.  Fiji competes internationally in rugby competitions, including winning the summer Olympics in 2016.
If you're interested in seeing a game in person, check out the Fiji Rugby Union for domestic tournaments to see if you can make a match.
Cricket is also a popular sport, although not so much as rugby. Women in Fiji often play netball, which is kind of similar to basketball with some different rules.
A less Eurocentric sport is outrigger canoe racing—you can see the tournament schedule for this unique island sport online. Head to the coast to experience it for yourself!
Culinary Arts
Food is an integral part of culture in Fiji because it's an integral part of the land itself.
Many dishes use local resources like seafood, tropical fruits like coconut, roots, and vegetables. The main traditional Fijian dish is kokoda, which is a fish ceviche.
Another culinary term you're sure to come across is lovo, which refers to an earth oven. This is a traditional way to cook by wrapping food in banana leaves and cooking underground with hot stones.
Kava is a drink that has been increasingly popular around the world in recent years – however, it's been a long-time traditional drink of Fijians, both in terms of everyday and ceremonial consumption.
Fijians call kava yaqona, and if you drink it, you'll likely notice a relaxing effect on your body. First, it just makes your lips tingle a little bit, if you drink a lot of it you will notice a calming effect. Made from the root of a pepper plant (often simply referred to as a kava plant), it has a slightly earthy taste.
It used to only be used by priests and chiefs, but now its drank regularly as a way to pass time, welcome people, and share stories. Additionally, it's often given as a gift in a sevusevu.
If you're planning on buying food to make yourself, note that most imported food is often expensive, but produce from the local markets are fairly cheap.
There is a ton of authentic Indian food around the islands as Fiji has a very large ethnic Indian population. So, venture outside of the well-known Fijian food like fried cassava by going to a restaurant with classic Indian dishes, and you won't be disappointed.
One option is Yellow Chili in downtown Suva. You'll also generally find curries are common dishes.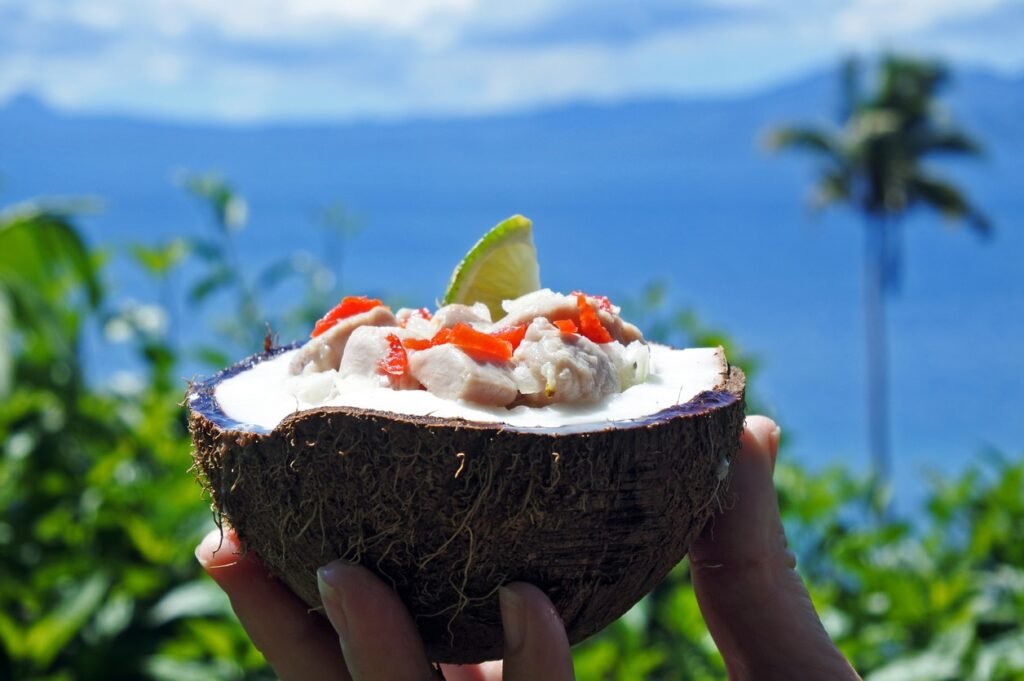 Cultural and Historical Sites in Fiji to Visit on Your Holiday
There are a variety of historical, religious, and artistic places to visit. So, what specific sites are great options to add to a culture lover's trip to Fiji?
If you're interested in a look into Fiji's past, consider going to Tavuni Hill Fort in Sigotoka.
Built by a Tongan chief in the 18th century, it was a fort used for defensive purpose in wartime. You'll easily realize why this particular location was chosen – it sits at the top of a 90-meter ridge overlooking a bend in the Sigatoka River.
There are also nearby grave sites and a rara, which is a ceremonial ground. Additionally, the guides are descendants of the Tongans who would've used the fort.
This partially-restored fort is a great way to experience Fiji's history in person, and is just a brief taxi ride from Sigatoka.
To see some history from a more architectural point of view, Levuka Historical Port Town is the site of the first colonial capital of Fiji.
Developed in the early 18th century by the British, it evolved over time to reflect the large indigenous population – creating a unique blend of architecture and landscape in this beach-front town.
The whole historical center is a UNESCO World Heritage Site, so it will be well preserved for years to come. It's a bit off the beaten tourist track on Ovalau's southeast coast. (Related: What You Need to Know About Spiders in Fiji).
With such a large Hindu presence, there are of course temples scattered throughout the islands, adding to the beautiful architectural fusion.
One to visit is the Sri Siva Subramaniya Temple in Nadi, on the big island of Veti Levu. It's the biggest Hindu temples in the Pacific, and its brightly colored exterior is certainly a sight to see.
The temple is open to visitors, but you should follow Hindu etiquette if you do enter—limit speaking and cover your legs and shoulders. Additionally, it is asked that those entering do not consume meat on the same day.
Close to Labasa, on the island of Vanua Levu, is the Naag Mandir Temple. Perhaps the most striking element of the temple is a 3-meter tall Cobra Rock inside it—a sacred site, this rock is draped with garlands and resembles a Cobra head.
Locals say that this sacred rock grows, and that in the past seventy years, the roof has had to be reconstructed four times.
This list is by no means exhaustive—there are many historical sites, buildings, museums and more to check out.
Recommended For Your Trip To Fiji