Wandering our World is reader supported! If you purchase anything through a link on our site, we may earn a commission at no extra cost to you.
Last updated on February 14, 2023 by Wandering our World
As a child, there were always a few places that seemed impossibly far away. The Cook Islands and Fiji – two paradise destinations in the Pacific Ocean – were exactly that.
Luckily, these islands can be reached by adventurous travelers. But as both are quite different, making the right decision between the Cook Islands and Fiji is very important.
For example, if you want a holiday in a place that is still relatively untouched by mass tourism, has stunning white sand beaches and lots of easily accessible culture, then the quieter Cook Islands could be perfect.
However if you're looking for a vacation which involves stunning beaches, some of the best all-inclusive hotels in the Pacific and plenty of tourist excursions, then Fiji with its larger tourist sector may suit you more.
But that's only the beginning when it comes to how the Cook Islands and Fiji differ.
Luckily after spending time in both, we compare them below. We show which has the better beaches, excursions, culture, food and more. All so you can make the right choice!
CONTENTS:
A Quick Overview & Comparison
How Do The Beaches & Landscape Compare?
How Does The Culture Compare?
Where To Stay According To Your Budget
A Taste Of Island Life: How Does The Cuisine Compare?
Which Is The Better Choice?
A Quick Overview & Comparison: Cook Islands vs Fiji
If you're looking for gorgeous white sand beaches and warm crystal-clear water for swimming and snorkeling, then both destinations have you covered.
However there are important differences between the two.
Fiji is the more visited destination, and therefore is the more built up of the two sets of islands so has many resorts. In contrast, the far-flung Cook Islands are much less commercialized, and they feel more remote, rustic, and authentic. Don't expect to find a McDonalds in the Cooks!
In fact to give you a scale of difference, the Cook Islands population is under 20,000 (and the capital city has just 5000 people), whilst Fiji's population is 900,000!
However there's definitely far more to do on Fiji. This country is a volcanic nation which has an impressive lush mountainous interior that's full of hiking trails and waterfalls. In fact the highest peak on Fiji is 1324 meters. For comparisons sake, the highest in the Cooks is 653 meters.
With Fiji's outlying islands situated relatively close to the main island, it's also quite easy to travel throughout the archipelago and island hop on your vacation.
That opens up opportunities to explore, and more ways to keep your vacation busy. The tourist sector in Fiji is also large, and there are many excursions to do.
The Cook Islands, in contrast, are more spread out and so it's much harder to reach the different islands. The upside of that, is that the beaches and most beautiful spots are never busy.
In fact sometimes it feels like you have entire beaches just to yourself. However excursion wise, there is a lot less going on in the Cook Islands than Fiji.
In essence, if you want a holiday where you will spend most of your time relaxing on the beach and swimming, then the laid-back Cook Islands with its secluded beaches could be the better choice.
However if you want a mix of beach activities, as well as some exploring, island hopping, and more going on, then Fiji is probably the best choice.
In terms of expenses, the Cook Islands is slightly cheaper than Fiji. The lack of resorts in the Cook Islands also means there are many independent accommodation options, covering a variety of budgets. Food costs in both destinations are roughly similar though.
Below we look at both islands in a little more detail, along with sharing some of our favorite places to check out in each. Then we compare the culture and local food you can expect in both!
How Do The Beaches & Landscape Compare?
Cook Islands: The Beaches & Landscape
Rarotonga – the main island in this archipelago – is exactly how you'd imagine a remote island nation to look like.
Rugged mountains jut out of the ocean, surrounded by a coastline of white sand, and then a turquoise ring of blue.
One of our favorite beaches is Muri Beach on Rarotonga. The water is crystal clear, the snorkeling fantastic, and the sand powdery soft.
The beaches throughout the Cook Islands are some of the best you will come across in the Pacific. And the more remote you go, the better they tend to become. Plus, with so few resorts here, they truly are unspoiled and often far quieter than the beaches in Fiji.
Recommended: The Best Resorts in the Cook Islands
Head to One Foot Island on the pristine Aitutaki Atol for breathtaking beaches and a feeling like you've stumbled across heaven on earth. The contrasting hues of blue at the lagoon surrounding the island of Aitutaki is out of this world beautiful.
We could talk about beaches all day when it comes to the Cook Islands, however this archipelago has a lot more to offer than just sand.
The shallow lagoons throughout this island nation are perfect for snorkeling.
Aroa Marine Reserve – a protected marine area – is a great place to start. You can reach the reef from the shoreline here which makes it perfect for kids and adults. Expect to see lots of multicolored reef fish, so make sure you take a great underwater camera with you – like this one.
While the Cook Islands are the perfect place to spend a day lazing on the beach, if you want to be active why not go for a hike.
Rarotonga has a lush forested interior that is perfect for walking. There are several ancient trails that criss-cross over the island, and walking them will provide you with spectacular views.
One of our favorites is a marked trail that takes you to a dramatic peak called The Needle – you can find a map of the trail here.
Plus the great thing about the Cook Islands is that there are barely any venomous insects or animals, so it's a very safe tropical island to hike on.
Fiji: The Beaches & Landscape
As a general rule, the more remote you go in Fiji, the more spectacular the beach. And some of our favorite beaches are on the dreamy Mamanuca Islands.
This group of 20 outlying islands has a real castaway feel to them. No wonder too, as it's here that the U.S. television series Castaway was filmed. Just be careful, as seven of the islands are covered by water at high tide!
There are beautiful beaches on the main island too, like the one at Natadola Bay. The crystal clear water here lapping against the sun-kissed sand makes it the perfect spot to relax and enjoy a beer.
One of our favorite snorkeling spots is Rainbow Reef at Taveuni. As the name suggests, expect multi-colored coral to go with the multi-colored fish you will see!
However Fiji is also a destination where there are many things to do away from the beach too. This volcanic island nation has a lush mountainous interior that is begging to be explored. And if you're a hiker or avid wildlife spotter, then Fiji will likely suit you better than the Cook Islands.
Recommended: Are There Snakes in Fiji.
On Taveuni, hike through the rainforest at Bouma National Park and head to the towering Tavoro Falls. This group of three waterfalls have pools that are perfect for swimming, all within a spectacular forest backdrop. While there keep an eye on the trees – Fiji is home to many colorful species of parrot.
Feeling energetic after a few days resting on the beach? Then tackle Fiji's highest peak Mount Tomanivi on Viti Levu.
The hike can be tough going, but the panoramic views across Fiji and the Pacific from the top are just breathtaking.
How Does The Culture Compare?
Both the Cook Islands and Fiji have welcoming locals, and friendly hospitality. Service sometimes moves a little slow in both, but it's part of their island charm.
Furthermore, English is spoken widely in the Cook Islands as well as Fiji, making both good places to visit for English speakers.
If you're looking for some nightlife on your vacation though, then Fiji is the best option of the two.
Cook Islands: The Culture
The Cook Islands' culture is a mix of Polynesian and European influences. Traditional forms of governance still exist like the House of Ariki, which is a parliament made up of high chiefs. Albeit their role is mainly symbolic.
Stories and music are a big part of Cook Islands heritage. If you're lucky you will get to watch an Ura. This popular traditional dance is a sacred Maori ritual which involves telling the story of the islands through dance.
The locals in the Cook Islands are skilled wood carvers and basket weavers, so have a go at learning these skills yourself.
Or if you want to skip that part, make your way to Punanga Nui Market in the capital Avarua where you can browse locally made handicrafts and grab a souvenir.
With your interest piqued in Cook Islands culture, why not visit Te Ara Cook Islands Museum of Culture? The little exhibits here will take you back centuries as you delve through the history of this fascinating place.
With the Cook Islands still relatively untouched by mass tourism compared to other island nations, this destination really is a fantastic spot for those who want a cultural experience on their vacation.
Fiji: The Culture
Multi-ethnic and multi-religious Fiji has a fascinating culture, some of it stretching back many centuries.
One of their ancient traditions is fire walking, which originated on the island of Beqa. The locals on this island still ceremoniously walk across hot coals, making Beqa a must visit for culture aficionados.
Recommended: The Ultimate Guide to Fiji Culture
This culture rich country is a place where many superstitions still exist – such as believing that coconuts choose who to fall on! But it's also an incredibly friendly and warm nation, where tourists are encouraged to intermingle with locals.
Some girls are still taught from a young age to weave baskets and bags, and boys are taught to make bowls, spears and even 'cannibal forks' – a fork that was used to eat the flesh of enemies!
Thankfully they're just made as tourist items now, and you can buy them and many other crafts at the Handicraft Market in Nadi.
Fiji is home to a sizable population of Christians, Hindus, and Muslims. The largest Hindu temple in the Southern Hemisphere, Sri Siva Subramaniya Temple, can also be found in Nadi. This ornate colorful building should be on your list of places to visit as you temple hop around the island.
As you can see Fiji has an exciting culture too. You can often find tourist shows in the big hotels and resorts, but for a real taste of Fiji it's best to get away from the tourist traps.
Where To Stay According To Your Budget
Cook Islands
Budget: Magic Reef Bungalows has nine unique Polynesian-style self-contained bungalows on Arorangi beach, each with a golden sunset view and direct access to a beautiful beach. Couple that with the lovely pool and you have a budget villa but a luxury feeling. See photo and rates!
Luxury: Still want an overwater bungalow, but in the Cook Islands? Then Aitutaki Lagoon Private Island Resort is the perfect fit as it's the Cook Islands' only resort that that offers this type of accommodation.
You'll be waking up with the lagoon beneath your private balcony – which has a swim ladder so you can easily get to the water. Oh, and did we mention that this is all on a gorgeous private island? See photos and rates here!
Fiji
Budget: A budget price point in Fiji can be difficult when you're looking for a beachside resort with fantastic amenities. But that's exactly what you'll get at Blue Lagoon Beach Resort.
Located in the Yasawa Islands right on a white sandy beach, this four-star resort – which is decorated in a traditional manner – has access to some of the best coastline and water in Fiji. And for the price, we think a stay here is one of the best deals you can get in the Pacific. See photos and rates!
Luxury: Want a taste of the castaway life, but in the most luxurious way possible? Then a stay on the private island resort of Castaway Island, with its white sand beaches, coral reefs and crystal clear waters will be perfect.
This place feels like paradise – because it is! And with four restaurants on site, plenty of watersports, and loads of excursions organised by the resort, you won't be left feeling bored or hungry on your castaway experience. See photos and rates!
A Taste Of Island Life: How Does The Cuisine Compare?
With both being tropical island paradises, expect an abundance of fruit, coconuts and fresh fish. Below we pit the Cook Islands vs Fiji as we look at the local cuisine on offer.
Cook Islands: The Food
For something very traditional, try Ika mata. This dish is made with raw fish and coconut milk – it's a true island combination! Another seafood dish worth trying is curried eke – aka octopus curry.
Like many islands in the Pacific, earth ovens (umu) are still used to cook, especially during special occasions.
After a fire is lit, volcanic rocks are placed over the fire until they heat up sufficiently. Then meats such as chicken, pork, or seafood, as well as unripe bananas and breadfruit have the hot rocks placed on top of them in the earth oven. The smokey flavor is fantastic, and the whole effort is an enjoyable social gathering.
For something sweet, try Banana Poke. This traditional dessert is a combination of bananas mixed with milk and sugar which is then baked and garnished with coconut milk. It's delicious.
Fiji: The Food
Fiji's cuisine has been formed though a mix of indigenous and Indian influences due to a sizable population with Indian roots.
Freshly caught seafood is popular throughout Fiji, and fish curry – made with coconut milk – is often on the menu. Another fish dish to try is kokoda (see photo below) – this is a raw fish salad that is commonly served in a coconut shell!
If you get invited to a lovo say yes straight away! This traditional Fijian banquet involves cooking a large amount of meat (chicken or pork), fish and vegetables wrapped in banana leaves and then baking it in an oven dug in the ground. It's a real community affair, and the food's delicious.
As for what to drink, the coconut water in Fiji is delicious and refreshing. Especially when enjoyed direct with a straw.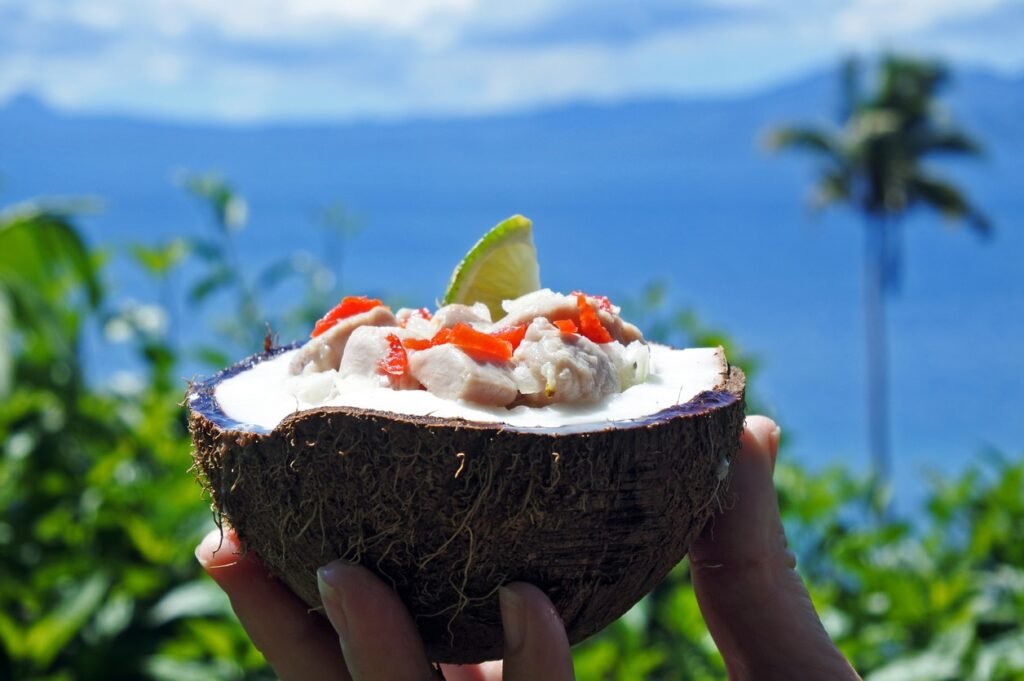 Cook Islands vs Fiji: Which Is The Better Choice?
If you want a holiday where you spend the vast majority of your time on the beach or in the water, then the Cook Islands is probably the better choice.
The Cook Islands archipelago has fantastic white sand beaches and turquoise lagoons that have a real secluded feel, and it's much less overbuilt than Fiji.
However if you're looking for a vacation which involves stunning beaches but also some exploring, hiking, and a variety of excursions, then Fiji would be best.
Fiji has a lot more going on than the Cook Islands due to its larger tourist sector, however the popular spots can get busy.
Recommended For Your Trip To The Cook Islands Or Fiji