Wandering our World is reader supported! If you purchase anything through a link on our site, we may earn a commission at no extra cost to you.
Last updated on April 12, 2023 by Wandering our World
If you're looking for a place full of beauty capable of providing you with equal amounts of adventure, relaxation and great food, then Fiji may be the perfect place.
This country comprises of over 300 islands and has lagoons perfect for scuba diving and snorkeling, white sand beaches for relaxing, and rainforests for exploring, just to name a few appealing things for travelers. But Fiji's cuisine also makes this a paradise for food lovers.
Fiji cuisine has amazing fresh foods to pick from as well as delectable traditional dishes. Just eating the food here is an experience in and of itself you don't want to miss out on!
We know Fiji cuisine well, so here we share with you information on what fresh foods are grown there, the local dishes you don't want to miss out on, food etiquette, and food activities you have to try.
All so you can make the most out of visiting this foodie traveler's paradise!
Traditional Fiji Food Every Traveler Must Try!
One of the best parts of a trip is experiencing the local dishes. Eating food prepared through traditional recipes provides a wonderful view and genuine experience into another culture. It's something everyone should experience while on vacation.
Kava
Kava is a traditional Fijian drink that's popular among locals and provides a mild euphoric high. In fact, don't be surprised if it's offered to you.
It's derived from the Yagona (piper methysticum) plant's root. The pulp from this plant is put in a large bowl with four legs and mixed well with water before being spooned out.
The drink does have side effects. Your lips and tongue may start to go numb, and it's common to start feeling very relaxed with a boost in mood.
It's a bit similar to drinking alcohol. If you are on prescriptions, be sure to check how kava will interact with them before you drink it.
Kava by itself tends to have an earthy, bitter taste, but it can also be mixed with juice or other drinks for a more appealing flavor. (Recommended: The Ultimate Guide to Fiji Culture).
Cassava Cake
This moist dessert made from the cassava or tapioca plant is a Fijian go-to. Whether you eat it plain or topped with fruit or butter, this sweet, sticky cake satisfies your sweet tooth.
Fijian Curry
A large portion of Fiji's population is Indian or has Indian ancestry due to many people from India arriving in Fiji in the 1800s. Because of that, some of India's food culture has merged with Fiji's. One of the popular dishes is curry, and you'll easily find it while in Fiji. It's often served with a flatbread called roti.
Kokoda
Made with the mahi-mahi fish, Kokoda consists of mahi-mahi, onions, peppers, tomatoes, and coconut cream, that's sometimes served in a coconut shell!
Instead of cooking the fish, the mahi-mahi is marinated in lime, which adds a zesty flavor while also making the fish safer to eat raw due to the citric acid killing possible bacteria.
It's a dish similar to ceviche with a strong, fresh, and delicious flavor. This is a Fiji food you have to try!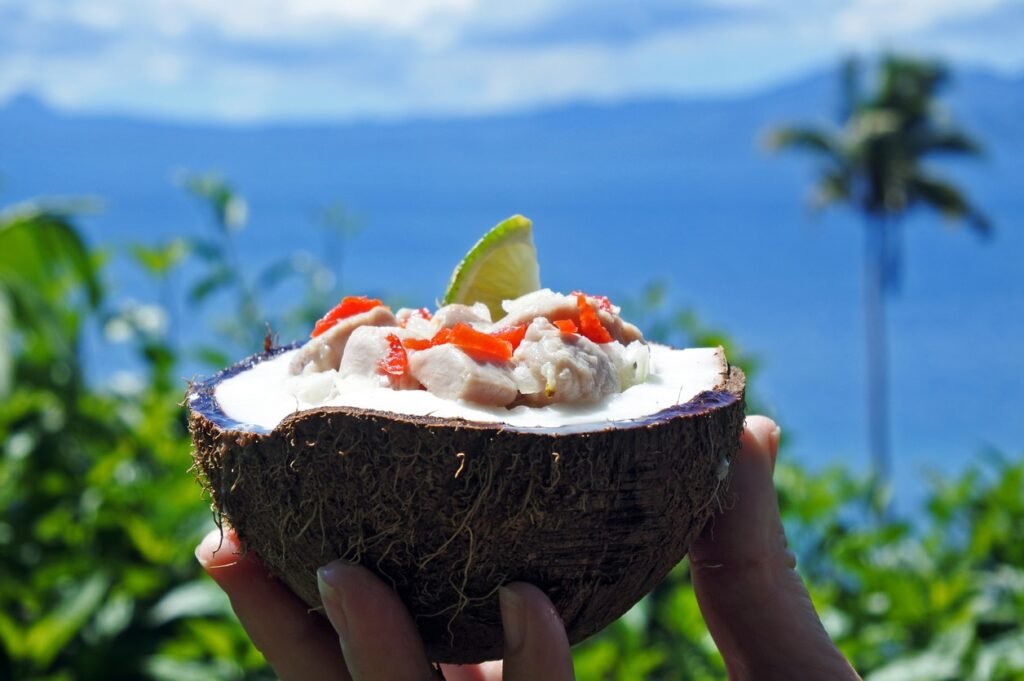 Other Dishes
Looking for more Fiji food? You can also try:
Palusami: a dish made from corned beef and coconut cream wrapped in taro leaves and baked.
Kolokasi: a stew made with chicken and taro.
Nama Seaweed: also known as "sea grapes", nama is often used in Fiji in salads, as a garnish, or served in coconut milk.
While we've mentioned some of the traditional dishes you can find in Fiji, there are many more meals popular on these islands for you to discover.
The best way to discover them is visit Fiji, get away from resorts and explore local restaurants and Hole-in-the-Wall" restaurants – more on those later.
Food Etiquette in Fiji
Visiting a Village
If you visit a village or meet up with a local family at their home, don't be surprised if they offer you a meal. It's the normal thing to do, and it's good etiquette to accept the invitation.
They traditionally serve food on a mat laid out on the floor that you sit around. After blessing the food, you usually eat with your hands instead of utensils.
Kava is typically served after the meal. There may even be a Kava Ceremony (see below).
It's also a good idea to bring a small gift for the family and/or the village leader when you visit, such as some kava roots.
Some other things to know: remove your shoes when you enter someone's home, avoid wearing hats, and don't point directly at people.
Drinking
If going out and enjoying alcohol is part of your Fijian trip itinerary, be aware that going overboard in public is considered rude.
Food Activities in Fiji That You Must Try
There's more to experiencing the local food atmosphere than just eating the local dishes (although that may be the most delicious part!).
There are a number of activities you can do to help delve deeper into any Fiji food adventure.
Visit a Produce Market
Want to see all the fresh fruits and veggies on offer here (see section below for what you can find) – then a local fruit and vegetable market is the perfect place! You'll see many different stands with vendors selling their wares.
Enjoy discovering what all the different produce looks like while interacting with locals. It's a great, laid-back way to experience how Fiji food and culture intermingle.
Bargaining is not common practice here, but that's not a big deal since produce is a fair price.
Besides, local food stalls and produce markets tend to offer fruits and vegetables at a cheaper price than supermarkets or bigger stores. That means more exploratory taste-testing for you!
Experience a Lovo
A Lovo is another food tradition in Fiji cuisine. It's a banquet based around cooking food in an earthen pit.
An open fire heats a layer of stones, then the food (wrapped in leaves) is cooked on top of. Similar to a barbeque with smoked meats, this delectable experience is a must!
Lovos happen at family get-togethers, weddings, funerals, and festivals. Staying at a resort? Many resorts offer a lovo experience.
Search for "Hole-in-the-Wall" Restaurants
While high-class and fancy restaurants are a fun experience, you can find many food treasures at little, local restaurants. Often they serve many of the same traditional dishes at a lower price. Also, since they probably aren't a business focused on serving tourists, you will get a much more authentic feel for food etiquette and culture.
You may even have more opportunities to strike up a conversation with a local and get food and restaurant recommendations from them!
Remember that many restaurants in Fiji close around 9pm, so plan accordingly. Also, tipping is accepted, but not required.
Take a Local Cooking Class
If you have time, try arranging a cooking class in a local village or at your resort.
Getting into the kitchen and learning how to make some Fiji food means you get to take some of your Fijian experience with you no matter where you go.
Kava Ceremony
When visiting a village or taking part in a major cultural event, there will most likely be a kava ceremony. Participating in the kava ceremony shows respect for the people, village chief, and Fiji itself.
Dress respectfully in modest, conservative clothing for the ceremony.
You will sit opposite the locals, cross-legged on the floor with the large bowl of kava (tanoa) between you. Both sides will then offer the kava to each other while talking about who they are. The village chief accepting the kava is a way of welcoming the visitors to the village.
When you accept a bowl of kava, protocol states you clap once and say "Bula" (a form of greeting that means "life") before drinking it. The rest of the group repeats the greeting. After you finish the bowl, you clap three times and then everyone will clap again. The next person is then served a bowl.
Talking and getting to know others is an important part of Fijian culture, so the kava ceremony can take a while to complete.
The kava ceremony is an important part of the locals' lives and should be treated that way by visitors who wish to experience one.
Locally Sourced Foods in Fiji
Fresh Fruit
If you love fresh fruit, prepare your taste buds because Fiji's climate makes it possible for the islands to grow lots of tropical fruit. Below is a list of fruit you can expect to see and sample when visiting the market or restaurants.
Citrus Fruits, including lemons, limes, and oranges
Passion-fruit
Sour sop
Breadfruit
Guava
Papaya
Bananas
Coconut
Pineapple
Melons
Avocado
Local Vegetables
While many of Fiji's fruits are ones you've at least heard of before, the vegetables found there might seem more unfamiliar. We recommend trying them for an earthy, rich food experience you'll have a hard time tasting somewhere else.
Taro: This tuber looks similar to a potato. It can be cooked in a number of different ways. Present in Fiji cuisine for centuries, taro root is a local staple food. It even has its own special day, Taro Day, which is celebrated on the first full moon in May. 
Cassava: Also known as sago or tapioca, cassava is another staple root of Fiji cuisine. It is used in stews and curries as well as in deserts, such as the cassava cake.
Duruka: Coming in red and green varieties, duruka is also called Fijian asparagus because of its similar appearance. It is the unopened flower of a cane shoot and has a sweet, nutty flavor.
Rourou: Rourou is the leafy top of the taro plant. Sometimes it is also referred to as dalo. It looks like spinach, but instead of having it in a salad, one traditional way of eating it is to cook it in coconut milk and turn it into something like a soup.
Fresh Seafood
When you're on an island, access to fresh seafood is an automatic blessing. Whether you see these water creatures while snorkeling or in a restaurant, they are sure to provide unforgettable experiences.
There is a lot of seafood you can enjoy trying while in Fiji. Here are a few.
Mahi-Mahi
Sea Urchin
Sea Cucumber
Crab
Unicorn Fish
Parrot Fish
Rock Lobster
Marlin
Octopus
Mussels
Wahoo
Tuna
Seaweed
Swordfish
Another great thing about Fijian seafood is that it ranges from seafood more commonly found around the world to the more exotic, so there's something for those who want to stick to something more familiar and those who wish for a food adventure.
Enjoy!
If you're like us, all this information about Fiji cuisine and culture made you itch for a vacation there!
Fiji is a beautiful place with interesting food traditions and delicious dishes to try. We hope you get the chance to enjoy it firsthand and that we've prepped you for a great food experience!
Recommended For Your Trip To Fiji