Wandering our World is reader supported! If you purchase anything through a link on our site, we may earn a commission at no extra cost to you.
Last updated on October 3, 2022 by Wandering our World
Located on a peninsula separating the Gulf of Mexico from Choctawhatchee Bay, known as the Emerald Coast, Destin is home to gorgeous white beaches and emerald-green waters. Its abundance of sea food has earned it the nickname "The world's luckiest fishing village," and it has the biggest fishing fleet in the state of Florida. However we also think Destin nightlife, whilst small, is one of the best in the state, thanks to the variety on offer in the city.
Along with classy cocktail lounges, energetic nightclubs and dive bars, Destin's nightlife scene will open you up to delectable seafood, craft alcohol, lots of live music options and an incredible time!
Below we show you the best bars in Destin, where to find late-night food and live music, the best nightclubs in Destin, the restaurants you should visit and even more! (Related: Destin vs Panama City vs Pensacola – Which Should You Choose?).
The Best Bars In Destin & Late-Night Grub
Experience good food, even better beer and classy cocktails in unique atmospheres, by hitting some of these popular places:
Boathouse Oyster Bar: Voted one of the best places for Oysters and Gumbo, the Boathouse is one of Destin's best kept secrets with a breath-taking water view, and where every hour feels like happy hour. If you're looking for a place which locals love, this is it. They also have live music.
Fudpucker's Beachside Bar & Grill: This colorful fun bar and restaurant has games, a lively atmosphere and live gators that you can watch and even feed! They serve tasty grilled food, and even gator burgers!
1835 Porch Bar: The perfect mixture of inventive cocktails with classic old Florida ambiance, this bar is housed in an early 1900's summer cottage, enclosed by rugged trees overlooking the waters of the bay. This is cocktails with a view in a truly unique surrounding.
Down Under Bar: Originally built for live off-season entertainment, it has undergone several transitions over the years, the most recent was a makeover done by famous Emerald Coast native artist Andy Kaczynski. Chef Chester Kroeger and his team service a full kitchen, and a crafted drinks and sushi bar.
The Craft Bar: A gastropub, restaurant and bar, with a local and regional focus. Choose from over 30 Craft and bottled beers, and craft spirit cocktails mixed by professional bartenders. Chef Scott Plumley's menu is made from scratch, regionally sourced, and adds a twist to traditional pub food.
The Harbor Tavern: A small eatery in front of Destin's harbor, which is popular with locals and tourist alike. It serves a great selection of beers, cocktails, white claws and wines, that pair incredibly well with their Mediterranean infused grub menu. They often have live bands in the evening too.
McGuire's Irish Pub: Built inside an old firehouse, this turn-of-the-century New York Irish Saloon themed bar and restaurant serves delicious food with rich, robust draft beers brewed on site. It has a wonderful sunset deck where you can drink and have a bite to eat until closing time.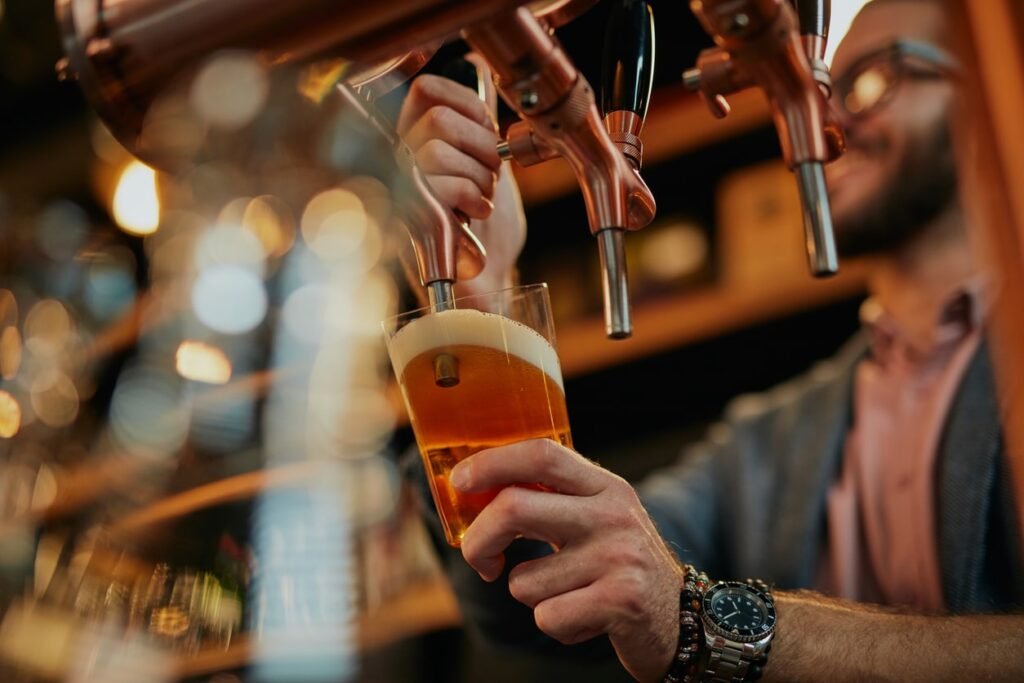 O'Quigley's Seafood Steamer and Oyster Sports Bar: A sports-lover haven, this bar has several 64in screens, four 16ft projectors, as well as a small tv in every booth. With award-winning gumbo, delicious variations of seafood presentations, wings, burger and sandwiches, and numerous beers on tap, this sports bar is one of the best spots in Destin and the Emerald Coast for watching sports.
Red Door Saloon: A local favorite, it's got a biker-dive-bar vibe that can get pretty fun and rowdy with the late-night and weekend crowd. The food is quite tasty and easily enjoyed while watching a game, or just hangout on their patio with some drinks and a few friends. A fantastic Destin nightlife spot.
Tailfins Waterfront Grill: A family restaurant and sports bar, with a diverse menu made using locally sourced ingredients, of flavorful meals, sushi, and a list of numerous types of beer to enjoy at any occasion.
The Wine Bar: Sophisticated yet unpretentious, this bar has an elevated, rustic air. Eclectic entrees are offered to complement their great variety of wine selections. If there's trouble in deciding a wine, just opt for a white or red luxury flight; each with 4 different types to try. This is one of the classiest's Destin nightlife hangouts.
Live Music in Destin
Enhance your Destin nightlife experience by enjoying live music at one of these music joints around town.
AJ's Seafood and Oyster Bar: What began as a small oyster shack with cold beers, has grown into four different locations along the Emerald Coast. They proudly serve fresh local seafood, vibrant live music and memorable water activities.
Club LA: Formerly known as The Lower Alabama Lounge, Club LA is Destin's live concert and rock venue that hosts national acts on the Emerald Coast, from Thursday to Sunday nights. Check out their site for all schedule acts and events
Graffiti and Funky Blues Shack: The first thing you notice is the fun and quirky environment. Restaurant and live music venue, they take the stimulation of your senses seriously! Enjoy a delicious meal with funky live music every evening from 7 p.m.-10 p.m.
Ocean Club: Especially popular with the older crowd, this is a stylish restaurant by day that transforms into a speakeasy atmosphere by night, as live piano music entertains the crowd. There's performances several times a week, where most people simply enjoy listening to the sounds while others move on the dance floor
Harbor Docks: Family-owned through several generations, this restaurant and small market prepares and sells the freshest local seafood, straight from the net. They have their own simple yet flavorful way of preparing gulf seafood and sushi, that you can enjoy but they also often have live music!
The Village Door Music Hall: This is one of the Emerald's Coast newest concert halls with 2 levels. With restaurant and live music every night, the village door is the hottest spot for music before hitting the bars around Destin.
The Best Nightclubs in Destin
Get rowdy and party hard, at what we believe are the best nightclubs in Destin. And if you need somewhere to stay at the end of the night and want accommodation inspiration, check out these choices!
AJ's Club Bimini: With a terrific view of the harbor, a tiki-hut bar and an extensive wooden deck, the Club Bimini of AJ's Seafood and Oyster Bar, offers a variety of night-time drinks, live music and DJs for a fun party and club scene.
Bric á Brac: Owners, the Petit twin brothers, created a family restaurant by day, known for the best crab cakes, with an upstairs floor that transforms on Friday and Saturday nights into a nightclub. It opens at 11 p.m.- 4 a.m. with a latin nights theme and hookah service.
Coyote Ugly Saloon: You might have seen the movie based around the original bar in NYC; a place full of beautiful girls that can dance, sing or yell and entice the crowd to buy more drinks. The bar franchise promises a service of quick wit, unshakable assurance, and the ability to take your last dollar, where you can drink and dance to your heart's content. A must-visit Destin nightlife spot.
Lucky's Rotten Apple: A local go-to dive bar for cheap drinks, great music and a good time. With lady's nights on Thursday's, local DJs spinning on Friday and Saturday nights, and 12 TVs for Saturday and Sunday games. This is an excellent place to unwind after a long week, by relaxing and shooting some pool or dancing the night away.
Destin Nightlife: Light Evening Entertainment to Enjoy!
For an evening of family entertainment, or for bedtime early birds, these are three fun places to go and enjoy yourself where everything will be done around 10 p.m.
Baytowne Wharf: A small village based along the the Choctawhatchee Bay's shore. It showcases an interesting assortment of galleries, boutiques and eateries. There's also a small vibrant nightlife and special events all year round, like concerts and festivals.
Destin Laser Tag: This incredible local has a 4,000 square foot Blacklight laser tag maze where the competition is a free-for-all, an 18-hole indoor blacklight mini golf and a fully stocked arcade.
HarborWalk Theater: An intimate, state-of-the-art venue that hosts award winning shows, Maximin Magic Show and The Stoked Comedy Hypnosis Show, as well as numerous touring stand-up comedians.
Destin Nightlife: Restaurants You Have to Try
Get to know this town even better, starting with your tastebuds. There is something for every food preference, however as it is a fishing town, we recommend you try the seafood that these places (and many others) offer:
The Back Porch: A staple in Destin's cuisine scene for decades, this seafood and oyster house has daily-delivered fresh gulf seafood and exquisite beachfront dining. We recommend you try the chargrilled amberjack sandwich, which they are famous for inventing.
Boshamps Seafood and Oyster House: Once known as "The Flamingo Cafe", but despite the name change, they are still a white table cloth, fine-dining restaurant, committed to providing an authentic golf-to-table service and experience.
Bijoux: Fine-dining, award-winning restaurant since 2002, the menu personifies coastal cuisine, with a hint of New Orleans sway. It has a capacity for 120 people as well as an outdoor courtyard that's limited to 70 people, making it perfect for parties and special events too.
Brotula's Seafood House and Steamer: Named after the Bearded Brotula or Cusk Eel that is caught in local waters, Brotula's serves seafood fresh from the gulf. The menu displays a wide variety of flavors, with chef-Inspired new takes on traditional seafood recipes from around coastal USA.
Capriccio Cafe: An Italian cafe with a fun and relaxed atmosphere, that serves gourmet coffee, pastries, crepes, sandwiches, and salads. Many of their ingredients, such as the coffee, cheeses and meats, are imported directly from Italy.
Jackacuda's Seafood and Sushi: Named after a famous fishing hole that was accidentally discovered by Charter Boat Captain Dale Beebe, this modern local serves classic coastal seafood dishes with a southern-asian twist, prepared with fresh, locally-sourced seafood and products.
Moe's Original BBQ: Casual restaurant with award-winning classic meals made with fresh-caught seafood, daily smoked meats, and home-made style pastries and desserts. They also offer large party takeouts and full-service catering.
Donut Hole: Delectable donuts, entrees, deserts, and cakes, the Donut Hole has something for everyone's sweet tooth. The entire menu is offered from opening till closing time. We recommend their breakfast foods for diner, you'll love it!
Pazzo Italiano: This Italian restaurant was created by two friends, who have carefully constructed their menu, with a great combination of original Italian meals, with some balanced fusions, and a few intricate originals.
Louisiana Lagniappe: Waterfront dining with a sophisticated yet casual air. It became a local favorite since opening in 1984, and uses fresh, local catch to prepare signature seafood dishes with a fantastic flair of Creole influence.
Vinny McGuire's Pizza: Effortless combination between flavor-packed Italian pizza, and rich quality Irish Pub beer. Their pizza system is entirely based on customer's topping preferences.
Sarah K's Gourmet: Delightful gourmet take-out food, that can be cooked in 20 minutes or less in 450°. The chefs use a variety of fresh ingredients to prepare each meal. The menu changes to incorporate seasonal components.
Slick Lips Seafood and Oyster House: A father-and-son restaurant that encourages contemporary cooking techniques while still celebrating the spirit of 'old Florida'. Although it also offers poultry, beef and pork options, the menu is really centered around the dishes made with fresh-caught fish.
Nightlife in Destin: Must Know Tips
Destin is a wonderful vacation spot, for its beautiful beaches and small, yet colorful, nightlife. Nevertheless, there are always a few things everyone should know when visiting an unknown town. Here are some safety tips to consider while exploring Destin:
Last call is around 2 a.m. – 4 a.m. so plan your night to end around this time.
Although Destin is generally a safe area, always take safety precautions whether alone or in a group. Try to be mindful of your surroundings, specially if you're unfamiliar with the area.
There are frequent speed and DIU tickets issued in Destin, especially during the weekend. It's best to save yourself the headache and possible dangerous accidents, and respect the speed limit. If you're drinking don't drive! Have a designated driver or use a rideshare app.