Wandering our World is reader supported! If you purchase anything through a link on our site, we may earn a commission at no extra cost to you.
Last updated on March 13, 2023 by Wandering our World
For anyone on the East Coast looking for a tropical vacation destination, the Gulf Coast comes to mind. The area is known for their clear waters, beautiful beaches, and access to water sports, and two of the most best destinations are of course Florida's Pensacola and Alabama's Orange Beach.
Although you can have a wonderful vacation in either place, the two actually have many differences…
For example, Pensacola is a laid-back city with a diverse range of activities, a food scene with plenty of choices, and it's also very accommodating to older folks.
In contrast, Orange Beach is smaller, but tends to have more things to do for children, and has lots of restaurants with magnificent views of the water.
However that's just the beginning when it comes to how different Pensacola and Orange Beach really are!
That's why below we use our experience to show you which destination is better for fishing, foodies, families, couples and more. All so you can make the right vacation decision!
CONTENTS:
A Quick Overview & Comparison
Which Is Better For Couples?
Which Is Better For Families?
Which Is Better For Adventurers & Nature Lovers?
Which Is Better For Food?
Which Has Better Beaches?
Where To Stay According To Your Budget
Which Is Better For Older Folks?
Which Is Better For Fishing?
Which Is The Better Choice?
Pensacola vs Orange Beach: A Quick Overview & Comparison
Pensacola: A Quick Overview
This beautiful beachside city is known for its sugar-white sand beaches, turquoise waters, and vibrant culture. And the key word here is city–Pensacola is significantly larger than Orange Beach.
One thing travelers may not know about downtown Pensacola and the surrounding region is that it has a strong military presence, as it is home to Naval Air Station Pensacola.
This has significantly impacted the city's atmosphere, since military personnel and their families are often in town to visit.
As a result, Pensacola has a friendly and welcoming community that caters well to tourists, although it might not be the first place you think of to visit on the Gulf Coast.
There are plenty of family-friendly activities and attractions in the area, making it an excellent destination for families with children.
Overall, the atmosphere in Pensacola is ideal for those who want to enjoy a relaxing vacation while immersing themselves in the local culture and history.
Orange Beach: A Quick Overview
Orange Beach, Alabama is a popular beach destination also located on the Gulf Coast.
The city is situated on the eastern edge of Gulf Shores, Alabama and offers plenty of opportunities for outdoor activities, relaxation and nature activities.
The atmosphere in Orange Beach is welcoming, friendly, and ideal for those who want to escape the hustle and bustle of daily life.
One thing that people love about Orange Beach is its commitment to the natural environment. The area is home to several nature preserves, including Gulf State Park and part of the Gulf Islands National Seashore.
Visitors can take in the beaches by foot or by water, hike through the lush forests, and enjoy birdwatching and wildlife viewing opportunities.
The atmosphere in Orange Beach is perfect for nature lovers and those who want to immerse themselves in the natural beauty of the Gulf Coast.
In addition to its natural attractions, Orange Beach also has a thriving cultural scene and many tourist attractions, even given how small it is.
Overall, Orange Beach is ideal for those who want to enjoy a well-rounded vacation that combines outdoor adventure with cultural and entertainment experiences.
Which Is Better For Couples?
Pensacola: For Couples
One advantage that Pensacola has for couples is that as a bigger city you can experience both vibrant nightlife and fun activities, and also get away to more romantic, quiet destinations.
Couples who want to be able to get out and explore the nighttime atmosphere will be able to do so at numerous areas such as the Seville Quarter (a permanent mardi gras area in Pensacola where the city never sleeps).
The next day, if you're tired from going out and celebrating, you can find numerous quiet areas to get away.
A tour of the Pensacola Lighthouse will get you one of the best views of the coast and is a great activity for history loving couples.
Then, if you really want to get away from others and spend some quality time, you can hike in Bay Bluffs Park.
This quiet area with mangrove trees and secluded beaches makes you feel like you're in your own world. It's even been rated as a great place to propose!
Orange Beach: For Couples
Orange Beach can be a romantic destination for couples as well, and is perfect for couples that want to spend more time in nature than anything else.
If you end up in Orange Beach, couples will love exploring the Hugh S Branyon Backcountry trail, learning to parasail, or taking the romantic ferris wheel ride at the Wharf.
Overall though, Pensacola's main advantage over Orange Beach is that as a larger city, there are a wider range of activities for couples with varied interests.
Which Is Better For Families?
The primary difference between Pensacola and Orange Beach is that Pensacola, while it does cater to tourists, does it in a more low-key, and less resort-like way.
So you won't find quite as many kid-oriented souvenir shops, and unlike Orange Beach, there are no amusement parks in Pensacola for kids to hang out at.
There are plenty of places to rent equipment for water sports and go on dolphin cruises, but you won't find them on every corner like you will in Orange Beach.
That being said, Pensacola is home to numerous family-friendly attractions, like the Gulf Breeze Zoo, the National Naval Aviation Museum, and the Pensacola Children's Museum.
The National Naval Aviation Museum is a particularly big hit with kids that are slightly older and interested in things like flight simulators and airshows.
Orange Beach, on the other hand, is great for families that want to be able to pick a place to stay and have all the amenities close by.
Orange Beach has an amusement park–Adventure Island, which with its go-karts, water slides, and laser tag, can keep all ages of kids occupied for days.
And because Orange Beach is smaller as well, it's possible to stay right on the water, and still be close by to rental places, restaurants, beaches, and more.
Ultimately, you'll have to decide what your family looks for in a vacation. Pensacola has a less resort-like atmosphere and is great for families with kids interested in educational activities like the museum or zoo.
If your kids are slightly older, too, you won't be as concerned with having everything close by for convenience–thus allowing you to take advantage of exploring all of Pensacola's neighborhoods.
On the other hand, for those with younger kids who need lots of stimulation to stay occupied, Orange Beach, with its easy access to every activity under the sun, might be more up your alley.
Which Is Better For Adventurers & Nature Lovers?
For adventurous folks, both Pensacola and Orange Beach have plenty to offer.
Overall, Pensacola has a wider range of activities for active and adventurous folks, but when it comes to more extreme water sports, Orange Beach might beat Pensacola for ease of rentals and instruction.
Orange Beach specifically caters to those who want to try parasailing, jet skiing, surfing, paddleboarding, and even kiteboarding.
In many areas in Orange Beach, particularly close to the water, you can't throw a stone without hitting a rental shop for all manner of water activities!
Also, as we noted previously, adventurous folks may want to stop by the Adventure Park for water slides, rides, and more.
For adventurers who are less intrigued by extreme water sports and more interested in exploring the local terrain, Pensacola may offer more.
Nature lovers will have plenty to explore. Although a bit of a drive outside Pensacola, exploring Blackwater River State Park is a must for those wanting to spend some time among the flora and fauna.
Visitors often explore Blackwater by kayak, and you can spend the whole day floating down the river bird-watching and fishing.
Those wanting to stay a little closer to Pensacola will enjoy the Fort Pickens area of the Gulf Islands National Seashore. From tours of the fort itself, to excellent fishing right off the beach, to birdwatching in the saltwater marshes, this is a great area for adventurers wanting to explore beyond the city.
Overall, adventure lovers may find Orange Beach more fun with the easy access to water sports, and it's worth noting that Orange Beach has nature areas to explore as well.
Pensacola, on the other hand, may cater better to those with more time and a desire to explore in depth all the different nature and historical sites in the area.
Which Is Better For Food?
When it comes to the dining scene in both locations, the main differences are variety and prices.
But ultimately as we show you below, Pensacola will be the place for culinary foodies who want to explore through their palate, and want to be able to sample many different types of cuisines on their trip.
Orange Beach, on the other hand, will be better for families looking for low-key dining experiences but still delicious food–and a few excellent restaurants by the water for a date night.
Let's delve into the food scene in both below!
Pensacola: The Food & Dining Scene
Because Pensacola is larger than Orange Beach, there are many different neighborhoods to check out, and thus a greater variety of restaurants.
Both Orange Beach and Pensacola are also known for seafood, since they are both located on the Gulf and they have access to a wide variety of fresh fish and shellfish.
Local favorites include Gulf shrimp, oysters, and red snapper, which can be found on menus at many of the city's restaurants.
In addition to seafood, Pensacola also has a thriving farm-to-table movement, with many restaurants sourcing their ingredients from local farms and producers.
This focus on fresh, locally-sourced ingredients can be found at restaurants such as Union Public House, which offers a seasonal menu with dishes like roasted bone marrow and beet-cured salmon.
One thing you may find in Pensacola that you won't find in Orange Beach is the number of international restaurants, including Thai, Vietnamese, and Japanese cuisine.
One standout restaurant is Khon's On Palafox, which offers a wide variety of sushi rolls, sashimi, and Japanese small plates.
Orange Beach: The Food & Dining Scene
On the other hand, Orange Beach may have Pensacola beat when it comes to opportunities to eat right on the water and right by where you are staying.
The advantage of being a smaller town and the fact that it caters so much to travelers means that areas with concentrated hotels and vacation rentals often have many restaurants within walking distance.
Additionally, you will find more places to eat along the beaches and waterways. Like Pensacola, there is no shortage of delicious food, but the views along the water in Orange Beach are unmatched.
Cobalt, The Restaurant, is the perfect place at sunset to watch boats come in for the day, and has excellent seafood and happy hour.
GT's On The Bay is another favorite for all travelers, as it has something for everyone and great views.
The final difference between dining in Pensacola and Orange Beach comes down to prices. Those wanting to explore many fine dining restaurants may enjoy Pensacola more; those wanting a more low-key and mellow dining experience may like Orange Beach.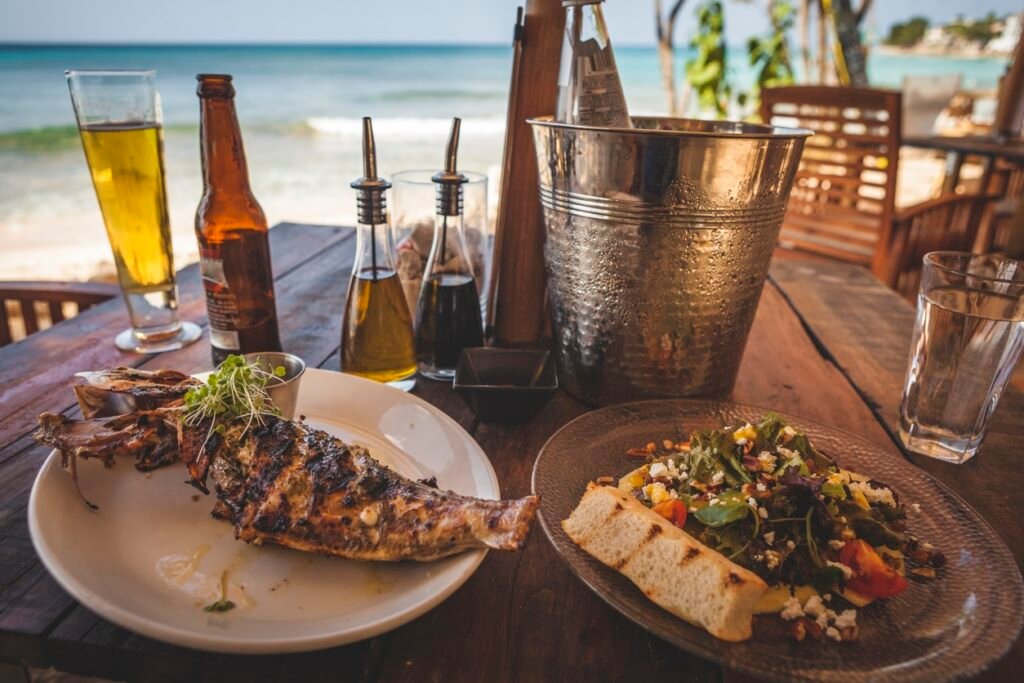 Which Has Better Beaches?
Pensacola: The Beaches
The area isn't particularly touristy, and due to that you'll often have a quiet, peaceful beach time there – although Pensacola Beach is a short drive away.
Pensacola Beach is also home to part of the Gulf Islands National Seashore, where you can find protected and pristine sugar-sand beaches. It's also home to the Blue Angels – the US Navy Flight Demonstration Squadron – which can often be seen flying over the beach as they practice.
Being part of a nationally protected area, the beaches in Pensacola are relatively untouched and still pristine. In fact, Pensacola was once named the Number 1 Best Florida Beach by USA Today.
Wildlife enthusiasts will also be pleasantly surprised. Endangered shorebirds and turtles can be found nesting there through the spring and summer seasons, and there are three reefs within half an hour of each other which are teeming with the diverse sea life below the water's surface, an absolute must for any explorers among you.
Orange Beach: The Beaches
Orange Beach is relatively quiet too, and has a similar standard of sand along its several public beaches.
Romar Beach is one of the locals' favorite spots. It offers exquisite sands and plenty of space to stretch out, along with an artificial reef for snorkelers and divers to check out.
Cotton Bayou Beach is another pleasant coastal location in Orange Beach.
It's one of the most accessible beaches, too, with easy public access and decent parking, along with other amenities like toilets and showers. The white sands there are some of the softest in the area, as smooth and cotton-like as the beach's name implies.
Further east, you'll find Alabama Point in the Perdido Pass area. This is close to the state line separating Alabama from Florida, and it's dominated by a big bridge stretching out over the water.
There are some beautiful boardwalks there, along with decent surfing conditions at certain times of year and those same powdery sands that characterize the Gulf Coast.
In general, the beaches of Orange Beach are all quite similar. The surroundings can look a little different as you move from beach to beach, but the conditions are more or less identical, with a generally chilled-out atmosphere and some pleasant amenities at each beach, including restrooms and food trucks on the parking lots.
Where To Stay According To Your Budget
Orange Beach
Budget: Although not on the beachfront, SpringHill Suites by Marriott Orange Beach is a lovely accommodation with great service, big outdoor pool and free breakfast. And best of all, it's about half the price of many other accommodations in the city. See photos and rates!
Luxury: Sitting right beside the beach with views of the sea, there's few better places to stay in Orange Beach than at Perdido Beach Resort. And if you get bored of the coast then why not take a dip in their outdoor pool, or head into the city which is just a short walk away. See photos and rates!
Pensacola
Budget: If you want to stay somewhere with character then Pensacola Victorian Bed & Breakfast will fit the bill. This property is oozing with antiques, and even has rocking chairs on the front porch! The service and breakfast is very good too. See photos and rates!
Luxury: If you're looking to stay at nearby Pensacola Beach, then Margaritaville Beach Hotel will be perfect. Alongside fantastic sea views, beachfront access and a gorgeous swimming pool, you can also hire kayaks for free! See photos and rates!
Which Is Better For Older Folks?
Both Orange Beach and Pensacola are excellent destinations for older vacationers.
Both have pleasant climates and are a great escape from the cold weather in other parts of the country. Overall though, while both offer many leisurely outdoor activities, senior travelers might enjoy Pensacola more.
One reason Pensacola might have Orange Beach beat as a destination for older folks is its rich history and cultural offerings.
Kids aren't the only ones who will enjoy the National Navy Aviation Museum, and there are also other fascinating landmarks like Fort Pickens and the Pensacola Lighthouse that offer a glimpse into its past.
Many museums and art galleries showcase the city's cultural heritage, like the Pensacola Museum of Art and the T.T. Wentworth Jr. Florida State Museum.
In addition, Pensacola offers a range of activities and amenities that are tailored to older visitors. The city has a number of senior-friendly attractions, such as the Pensacola Senior Center and the Senior Games in September, which are great for older travelers looking to make friends and get a feel for the city and community.
While Orange Beach offers similar weather and a chance to escape from colder climates, overall, the fact that it is a smaller town means that there may not be as many activities catering to older travelers.
The population in Orange Beach, especially when it comes to travelers, tends to be on the younger side. This may not appeal to seniors who want to be able to avoid crowds and younger kids.
Which Is Better For Fishing?
Both Pensacola and Orange Beach are popular destinations for fishing enthusiasts traveling to the Gulf Coast.
Yet while both locations offer bountiful fishing opportunities, there are some key differences between the two.
Discussing fishing in depth in both locations could be the source of its own entire article, so we'll try to highlight the differences without getting too bogged down in the details–remember to always do your own research, especially when it comes to something as complex as fishing.
Overall, when it comes to offshore fishing, both Pensacola and Orange Beach have a wide variety of fishing charters available, ranging from deep sea fishing trips to inshore bay fishing.
However, Orange Beach is home to some of the largest and most well-equipped fishing charters on the Gulf Coast, with some boats accommodating up to 20 passengers.
Deep shore fishing is slightly more accessible from Pensacola, as deep water is closer to shore. However, some people like to fish out near the oil rigs in the Gulf, and Orange Beach has better access to that.
Although it's a marginal difference, the fishing season in Pensacola typically runs from April to October, while Orange Beach has a longer fishing season from March to November.
During the summer months, both locations can be extremely hot and humid, which can make fishing uncomfortable. You can fish in both areas year round, though, if you are interested in fishing inshore in the rivers and estuaries.
Depending on what kind of fish you want to catch, one place might be better than the other.
Orange Beach is known as the "red snapper capital of the world" due to how many artificial reefs there are offshore, and the shallow waters.
Inshore fishing in Pensacola might offer a little more variety, but in Orange Beach you'll have access to deep sea fishing and the opportunity to catch some pelagics.
Overall, both places are excellent for fishing, and the differences will come down to what type of fish you like to catch, whether you want to stay offshore or inshore, and the time of year you go.
Orange Beach vs Pensacola: Which Is The Better Choice?
Overall, the things you have to consider when deciding between Orange Beach and Pensacola are the size of the group you're traveling with, the age of the group, and what sort of activities you want to prioritize.
Families just looking for a resort style atmosphere with younger kids will thrive in Orange Beach, while smaller groups and single travelers interested in a more low-key and less touristy experience may enjoy Pensacola more.
Nature lovers will have fun in both places, but may find less crowds in Pensacola depending on the time of year.
And finally, those looking to get out on the water will have to decide whether Orange Beach, with its heavy emphasis on water sports, will beat Pensacola's more laid back waterways.