Wandering our World is reader supported! If you purchase anything through a link on our site, we may earn a commission at no extra cost to you.
Last updated on June 26, 2023 by Wandering our World
Florida is one of the most popular holiday destinations in the United States, and there are plenty of reasons why many travellers visit it each year. And Navarre Beach and Destin are two of the best place to visit in this sunny state!
However despite both being popular Florida beach vacation spots, Navarre Beach and Destin are actually very different…
Foe example, Destin is definitely the busier destination and has more things to do and see. It also has the livelier nightlife scene and will likely be the better place for those who love fishing.
In contrast, Navarre Beach is much quieter and tends to be a far more laid-back vacation than Destin. It's perfect for those who want to really get away and enjoy the beach and nature without crowds.
This article aims to breakdown the features of these locations and help you make the right choice for your dream vacation. Let's dive in!
CONTENTS:
A Quick Overview
Which Is Better For Beaches?
Which Is Better For Family Vacations?
Which Is Better For Activities?
Which Is Better For Nightlife?
Which Is Better For Food?
Which Is Cheaper?
Where To Stay According To Your Budget
Which Is The Better Choice?
Navarre Beach vs Destin: A Quick Overview
Navarre Beach: A Quick Overview
This beach community on the Florida Panhandle is famous for its picturesque and captivating scenery.
The beautiful white sand beaches, clear turquoise-coloured waters, and a welcoming atmosphere make this destination popular among many domestic and international visitors.
Families, couples and solo travellers can enjoy a relaxing vacation here filled with swimming and sunbathing as well as some water sports options such as kayaking and paddle boarding.
The local Navarre Beach Marine Park is also home to an artificial reef system that hosts a variety of marine species, making this spot a wonderful place for snorkelling and diving.
Beyond its beautiful natural sights, Navarre Beach can boast a whole range of cafes and restaurants, shopping areas, and a variety of accommodations, ranging from beachfront condos to cozy cottages and comfortable hotels.
Simply put, Navarre Beach is one of the best vacation spots on Florida's Gulf Coast, providing a laid-back and pleasurable atmosphere.
Destin: A Quick Overview
Located on the Emerald Coast in the Florida Panhandle, Destin is a sought-after vacation spot for families, couples and solo travellers alike.
The emerald-green waters combined with pristine white sand coasts make Destin is a go-to destination for beach lovers and water sports fans. And here you can indulge in a variety of activities on the beach, from leisurely swimming and sunbathing to more active pass-times like parasailing and paddle boarding.
For those who want to spend more time with nature, Destin also offers access to gorgeous nature reserves and state parks. Visitors can enjoy hiking, biking, and appreciating the diversity of the local wildlife.
If you are planning a more laid-back vacation, there is a multitude of shops, restaurants, and entertainment options, which includes a vibrant local arts scene.
In addition, Destin is home to some of the freshest seafood in the country! The warm and mild climate, stunning beaches and plenty of choice when it comes to activities, Destin is a wonderful vacation destination for any traveller.
Which Is Better For Beaches?
Navarre Beach: The Beaches
If you are looking for a day full of relaxation and enjoying the quiet calm of the waters, Navarre Beach is your best bet. Due to its small size, this destination is the more remote and peaceful of the two.
The Navarre Bridge paves the way to an offshore barrier island where the main beach is located. Here you will also find a long pier with a view on the Gulf of Mexico. It's a popular spot for fishing with an affordable daily licence.
The Opal Beach, a long stretch of land, provides plenty of space for all visitors even during peak times too, and many come here for the breathtaking, picture-worthy views and ample space for a picnic in the Florida sun.
If you are one for a more physically active day at the beach, water sports such as surfing, paddle boarding and kayaking are also available here.
The newly renovated pier is also equipped with children's play areas and volleyball courts, and the Windjammers on the Pier restaurant offering American dishes, fresh grill and seafood options.
Note that there aren't too many places where you can get food around this beach, so it's worth bringing some snacks with you.
Destin: The Beaches
With its lively atmosphere and stunning turquoise waters, Destin is a very popular spot among holiday makers – it has even been titled as "The Third Most Beautiful Place in America".
Simply put, it is perfect for those who are looking for a fun and buzzy seaside getaway with plenty of options for activities and food on the beach.
Compared to Navarre Beach, this destination is definitely more crowded, with families often coming to stay at the luxurious condominiums or detached houses by the seaside.
As for the beaches, Henderson Beach State Park hosts one of the most beautiful beaches in Destin. It's a wide stretch of white sand and emerald-green water. Marine animals can be spotted here, so watch out for dolphins and stingrays visiting the nearshore waters!
For those looking for a quieter and more private location, Eglin Matterhorn Beach is the perfect option. There are no houses or condominiums nearby, making it a wonderful spot for a relaxing day in the sun.
And Dune Allen Beach is about 30 minutes drive away from the town; it's a stunning seaside spot equipped with all the necessary amenities. As all of these locations are very popular, it's best to get there early in order to ensure a parking spot.
Overall, the beaches in both Navarre and Destin are similar in terms of the beauty of the white sand and the clarity of waters. However, they are different in terms of the atmosphere.
Navarre Beach is vast, more peaceful and remote while the beaches in Destin are more diverse and crowded.
Plus, if you are looking for a quick weekend getaway to the beach, Navarre is an excellent option. On the other hand, if you have more time to explore and visit multiple seaside locations, Destin is likely the better option.
Which Is Better For A Family Vacation?
Navarre Beach: Family Vacations
Navarre Beach is a calm and peaceful destination where families with children of all ages can relax, enjoy the sea, sunshine and the beautiful views of the Gulf of Mexico.
Apart from the casual beach activities, this spot also offers great opportunities to practice water sports and learn about marine life and nature.
For example, Navarre Beach Marine Science Station is a great space for children to learn about the fascinating marine creatures that inhabit the gulf.
The station is committed to educating the public about the structure of life of the reef, and to helping visitors of all ages to learn about the preservation of this breathtaking environment. The station is not too big, so parents with small children will find it handy to explore it all without getting too tired.
For older and more sporty kids, consider visiting Bay Haven Farms to take a horseback riding lesson. Knowledgeable and friendly staff will help kids learn fast and have fun in a safe and encouraging environment.
The spacious sandy beach here is also the perfect spot for families to try surfing. Gulf Coast Surf School is one school that offers excellent classes for surfers with any skill set levels, and it's great for those who are trying out this sport for the first time.
Destin: Family Vacations
When it comes to family vacations, Destin has even more activities that will keep family members entertained.
For example, Big Kahuna's Water and Adventure Park is a tropical-themed park that is a great spot to have fun with family and friends and escape from the heat.
The park offers a great selection of exciting water slides, ensuring adrenaline-pumping adventures for small children and teenagers alike.
If you're up for a family outing exploring the coast, there are plenty of tour providers that offer boat excursions of any length (from a 90-minute sunset cruise to a day trip to Crab Island).
These tours are perfect for families who want to snorkel, explore the neighbouring islands and get a glimpse of dolphins passing by the coastline.
To take a break from sea activities head out to the Village of Baytowne Wharf where parents can do some shopping while children play at the arcade and enjoy a zip-line ride at the playground.
Plenty of delicious food options and live music venues are available here as well, making it the perfect spot for a lively and entertaining evening for the whole family.
And for a more educational pastime, try Destin History & Fishing Museum, a place where you can learn about the early life in Destin starting from the 1830s.
Overall, Navarre Beach will likely be perfect for families who want a laid back vacation where they can do water sports and different sea activities. It's also a great spot for playtime on the beach as well as learning about marine life at the local conservation centers.
But if you are looking for a wider variety of family entertainment options then Destin will be the better option for you. After all, Destin is home to water sports, boat tours, adventure parks, shopping malls and museums!
Which Is Better For Activities?
Navarre Beach: The Activities
Apart from its main attraction, the beach itself, visitors can try out many different kinds of water sports including kayaking, paddle boarding and jet skiing.
Navarre is also popular among fishing enthusiasts, and options for both offshore and inshore fishing adventures are available.
While the Navarre Beach Marine Park is famous for its intricate marine ecosystem and vibrant artificial reef system. The park's crystal-clear waters attract many snorkelers and scuba divers – it is a wonderful place to immerse yourself in an underwater wonderland and see beautiful marine creatures up close.
But one of the most unique spots in this area is the Navarre Beach Sea Turtle Conservation Center, which is dedicated to the protection of rare and endangered species of sea turtles.
Here you can learn a lot about these amazing animals and the ways in which each individual can contribute to their conservation.
Destin: The Activities
Destin is an exciting destination for both beach and city activities!
The emerald waters are perfect for a session of kayaking, paddle boarding, snorkelling, surfing and diving, all of which are readily available here.
Due to being located close to a deep underwater canyon, Destin has also become one of the top destinations in America for fishing. And in our opinion Destin is a better fishing destination than Navarre Beach.
For tourists that want to take a break from the sea and the sand, Destin provides many more restaurants, boutique shops, and plenty of entertainment options compared to Navarre Beach.
One of the most popular spots is Destin Harbor Boardwalk, a bustling area with an array of activities and events that include live music, waterfront dining, and charming seaside shops.
There are various attractions for visitors of all ages here: mini-golf courses, water parks and adventure parks to name a few.
In addition, Destin has a very vibrant local art scene. The Pearl Galleria is a small but very charming art gallery displaying a variety of unique paintings and sculptures that art lovers will enjoy.
With its exciting mix of beachside activities, vibrant entertainment options, and plenty of family-friendly attractions, Destin is one of the most well-rounded coastal destinations in Florida.
Overall, Navarre Beach is a wonderful pick if you are looking for a convenient spot that offers a whole range of beach activities and beautiful scenery. It is perfect for a short vacation filled with beach exploration and water sports.
But Destin has more options for those who want to go beyond activities by the sea. There are plenty of opportunities to go shopping, a greater variety of restaurants and bars, as well as some adventure parks and art galleries that are guaranteed to provide exciting and eventful holidays.
Which is Better For Nightlife?
Navarre Beach: The Nightlife
Even though Navarre Beach is generally a quiet and peaceful holiday destination, there are several options for a lively and fun night-out with friends.
First of all, the fishing pier is a great spot for evening walks – and there are often events happening every week!
While for those who want to get away from the beach and enjoy some good quality craft beer and wine in a cozy bar, head to The Grey Taproom. There is a selection of 30 different beers on tap as well as many interesting canned and bottled options. To add to that, the bar boasts a collection of 30+ options for wine and a good cigar menu.
The Beach House Bar & Grill is spot for those who want to have a fancy evening out with some great drinks, delicious food, and the view of the gulf. This restaurant offers great seafood options, vegan and gluten free options and a cocktail menu full of classics. Bear in mind that it closes at 10pm, so it's a good spot for those who don't want to stay out too late.
While Stripes Pub & Grill is the place to go if you want to experience a local sports bar, watch a game and enjoy some good beer with your friends or family.
Destin: The Nightlife
Destin is a much livelier place than Navarre Beach when it comes to local nightlife options. Beach bars, pubs, dance venues and much more – this town has something to offer for both cozy nights and fun evenings of dancing and live music.
AJ's Seafood and Oyster Bar is a place that combines delicious food, a great quality bar and plenty of entertainment – plus there is live music playing throughout the week!
Meanwhile, Bric a Brac is a spot that operates as a family restaurant in the daytime and a nightclub at night. So if you're looking for a place to dance the night away, this is the one! This club is famous for hosting themed events too, so check out their website if you want to dress up for the occasion.
But for a more relaxed evening head to The Village Door, a vibrant bar with a more upscale atmosphere where some of the best musicians in town perform live during weekdays.
This place transforms into a dance club on Friday and Saturday nights too, with the best DJs playing all kinds of dance music! Happy hour starts at 8:30pm, so get down around then for good drink deals.
Overall, when it comes to nightlife options, Destin definitely has a larger variety of venues to pick from, and will be perfect for those who like to go out to different places every night.
In contrast, Navarre Beach has a more relaxed nightlife scene. There you are more likely to find great locations to enjoy a drink by the sea, some great craft beer or live music and a sports game, rather than DJs and dancing.
Which Is Better For Food?
Navarre Beach: The Food
Navarre Beach has multiple delightful destinations for food lovers, with restaurants that cater to all kinds of tastes and provide a setting for wonderful dining experiences.
And as you might expect, it's a great spot for those who love seafood!
Juana's Pagodas & Sailors' Grill is an old family owned restaurant that is favoured by locals and visitors alike for its warm atmosphere and excellent menu.
The restaurant is located right on the beach, adding a stunning view of the sea and taking your dining experience to a new level. You can select from a variety of mouthwatering seafood dishes, delicious burgers and refreshing drinks.
Dewey Destin's is a family-owned chain of restaurants that host guests in both Navarre and Destin. The special feature of the Navarre branch is its location right at the waterfront! Enjoy the view of the sea and the charming setting to go with the delicious home-made food: fresh locally sourced seafood, juicy burgers and tasty soft drinks and cocktails.
And for those who aren't fans of seafood, the Cactus Flower Cafe is a great option with its extensive menu of Mexican dishes (vegan options are also available).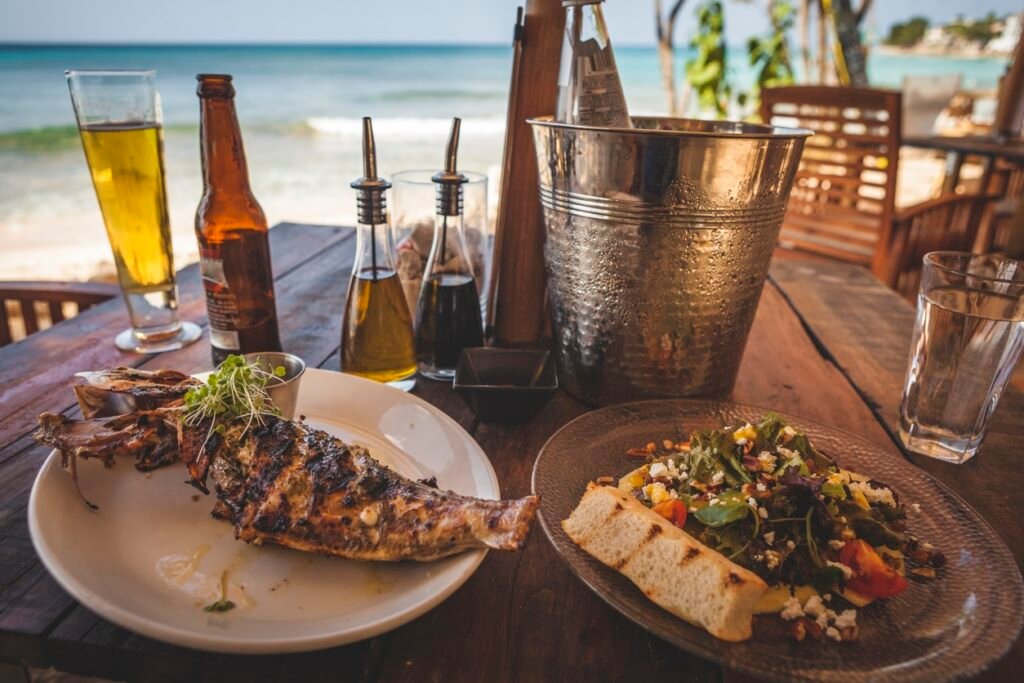 Destin: The Food
Destin is an exciting destination for those who love food with its wide range of venues from cozy cafes to great fine dining options.
Needless to say, seafood is aklso one of the local staples in Destin, so many restaurants will offer dishes made from freshly sourced local delicacies.
Jackacuda's Seafood & Sushi is one of the local favourites and a must-visit for those who love sushi. This restaurant is proud to present a menu of over 12 different kinds of specialty rolls, as well as an eclectic selection of mains that includes sea food, dumplings, fish tacos and some delicious desserts.
While Crackings is one of the best spots in town to go for breakfast, brunch and lunch. The family-operated restaurant offers locally sourced seasonal products in a menu full of American favourites such as eggs Benedict, a wide variation of gourmet omelettes, fragrant cinnamon rolls and French waffles and toasts (gluten free options available too!)
And if you're looking for a place to not only enjoy great food, but also a fun atmosphere and some music, head to Lulu's, a restaurant on the beach with plenty of outside seating area.
They are known for serving authentic coastal cuisine featuring fresh shrimp, fried green tomatoes, quesadillas, hearty salads, yummy cheeseburgers and crab melt. There is a fun menu for kids and plenty of options for visitors with specific dietary requirements.
Overall, you are guaranteed to taste some delicious locally sourced seafood in both destinations!
Both spots have a lot of family-run restaurants serving some amazing and authentic dishes, but if you are looking for more variety and would like to check out some fine dining spots as well, Destin will be the better option for you.
In addition to seafood, Destin also has an abundance of great restaurants serving Italian, European and Mexican food as well as amazing breakfast and lunch spots.
Which Is Cheaper?
When planning a budget for your trip, it really comes down to the type of vacation you'd like to have. And both Destin and Navarre Beach have a variety of accommodation options for any budget.
Destin is the more popular spot, so it's worth booking in advance to avoid price rises as availability runs out.
However if you are planning to spend most of your time at the beach either reading or snorkelling, Navarre Beach will definitely fit the bill. But if you are prepared to spend more on entertainment and on trying a lot of new restaurants, Destin will be the spot that offers you enough variety for a good price.
Bear in mind that if you plan to rent a car, Destin is likely to have more traffic and less free parking zones, so you might need to spend some extra on gas.
Where To Stay According To Your Budget
Destin:
Budget: The three-star Hyatt Place Sandestin is a great budget choice where you will also have access to fantastic amenities – like a lovely outdoor pool, fitness center, and even bicycle hire so you can explore Destin. See photos and rates!
Luxury: Wave and Sea Sun Destin Hot Tub Pools Beach is a very unique high-end experience. This beachfront holiday home is super spacious and luxurious and includes excellent perks such as a hot tub, a fitness centre, outdoor swimming pool, and unobstructed views of the sea from the comfort of your own balcony. Check out photos and rates here!
Navarre Beach
Budget: Seashell Escape is a lovely apartment that sits right on the beachfront so you'll wake up to gorgeous sea views and the sounds of waves every morning. Plus there's even at outdoor pool you can use when staying here. See photos and rates!
Luxury: If you're more of a hotel person than a condo one, then a stay at SpringHill Suites by Marriott Navarre Beach could be perfect. This beachfront hotel has great facilities, including a large outdoor swimming pool with lazy river. See photos and rates!
Navarre Beach vs Destin: Which Is The Better Choice?
Both Navarre Beach and Destin are beautiful locations and you will surely be mesmerised by the beauty of the clear turquoise waters and the vibrancy of the local marine life in each.
But when it comes to diversity of activities and food options, Destin will be the more exciting option. On the other hand, if you want to observe nature and learn about different sea creatures, Navarre Beach is perfect.
Simply put, Navarre Beach is better for those looking for a more quiet and relaxing vacation while Destin has a more bustling atmosphere and an abundance of places to visit.