Wandering our World is reader supported! If you purchase anything through a link on our site, we may earn a commission at no extra cost to you.
Last updated on January 21, 2023 by Wandering our World
Mexico and Costa Rica are both stunning, and individually have so much on offer. Whether you're looking for those gorgeous tropical landscapes you see online, exotic beaches, or mouth-watering foods to indulge in, both of these countries have it all.
So, how are you meant to choose which to visit?
Well, if you're after a more activity-based and nature-diverse holiday, Costa Rica is probably a better choice than Mexico due to its stunningly varied terrains, biodiversity and beaches. On the other hand Mexico's strength lies in its water activities, incredible resorts like Cancun and sea life, although both countries have gorgeous tropical beaches.
But that's just the tip of the iceberg when it comes to the similarities and differences between these two destinations!
Luckily we know and love both Costa Rica and Mexico, so are help to help you decide. Below we'll quickly go through what each country offers, before comparing the beaches, activities, nightlife, food and drink, safety, culture, which is cheaper and more!
Let's get started!
CONTENTS:
A Quick Overview
Which Has The Better Beaches & Activities
Which Has The Better Nightlife
How Do The Food, Drink & Culture Compare
How Does The Budget & Safety Compare
Where You Should Stay According To Your Budget
Which Is The Better Choice
A Quick Overview Of Mexico vs Costa Rica
There is so much to do and explore in Mexico, with diverse scenery across this nation. Stunning beaches, metropolitan cities, volcanoes, mountain ranges peaking over 14,000 feet, canyons, deserts, and huge barrier reefs. (Recommended: Snakes in Mexico).
So if you're after a holiday of intrigue, where you can visit new things every day and explore a range of cuisines and cultural traditions, then Mexico will easily satiate those curiosities.
Mexico also has famous beach resort destinations like Cancun and Cabo, so it can cater to those looking for a two-week all-inclusive holiday of sun, sand, and sea. And in that respect we'd say Mexico is probably the better destination than Costa Rica for resort vacations.
Costa Rica will take you to the depths of some of the most lush and tropical rainforests, with monkeys swinging above your head, more than 850 species of bird, and volcanoes on the other side of bountiful forests. If you're more drawn to inland attractions, this is the place for you, as it slightly outdoes Mexico on this front.
There's gorgeous beaches in Costa Rica too, but they're not as wide as in Mexico, and they're bordered by jungle and far less developed.
In Mexico the best beaches will have hotels, shopping malls, bars and restaurants lining the white sand for miles. In Costa Rica expect far less of that, and far more palm trees!
Although smaller than Mexico, Costa Rica still has so much to offer on all fronts, as we'll show you below.
Overall, their wildlife is nothing short of spectacular, and there's many fantastic jungle lodges to stay in which are a fun and immersive option for accommodation if your budget allows.
As a smaller country the main attractions are closer together than in Mexico, so in Costa Rica it's often easier to travel around and see the main sights in the country compared to Mexico.
Which Has The Better Beaches & Activities?
The beaches are undoubtedly a clear attraction in both destinations, and both will deliver beautiful and relaxing vacations.
Between Mexico and Costa Rica though, the former is better known for having gorgeous reefs for snorkeling, long stretches of white sand, and many water activities.
On the other hand, Costa Rica has more inland adventure options, with a plethora of biodiversity and eco-tourism.
The beaches are still wonderful in Costa Rica, but typically a little less expansive, and less developed – which could be a plus point for those looking for peace and quiet, or a negative if you want everything at your fingertips.
Below we compare the beaches in Costa Rica and Mexico in more depth:
Mexico: The Beaches & Activities
Owing quite simply to its geography, you can find two types of beaches in Mexico: warm beaches on the Caribbean side of the country, and cooler waters on the arguably prettier Pacific side.
The Pacific beaches tend to have a more relaxed vibe, and much better waves for surfing and other water activities. The Caribbean side has calmer water that's perfect for swimming, and crystal clear turquoise waters. It's also where the famous beach party spot of Cancun is located.
Classic beach vacation spots for both sides respectively include the likes of Cancun and Playa del Carmen on the Caribbean side, or Sayulita and Los Cabos on the Pacific side.
In fact Cancun may have the best long stretches of beach we've seen throughout the Caribbean region, never mind just between Costa Rica and Mexico!
You'll be able to rent jet skis at most of the popular resort beaches in Mexico too if you're looking for some adventure on the water.
Or for something quite special, make your way to Cabo Pulmo National Park on the Pacific coast for whale watching opportunities and snorkeling amongst reef fish and sea turtles at the northernmost coral reef in the eastern Pacific Ocean. A great underwater camera – like this one – is a must. Keep an eye out for the stingrays that jump out of the water. You heard us right, they actually jump out of the water!
It's also worth noting that the beaches and resort areas in Mexico tend to be quite self contained. So if you're looking for an all-inclusive holiday where beaches, bars, restaurants and tourist shopping are all together, then Mexico will be better than Costa Rica.
That does, however, mean getting an authentic taste of Mexican and local culture is harder, and you will have to leave the beach resorts to get away from the crowds and enjoy a real Mexican atmosphere. We'll get to cultural activities in Mexico a little later in our comparison.
Related: Spiders in Mexico – What You Need to Know
Mexico is also a huge country, so while there are two types of beaches – Caribbean and Pacific – it's rare holidaymakers will get to experience both in a vacation. That's unless your holiday is more than 2-3 weeks and you're willing to travel vast distances across the country.
Costa Rica: The Beaches & Activities
Costa Rica is bursting with picturesque, natural beauty, with mountain views fit for postcards, tropical rainforests, misty volcanoes, and of course, exotic beaches.
Costa Rica also has two types of beaches just like Mexico – white sand and warm turquoise waters on the Caribbean side, and beaches perfect for watersports and surfing on the Pacific side.
That makes these two destinations hard to separate when it comes to beaches alone. You can also find black volcanic sand beaches in Costa Rica as well.
Recommended: The Best Pacific Beaches in Costa Rica
However the mainland beauty is Costa Rica's prime attraction, so if you want perfect white beaches, be aware that Costa Rica's vibrant jungles tend to spill out right up to the beach front, making the sand a bit darker and waves slightly rougher.
That also means there's many palm trees lined up next to the ocean in Costa Rica, so shade isn't hard to come by – which is a big bonus!
Check out Manuel Antonio Beach, Tamarindo Beach or Playa Tambor for some of our favorite beach spots.
With inland adventures more of a focus here, animal and wildlife lovers can't miss out on searching for jaguar prints in the heart of Costa Rica's towering forests, and wandering canopy walkways.
We also recommend water activities for when you're not wildlife watching, with hot river swims and white water kayaking all experiences you won't want to miss out on when visiting this nation.
With so many natural attractions found across the country, some of the most notable ones include the Arenal Volcano National Park, the mountain rainforest and wildlife of Monteverde Cloud Forest Reserve, as well as Cahuita National Park, which is a reserve protecting the only coral reef off the coast.
Recommended: Incredible Hiking Trails in Costa Rica
The good thing about Costa Rica is it feels more than possible to see a few of the country's most spectacular sights within a single holiday.
That doesn't always feel the case in the much larger Mexico, where a holiday tends to be contained in one region of the country (Cabo, Yucatan, Riviera Maya, for example) rather than the country itself.
So if you're looking for great beaches but also activities away from the sea – like wildlife spotting, jungle trekking, or white-water kayaking – then Costa Rica will likely be the better choice than Mexico.
But if white sand beaches, fantastic beach bars, and gorgeous turquoise water is your priority, then we think Mexico's resort destinations will suit you best.
Which Has The Better Nightlife?
Mexicans and Costa Ricans sure know how to let loose and have fun, and both tend to favor spring-break-style late night partying over more relaxed nights out.
In either destination you can of course find a more chilled out nightlife scene too, but both are pretty similar overall.
Mexico: Nightlife
From late night clubbing spots in Cancun, or the salsa clubs and foam parties in Mexico City, you'll be able to find whatever you're after in Mexico, be it a night of tequila, or a more chilled evening.
The nightlife in Mexico's Cancun is famous, lively and brash, and Cancun Mandala is one of the coolest spots for late night fun.
This energetic nightclub is one of Cancun's most popular party spots. Another is Congo Bar Cancun, a nightclub and bar with several levels, dancers, and entertainment.
The other resort destinations in Mexico tend to have many nightclubs too, but also many laid-back nightlife options, with beach bars and live music venues. In places like Cabo you can even get cozy jazz joints like Two for the Road Cabo JAZZ Spot.
If you're looking to party hard in a place where famous international DJs often visit, then Mexico's resort destinations like Cancun could be your best choice.
Costa Rica: Nightlife
There are many cities across the country which are great choices for a night on the town, with locals in Costa Rica enjoying a good weekend out until the early (or late) hours of the morning!
The best towns for a memorable night out include Tamarindo, Santa Teresa, and San José.
Coming out on top though is Jacó which is the best known party town, especially among the younger crowd. So if you're looking for clubs and beach parties this is the place to start.
How Do The Food, Drink & Culture Compare?
It's pretty safe to say that we all love Mexican food, but in both countries there are plenty of traditional dishes to feast upon.
Overall, Mexico's cuisine is arguably more varied in taste and flavor (although potentially slightly less healthy – but you're on holiday right?). There's also an abundance of cheap street food in Mexico, and restaurants tend to stay open late at night making it easy to grab a quick bite whenever – and therefore, in terms of food it steals our heart.
For us, Mexico also wins on the cultural front, with more impressive festivals, ranging from world-renowned celebrations to small town local ones. The country is also packed with stunning Mayan ruins.
But here's a bit about both countries to help make your own decision:
Mexico: Food, Drink & Culture
We'd like to think that you've indulged in a hefty Mexican takeaway before, and already know how tasty and varied their cuisine is. It's got to be a favorite among many, and of course it's even better and more authentic in actual Mexico.
If food makes up a large part of your holiday itinerary, there are a couple of places to take note of. Known for more ancient and traditional dishes, head to Merida and Puebla which have fabulous Spanish-influenced delicacies. Meanwhile in Oaxaca, the more adventurous foodies can find chapulines (grasshoppers) and huitlacoche (corn fungus).
Beverages won't be hard to find in Mexico, with hard options such as tequila and mezcal being local favourites and therefore must-haves.
They also have wines produced in their very own wine region, Valle de Guadelupe, as well as a lesser known fermented drink called pulque – which is local to Mexico City in particular.
As for experiencing their mighty and vibrant culture – the south of Mexico houses some incredible Mayan and Aztec ruins, which can be found at Chichen Itza.
You can also visit the Museo Frida Kahlo and National Museum of Anthropology in Mexico City to learn even more about their culture.
Costa Rica: Food, Drink & Culture
Coffee lovers, take note! Costa Rica's coffee beans are known as some of the best worldwide, so it's worth going out of your way to try and get your hands on a cup or two.
They also have a lemonade spinoff known as 'agua de sapo', and their own selection of craft beers which makes for a cooling choice while sunbathing at the beach.
Less well known to many are Costa Rica's traditional foods such as Gallo Pinto – a rice and bean dish – and Casado – rice, black beans, vegetables, ceviche, fresh seafood and various fruits.
We've found the culture to be a little less pronounced than Mexico, and tends to have influences from North and Central America, with a bit of a Caribbean vibe mixed in.
Little information about the pre-Columbian past exists today, but you can take a peek into their past by visiting historic sites such as the petrospheres at Diquís Delta.
While Mexico has colorful and exciting festivals, Costa Rica does as well but we believe they are to a lesser extent.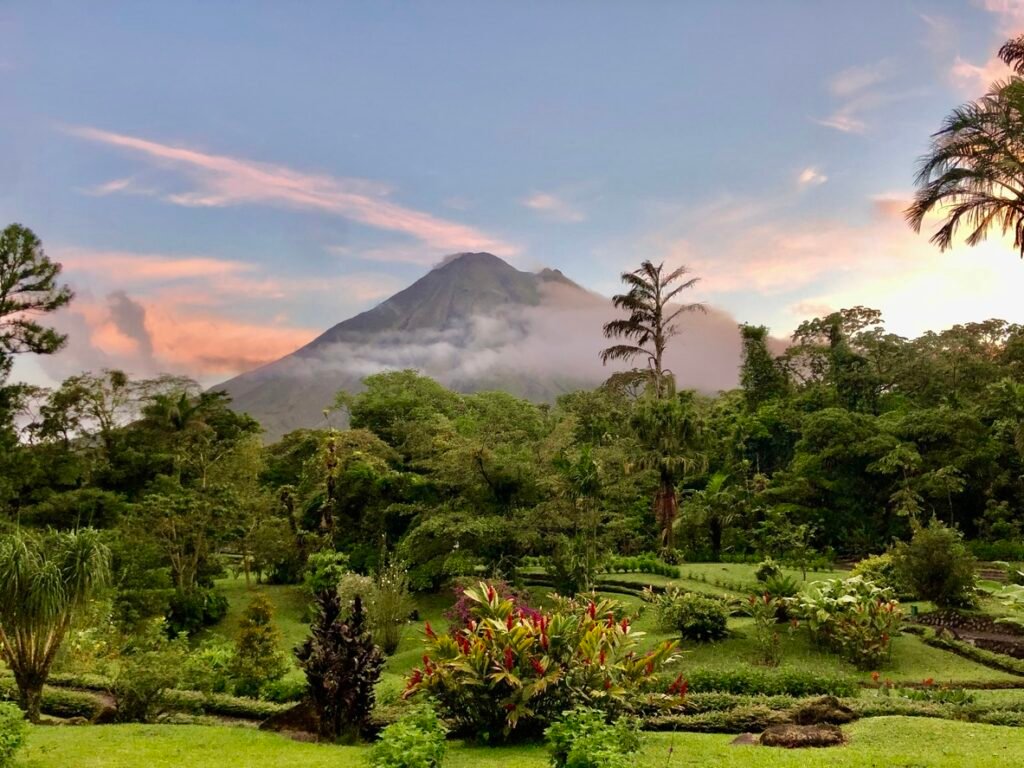 How Does The Budget & Safety Compare?
Both holiday destinations can be tailored to suit any budget where needs be, with affordable eating options found in each country, and a range of accommodation to pick from.
Overall though, Mexico can be a cheaper holiday than Costa Rica if you're staying away from five star resorts and tourist regions.
Although both countries have comparatively similar prices if you wish to stay in resorts in the popular tourist areas.
The advantage to Costa Rica is that as a whole it tends to be a bit safer than Mexico – but if you pick the right towns you'd be completely fine in either country.
Mexico: Budget & Safety
Due to its proximity to the US, things tend to be cheaper in Mexico than in Costa Rica – even in Mexico's most 'expensive' city, Monterrey. An Uber ride across the city is typically less than $3, and groceries are cheap as chips.
Of course in the resort areas like Cancun, Cabo, Tulum and others, prices are highly elevated, but look for where locals shop and the restaurants and street food joints where they eat, and you'll be able to save lots of money.
While your bank account may love it, Mexico is considered a less safe country than Costa Rica. Netflix and docu-series fans will know all about the crime issues and their territory disputes, meaning districts with heavy cartel presence, such as Nuevo Leon situated on the border, can be a bit intimidating.
With that said though, many people (ourselves included) go on holiday to Mexico and absolutely love it, so once you pick the right part to visit you will be safe and sound.
The tourist areas are left well alone by cartels and criminals, so you shouldn't encounter any problems there.
Costa Rica: Budget & Safety
Costa Rica is a country that has seen a tourism boom over the last decade. Because of this, more of the touristy areas in the country are charging higher prices for hotel rooms and food. However outside tourist areas you can find much cheaper prices.
To keep costs down, we recommend using the many little shared shuttle buses that are in the country, otherwise Costa Rican travel can reach double the price of Mexican transport. As a comparison, a $3 Uber in Costa Rica will usually only get you so far as the nearest supermarket!
Public buses running from the capital city outwards to major tourist cities are also sensible options. Additionally, hitch-hiking in rural Costa Rica is common and locals are friendly and accommodating, so you can save yourself some money and get those thumbs out.
Costa Rica is generally safer than Mexico, although as with many tourist destinations, beware of thieves and pickpockets, especially at the beach. If you keep your car properly locked and your eyes on your bags, you should be fine.
Outside of the coastal tourist hotspots, in places like central Costa Rica and San Jose there's barely any petty theft issues, and many tourists feel completely safe and comfortable walking around.
That means it's safe to get to some of the country's most beautiful spots: the jungle waterfalls, stunning volcanoes, and gorgeous hikes in the national parks.
Where You Should Stay According To Your Budget
Luckily both destinations have an array of accommodation choices for budget backpackers through to luxury seekers looking for golf courses and all-inclusive spa resorts.
Costa Rica
Shoestring: This hotel is excellent value, and while it's in a rural location, it does sit right on the beach in the Tortuguero National Park – a place famous for its wildlife and turtles. To get a beachside spot at this price, with outdoor pool and hammocks included, is a steal. See photos and rates here!
Budget: The four-star Eco Boutique Hotel Vista Las Islas Reserva Natural complete with infinity pool, pool bar, and spectacular ocean views over the Gulf of Nicoya is an affordable choice which looks worth more than their current nightly rates. Dreamy is the best way to describe it. See photos and rates here!
Luxury: With its own private beach, swimming pools, tropical gardens, and every facility imaginable (even a nightclub!), Resort Dreams Las Mareas All Inclusive is one of those places we all want to visit once in our lifetime. See photos and rates here!
Mexico
Shoestring: Decked out in old Tulum style, Caribeña may be a cheap accommodation choice but it doesn't look it. You'll be just a few minutes walk from downtown Tulum, and close to the beach and archeological sites. And when returning back after a day of exploring there's a lovely outdoor pool to enjoy. See photos and rates here!
Budget: It's hard to find luxurious beachside accommodation in Cancun's famous hotel zone without stratospheric prices attached to it. However Oleo Cancun Playa Boutique All Inclusive Resort offers an all-inclusive experience – and even rooms with sea views – at more than half the price of many neighboring hotels. See photos and rates here!
Luxury: Set in the heart of the action in Cancun's hotel zone, and with every luxury imaginable including butler service, Turquoize at Hyatt Ziva Cancun with its unbelievable beachside views and infinity pool is as high end as you can get. See photos and rates here!
Costa Rica vs Mexico: Which Is The Better Choice?
You definitely won't be disappointed with whichever country you pick, but there are a few differentiating factors we'll highlight to help you decide. Also – both are Spanish speaking, so brush up on that Spanish before you jet off to either!
If you're after a more activity-based and nature-diverse holiday, Costa Rica is probably a better choice than Mexico due to its stunningly varied terrains and beaches. On the other hand Mexico's strength lies in its water activities and sea life, although both countries have gorgeous tropical beaches.
Mexico wins somewhat hands down in terms of food and culture in our mind though, but if you're looking for something less familiar then Costa Rica has more on offer that you probably haven't tried before – the food tends to be a bit healthier too.
Lastly, Mexico is a little cheaper if you're not staying in five star hotels, so it should be an easier country to stick to a budget. However Costa Rica is a bit safer, although realistically you'll be fine in either country.
Recommended For Your Trip To Costa Rica Or Mexico