Wandering our World is reader supported! If you purchase anything through a link on our site, we may earn a commission at no extra cost to you.
Last updated on January 21, 2023 by Wandering our World
Costa Rica has long been a popular tourist destination due to its gorgeous scenery, blue waters, and pristine beaches. But with its array of incredible hiking routes it's fast becoming known as a sensational hiking destination too.
With 28 national parks and over 50 wildlife refuges, it's no surprise 25% of Costa Rica's natural beauty is protected. Active volcanoes, beautiful waterfalls, rivers, palm-fringed white sand beaches, and tropical rainforests filled with diverse wildlife makes hiking in Costa Rica a nature lover's dream.
In fact this country is home to 5% of the world's biodiversity! Simply put, hiking in Costa Rica has to be on your bucket list as it has some of the most beautiful hiking trails in Central America, with amazing views, sceneries, and ecosystems. There's a wide range of hiking paths suited for all levels too, from easy coastal walks to difficult mountain treks.
Here are our 14 favorite hiking in Costa Rica trails. Expect turquoise waterfalls, beautiful tropical beaches, hanging rope bridges, and rainforest trails where you can spot monkeys and sloths!
The 14 Best Hikes In Costa Rica: Breathtaking Trails You Must Try
1. Arenal Volcano National Park
Arenal Volcano National Park is home to two volcanoes. While Arenal Volcano is an active one and the most prominent attraction in the park, Cerro Chato is an extinct volcano that has long been a destination for adventurous tourists too!
The Arenal Volcano hike is a 3.3 mile out and back trail that will take you through gorgeous woodland to lovely views of the volcano. It's an easy hike with lots of wildlife spotting opportunities – look out for howler and white-faced monkeys, colorful birds, and deer while en route!
Arenal Volcano is Costa Rica's most active volcano, standing magnificently as a perfectly symmetrical cone blowing steam into the clouds. It's definitely worth visiting if coming to Costa Rica. You can see the trail map for this short easy Costa Rica hike here.
This park, with its beautiful tropical rainforests and open meadows, is open for hikers daily from 8am to 3pm.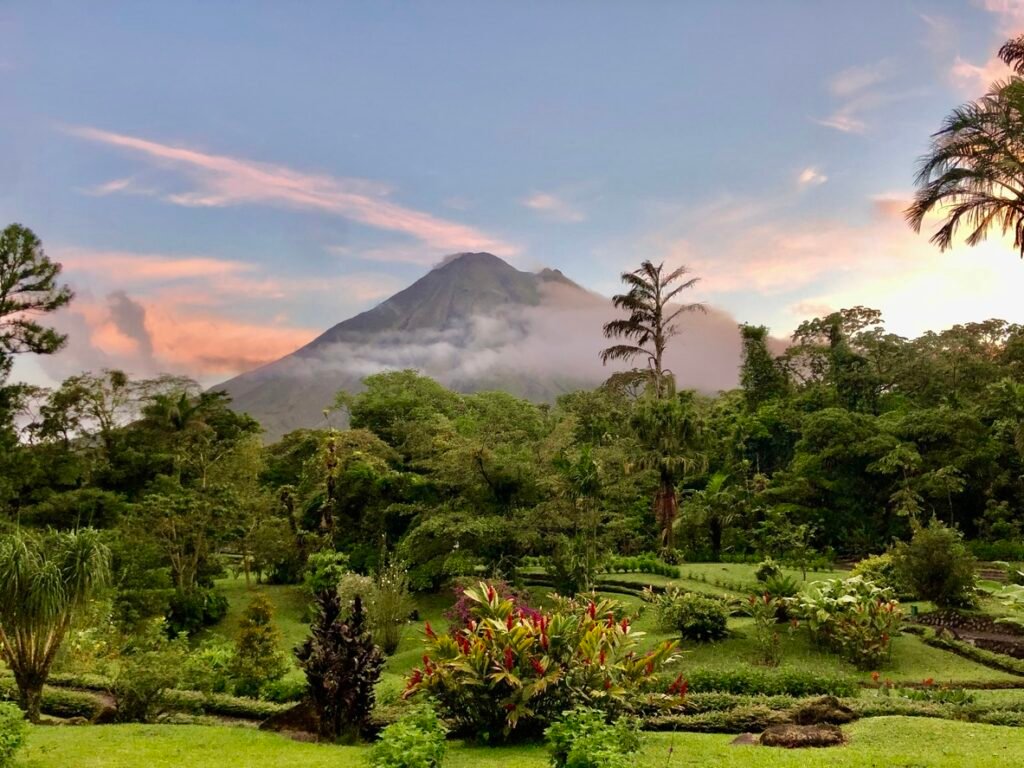 2. Rincon de la Vieja
Rincon de la Vieja National Park has the country's largest active volcano and there's a couple of fantastic Costa Rica hiking trails here.
One of the most popular treks is the moderate Blue Lagoon and Cangreja Falls hike, which takes you deep into the jungle. This out and back hike will take around 3-4 hours and is 6 miles in length, but will take you to a stunning waterfall. You can see the trail map here.
A shorter easier hike is the Las Pailas hike, which is a 2 mile loop trail around the base of Rincon de la Vieja volcano. This hike will take you to mud pools, waterfalls, swimming holes, and hot springs which are all situated along the path. Look out for toucans, spider monkeys and tropical birds! You can find the trailhead at the Las Pailas entrance.
If you want an even shorter hike, the mud pools – which are geothermal features generated by the volcano – are just a kilometer (0.6 miles) away on flat terrain from the trailhead.
3. Rio Celeste Waterfall
The Rio Celeste Waterfall Hike in Tenorio Volcano National Park leads you along the stunning Rio Celeste River – a river that's been praised for its incredible turquoise color and almost surreal appearance. The route is easy to follow and well-marked, but the river is what makes this trip so memorable.
This river and rainforest out and back trek is 4.3-miles and will eventually take you to the waterfall and it's natural swimming pool after descending several steep steps.
You'll need good footwear as it's necessary to hike over some rough terrain, tree roots and steep steps.
This trail can get busy, so we recommend hiking it in the early morning – then you may have the waterfall and its natural swimming pool all to yourself.
Our tip is to continue the hike past the waterfall as if you continue you'll reach a lovely viewpoint where two rivers meet.
This route becomes quite muddy when it rains, but in good weather it's a relatively easy hike. See the trail map here.
4. Mistico Hanging Bridges
The Arenal Mistico Hanging Bridges, a series of suspension bridges in the Volcano Arenal National Park, is one of the most popular and stunning short hikes in Costa Rica.
There are 15 bridges here, six of which are hanging in mid-air, and this easy 2 mile hike will take you over them to breathtaking views of the volcano and rainforest. These rope bridges just dangle among the trees – it's a real once-in-a-lifetime experience.
This trek is ideal for spotting wildlife such as monkeys and birds because it passes directly through the rainforest canopy. There are approximately 700 kinds of plants, 300 species of birds, and countless animals in this region – it's a wildlife lover's dream!
You can get access to the hanging bridges at the entrance of the Mistico Arenal Hanging Bridges Park – see information on that here.
5. Mount Chirripo
Mount Chirripo is Costa Rica's highest mountain, standing at 3,820 meters (12,530 feet) tall! If you're like us, then climbing a country's highest peak is always on the agenda.
Climbing the mountain, located in Chirripo National Park, will almost certainly need an overnight stay. That's because the hike up Chirripo is a challenging 12.4 miles one way, with an elevation of over 2000 meters.
The trail to Chirripo begins in the little mountain village of San Gerardo de Rivas and winds through forests and paramos (alpine tundra regions). Around nine miles in you will reach Base Camp Crestones which is where hikers tend to rest for the night – here you will find warm meals and beds.
Then the next day, over rocky mountainous trails, you'll reach the peak. There you'll get an astounding panoramic view of Costa Rica, from the Caribbean Sea to the Pacific.
You can find trail maps and visitor guides at the park headquarters a few hundred meters south of San Gerardo de Rivas.
6. Monteverde Cloud Forest Biological Reserve
The Monteverde Cloud Forest Reserve is 26,000 acres in size, but people are only permitted to see a portion of it. The remaining area is used to conserve the incredible wildlife and biodiversity that the reserve was established to protect.
So-called 'cloud forests' are distinct forests that are enveloped in cloud – from top to bottom – due to the dense vegetation and humid atmosphere. This reserve consists of a cloud forest and is home to the animals that live in them – like jaguars, toucans, pumas, and monkeys!
There's around 13 km of routes here, taking you deep into the lush rainforest and giving you incredible wildlife spotting opportunities. Depending on the path you choose, hikes should last between 1.5 and 3 hours. See all the trails, and a short description of each, here.
7. La Fortuna Waterfall
The spectacular La Fortuna Waterfall in Arenal is easily accessible by just a 15 or so minute walk down steps.
To find the trailhead, make your way to the La Fortuna lookout point – there you can park and pay an entrance fee. From there, you can see the waterfall surrounded by lush rainforest on all sides and below.
There's 530 steps to descend down to the bottom of the cascade using a trail that goes in and out of the forest. Near the bottom, you'll cross a fixed bridge, see some spectacular canyon stones, and finally reach La Fortuna.
At the bottom of the 70m tall waterfall is a huge natural swimming pool – the perfect place for a refreshing dip surrounded by ancient Costa Rican rainforest. It's a very short hiking in Costa Rica trek, so you have no excuse not to do it!
8. Catarata Bajos Del Toro Waterfall
Catarata del Toro waterfall is a stunning 270-foot cascade located in the crater of an extinct volcano near Bajos del Toro. The route to get there is just spectacular, taking you through deep jungle before falling steeply and opening up at the base of this waterfall.
The plunge pool is perfect for a swim after your hike. Take a picnic and sit on the rocks after your swim and take in the view. With the jungle above, this place looks prehistoric, and little has changed for millions of years.
This Costa Rica hike is on privately owned property, so there's a $10 entry charge.
9. Nauyaca Waterfalls
The Nauyaca Waterfalls trail is a 2.5-mile hike on flat, well-marked paths. A horseback riding excursion to the waterfalls is also available on site.
After approximately an hour of walking through very humid rainforest, you'll come to a clearing where there's two stunning waterfalls. The lower falls have a beautiful pool where you may cool off, or do as some locals do, and climb up the rocks to leap off.
Expect a noisy rainforest as you hike, with birds singing and monkeys screaming! If you're lucky you may catch a glimpse a sloth or two.
If you don't want to hike, you can take a horseback riding trip or a 4×4 to the waterfalls. Regardless of which way you want to get there, you'll need to pay an admission fee to hike to the waterfalls. That costs $10 – you can find more information on that here.
10. Barra Honda National Park
Barra Honda was formed to safeguard the area's 42 caves! The network of underground caves in this park can be explored, but you better like bats! You'll almost certainly come across hundreds that live within the caves.
For those who aren't interested in cave exploration, the park also offers several beautiful trails. Some paths lead up to spectacular views of the Nicoya Peninsula, as well as massive ceiba trees and caves.
The trails range in difficulty from easy to challenging. We recommend visiting in the rainy season as the rivers and waterfalls here dry up during the dry season, however this national park is incredibly green and lush during the rainy season, and has many roaring waterfalls.
You can find maps and visitor guides at the park entrance.
11. Santa Rosa National Park
Santa Rosa is the oldest, and also one of the biggest, national parks in the country, and is located on the northwestern tip of Costa Rica.
There are several trails to try, although they are recognized locally as being difficult due to the sometimes tough terrain. So even if you're an experienced hiker expect to get a sweat on if visiting! Still, it's well worth it as hikers will be treated to the gorgeous scenery as rainforest meets ocean.
Santa Rosa National Park is home to the world's only fully protected nesting beach for olive ridley sea turtles as well. From August through November you'll find huge numbers of young sea turtles – a really incredible sight.
12. Corcovado National Park
Corcovado National Park, located in the south, is Costa Rica's largest national park and is regarded by many as the country's crown jewel when it comes to national parks and ecological reserves!
That's because this park is one of the world's most biologically diverse and complex ecosystems. The habitats here are home to over 1,000 species of insects, plants, and animals such as spider monkeys, wild boars, scarlet macaws, tapirs, jaguars, incredible birds, and amphibians.
There's several hiking trails to choose from. Some will take you through coastal mangrove swamps, others through lush rainforest and across black sand beaches. You can see some of those trails here. A fantastic region for Costa Rica hikes.
13. Manuel Antonio National Park
Manuel Antonio is the smallest national park in Costa Rica, but is one of the best parks in country to navigate and hike. This coastal national park has stunning white sand beaches, coral reefs, and lush rainforest inland.
The infrastructure and trails here are well marked and there's many to choose from that span the width and breadth of the park. Trailheads for most start at the park's entrance, which is also where you can pick up maps and visitor guides.
The main route, which can be reached from the entrance, is flat and sandy and connects to all of the park's major beaches – some of which are the most pristine and beautiful throughout the country.
The Cathedral Point Trail, a short 0.9-mile loop that takes you out into a tiny peninsula will bring magnificent views, but can be a little difficult in places. Keep an eye on the canopy while hiking to try and spot monkeys and sloths.
You can find the national park's website here.
14. Cahuita National Park
Cahuita National Park, located on Costa Rica's southern Caribbean Coast, is fronted by a gorgeous turquoise sea. Unsurprisingly you'll find beautiful white-sand beaches, lush rainforests, and plenty of animals here.
Like most national parks in Costa Rica, Cahuita has a network of level, well-maintained paths. The region is abundant with howler and white-faced monkeys, so keep an eye out for both while in the park. The marine section of Cahuita is densely packed with tropical fish, stingrays, octopus, and nurse sharks!
There's a five mile trail that takes you through the park, and the trailhead can be found at the entrance. You don't need to have a guide, but we recommend taking one – you will have more luck spotting wildlife with one.
Recommended For Your Hiking In Costa Rica Adventure