Last updated on February 21, 2023 by Wandering our World
With open panoramic views, captivating scenery, and rugged mountains, camping in Snowdonia is undoubtedly the ideal outdoor holiday for a camping enthusiast. It's a truly unique vacation for tourists seeking a perfect mix between hiking breathtaking mountains but also enjoying Wales' gorgeous coastline.
There are several campsites in and around the region of Snowdonia to choose from – we recommend some of our top picks in this article.
For those seeking to explore hidden churches, enchanting castles and who are on the lookout for dramatic landscapes and spectacular waterfalls, wild camping in Snowdonia is also possible.
Although wild camping is technically illegal in most of the UK, it is generally tolerated in Snowdonia if particular guidelines are adhered to. We explain more on that later. (Related: The Best Waterfalls in Wales).
However to sum up quickly, most of the land in Snowdonia National Park is privately owned so if you want to stay on the right side of the law you will have to seek the landowner's permission (usually a farmer) to wild camp.
That said, wild camping is generally tolerated by landowners if it is just a small group of people camping, and tents are pitched on open fell land and away from roads. We have some tips for wild camping — and guidelines to be a considerate camper – later on in this article.
So grab your tent, some hiking boots, and a healthy dose of enthusiasm. It's time to begin your Snowdonia camping adventure!
Camping In Snowdonia: Nature At Its Best
Snowdonia, in northwestern Wales, is home to the highest mountain in the UK outside of Scotland, as well as the largest natural lake in Wales. Making it the perfect place to pitch up a tent.
A good quality walking in Snowdonia book – like this one which has dozens of trails – can help you plan what campsites may be of interest to you if you're planning a multi-day walking and camping trip.
If you're planning to walk and wild camp here (more on that later), then an Ordnance Survey map could be an invaluable resource for finding the perfect spot, away from settlements and rural enough so you will not be bothered.
However if you're looking for some great campsite recommendations, below we share some of our favourite campsites in Snowdonia. All of which are located close to some of the main walking, hiking and cycling routes in Snowdonia.
Some Of The Best Campsites In Snowdonia For Fun, Views & Adventure
1. Snowdon Base Camp
If you are looking for a gorgeous area within the famous Snowdonia National Park, Snowdon Base Camp offers you just that! Located at the base of Mount Snowdon, this campsite overlooks Cwellyn Lake, and has uninterrupted views across Wales' highest mountain.
This campsite is the ideal base for hikers and climbers, and has all the facilities you'd want after a tiring day of summiting Snowdon. Be that water fountains, fire pits on sleds, coin operated electric sockets, or even underfloor heating in the shower and toilet! There's some great breakfast and dinner options too, as the campsite is owned by the local pub, the Cwellyn Arms!
Access to picnic benches, a strict no music policy and no vehicle access on the fields makes this campsite a serene and peaceful place for camping in Snowdonia. It's also kid and dog-friendly. In short, we love this location for its scenic lakeside and mountain views, and true serenity.
Price: From £14 per night
Address: Cwellyn Arms, Rhyd Ddu, At the foot of Snowdon, Gwynedd, LL54 6TL
2. Llyn Gwynant Campsite
Waking up to enchanting views of mesmerizing valleys and rivers in Snowdonia is the holy grail of nature lovers! That is why we love Llyn Gwynant Campsite. It also has easy accessibility to walking trails, and lakes for swimming.
With accommodation options like glamping on site and great service, visitors can enjoy a unique experience. Llyn Gwynant is also in close proximity to Snowdonia's Watkin Path and serenity is assured on site as there are no sound systems allowed and a quiet policy in place after 11pm.
Although booking is required for all campers, this campsite is open all year-round and includes well kept facilities such as a shop, bar and showers.
Price: From £9 per night
Address: Nant Gwynant, Caernarfon, Gwynedd, LL55 4NW
3. Gwern Gôf Isaf Campsite
This enchanting 750-acre campsite is based at a traditional hill farm, located between the Llyn Ogwen lake and Capel Curig village. Made up of five charming camping fields and surrounded by two of Snowdonia's mountain ranges – Carneddau and Glyderau – this campsite is a great choice for hikers, bikers and families.
Gwern Gôf Isaf Campsite is a family-operated campsite owned by the Williams family since 1906 so expect an authentic experience! You can expect all the standard facilities, but helpfully you also have access to a washing machine and tumble dryer – perfect after a muddy Welsh hiking adventure!
The location also comprises of two bunkhouses that can accommodate around 18 visitors, three land-pods, two holiday cottages, and a Shepherd's Hut.
Although pets are not allowed, Gwern Gôf Isaf has an array of outdoor activities nearby that are available to visitors, including abseiling! This campsite is also very affordable, and great if you have kids as the sheep, ducks and chicks that live here will keep them entertained for hours!
Price: From £9 per night
Address: Capel Curig, Betws y coed, Conwy, LL24 0EU
4. Tan Aeldroch Farm
Now run as a nature reserve, this 42-acre Welsh sheep farm is recommended as an amazing base for all outdoor lovers. Situated a few miles along the River Lledr from Betws-y-Coed, this pristine campsite is as close to wild camping as you can get!
It's also the perfect place for a holiday near the high Welsh peaks. This campsite is home to various secluded spots and as its located within a couple hundred yards of the A470, trips to the sea are easy to do and a must! Looking at restoring the natural balance in the area, the eco-conscious owners encourage visitors to leave no trace when setting up camp.
This place has basic facilities like toilets, however, there are no on-site shower facilities. They do have fire rings though, so you can enjoy a campfire under the stars!
Handily, the nearest bar and food shops are in the village of Dolwyddelan which is just a five minute drive away. This campsite also welcomes pets and kids, and has several picturesque walks suitable for all ages within close reach.
Price: From £7.50 per night
Address: Dolwyddelan LL25 0SZ
Wild Camping In Snowdonia: Everything You Need To Know
DISCLAIMER: Below we give general advice, but we always recommend staying in an official campsite. If you choose to go wild camping/dispersed camping, then make sure you do so with someone who already knows the area where you're planning on camping for your own safety.
Like other areas of England and Wales, wild camping in Snowdonia is not technically allowed, however people still do it. Although campers are allowed to pitch their tent if they have the permission of a landowner.
Most land is privately owned for farming and forestry purposes within Snowdonia National Park. So if you can find the landowner and ask their prior permission then great! However that's often easier said than done, and they may ask for a small fee.
Yet the scenic mountains, waterfalls, verdant valleys and stunning coastline that makes up Snowdonia is a tempting destination for wild camping, whether you've got permission or not.
Therefore if you are planning to wild camp in Snowdonia – and can't be swayed to stay in a campsite instead – we've compiled the following guidelines to help you camp in a considerate manner:
You should camp in the same place for one night only, and pitch your tent discretely and in a remote place which will not be easily seen. Therefore don't camp in or near settlements, someone's farm or on cultivated land. If you think you're on private land, always try and seek out the landowner and ask permission. They may request a small fee.
Campers should set up their tent at dusk, and take it down at dawn. A tent that is discreet, blends in with the landscape, and pitches quickly is best. Therefore a lightweight walking tent like this one would be a great investment for someone planning to go wild camping in Snowdonia.
Be aware of signs that mention restricted areas, such as sites of scientific interest or areas of conservation to protect natural features. Avoid these areas completely.
Most hikers and walkers tolerate camping beside trails that involve multi-day hikes – after all, serious walkers need somewhere to sleep! However as a matter of courtesy you should camp away from any path.
Respect the leave no trace policy and take any rubbish with you, and leave your camping spot exactly the way you found it.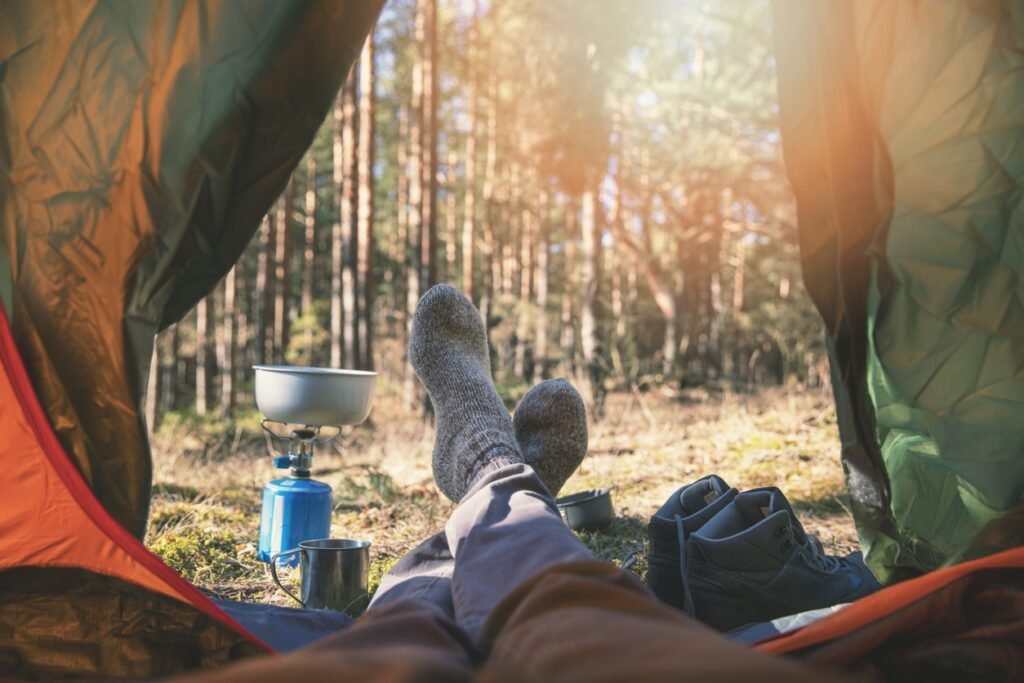 Below are our top tips for camping in Snowdonia:
Heavy rain can happen in Snowdonia – even during the summer months. Therefore make sure you have a rainproof tent that can survive rain. A lightweight one-man walking tent like this or similar would be perfect. For a good value tent that fits more than one person, this mosquito-proof one would work well too.
There are many water sources in Snowdonia but remember to always have plenty of water on you when you're walking and camping. A space-saving collapsible water bottle would be a good purchase.
If you're wild camping, then go to the toilet at least 30-50 meters away from water sources, such as rivers. Make sure to use a trowel (like this folding one) to bury any human waste.
Recommended For Your Trip To Snowdonia