Wandering our World is reader supported! If you purchase anything through a link on our site, we may earn a commission at no extra cost to you.
Last updated on December 1, 2022 by Wandering our World
Vancouver's oldest neighborhood, Gastown, is known for its boutiques, unique architecture and recently, also it's mouth-watering culinary spots.
From Asian-inspired dishes to European cooking, farm-to-table pub fare and more, the Gastown restaurant scene doesn't disappoint. The variety makes nights out here quite the adventure, as there's cocktail bars, craft beer spots, charcuterie-and-wine restaurants and more.
We're not going to show you every eatery that is out there (like some websites that say 'best restaurant' but include every restaurant in the area!), but instead share with you our five favorite Gastown restaurants, our five favorite bars for food, and then our favorite cafes. So you have a choice for whatever mood you're in. Enjoy!
The Five Best Restaurants In Gastown
1. L'Abattoir
This French influenced restaurant sees West Coast dazzle meet French cuisine, and from that Chef and patron Lee Cooper along with his team have created a refined industrial chic dining environment.
They have an impressive award-winning wine selection and a splendid cocktail list, making this a must-visit place for fine dining in the historic heart of Gastown. Easily one of our favorite restaurants in Gastown.
We recommend: The Pan-roasted Heritage Breed Pork Chop, with spatzl, raclette cheese and Swiss chard; The Venison Loin, with toasted bread and served with beetroot, cherry and endive in a blue cheese salad dressing; The Roast Country Lamb, with a sausage crust, cauliflower and green olive tapenade.
2. The Flying Pig
This restaurant's menu is inspired by whatever fresh local ingredients are available so you can always expect superb local creations. The Flying Pig's dishes are a take on family favorites and what they've created is a very homey dining experience.
They always focus on serving high-quality fresh products, but at an affordable price despite the quality on each plate. Expect passionate chefs and genuinely delicious food.
We recommend: The Beef Tartare and Bone Marrow which is hand-cut beef with roasted bone marrow, along with grilled focaccia pairs and an arugula salad; The Wild Mushroom Pappardelle which is made up of foraged mushrooms with walnut parmesan gremolata and seasonal veggies; The West Coast Seafood Paella, which has a West Coast twist on this classic dish, with clams, chorizo, fresh local fish, mussels and spicy saffron risotto. If you love mussels, we recommend their Pei Mussels & Frites which is prepared with chorizo, tomato, fennel white wine broth, spicy matchstick frites.
3. Pourhouse
This restaurant resides in a 100-year-old building and is furnished with antiques from the time or custom-made creations. So every piece here has its own unique story, including the pinnacle 38 ft bar which has been handcrafted from reclaimed 120 year old Douglas Fir planks. It's a dining experience you won't forget, and it's one of the most ambient restaurants in Gastown.
The meat-heavy dishes are clearly cooked with technique, yet centered around home-made themes, classic American styles, and made with local, fresh, seasonal ingredients.
We recommend: The Beef Tartare, made up of Wagyu beef from Lake Brant, capers, chippers, gherkin, mustard, quail eggs and shallots; The Pourhouse Burger which comprises an 7 oz of dry-aged beef, aged cheddar, caramelized onions, confit pork belly, grainy mustard-mayo, all between two slices of potato buns.
4. MeeT
This vegetarian restaurant shows that classic comfort food can be made entirely out of veggies from scratch, can be affordable, and most importantly, delicious. MeeT's main goal is to facilitate and aid an easy transition into eating more plant-based dishes, in a friendly, engaging, no-judgment environment. Definitely one of the most unique restaurants in Gastown.
We recommend: The Sweet-Chili Cauliflower, which is cauliflower dipped in crispy batter and tossed in a sweet-chili tamarind glaze with scallions and sesame seeds; The K-Town Poutine, which are delicious fries lathered in a dense cheesy gravy topped with kimchi and drizzled with a sweet ginger-soy sauce; The Mighty Mac, their signature patty with pickled jalapeños, crispy onion strings, chipotle mayo and topped with gooey mac & cheese. We also recommend their Crispy BBQ Burger which conisits of the signature burger patty, crispy-battered and tossed in our whiskey BBQ sauce, topped with crispy onion strings, a slice of chao cheez and chipotle mayo.
5. Tacofino Taco Bar
This great Mexican food eatery started out of the back of a surf shop parking lot in Tofino, British Columbia. The idea of merging tasty Mexican cuisine with the owner's west coast roots has now given birth to a few, but extremely popular, eateries and trucks across Canada. Including one in Gastown!
We recommend: The Beef Barbacoa Burrito, with crispy rice, salsa negra, cilantro, onion, jalapeno, hot mustard and braised red cabbage; The Vegan Chorizo Burrito, with spiced rice, pumpkin seeds, crispy onions, kale slaw, charred green onion aioli, cauliflower and hummus; The Eggplant Taco, with cilantro, sweet and spicy slaw, lime cream, sriracha and peanuts.
The Five Best Bars For Food & Drinks In Gastown
1. Alibi Room
Opened as a place for local craft beer in 2006, Alibi is a "modern tavern" where everyone can enjoy small-business ale from the lower mainland and beyond. They have a strong belief that beer is as versatile and flavor enhancing as wine, so expect creative drinks to go with the classic American comfort food they serve.
Their head chef Greg Armstrong understands this philosophy well, reflected by his sophisticated yet accessible menu of quality dishes with fresh local ingredients and ethically sourced animal meats. For us, this is easily one of the best restaurants in Gastown.
We recommend: The Warm Squash and Kale Salad, with smoked bacon, feta, pumpkin seeds, lentils and chipotle maple dressing; The Strip-Fried Rice Noodles, with tamarind-chili sauce, tofu, veggies, peanuts and hoisin glazed pork belly as an add-on; The House-Made Meatloaf, with smashed potatoes, kale, brussels sprouts, caramelized onions, carrots and poured creamy gravy.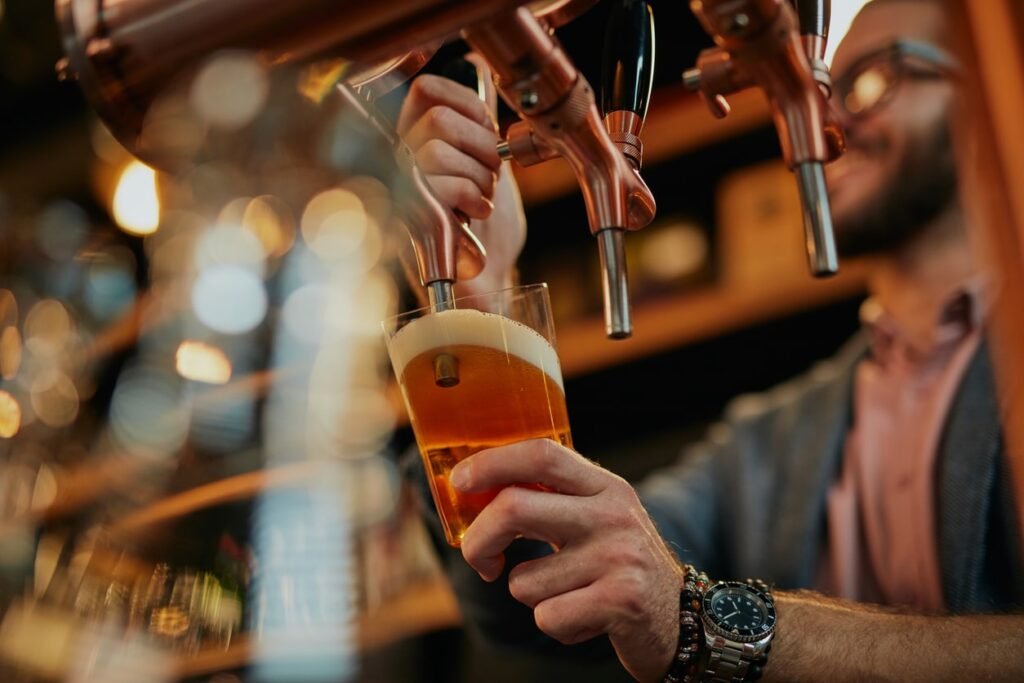 2. Steamworks Brew Pub
Steamworks has been famous in Gastown since the 1990s for their beer, and is a favorite of locals and visitors alike. They produce their own beer by steam, and the high temperatures give the ale a very peculiar, delicious taste. The pub name was taken from a well-known steam line that passes through town, hence their methods.
As for the food expect typical bar and pub classics like hearty sandwiches and delicious pizzas. This is a great Gastown restaurant for dinner with friends.
We recommend: Any of the tap craft beer flavors, such as Pumpkin, Cucumber or even Oatmeal scout ales; The Beer Soup, which has roasted carrots, celery, chicken, Spanish onions and lions gate beer, served with focaccia bread. The 12-Hour Pulled Pork Sandwich, with aged cheddar cheese, onion rings, creamy coleslaw, mayo and nitro stout bbq sauce; The Thai Chicken Thin Crust Pizza, with mozzarella, sweet peppers, peanut sauce and coconut creme fraiche.
3. Local Gastown
A fun bar with a carefree atmosphere. Their motto is to be lively and join in with the neighborhood! Expect fresh quality ingredients, clean casual outside spaces and genuine warm hospitality. Their menu is an eclectic blend of dishes and flavors, ever-evolving through the seasons.
We recommend: The Shrimp Dumplings, which is six steamed dumplings with spicy mayo, cilantro, ginger and garlic chili sauce, sliced green onions and chopped shrimp; The Truffle Cheeseburger, with arugula, shaved red onion, Swiss cheese and truffle jam; The Ahi Tuna Poke Rice Bowl, with edamame, Korean tofu, avocado, seasoned cucumbers, garlic and ginger soy served on rice and miso mayo.
4. Gringo
This hipster Mexican bar and restaurant is a vibrant and popular eatery around town. The atmosphere is friendly, and the rainbow neon light decor, inexpensive beer and exotic cocktail creations make this bar a fun place to hang out. Expect superb tacos and a menu to please any foodie that comes by at Gringo, one of the best restaurants in Gastown.
We recommend: The Wilbur Burrito which has Lexi rice, queso, beans, cabbage, smoked pork, cheddar and salsa wrapped in a soft corn tortilla; The Austin Taco, with saucy, smoky Angus beef and slaw topped with corn chips wrapped in corn tortillas; The Encino Bowl, made up of roasted chicken, mexi rice, beans, salsa,, cabbage, cheddar, green onion, cilantro garnish and sour cream.
5. The Salt Tasting Room
Located in Gastown's Blood Alley, The Salt Tasting Room is the place to go if you are lover of wine and charcuterie boards. They specialize in uniquely curated meats and artisan-made cheeses to pair with their vast selection of wines. The basic platters are constructed out of your top choices of cheese, meat and condiments. They also offer a few additional dishes for those who crave a more substantial meal with their wine.
We recommend: The Charcuterie and Cheese in a Pizza Box – choose 4 types of meat, 4 cheeses and 4 condiments with crackers. The Curried Fries, which are hand-cut, twice-fried kennebec potatoes with savory mild curry sauce. The Fish and Chips, with twice-fried kennebec potatoes, battered fish, house tartar, coleslaw and lemon.
The Four Best Cafes In Gastown
1. Nemesis Coffee
Although they have delicious pastries, their main focus is specialty coffees acquired in a moral and sustainable manner from growers all over the world. Nemesis takes their partnerships with these farms extremely seriously, and it's this ethical philosophy that makes them able to serve aromatic coffees with rich flavors from across the globe.
We recommend: The Elias Parra Roast from Finca Tamana which is a Colombian filtered roast with a dark honey flavor, a prune tang underneath with some notes of white gooseberry. It pairs well with the Cranberry Cheesecake Croissant.
2. Trees Organic Coffee
Since opening its doors in 1996, Trees coffee has been kept traditional. They only use high-quality organic coffee beans, and carefully roast in-house in small batches to conserve the rich-fresh flavors.
Trees have also become known as a cheesecake destination! They have a variety of cheesecake flavors prepared daily.
We recommend: The Papua New Guinea medium roast has a sweet syrupy body, with spicy and chocolaty notes. It pairs well with the Maple Walnut Cheesecake, made with pure Canadian maple syrup and soft, yet crunchy walnuts. Try the Tiramisu Cheesecake, it's deliciously creamy and moist with a subtle hint of coffee and cocoa powder.
3. Nelson the Seagull
This family-owned business specializes in coffee, brunch and sourdough bread. Expect simple, yet tasty options made up of high-quality ingredients. From their menu, open-space concept and decor, you can discover a gentle nod to South African culture. Their name in particular, was chosen based on the South African song "The seagull's name was Nelson," a classic on the radio during the owners' childhood years
We recommend: The House Sourdough which is one of the most essential items to try – it's fermented for 24 hours for a bouncy, soft yet crunchy, creamy loaf of bread; The Full Nelson Sandwich, which is made up of aged white cheddar, old fashion sweet ham, fresh tomatoes and iceberg lettuce with a bit of mayo between two slices of their sourdough bread.
4. Milano Espresso Lounge
Three generations of Italian coffee heritage has been brought to Gastown by founder and Master Roaster, Francesco Curatolo. Thanks to his passion for the traditional Italian methods of coffee roasting and his love for innovation, the "Milano taste" has been awarded and praised numerous times by the International Institute of Coffee Tasters.
We recommend: The Bourbon, a blend of eight contrasting origins, low acidity beans with a big body and deep mellow flavor of whiskey; The Black Candy, a dark roast with soft yet dominant cranberry and cocoa flavors and subtle candied fruit and vanilla tones.