Wandering our World is reader supported! If you purchase anything through a link on our site, we may earn a commission at no extra cost to you.
Last updated on December 1, 2022 by Wandering our World
The third oldest city in the state of Illinois, Edwardsville, was named after Ninian Edwards, the first governor of Illinois. Yet today, Edwardsville is known for its brick streets, stately homes, and the famous Route 66 that cuts through the city, right through downtown. With its instream of tourists, it's no wonder a cuisine culture has formed around this pretty town, making the restaurants of Edwardsville a must-stop when in the region.
If you plan on driving through the famous Route 66, stop by Edwardsville and enjoy the historic, small-town atmosphere, and the delectable food and great variety of unique beers and cocktails that make up this town's gastro-culture community.
We're not going to give you every eatery that is out there (like some websites that say 'best restaurant' but include every restaurant in the area!), but instead share with you our five favorite Edwardsville restaurants, our five favorite cafes, and then four favorite bars.
So you have a choice for whatever mood you're in. Enjoy!
The Five Best Restaurants In Edwardsville, IL
1. Cleveland-Heath
This upscale restaurant serves gourmet comfort food! Most of the ingredients used to prepare the menu are sourced from local farmers wherever possible, so freshness and community support is guaranteed.
Their menu mostly caters to the brunch and dinner crowd, and there's an excellent selection of mimosas on Sundays, and a daily happy hour between 2:30-5:30 p.m. Just remember to choose the outdoor seating on a sunny day! Definitely one of our favorite Edwardsville restaurants.
We recommend: The local squash, roasted with crispy carrots, chili oil, mint and lamb merguez ragout; the red Argentine shrimp, fish, mussels and clams in a spicy tomato broth with side toasts. Try the pomegranate and pineapple mimosas too – they're a delectable treat at brunch.
2. Sugo's Spaghetteria
House made Italian cuisine, with a calm casual atmosphere and reasonable prices. Continuing a multigenerational tradition, their menu is made up of recipes from Sicily and the Northern countryside that have been passed down by 'Mammas'.
There is no freezer in the kitchen as Sugo's receives their ingredients fresh and cooks everything from scratch daily. Simple homemade Italian dishes that will make you feel like your eating in the foothills of the Sicilian Mountains.
We recommend: The Bruschetta with parmigiano cheese, fresh basil, tomatoes and garlic, to open up your palate; the Funghi pastas with mushrooms and mushroom broth with roasted garlic and spinach; and the Babbo's pizza, with homemade tomato sauce, oregano, balsamic glaze, sausage and caramelized onions.
3. 1818 Chophouse
Their name is inspired by the year when Illinois official became a state. Using seasonal produce, house butchered steaks and fresh seafood, 1818 Chophouse has created a euphoric culinary menu for your palate. Although the restaurant has a strong focus on meats, their brunch menu is filled with succulent variations of things like eggs benedict that pair well with many of their various meats.
We recommend: The buffalo shrimp tacos, which are 4 flour tortillas packed with prawns fried and seasoned with buffalo sauce, topped with blue cheese crumbles, creamy slaw and applewood bacon; the slow roasted prime rib sandwich, roasted garlic provolone Italian roll filled with crisp arugula, horseradish cream and smoked onion jam; and the smoked salmon blini with chive creme fraiche, red pepper blini and creamed corn.
4. Bella Milano
This restaurant has a wholesome and charming atmosphere with a wide-ranging menu featuring Italian favorites.
Perfect for family dinners, celebrations, date-night and business meals, this locations offers multiple options for private dining. It is the perfect balance of reasonable prices and friendly ambiance but with the service of an upscale restaurant. Happy hour occurs Tuesday through Friday from 3-6 p.m. Definitely one of our favorite Edwardsville restaurants for an affordable dinner.
We recommend: The family feast serves 4 people starting at $40 and includes bread, Milano salad and your choice of pizza, pasta and dessert. Try the cajun gouda chicken which is hand-breaded, topped with mushrooms, roasted red bell peppers, smoked gouda cajun cream and green onions. The tortellini with beef, pork and prosciutto in a butter cream sauce with peas and mushrooms is a great choice too.
5. Oriental Spoon
The first restaurant in Edwardsville to offer Korean cuisine specialties. Family owned and operated, the menu is made up of casual, contemporary Korean-fusion dishes in a style that has appealed to the metro east community for 12 years. Their beverage menu has plenty of asian beer options, wines, soju and teas.
We recommend: The spicy pork bulgogi, which is sliced pork loin marinated in Korean ginger sauce and sautéed with roasted sesame seeds, white and green onions. The japchae, which is pan-fried glass noodles with sesame seeds, green onions, sliced beef rib-eye, onions, carrots and green onions. The kimchi bap, which is seasoned kimchi with sesame sauce and rice, topped with a fried egg.
The Five Best Cafés In Edwardsville, IL
1. Teaspoons Café
Experience the variety of rich aromas and flavors with nearly 50 options of loose teas by either the cup or a full brewed pot. Not to come up short in the coffee department, this cafe also offers many coffee selections including cappuccinos and espressos.
Breakfast or lunch, this small eatery has a menu completely made from scratch everyday, with gourmet pastries, salads, wraps, soups, sandwiches and more. A great cafe and restaurant in Edwardsville for a quick bite.
We recommend: The award-winning Liquid Jade tea is a green and white blend with a hint of bergamot, honey and citrus. Pair it with the asiago roast beef sandwich which is served on asiago brioche with fresh roast beef, romaine lettuce, Roma tomatoes, asiago cheese with flavorful horseradish mayo.
2. Goshen Coffee
A family operated coffee shop created with the coffee aficionado in mind. The coffee grounds are roasted everyday and delivered as soon as possible. Each batch is thoroughly inspected so that each coffee bag is nothing but high quality blends. With single origin, year-round, unique exclusive coffees blends from their 'secret stash', all of the coffee beans are ethically sourced from many different lands
We recommend: The Colombia La Paz from their 'secret stash' is an experimental coffee grown in Nariño, Colombia. It's a rare process done with red cacao nibs, grapefruit and raspberry, culminates in a rare coffee of unique flavors of dark chocolate and ripe fruits.
Try their secret stash salad, which is a light, yet interestingly flavored plate of mixed greens, radish, carrots, crunchy chickpeas paired with a honey mustard vinaigrette.
3. 222 Artisan Bakery and Café
Owner Trevor Taynor underwent extensive training at the San Francisco baking institute, where he gained knowledge and insight into how to bake creative, aromatic, from-scratch breads with natural-stone ground flour.
The pastries and tarts at 222 Artisan Bakery are made with many yearly and seasonal ingredients and you can create your own pizza with a varied assortment of meats, cheeses and veggies. The sandwiches are big and tasty too. If you're wanting a restaurant in Edwardsville for a tasty brunch or lunch, this could be it!
We recommend: The sourdough classic and the French farm house breads, as well as the seasonal bakers choice with options such as cranberry walnut and spinach and cheese, to name a few.
Pair a full-bodied coffee roast with a delicious lemon poppyseed muffin, a cherry pecan scone or a creamy blueberry danish.
4. The Cup
This gourmet cupcake cafe bakes exceptional cupcakes, cookies and offers delicious Kaldi's coffee to pair with their exceptional desserts. They have various award winning cupcakes created with their buttercream frosting made from scratch every day.
The owner, Ericka Frank, drew inspiration from her travels where quaint corner bakeries are appreciated as landmarks. Every serving of cupcakes or full cakes is a marvelous experience, especially to desert aficionados.
We recommend: Their grasshopper cupcake made with dark chocolate cake and vanilla mint buttercream; the maple bacon cupcake made with maple pecan cake, maple brown sugar frosting, and topped with toasted pecans and brown sugar-glazed bacon; the limited edition Black Forest cupcake made with dark chocolate cake, vanilla buttercream, cheesecake filling and sweet cherries topping.
5. Tastea
Tastea has high-quality Boba Tea made from imported tea leaves directly from china, and pairs it alongside fresh fruits, for a delicious and healthy tea. They don't add any food colorants, frozen fruits, or powder to make their products. Only the highest quality ingredients are used, making fr a one-of-a-kind organic Boba tea.
1.We recommend: The jasmine green tea blend with salted cream cheese; the black grape green tea blend with jasmine green tea and salted cream cheese; the Peach oolong tea blend with salted cream cheese.
The Four Best Bars In Edwardsville, IL
1. Global Brew Tap House
This bar has 50 beers on tap, and offers an abundance of craft beers from around the globe as well as a multifaceted wine list. Their motto – "believe in good beer" – isn't surprising considering they've created a space for people who appreciate and share a love for beer.
They also provide excellent pub fare such as charcuterie boards, gourmet grilled-cheese sandwiches among many others.
We recommend: The sausage trio boars, which is polish, andouille and kielbasa sausages, beer cheese, cornichons, pickled onions, kraut, a half pretzel and stone-ground mustard. Spinach artichoke dip, which is fresh artichokes, spinach with three-cheese blend along with blue corn chips.
As for beers, the stout nitro creme brûlée, the 420 extra pale ale and the alive in its jaws IPA, are but some of the many flavor-packed beers that are available from their draft list and worth trying.
2. The Wooden Nickel Pub and Grill
Rustic handcrafted woodwork and oak floors give this fun pub an old-town air, which is why this has been a gathering spot for locals for ten years!
It has the perfect atmosphere for game day thanks to their multiple flat screen TVs, as well as a casual dining on their patio seating. They have a wide range of rotating draft beers, craft beers and wines.
We recommend: The lobster Rangoon, blended with seasoned cream cheese and paired with sweet chili sauce; The nickel nachos, which is grilled chicken, jalapeños, tomatoes, black olives, lettuce, nacho cheese and chips covered with their secret sauce and served with sour cream on the side.
And the Frisco Melt, which is grilled sourdough bread with a burger patty, 1000 island dressing and provolone cheese.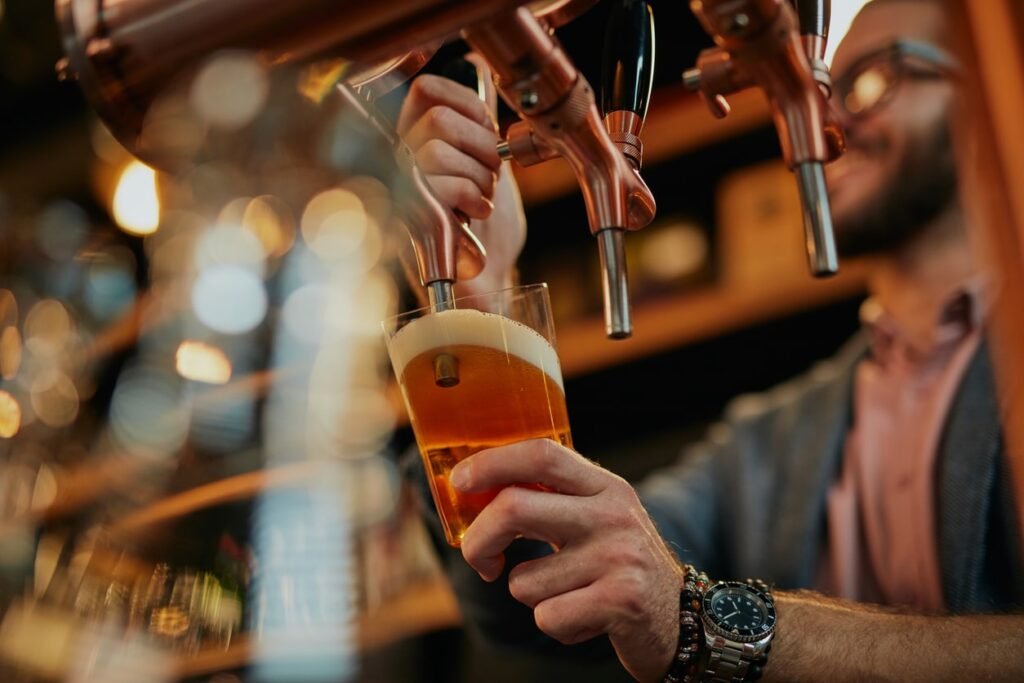 3. The Cabin at Creek
This full-service bar has a seasonal rotating menu of can and craft beers on tap, cocktails and wines. They also have a menu of simple, straightforward pub food made using local produce.
This place is a go to for locals when they want live music – which happens some evenings here – and to watch sports. It's also known for the friendly service, great prices, peculiar decor and fun atmosphere.
We recommend: The Frank panini, which is sliced smoked turkey with homemade bacon jam, fresh sliced avocado and sriracha mayo. My Nolan sandwich made up of roasted apples, brie, cinnamon, peanut butter and bacon with a trickle of honey. Their list of drinks is massive, however you can't go wrong with any of their special cocktails.
4. Big Daddy's
With multiple TVs inside to watch sports, and a gorgeous outside garden-bar to watch the world go by, there's a little something for everyone here.
Outside the beverages list, they offer a full menu for lunch and dinner, with daily specials. You can enjoy your next Casula celebration with a workable food and drink package, as well as live DJs every Thursday- Saturday. Definitely one of our favorite Edwardsville restaurants for good food in a laid back atmosphere.
We recommend: The pump house ribeye, which is a 14 oz hand-selected cut choice Angus steak served with veggies and deep fried mash potatoes. The Southern tilapia sandwich, which is a 5 oz breaded tilapia with signature spices served on a king Hawaiian bun with mayo and pickles.