Last updated on October 5, 2022 by Wandering our World
Camping on Whidbey Island is a great alternative to more expensive accommodation, and it gets you much closer to nature! That means you can spend more time exploring the island, spotting native wildlife, visiting the plethora of artisans living on Whidbey, and enjoying some of the famous Whidbey Island mussels and other fantastic seafood that this place is known for.
You'll find a huge range of outdoor adventure activities here too, from hiking and kayaking to paragliding!
Luckily Whidbey Island has a number of amazing campgrounds that will fit almost anybody's needs. So whether you want to pitch a tent in a rustic nature-orientated campground, or go luxury camping in your deluxe RV, there's a spot for you here.
And if you're planing your own Whidbey Island camping adventure then you're in the right place!
Why? Well we know this area well, and so want to share with you everything we know about the island. Below we show you the best campgrounds on Whidbey Island, explain the rules around dispersed camping on Whidbey Island, and even show you the best places to spot whales and orcas!
On top of that we show you our favorite hikes on the island, share a free camping game that's perfect for camping on Whidbey, and even more.
So read on to begin your Whidbey Island camping adventure!
CONTENTS:
The Best Whidbey Island Campgrounds
Dispersed Camping On Whidbey Island
Whidbey Island Campfire Rules
The Best Time To Camp On Whidbey Island
Festivals On Whidbey Island
Whale Watching On Whidbey Island
Go Digging For Mussels
Scenic Hikes You Must Try
Free Scavenger Hunt Camping Game
The Six Best Whidbey Island Campgrounds For Fun, Views & Adventure!
Whidbey has around 20 campgrounds and RV parks for you to choose from spread throughout the island. Some of those reside in state parks while others are in privately owned..
To help out, we've picked our six favorite Whidbey Island camping options for you to review.
Not only do we explain why we love each place, we also detail what makes each campground unique, the facilities there, and what's close by to each. All so you can make the right decision about where to stay.
1. Fort Casey Historical State Park Campground
Fort Casey Historical State Park is a go-to destination for history buffs. And staying at the campground in the park means you can spend as much time as you like exploring this history-filled area at a very affordable price.
There's plenty of historical sites and buildings to enjoy if camping here (as we show you below), as well as lots of coastal scenery, wildlife, and hikes to explore too.
And with all of the park's buildings, ladders, hidden rooms, forts and cannons to check out, this is an especially fun place for kids to visit and stay.
The campground has 22 standard campsites and 13 partial hookup campsites that provide water and electricity for RVs. There are a limited number of pull-through RV sites that can accommodate vehicles up to 40 feet.
Fort Casey is prone to naval jets flying over the area for a number of hours on any given day though, so if you're concerned about the sound of jet noise, this is not a good campground for you. But if you're excited about seeing jets race above your head, then this is a fantastic location.
Amenities and Facilities
Fort Casey Historical State Park Campground has one restroom and several showers for campers to use.
There is an unsheltered picnic area with 68 picnic tables and one fire ring for community use.
There is also a park store that provides camping essentials such as firewood, ice, snacks, water, and a range of other items.
What's Close By
Staying at Fort Casey Historical State Park means you'll be spending much of your time in the park exploring nature and experiencing all the history there. Fort Casey was being used by the military in the 1800s up until the 1940s and the remnants of that time are everywhere.
You'll be able to visit the Admiralty Head Lighthouse, which was built in 1903. It is located 127 feet above the Puget Sound waterway and has fantastic views.
Boating and saltwater fishing are hugely popular activities in the park too, as is exploring the beach and bird watching or simply relaxing and people watching.
Another one of the fantastic features of this park is the Keystone Underwater Dive Park, which provides two distinct dive spots, the Keystone Jetty and the abandoned dock pilings.
You'll be able to see a range of fascinating marine life living just offshore there, including Giant Pacific octopus that live in the boulders by the jetty. Watch out for piles of crab shells – those indicate where the octopus live!
And if you're up for a hike, this park has direct access to the Pacific Northwest National Scenic Trail, which is a 1,200-mile-long track that takes you along the best hiking the Pacific Northwest has. Of course you don't need to do the entire 1,200 miles, but you can experience a small part of it.
As you can see, this Whidbey Island camping option opens up opportunities for lots of activities! Be that in nature or immersed in history. So if you're looking for an activity based camping vacation this is a fantastic campground to stay at.
The Important Info
Rates: $12 – $50 per night
Address: 1280 Engle Road Coupeville, WA 98239
2. Deception Pass State Park Campground
Deception Pass State Park is one of the most popular destinations in Washington and connects Whidbey Island to Fidalgo Island via two enormous bridges 180 feet above the water, which you're welcome to walk across if you dare! Camping and then catching the sunrise over those bridges is spectacular, and an absolute must if you do choose to stay here.
The park has three large campgrounds with 172 tent sites, 134 partial hookup sites, and five sites dedicated to hikers or bikers. You'll need to make a reservation online if you want to stay at any specific site.
Bowman Bay Campground has 18 tent sites and two utility sites, Quarry Pond has 7 tent sites and 49 utility sites, and Cranberry Lake has 147 tent sites and 83 utility sites. The sites are quite spacious and private, but this is a popular campground and state park, so it can get busy.
The advantages to staying here is the opportunity to be immersed in nature as the campgrounds are surrounded by Deception Pass State Park. That means you can explore everything the park has to offer as soon as you wake up – that includes hiking, walking across those massive bridges, swimming, fishing, birdwatching, canoeing and kayaking.
You'll be waking up to the sound of birds, and going to sleep with stars above your head after an activity filled day in nature. Sounds good right?
Amenities and Facilities
Spread throughout the three campgrounds are one dump station, 20 restrooms, and 10 showers. Each campsite also has a picnic table and an outdoor grill, whilst fresh water is available nearby.
A store in the park provides camping essentials like snacks, drinks, ice, and firewood. In addition, a small store called Campsite Coffee sells additional food, drinks, and some pretty good coffee.
On top of that kayaks and canoes can be rented from the concession stand at Bowman Bay.
What's Close By
This park is huge and has 38 miles of hiking trails, six miles of horseback riding trails, and three miles of bike trails! You're also connected to ten miles of the Pacific Northwest National Scenic Trail (PNT), which is that 1,200-mile-long scenic trail we talked above before. It has some of the best views in the state.
You can go boating and fishing in the ocean beside this campground, or in one of the three lakes in the park too. And if you want to go crab hunting for your dinner, there are excellent spots on the beach. You can also go out diving to explore everything the marine park area has to offer in terms of sealife.
There is also a range of guided tours from park staff that you can go on, including things like morning bird-watching walks and tide pool exploration walks. Those guided tours are not only fun, but super interesting too.
The Important Info
Rates: $12 – $50 per night
Address: 41229 State Rte 20, Oak Harbor, WA 98277
3. Fort Ebey State Park Campground
Fort Ebey was a World War II coastal defense fort that now serves as a state park and campground. There's even an old battery dug into the high bluffs here that you can explore as part of your adventures around Fort Ebey Park.
This campground is available from March 1 – October 31, and there are 39 tent campsites and 11 partial-hookup campsites that provide water and electricity. There is also one dedicated campsite for anybody that arrives by kayak or canoe.
Staying here gives you a chance to explore parts of World War II history by literally stepping inside fortifications, while also enjoying all the nature and coastal scenery Whidbey Island is famous for. It's a fantastic Whidbey Island camping option.
The campsites are also spacious and feel very private thanks to all the forest and trees you will be surrounded by. It's a much more peaceful campground than the more popular Deception Pass, so if you're looking for serenity away from the crowds, this is a great choice.
Amenities and Facilities
The campground provides one restroom with a vault toilet and two showers. There are also a number of sheltered and unsheltered picnic areas with tables and barbecues for community use spread around the campground and beach area. Those are great areas for socializing and sharing stories about your day's adventures.
There is a park office that sells firewood, ice, snacks, and a range of other items for you to check out too.
What's Close By
Staying at Fort Ebey State Park means you'll be surrounded by the park and ocean and the range of activities that both provide. Although if you're looking for restaurants and stores, you'll need to drive out of the park for about 20 minutes to find any.
Up on the bluffs of Fort Ebey, you'll find dug out World War II gun placements and bunkers, and you can go exploring through all the rooms there to check out the history that has been left behind. You should bring a torch or headlamp so you can explore fully. Be careful while doing so of course.
Another two extremely popular activities at Fort Ebey are surfing, as well as paragliding from the bluff. Even watching the paragliders jump off and glide can be an amazing sight.
There are a range of other activities at the park, including 25 miles of hiking and biking trails. And if you get a recreational license, you can go freshwater fishing, seaweed harvesting, or shellfish harvesting, so you've even got something to cook on your campfire in the evening!
The Important Info
Rates: $12 – $50 per night
Address: 400 Hill Valley Dr., Coupeville, WA 98239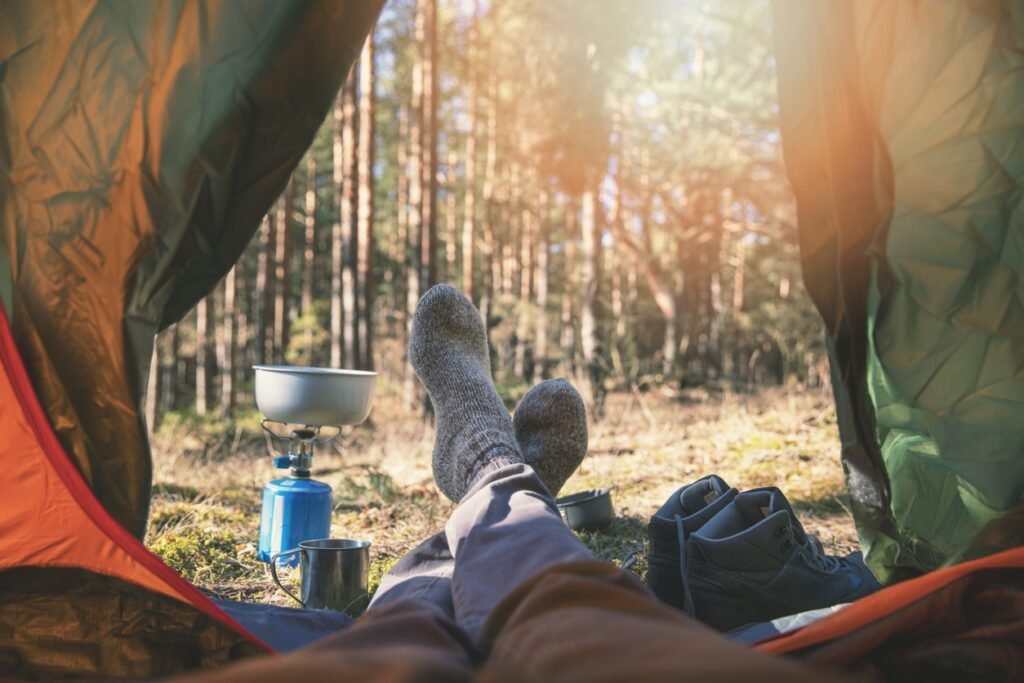 4. North Whidbey RV Park
North Whidbey RV Park is located right across from the Deception Pass State Park entrance, so it gives you full access to the park and everything on offer there, but in a much more comfortable environment for RVers. That's because there's full hookups at this RV park, and many more amenities and facilities here than you'll find in state park campgrounds.
There are 100 full hookup sites for large RVs and trailers, but no tents sites. The campsites are spacious, the campground is quiet, and the facilities (see below) are very good.
The roads and pads are concrete for easy manoeuvrability too. It's also a family friendly place and is one of the most dog friendly campgrounds in the region too – they even have a big dog park!
Amenities and Facilities
North Whidbey RV Park provides 100 full hookup sites, and each campsite has a concrete pad, picnic table, and fire pit. On top of that the entire campground has free WiFi!
There are several heated showers and restrooms, as well as a coin-operated laundry too.
A full clubhouse is available that gives you access to a shared kitchen, day room, and coffee lounge. There's also a kids playground, fenced-off pets area, gazebo with a barbecue, and it's close to the marina and multiple boat launches.
So facilities wise, this is easily one of the best Whidbey Island camping options for RVs.
What's Close By
North Whidbey RV Park is located right beside the entrance to Deception Pass State Park, which provides you with access to miles of hiking and biking trails, beaches to explore and swim at, as well as fishing and crabbing opportunities.
Close to the RV park is also the Deception Pass Golf Center, so you can play a 9-hole round of golf, an 18-hole round of mini-golf, or just practice your shot on the range.
The Important Info
Rates: $50 – $60 per night
Address: 565 Cornet Bay Rd, Oak Harbor, Washington 97277
5. Rhododendron Campground
Rhododendron Campground is a smaller campground than most others on the island. It's situated in a largely forested area that's well-known for the huge number of rhododendrons that bloom during spring – hence the name!
It's located towards the southern end of the island, which is unlike many of the other campgrounds that are based in the north, but offers some of the cheapest camping on Whidbey Island.
There are just 15 campsites in total, and three can accommodate RVs but those only have a water hookup. There is no electricity or dumping station.
This place is primitive camping, but the sites are spacious and you feel right in the middle of the nature. There is one downside though – navy jets sometimes train at night directly above. So you may have some jet noise.
The campground is closed from November 1 – April 1.
Amenities and Facilities
Rhododendron Campground provides vault toilets, barbecues, picnic tables, fire rings, and freshwater is available.
The campground is connected to Rhododendron Park, which has three large athletic fields, full-service restrooms, a picnic area with tables including a sheltered area with a barbecue, and a playground for kids.
What's Close By
Rhododendron Park is just down the path, and it provides a range of hiking trails through a rhododendron forest, which looks spectacular during the annual spring bloom.
The park also has a range of athletic fields used for little league games, so the campground is the perfect spot to set up camp for tournaments and other activities in Rhododendron Park.
The Important Info
Rates: $15 per night
Address: 20265 SR 20, Coupeville, WA 98239
6. Cliffside RV Park
Cliffside RV Park is located on the western shoreline overlooking the Strait of Juan de Fuca, and if you peak across, you'll even see Vancouver Island, Canada, looking back! It really is the perfect location to enjoy a relaxing camping experience with fantastic views and great amenities.
One big requirement to stay here though, is that you or someone you're with must be an active or retired military employee, a veteran, a reservist, or similar. The primary booker can sponsor two other campsites if there is availability though.
This park provides 52 full hookup RV campsites, and most have an ocean view. There are also ten tent campsites tucked into the treeline with partial ocean views. On top of that there's a number of cabins and yurts if you want a more comfortable Whidbey Island camping experience.
Amenities and Facilities
Each campsite comes with a picnic table, fire pit, and a grill, and there are showers and restrooms throughout the park, a free laundry facility, and free WiFi.
There are five covered pavilions for community use that have picnic tables and barbecues available too. And also fireplaces to keep warm during colder nights.
A range of events are set up most nights so people can interact together, including beer evenings, wine tastings, painting, and a range of other activities.
What's Close By
Close by is the Gallery Golf Course which is a challenging 18-hole course that runs along the coastline, so you've got great views while playing. You can also get lessons or join any tournaments that are running when visiting. There is a pro-shop and a grass driving range for practice.
You're also close to a range of other activities and services on the base, including paintball, a gym, rec center, food, and a range of other things.
The Important Info
Rates: $20 – $53 per night
Address: Oak Harbor, WA 98278
Dispersed Camping On Whidbey Island: Everything You Need to Know!
DISCLAIMER: Below we give general advice, but we always recommend staying in an official campsite. If you choose to go dispersed camping, then make sure you do so with someone who already knows the area where you're planning on camping for your own safety.
Dispersed camping is going to be challenging on Whidbey Island due to the limited available official options. Though dispersed camping is legal on Whidbey Island, and across the entire state of Washington.
Public land owned by the state or federal government are typically your best options for dispersed camping; this includes forests and areas managed by the US Forest Service (USFS) and Bureau of Land Management (BLM).
If you find an area where you can freedom camp, then setting up your dispersed camping site still requires you to follow certain rules and regulations so that you're not asked to leave. Those include:
Dispersed camping is legal for 14 days within a 30-day period in the same location.
Don't camp near trailheads, picnic areas, or developed public and private campgrounds.
Use existing sites and amenities when available.
Set up on a site with no vegetation.
Don't camp within 200 feet of a water source.
However most of the state parks on Whidbey Island have pay-for-use campgrounds, which means you won't be able to legally freedom camp in those locations.
Whidbey Island Campfire Rules
Washington state has serious problems with wildfires and often issues bans on any type of recreational fires, including campfires. So you must check if there are any burn restrictions in place before starting any type of fire on Whidbey Island.
If there are no restrictions in place, then recreational fires are allowed on Whidbey Island without a permit, as long as they meet certain requirements:
Campfires shouldn't be more than 3 feet in diameter or 2 feet high.
Charcoal or wood must be used.
The fire must be in an enclosure no bigger than 3 feet but must be at least 16 inches high.
You need a garden hose or 2-gallon bucket of water available.
A shovel or rake is available.
The fire must be a minimum of 25 feet from any timber, structures, or power lines.
Tree branches can't be within 15 feet of the fire.
Somebody 16 years or older must be with the fire at all times.
The fire must be on bare ground.
Permission is required from the landowner.
The Best Time To Camp On Whidbey Island
The best time to camp on Whidbey Island is between May and October, as the weather is pleasant for most of the time then, and the rainfall isn't as heavy. The Pacific Northwest is well known for having big rain seasons, and camping in the rain is not especially pleasant!
Temperatures from May to October can range from 10°C to 24°C, and it only rains between 3 to 8 days out of each month.
Between November and April, the rain is much higher, humidity is high, and the temperature drops significantly, ranging from 3°C to 11°C.
Of course it's not only the weather that can decide when you want to go camping on Whidbey Island, there's other factors too. Such as annual festivals and events you'd like to take part in, or wildlife you'd like to see – like the incredible whales you can see off the coast of Whidbey during the migration season.
We take a look at those things next!
Festivals On Whidbey Island
Whidbey Island has a number of festivals where you can enjoy the local flavors, art, music, and natural beauty of this place.
Here's a few that are worth knowing about:
Penn Cove Mussel Festival happens in March and has the world-famous Whidbey Island mussels showcased in a range of food, mussel eating contests, fun activities, and tours of the local farms.
Oak Harbor Music Festival happens in September and features over 30 bands across all music genres. It's a fun event and crowds of 20,000 from across the country attend.
Anacortes Arts Festival happens in August. It's a showcase of local artists, including painters, musicians, dancers, and street performers. There's activities and food available and the festival attracts around 90,000 people over three days!
Autumn on Whidbey Wine, Spirits, and Art Tour happens in November, and is a self-guided tour of five of the best wineries and distilleries on the island. They showcase their best products with fabulous food, whilst local artists showcase their art at each venue.
Past venues have included:
Comforts of Whidbey
Spoiled Dog Winery
Whidbey Island Distillery
Mutiny Bay Distillery
Blooms Winery Tasting Room
Holmes Harbor Cellars
There is also an opportunity to buy a case of 12 mixed bottles from each venue for $20-$25. Which is an incredible deal and a good souvenir to take home – if you don't drink them all before!
Whale Watching On Whidbey Island
Whidbey Island is a perfect location to head on a whale-watching excursion from one of the many tour operators. But you can even whale watch from the shore and spot grey whales and orcas.
The best time to see whales around Whidbey Island is between March and May for grey whales, and May to October for orcas.
And some of the best places to whale watch from shore include:
West Beach is one of the best places to whale watch as it provides a clear view for miles! So you get a great opportunity to watch the whales pass by for quite some time.
Penn Cove is an extra special location as it's filled with sea life, including ghost shrimp and seals – which makes it a favorite feeding ground for whales and orcas looking for a snack! Grey whales will typically dig for ghost shrimp, while orcas will chase the seals, so both are amazing experiences to watch.
Hidden Beach is a public beach that has incredible views far out into the ocean. It's another great spot to see orcas or grey whales passing by.
Lagoon Point has a public beach that is also known locally as a great viewing area for whales.
Seawall Park is located just below Langley, and you can watch whales pass by there. You may even see them feeding on shrimp there too.
Go Mussel Digging On Whidbey Island
Whidbey Island is home to some seriously famous and tasty mussels. They're some of the best in the country, and when you're eating mussels in a restaurant in the US, they've often come from Whidbey Island!
Mussels, clams, and oysters can be harvested from Penn Cove between July to August, but check the exact dates for the year you're going. You can also harvest mussels in the nearby Twin Lagoons year-round.
If digging for clams and mussels doesn't sound like a good time to you, but eating them does, then there are a range of restaurants on Whidbey Island that will be happy to serve you up their best mussel dishes. You can't get any fresher than the mussels served on the island.
Scenic Hiking Around Whidbey Island
Whidbey Island has a huge range of hiking trails to match everybody's level of fitness and ability. Most campgrounds on Whidbey Island also have access to good hiking trails, so you may not need to go far to find a great hike to try out.
Hiking on Whidbey Island can be done year-round, so if you love the trails but don't want to visit during the much busier summer months, then fall and winter still provide great hiking options.
If you're a huge hiking enthusiast looking for the best scenic hiking around Whidbey Island, we've got you covered with the hikes below. Most are easily accessible from any of the campgrounds around the island.
Ebey's Landing is a 5.5-mile hike suitable for the whole family, including the pup! You'll be taken 300 feet high on top of the bluffs to see fantastic views back down onto the rocky beaches.
South Whidbey State Park Old Growth Forest is a quick 2.2-mile hike through the forest of old-growth cedar and large old Douglas fir trees. There are multiple other trails that you can connect to if you want a longer hike, including Fern Gully and Ridge Loop Trails.
Deception Pass State Park doesn't have a single trail, but is filled with 38 miles of hiking trails to keep you busy for multiple days, and of course you can even camp at the park's campground. Many of the trails are short at 2-3 miles long, but are suitable for the whole family.
Dugualla State Park is a much quieter area and has a 5-mile loop of trails that take you to the beach, through the forest, and back.
No matter where you go on Whidbey Island, you'll be sure to find some great hiking trails, and in most situations, your dog can come with you on a leash. However, there are also two designated off-leash parks and adventure areas that your dog can enjoy:
Greenbank Farms Trail is a 3-mile hike with meadows and forested areas where your dog can roam freely. It's just north of Freeland on the south end of the island.
Double Bluff Beach is a 2-mile area where your dog can run and play in the sand without any problems or tickets issued. It's close to Freeland on the south end of the island too.
Whidbey Island Camping: Free Scavenger Hunt Game!
If you're looking to entertain children while camping on Whidbey Island – or you fancy having some fun for yourself – then we've created a printable scavenger hunt game!
Save the image and print it out, then tick off what you find and achieve during your camping holiday.
The game encourages players to get out and discover wildlife and nature, as well as make new friends and do fun camping activities. Enjoy!