Wandering our World is reader supported! If you purchase anything through a link on our site, we may earn a commission at no extra cost to you.
Last updated on July 4, 2023 by Wandering our World
The Isle of Harris is a beautiful island located in the Outer Hebrides of Scotland, and attached to the equally pretty Isle of Lewis. This island is known in Scotland for its stunning beaches, rolling hills, and rugged coastline, and plenty of opportunities for outdoor activities, such as hiking, biking, and our favourite – camping!
The Isle of Harris also has a thriving arts and culture scene, with several festivals and events taking place throughout the year. In short, it's a fantastic destination.
And if you're planning your own Isle of Harris camping adventure then you're in the right place!
Having spent years going back and forth to the stunning Scottish Highlands and Harris, we're now here to help you plan your camping holiday.
Below we share our favourite Isle of Harris campsites, before looking at the rules around wild camping in the Isle of Harris. We even share some ideas for wild camping spots in the Isle of Harris too.
There's even more – such as a free camping game that's perfect for kids. That's right at the bottom of this article!
So read on to begin your Isle of Harris camping adventure!
CONTENTS:
The Best Isle Of Harris Campsites
Wild Camping On The Isle Of Harris
Ideas For Wild Camping Spots On The Isle Of Harris
The Best Time To Visit
Six Unique Things To Do
Free Camping Game
The Best Campsites In The Isle Of Harris For Fun, Views & Adventure
In our opinion, camping on the Isle of Harris is probably the best way to experience the island. Thankfully there are many different camping spots located throughout the island, each with its own unique scenery and amenities. Plus wild camping is possible too – as we explain later.
When choosing a campsite, make sure to consider the type of camping you want to do, as well as the facilities that are available. After all, some Isle of Harris campsites are quite basic.
To help you out, here are our favourite campsites on the Isle of Harris for fun, views and adventure:
1. Horgabost Campsite
Horgabost Campsite is a scenic and peaceful campsite on the west coast of Harris. It is situated close to the Machair and the beautiful Horgabost Beach, set against a stunning backdrop of white sand and blue waters. This place is basic, but the beachside views are incredible.
The campsite is run by the Grazing's Committee, and there's a tasty burger bar open during the summer at the entrance. The campsite operates on a first-come, first-served basis, and fees are posted by the gate. There are no hook-ups available.
The facilities include a site office, which will be manned during the week from Monday to Saturday. And separate male and female toilets, including accessible toilets, as well as shower cubicles with coin-operated electric showers.
The wash-up area has two deep sinks, and there is also a communal fridge and freezer for icepack freezing. The chemical disposal point is coin-operated, at the cost of £3 per use.
What's Close By
The beach is just steps away, and there is also a food outlet at the campsite entrance for those who don't want to cook.
From this Isle of Harris campsite you can explore the beautiful surroundings by taking a walk up to the headland. There, you'll enjoy sweeping views of Luskentyre Beach and the Sound of Taransay.
Address: Horgabost Township, Isle of Harris, HS3 3HR
2. Lickisto Blackhouse Camping
The Isle of Harris is a beautiful place, perfect for camping and witnessing the natural wonder of the Northern Lights – especially at rural campsites like this one that are well-known as fantastic sky-gazing spots.
At Lickisto Blackhouse Camping, you can go glamping in one of their traditional Yurts or hire their Bedouin Tent, both of which feature log fires. You can also stay in their unique Blackhouse Bothy or simply pitch your tent in the pretty surroundings and enjoy the unpolluted starry nights.
So why the name? Well they have a historic 150-year-old communal Blackhouse (traditional island house) which has been converted into shower and cooking facilities, as well housing a washing machine and tumble dryer.
This is also the perfect place to meet, chill and chat with other campers as the Blackhouse has cozy sofas and a communal dining table, all in a spot steeped in Scottish history.
Staying here means you will also be within easy reach of the ferries on the south of the island, and only ten minutes from the beautiful beaches on the west side of the stunning Bays area. So it's a great base to explore from.
What's Close By
Nearby attractions include The Mission House Studio, which is a creative arts and crafts centre that offers classes in painting, sculpture, textiles, and more.
The Harris Tweed Company Grosebay is close by too and is a local mill that produces some of the finest tweed in Scotland. And lastly, Ardbuidhe Cottage Gallery is a beautiful art gallery housed in a restored cottage that showcases the work of local artists.
Address: 1 Lickisto, Isle of Harris, HS3 3EL
3. West Harris Trust – Seilebost School
Camping in West Harris is the perfect way to enjoy the area's stunning natural landscapes as it has some of the best golden sands and turquoise seas in Scotland.
On this side of the island you will find this campsite which has pitches for caravans, motorhomes, and campervans. If staying here expect Caribbean-esque beaches, stunning ocean sunsets, and a feeling of serenity you can only get in one of the world's most beautiful spots.
The facilities at this campsite include electrical hookups, water supply, and chemical toilet disposal point. There is also a rubbish and recycling facility on site. Like most Isle of Harris campsites it's relatively basic, but the star of the show is the surroundings and view.
From this campsite there's easy access to some of the area's best attractions too, including the Harris Tweed Museum and the Callanish Standing Stones in Lewis. Whether you're looking for a relaxing break or an adventurous holiday, this is a great Harris camping option.
What's Close By
The nearby An Traigh Café Bar is a great spot for a bite to eat and a drink, and there is also an art studio close by that visitors can explore.
This breathtaking beach by the campsite is definitely worth a visit too. The crystal clear water and expansive shoreline make it the perfect place to relax and enjoy the natural beauty of the area. It's a piece of paradise.
Address: Isle of Harris HS3 3HP
4. Minch View Campsite
Minch View Campsite on the east coast is a family-run, secluded campsite located on a croft in a very scenic area. The campsite is bordered by a freshwater loch on one side and the sea on the other, making it the perfect coastal base from which to tour Harris and the Western Isles.
With such a setting this campsite is ideally located for activities such as fishing and walking, and although in a small village location there is a shop within two miles. Within 5 miles, you can also find restaurants and bars.
However this is a tiny campsite that can only accommodate a few caravans, motorhomes and tents – but that does make this one of the quietest campsites on Harris. The site has space for six tourers and eight tents and offers excellent views of the Minch.
Amenities include hot showers, electric hookups, and a chemical waste disposal point.
The ground can get quite damp and muddy when it rains. However at £10 a night for two people, a car and a tent, it's easily one of the cheapest Isle of Harris camping options.
What's Close By
The East Coast of Harris is full of lovely bays and picturesque villages. There are some stunning walks nearby and fishing is available on the loch adjacent to the campsite.
Some of the nearby attractions include the Isle of the Harris Tweed Company Grosebay (1.5 miles), Scalpay Lighthouse (5 miles), and Essence of Harris (3.5 miles). All of these are definitely worth checking out!
Address: 10 Drinishader, Isle of Harris HS3 3DX
Wild Camping In The Isle Of Harris: Everything You Need To Know!
DISCLAIMER: Below we give general advice, but we always recommend staying in an official campsite. If you choose to go wild camping/dispersed camping, then make sure you do so with someone who already knows the area where you're planning on camping for your own safety.
Thankfully wild camping is permitted and legal in the Isle of Harris thanks to Scotland's Right to Roam Act. However authorities ask campers to "tread lightly" and to respect a few guidelines:
You should camp away from enclosed fields, and pitch your tent away from buildings, roads, and historic structures.
Campers should be vigilant to avoid disturbing wildlife such as deer, puffin, and grouse.
When wild camping in the Isle of Harris, do not light fires as you could damage the environment. Instead it may be worth looking at using a stove or storm cooker – but check local laws first to see if they're allowed. The Swedish brand Trangia make great camping storm cookers that are safe and virtually indestructible.
Take any rubbish with you, and leave your camping spot exactly the way you found it.
The Right to Roam Act also gives you access to most of Scotland's land and inland water, as long as it does not encroach on someone's privacy and private land.
Here is a list of what the Right to Roam Act doesn't give you access to, and therefore what you should avoid when wild camping in the Isle of Harris: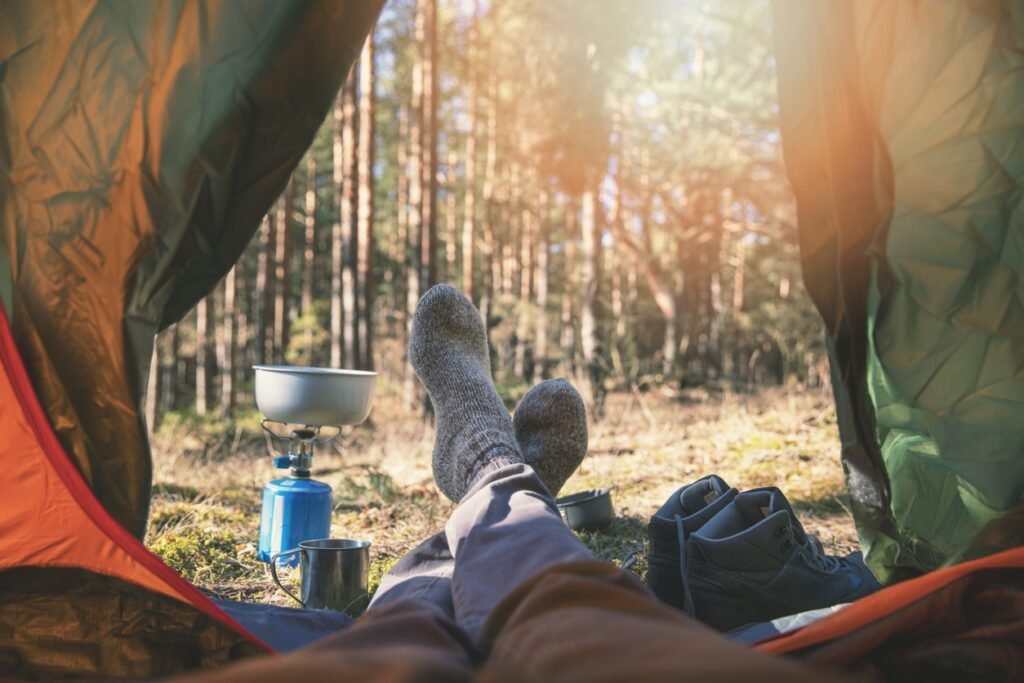 Where You Must Avoid:
Walking in and going through buildings. An exception would be bothies – small mountain and rural huts that can be used by walkers and hikers – see a list of bothies and where they are by clicking here.
Land clearly attached to a building (private garden, backyard).
Sports fields.
Schools and school land.
Building sites.
Quarries.
Now you know you're legally allowed to go wild camping in the Isle of Harris, and where to avoid, here's some of our favourite wild camping spots!
Some Ideas For Wild Camping Spots In The Isle Of Harris
DISCLAIMER: The below wild camping spots have been collected from anecdotal accounts, so proceed with caution. You should always be wary of any potential dangers in a region (quarries, bogs, dangerous paths and so on) and should wild camp with someone who knows that specific area well.
Of course one of the best parts about wild camping is finding your own special spot to pitch your tent for the night.
However, if you're looking for inspiration, then below are a few potential wild camping spots in the Isle of Harris. Just make sure your tent is midge proof as these little biting flies can be a real menace.
As always, if you are unfamiliar with an area – or it's your first time visiting – then be careful as peat bogs and other dangers exist.
When wild camping, we always recommend using known paths and sticking to them. We also recommend taking a camping friend who knows the area you plan on camping in very well. That's the best way to stay safe.
1. Sgarasta Mhòr Beach
While many of the campsites huddle around the same beaches (notably around Seilebost), Sgarasta Mhòr which is a few miles further south is a stunning expanse of sand that is rarely visited.
You'll get views across Harris and the Atlantic Ocean from a pristine and barely touched beach. This is a really special place to camp.
2. The Temple
Just a little further south from Sgrasta Mhòr and you'll find this isolated ruined church set in unbelievable surroundings. It's a 3 mile walk to get there – see the trail map here – but you'll be rewarded with eagles flying above, a white sand beach, and wonderful seaside views.
This is a trail so make sure you pitch your tent away from the path and not beside the Temple. After all, it's not fair to ruin everyone's else view with your tent!
3. Loch Leosavay
Located on Northern Harris, this sea loch has stunning views from every shore and has the Amhuinnsuidhe Castle at its head. Driving south from the castle you can find wonderful views of Soay Beg and Soay Mor.
You can park near the power station (see here) and find a place to pitch your tent either on the Power Station walk (see link) or nearer the coastline by the loch.
The Best Time To Visit The Isle Of Harris
The Outer Hebrides are a great place to visit year-round due to the many different things to see and do.
April to June is a good time to visit because the days are getting longer and there is more wildlife activity. The summer months of July and August are a good time to see wildflowers, while September to February is one of the best times to see eagles.
However, winter can be a tough time with shorter days and colder weather. Check the weather before you go, as no matter what time of year it is it can be temperamental on the Scottish islands.
If you'd like to tie in your trip with some local culture, then there are some annual events in Harris that you could do alongside your camping trip.
There's the Harris Mountain Festival which happens around May and celebrates the mountains of the islands – you can enjoy guided walks as part of the festival. And there's the Isle of Harris Festival of the Sea which tends to happen in July and celebrates the maritime aspects of the island.
While from April through to September the North Harris Trust organises guided walks which are a fantastic way to see the island and its wildlife.
Six Unique Things To Do On The Isle Of Harris
The Isle of Harris is a unique and beautiful place with plenty to see and do. The island is home to some stunning beaches, interesting museums, and picturesque villages. There are also plenty of outdoor activities to enjoy, such as hiking, biking, and fishing.
Here are some of our favourite things to do when camping on the Isle of Harris:
1. Visit the Harris Tweed Museum
The Harris Tweed Museum is a must-see spot on the island for anyone looking for souvenirs. The world-famous Harris Tweed Shop is located in the heart of Tarbert, and it has been owned and operated by the Campbell family since 1910.
Harris Tweed began back in 1910 when Marion Campbell started making the fabric, and today the business is still going strong. The museum is a great place to learn about the history of Harris Tweed and see some of the unique ways that it is used.
2. Explore the Callanish Standing Stones
The Callanish Standing Stones are one of the most popular tourist attractions in the region. The stones were erected around 5000 years ago and older than Stonehenge! Located on a hillside overlooking the sea on the Isle of Lewis, they offer stunning views of the surrounding area.
There are many theories about why the stones were erected, but no one knows for sure. Some believe that they were used as a burial ground, while others think they were part of a ceremonial site.
Whatever their purpose, the stones are an impressive sight and definitely worth a visit.
3. Go Hiking
The Isle of Harris is a great place for hiking, and there are plenty of trails to explore. The island is home to some stunning scenery, and the views from the top of the hills are breathtaking.
There are also plenty of wildlife spotting opportunities, so keep your eyes peeled for eagles, seals, and otters.
4. Enjoy Harris' Stunning Beaches
The Isle of Harris is home to some of the most beautiful beaches in the world. The white sand and turquoise waters are simply breathtaking, and there are plenty of beach activities to enjoy, such as swimming, sunbathing, and kayaking.
However, the weather in Scotland is notoriously unpredictable, so you may not always get to see the beach in all its glory. Regardless, it is still a stunning place to visit.
Some of the most popular beaches on the island include Luskentyre Beach and Horgabost Beach.
5. Isle of Harris Distillery
The Isle of Harris Distillery is a place where you can find the essence of Harris – and delicious drinks! It is located in East Loch Tarbert and is visible to everyone arriving there by land or sea.
The distillery has a peat fire that glows at its heart and offers flavours of the island in the canteen. This is a place where you can relax and enjoy the beauty of Harris, and sample some of the best gin Scotland has to offer.
6. Explore the Isle of Harris' Wildlife
The Isle of Harris is home to an abundance of wildlife, including eagles, seals, otters, and deer. There are also plenty of birds to spot, such as puffins, gannets, and razorbills.
If you're lucky, you might even spot a whale or dolphin while you're on the island.
Isle Of Harris Camping: Free Scavenger Hunt Game
If you're looking to keep kids amused while camping in the Isle of Harris – or you fancy having some fun for yourself – then we've created a printable scavenger hunt game!
Save the image and print it out, then tick off what you find and achieve during your camping holiday.
The game encourages players to get out and discover wildlife and nature, as well as make new friends and do fun camping activities. Enjoy!