Wandering our World is reader supported! If you purchase anything through a link on our site, we may earn a commission at no extra cost to you.
Last updated on April 1, 2023 by Wandering our World
If you haven't been to Thailand, you most likely will have heard about its wonderful beaches and rowdy party destinations. But with so many places to choose from, where are you supposed to start – the West Coast of Thailand or the East Coast of Thailand?
Whether you're looking for a calm honeymoon destination to spend time with your partner, a Full Moon Party to experience with your friends, or an adventurous time discovering local wildlife, there's something for everyone in Southeast Asia's most famous tourist spot.
In the end, regardless of whether you head to the West Coast of Thailand or the East Coast, you're bound to have a great time. Thailand is a country full of incredible people who will invite you to eat with their families and who genuinely care about tourists having a great time in their nation.
You will find amazing food wherever you go, and wonderful idyllic beaches on every coast. There is no doubt that you will remember this country for the rest of your life.
So here are our picks of the best places on the East Coast of Thailand and the West Coast of Thailand to help you with your travel plans!
West Coast Of Thailand: What To Expect
With Phuket one of the most famous Thai islands, the West Coast of Thailand has an array of activities to offer every type of tourist.
Adventure can be found here, as Thailand's West Coast is a favorite for those who enjoy surfing and rock climbing.
Phuket
There's no better place to start than Phuket – Thailand's largest island. Here you can find everything, although it is important to watch out for the overdeveloped areas, which have become tourist traps with too much concrete and very little nature to be found.
Phuket is the easiest island to get to in Thailand, with its large international airport serving both domestic and international flights. Because of this, Phuket is also one of the most expensive destinations in the country, serving many high-end tourists, which has led to a decrease in backpackers.
Being such a large destination, Phuket has many different things to offer, the most famous being the Big Buddha (yes, it's exactly what it sounds like) a gigantic Buddha statue sitting at the top of Nakkerd Hill.
There are also Phuket's famous beaches including Kata Beach, which offers a busier slice of paradise with street vendors, fancy hotels, and beach activities (such as surfing and snorkeling). Freedom Beach offers a more serene choice, whilst still providing convenient access to food vendors and beach chairs.
For those looking for a wild time, Bangla Road on Patong offers its own selection of bars, go-go clubs and neon-covered craziness, as well as the famous adult entertainment clubs that have since become synonymous with Thailand.
Recommended: How To Stay Safe In Thailand
Krabi
Krabi is only a ferry ride from Phuket and offers activities for those looking for a more adventurous trip.
Its stunning natural beauty, jungle-covered interior and incredible cliffs and caves offer an array of activities for those who want more from their trip than just relaxing on the beach.
In Krabi you can go rock climbing, jungle trekking, and sea kayaking as well as snorkeling and scuba diving.
Koh Lanta
Similarly, Koh Lanta offers a West Coast of Thailand destination to those who are looking to get in touch with nature, and get away from the more touristy areas.
This calm island is perfect for couples and people who like relaxing on the beach, away from the commotion of city life.
It's also the perfect place to rent a scooter and just ride the day away, exploring the variety of beach and jungle scenery on offer.
East Coast of Thailand: What To Expect
With its many versatile islands, the East Coast of Thailand has something for everyone. Especially those willing to island hop for the best experiences.
Koh Samui
Thailand's third largest island, Koh Samui, has recently become more of a destination for high-end tourism, with large, imposing resorts around every corner, and massive temples.
Koh Samui also has its own version of the Big Buddha, so if you choose to island hop around the East Coast of Thailand instead, you won't miss out on seeing a larger than life representation of this religious figure.
It is a massive resort destination though, but if you're looking for a more comfortable travel experience featuring stunning views while sacrificing a bit of the Thai culture in the process, then this is the place for you.
Koh Phangan
Koh Phangan is most well-known for its Full Moon Parties. This small East Coast island is home to the most famous parties in Thailand and 10,000 to 30,000 people flock to these parties every month.
The nightlife here includes a variety of music genres, as well as the ever-famous Thai fire jugglers and fire breathers that seem to be everywhere here. Like really, everywhere.
Koh Tao
For those looking for a more wholesome time, Koh Tao (meaning Turtle Island) is home to Thailand's most beautiful coral reefs. Which naturally makes it the top destination for scuba diving in Thailand.
This tiny island offers the most idyllic scuba diving tours, with incredible crystal-clear waters and vibrant sea life (and yes, that includes sea turtles!).
Our Top Pick – Koh Chang
While Koh Chang is technically on the East Coast of Thailand, it's not on the Malay Peninsula.
It is close to the Cambodian border, making it the most accessible if you're arriving through Bangkok and especially if you're looking to continue your trip through other Southeast Asian nations.
It is also one of the largest islands in Thailand, yet somehow it has remained more Thai than most. There are many affordable locations for backpackers as well as many incredible resorts, making it a melting pot of travelers, backpackers, and Thais alike.
There are several different beaches in Koh Chang and each offers something different. You can rent a scooter for fairly cheap and see all of them within a day. Koh Chang's incredible mountainous landscape also allows for a perfect marriage between beach-goers and adventure seekers alike.
The jaw-dropping wildlife here is also a sight to behold – and there are many places along the island that will allow you to get face-to-face with elephants!
You're also bound to meet monkeys during your time here too, although sometimes that can be a less pleasant experience. Pro tip – you're going to want to leave your windows closed if you have food in your room, or they'll come steal it with little regard for how much arm flailing you do!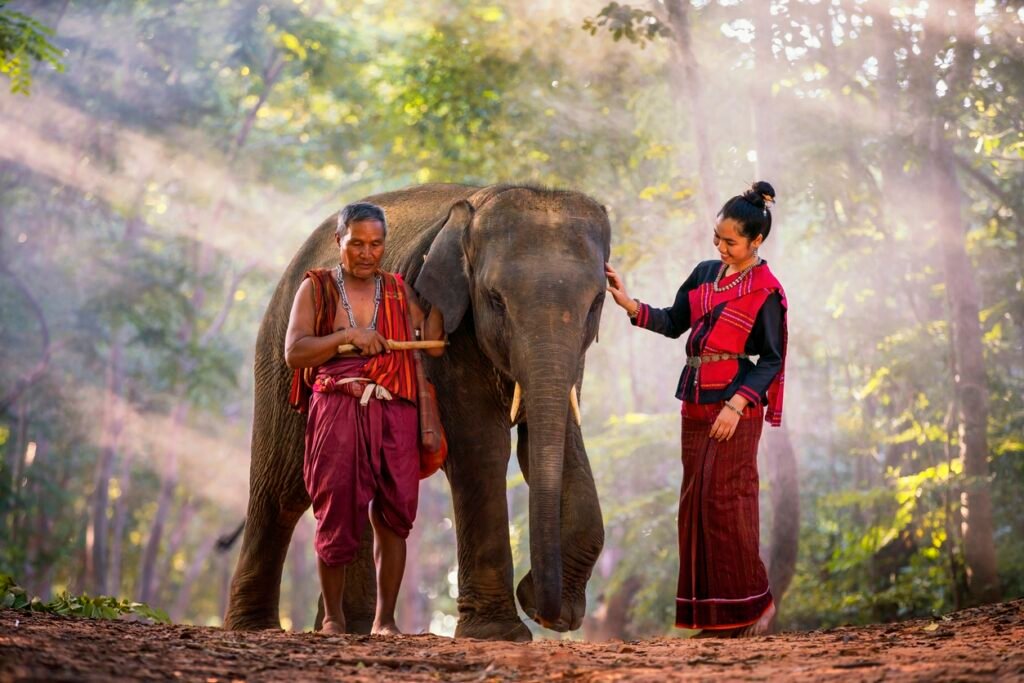 Recommended For Your Trip To Thailand