Wandering our World is reader supported! If you purchase anything through a link on our site, we may earn a commission at no extra cost to you.
Last updated on October 8, 2022 by Wandering our World
Waking up to the sound of birds, staring at the first light of morning, walking barefoot in the fresh grass. These are just a few of the summertime pleasures that await you when camping in Rimouski.
Camping and RV owners will love this place. This is a stunning area located on the banks of the St. Lawrence River which combines the benefits of a bustling city with easy access to tranquil areas of nature.
That means you have easy access to stores, gas stations and restaurants if need be. But what Rimouski and the surrounding area is really famous for is the outdoor adventure that can be had here. The sea kayaking, hiking, fishing and rock climbing opportunities are exceptional. And camping in Rimouski is one of the best ways to experience them.
As we know this place so well, we share with you our favorite Rimouski campgrounds below. We show you what makes each unique, what's nearby and why they could be perfect for you, and more.
Every Rimouski campground we feature is great fun, unique in its own way, and has breathtaking views. Perfect for your upcoming adventure!
We then look at backcountry camping in Rimouski, and give you some bear safety tips.
Rimouski Camping: Ten Rimouski Campgrounds For Fun, Views and Adventure
Like most campgrounds in the area, these places below are open during the summer months. Each one will bring you unbelievable views and an opportunity for adventure and fun.
1. Saint-Barnabe Island Campground
Those seeking shelter from the hustle and bustle of city life can find peace and tranquility at Camping Saint-Barnabé – a rustic campground situated on a gorgeous small island near Rimouski.
This uninhabited island is a true haven of tranquillity and is ideal for reconnecting with the best that nature has to offer. It was only recently opened up for camping too.
The facilities are extremely basic (see below) and unlike many Rimouski campgrounds, you can only do tent camping here. But this really feels like true camping in nature, especially as you will have to take a short boat ride to get there!
Once inhabited by a hermit known as Toussaint Cartier, Saint-Barnabé Island now boasts 20 kilometers (12 miles) of wonderful hiking routes. So it's the perfect place for a camping and hiking vacation! The sea and sunset views are quite spectacular too.
What Makes This Place Unique?
Over 70 species of birds migrate through this island. You can also see harbor seals when camping here, and if lucky, beluga whales!
Simply put, this is an exceptional Rimouski camping option for those looking to relax and unwind in a tranquil environment.
Activities You Can Enjoy:
Hiking
Wildlife Watching
Incredible Sea and Sunset Views
Unplugging From Everyday Life
Amenities
This is rustic tent-only camping, so while there is a dry toilet and picnic table that's about it. You will have to take drinking water with you. There is also a shelter incase of bad weather.
Rates: From $26 per night
Address: There is no address. Instead you must get the boat from Rimouski Marina.
2. Camping Plage Trois-Pistoles
Situated right beside the beach, and amidst a background of rolling greenery, this is a Rimouski camping experience for any serious nature lover.
This expansive campground has campsites that directly overlook the St Lawrence River and beach. Perfect for enjoying those early morning and late evening moments.
The campsites are spacious and have electricity hook ups, but the community facilities and activities are what really makes this place stand out.
There is a swimming pool, games room, and children's playground. And that's on top of the hiking and cycling trails nearby. Plus all of the beach and water activities that are just a stone's throw away.
As an added bonus not only is this campground kid-friendly, it's pet-friendly too. So the whole family can come along!
What Makes This Place Unique?
Sitting on the banks of the river, this Rimouski campground has superb access to the water and beach. It also has some of the best sunsets in the region!
But what really makes Camping Plage Trois-Pistoles stand out is the fun and social activities they have. There's a pool – great for kids to make friends – and a games room, lots open space, and sometimes the campground will organize activities and entertainment!
That makes this place one of the best Rimouski camping options for making new friends.
Activities You Can Enjoy:
On-site Entertainment
Swimming pool
Beach and Water Activities
Games room and Space For Sports
Playground
Hiking and Cycling Trails Nearby
Amenities:
Alongside campsites with electricity hook ups, there's free WiFi, showers, washrooms, a common room, wastewater dump, swimming pool, a games room, activities and plenty more. This is a very well-equipped campground with great facilities.
Rates: From $35 per night
Address: 130, Ch. Rioux, Notre-Dame-des-Neiges, Québec, G0L 4K0.
3. Parc National du Bic Campground
Parc National du Bic is located in the St. Lawrence maritime estuary. An area that is characterized by its stunning bays, coves, islands, and mountains.
Visitors to Parc National du Bic can choose from five different campgrounds. They are all located near the estuary and have great facilities, so you're guaranteed to have a wonderful stay in nature. As an added bonus, they're also all pet friendly and they have a playground for children.
Thousands of seabirds nest in this park making it a great birdwatching area. You can also find many uncommon and rare wildflowers blossoming on the park's rocky capes. This is without a doubt one of the most beautiful areas for camping in Rimouski.
What Makes This Place Unique?
The park's atmosphere is unmatched. The scenery, lapping sounds of the waves, fragrance from wildflowers and the gentle sea breeze.
You can often find seals sunbathing on the shoreline too. This is a lovely, serene, and soothing place. Locals also believe this area has one of the most beautiful sunsets in the world.
Activities You Can Enjoy:
Fishing Opportunities
Swimming
Playing Field with Sports/Recreational Equipment
Playground
Cycling and Hiking Trails
Amenities
Amenities at the park's campgrounds include free WiFi, showers, electricity hook-ups, washer/dryer, and a wastewater dump.
There's also a convenience store, common room, a snack bar and the opportunity to rent bikes so you can explore the park at your own leisure.
Rates: From $40 per day.
Address: 3382, Route 132 ouest, Rimouski, Québec, G0L 1B0
4. Camping Rimouski
This pet-friendly campground has four distinct camping areas and can accommodate tents and RVs up to 60′. There's 120 campsites available, all with electricity, and many have exceptional views.
They have many fantastic facilities too. Including a library and games room – perfect for making friends and socialising!
And for children, not only do they have a well-equipped playground but they also have a mini farm with chickens and rabbits.
Situated on a gently curving plot of land, when reserving make sure to ask for the campsites that have a view of the river. In our opinion those campsites have the the best sunset views.
What Makes This Place Unique?
This campground offers a natural setting yet only minutes from downtown Rimouski. So you're still close to all amenities and places to eat. With lots of fun things for children to do, Camping Rimouski is also is one of the best options in the region for families.
Along with hiking and cycling trails nearby, Bic National Park is close by too – which is perfect for wildlife watching.
Activities You Can Enjoy:
A Small Fitness Room
River Fishing
Beach Close By
Hiking and Cycling Trails
Games Room and Children's Playground
Close to Restaurants and Activities in the City
Amenities
This Rimouski campground has free WiFi, a convenience store, showers, washer/dryer, a common room, library, and a games room. They also have electricity hook ups.
Rates: From $50 per night.
Address: 1105, Boulevard Saint-Germain, Rimouski, Québec, G5L 8Y9
5. Camping Ô Fleuve
This campground, located on a serene river island called Île Verte, features just eight campsites, including one that is ready to camp. This place is small, peaceful and rustic, but it's a really perfect nature getaway.
As it's situated on an island this is tent-only camping. And you'll need to get a boat to get there but the extra effort is well worth it.
The views here, alongside the kayaking and hiking opportunities are world class.
The island's north coast provides spectacular river and sunset views, while parts of the island have panoramic views of St. Lawrence River. Keep an eye out for marine mammals – there are plenty of whales and seals to spot when camping on this island!
What Makes This Place Unique?
Set on the island's north shore, this campground has exceptional views of the river and stunning sunsets. It's a wonderful base for hikers and kayakers, in one of the most serene and beautiful settings you can imagine.
As this island only has a population of around 50, and it's located in the middle of the massive St. Lawrence River, there is almost no light pollution. That makes it one of the best Rimouski campgrounds for stargazing.
Activities You Can Enjoy:
Kayaking
Wildlife Spotting (Whales and Seals)
Hiking
Fishing
Stargazing
Amenities
Due to its rural location, facilities are limited but you will find a toilet, hot showers, and potable water at this campground.
Rates: From $60 per night
Address: Île Verte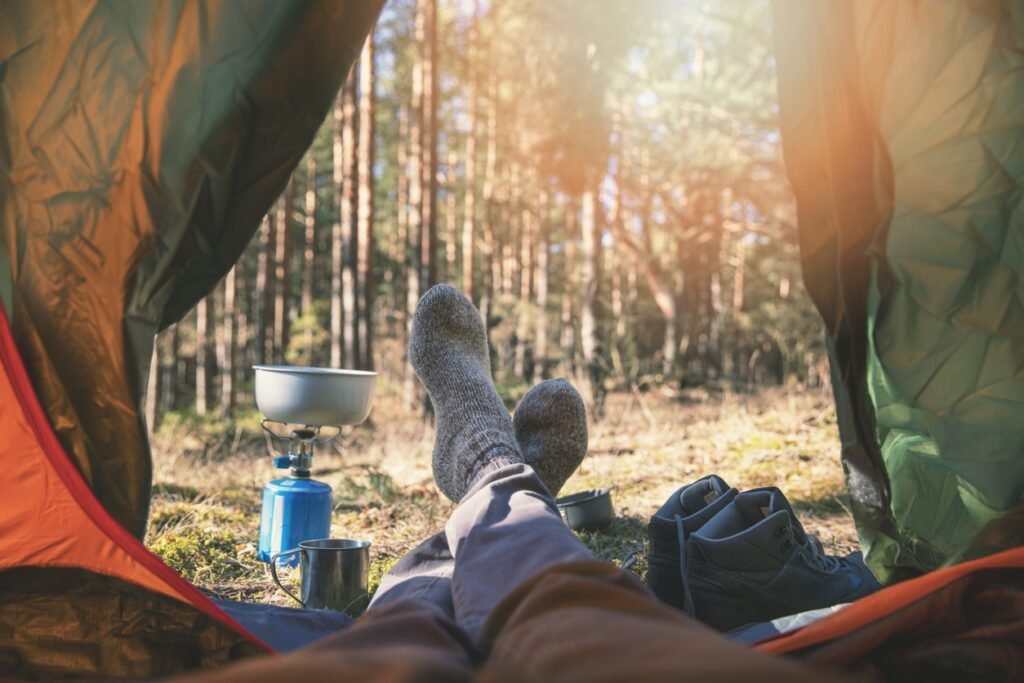 6. Camping de la Batture
This campground perched on top of a rocky bluff is another place with exceptional panoramic views of St. Lawrence River. Camping de la Batture accepts both tents and RVs, and is known locally as being a great base for outdoor adventure sports. Particularly rock climbing and sea kayaking.
Set amongst trees there's plenty of shade if you want it, as well as hiking routes too.
While this place is all about being amongst nature, the facilities are still great. Expect good showers, toilets, free WiFi, and a common room.
If you love adventure in nature this will be a great base for you. But there are limited on-site activities for children, so this campground may not be the best fit if you have young children.
What Makes This Place Unique?
Camping here will give you access to hiking, rock climbing and sea kayaking opportunities. The area is also known for the huge array of birdlife, animals, and marine mammals.
In particular there's many rock climbing routes nearby, making this the best Rimouski camping option for any avid climbers.
Due to the campground's elevation, the views are quite spectacular too.
Activities You Can Enjoy:
Rock Climbing
Hiking
Wildlife Spotting
Sea Kayaking Nearby
Amenities
There's amenities available like showers, toilets and free WiFi. But few facilities to keep children entertained.
Rates: From $25 per night
Address: 273, Route 132 Ouest, Saint-André-de-Kamouraska, Québec, G0L 2H0
7. Reserve Faunique Duchénier Wildlife Reserve
The Duchénier Wildlife Reserve is an exceptional spot for wildlife spotting. It has a growing moose population, and several bodies of water with lots of fishing opportunities.
There's 14 tent-only rustic campsites which allow you to enjoy a camping Rimouski adventure in nature. This is primitive camping so the facilities are basic – there's a picnic table, outhouse, and a fire pit – that's about it!
But camping there gives you access to wonderful hiking trails, the opportunity to kayak on the St. Lawrence River, as well as go wildlife spotting for the likes of white-tailed deer, ruffed grouse, moose, and black bears.
What Makes This Place Unique?
This is an ideal location for hunting and fishing, and other outdoor activities like hiking and wildlife spotting.
The reserve is also home to most lakes south of the St. Lawrence River, so it's a perfect place to be based for kayaking.
Activities You Can Enjoy:
Hunting and Fishing
Kayaking
Wildlife Spotting
Hiking and Biking
Guided Hunting and Fishing Tours
Amenities
This is rustic camping so the amenities are limited. But there is an outhouse (toilet), picnic table and an area to make a fire.
You can also rent mountain bikes, canoes and kayaks from the reserve.
Rates: From $28 per night
Address: Saint-Narcisse Registration Centre, Saint-Narcisse-de-Rimouski, Québec
8. Camping Municipal Saint-Fabien
The lovely Saint-Fabien Municipal Campground can accommodate tents and RVs, and has 74 campsites with electric hook ups. It's a safe, kid friendly campground which also has games for children, lots of open space to play in, and a playground! It's pet friendly too.
As it's close to the town of Saint-Fabien you're also near many attractions and services. Including restaurants, pharmacies, convenience stores and a gas station.
If you want a slightly 'wilder' experience, they also have a rustic camping area set in a wooded valley near the popular Coulombe Trail. While rustic, there are washrooms, toilets and drinking water.
What Makes This Place Unique?
This campground is set in very green surroundings, has lots of space for kids to play in, and is family friendly.
The facilities are modern, and as the campground is beside Saint-Fabien, it's close to many amenities and places to eat.
Activities You Can Enjoy:
Playing Field
Children's Playground
Great Facilities
Close to Town and Many Services
Amenities:
Along with Free Wifi and electric hookups, there are showers, washer/dryer, a playground, a common room, a sports field, a dumping station, toilets, and games.
Rates: From $30 per night (plus taxes).
Address: 33, Route 132 O, Saint-Fabien, Québec, G0L 2Z0
9. Grand Lac-Touladi Campground
Grand-Lac-Touladi campground sits in the stunning surroundings of the Parc National du Lac-Temiscouata, an area that's rich in nature and which has been home to human inhabitation for over 10,000 years.
As this park and its 66 campsites are nestled along the region's largest and arguably most majestic lake, Lac Témiscouata, there's wonderful opportunities for swimming, boating, and kayaking.
There's also plenty of hiking and biking trails to enjoy, and lots of wildlife spotting opportunities too.
What Makes This Place Unique?
The surroundings are beautiful and there's many outdoor activities to enjoy. This campground is also family friendly and there's a playground for children.
Activities You Can Enjoy:
Swimming and Beach Activities
Wildlife Spotting
Hiking
Children's Playground
Cycling
Amenities
The amenities include showers, toilets, a common room, wastewater dump and a children's playground.
You can also rent bikes and boats – perfect for exploring the surrounding area.
Rates: From $40 per night
Address: 400, Chemin Vieille Route, Saint-Michel-du-Squatec, Québec, G0L 4H0
10. Lac Rimouski Campground
Situated in the center of a forest but close to the water's edge at Lac Rimouski, this campground truly has the best of both worlds. There's the nature and hiking trails that the forest offers, alongside the fishing, kayaking and beaches at the lake.
Alongside the usual amenities like electricity hook ups, there's also free WiFi. But what really makes this campground stand out is the wildlife spotting opportunities. The whole area is renowned for its wildlife diversity and abundance of animals.
And all of that is set in very pretty surroundings. With very little light pollution at night, this is also a fantastic place for stargazing.
What Makes This Place Unique?
There are many well-maintained hiking trails nearby that offer fantastic opportunities to observe animals like moose, white-tailed deer, and beaver.
This is also a great birdwatching area. In particular, birds of prey are relatively easy to spot here.
There's many hunting areas nearby too, as well as places to fish. So plenty to keep you busy if choosing this Rimouski camping option.
Activities You Can Enjoy:
Hiking
Fishing and Hunting
Birdwatching
Lake Activities Like Swimming and Kayaking
Wildlife Spotting
Amenities:
Alongside free WiFi and electricity hook ups, this campground has a common room, showers, and toilets. You can also rent bikes and boats.
Rates: From $25 per night
Address: 112, Route de la Réserve-de-Rimouski, Saint-Narcisse-de-Rimouski, Québec, G0K 1S0
Backcountry Camping At Rimouski & In Canada
DISCLAIMER: Below we give general advice, but we always recommend staying in an official campsite. If you choose to go backcountry camping/dispersed camping, then make sure you do so with someone who already knows the area where you're planning on camping for your own safety.
Wild camping, also known as backcountry camping, is generally tolerated in Canada. Although there are certain areas you are prohibited from camping in. Rather you must stay in a designated campsite. These include:
National Parks
Cities
Provincial Parks
Ontario also prohibits camping in nature reserves. It's worth mentioning that rangers and conservation officers do patrol regularly and will hand out hefty fines to people wild camping in these prohibited areas.
Sometimes it is possible to purchase a 'backcountry' camping permit. That would then allow you to camp in a park outside of a campground. Not all parks offer them – and they're not widely advertised. If there's somewhere you wish to camp, then get in contact with local authorities to see if these are available.
As for where you are allowed to camp, Canadian residents can camp for free on Crown Land – which is publicly owned land. Thankfully 89% of land in Canada is classed as 'Crown Land'. However much of that is still off limits – National Parks, for example, are also Crown Land.
In general: If land is publicly owned, it's not one of the prohibited areas that we listed above, and you are far from settlements – you're likely to be on Crown Land that can be camped on for free. However, keep an eye on local maps for confirmation, and obey any signs that say camping is prohibited
There are rules for free camping on Crown Land, however:
You may camp in the same place for 21 days only in one calendar year.
After 21 days you must move to a place at least 100m away if you wish to continue camping.
While free for citizens and Canadian residents, non-residents must obtain a permit to wild camp on Crown Land.
Unfortunately some provinces of Canada prohibit backcountry camping completely in some regions. In Quebec, these prohibited areas include:
Portneuf
Sept-Rivières
Matawinie
Lac St Jean
Camping In Rimouski: Bear Safety
Like many areas of Canada, there are bears roaming around the Rimouski area. While encounters are rare, you must take steps to avoid attracting them to your campsite.
With that being the case we advise:
If you have a vehicle nearby, store food there rather than in a tent.
Use a bear box or bear canister to store food, rubbish, and anything with a scent.
Don't pitch your tent near where food is being stored.
Never approach any bear, regardless of its size.
Don't spray anything with a scent – that can attract bears.
Rimouski Camping: Our Final Thoughts
In short, camping in Rimouski is a fantastic experience for adventure lovers. From hunting and fishing to rock climbing, sea kayaking and hiking, the Rimouski campgrounds we shared above provide plenty of opportunities to be active and have fun.
Maybe we're biased, but we really do believe camping in Rimouski and the surrounding area should be on everyone's bucket list. So grab your tent, RV, and some hiking boots. Get out there and enjoy!