Last Updated on October 7, 2022 by Wandering our World
When it comes to dream getaways and honeymoon vacations, St Lucia and Jamaica should be two destinations top of most people's lists.
Both of these friendly island paradises can offer amazing experiences, especially if you're looking for sun, sea, sand, and adventure.
However these island nations are very different from each other.
Making the right decision to visit either Jamaica or St Lucia for that once-in-a-lifetime holiday or honeymoon is therefore very important. Having visited both, we compare them below, and show you what each has to offer!
We look at which has the better beaches, nightlife, what activities you can do in each, how the vibe compares, and more!
CONTENTS:
How Do The Beaches & The Landscape Compare
Explore The Sights & Experience The Tropics
A Taste Of Island Life: How Does The Cuisine Compare
Which Is The Better Choice
How Do The Beaches & The Landscape Compare?
Both islands are a mix of beach and lush mountains, but Jamaica is huge compared to St Lucia. Jamaica can boast 635 miles of coastline in contrast to St Lucia's 98 miles.
Although you can find white-sand beaches on both islands, Jamaica does have the better coastline of the two. Therefore if beaches are the main priority, then Jamaica should be your choice. However the popular sites in Jamaica can get busy, and tourists often get harassed by people trying to hawk goods – something that is far less of a problem in St Lucia.
The large local population in Jamaica does mean there are many different accommodation and food options in the country though, so it can cater to tourists on a range of budgets. Which is why Jamaica is included on our list of cheapest Caribbean islands to visit! In fact it is significantly cheaper than St Lucia, which tends to be aimed more towards upscale tourism. Although there are plenty of upscale resorts in Jamaica too.
However there's no doubt that St Lucia is a safer island in terms of crime. Although crime in Jamaica tends to happen in the big cities and away from tourist areas.
In essence, St Lucia is quiet, quaint, and feels remote. Jamaica is a more lively and busy place. Both, however, have a stunning landscape at the coast and inland.
We show that below as we look in more detail at what both islands have to offer potential tourists, before explaining how each is different culturally, and what to expect.
Jamaica: Stunning Natural Scenery
Jamaica has it all when it comes to a tropical island paradise, but what most tourists want are spectacular beaches!
One of the best on the island is Seven Mile Beach at the town of Negril. This is a popular spot, and this long stretch of gorgeous white sand is your stereotypical Caribbean paradise. Expect clear blue water, great snorkeling, and one of the best sunsets in the region.
For another beautiful beach with calm swimming water, head to Bloody Bay. The turquoise-hued water is a great place to swim, snorkel, paddle board and more. In fact beautiful beaches like this are one of the reasons Jamaica made our list of the best Caribbean islands for couples!
There are many great snorkeling spots throughout Jamaica's coastline, but one of our favorites is Montego Bay. Head there to swim beside colorful reef fish and sting rays. A great underwater camera – such as this one – is a must.
As one of the Caribbean's largest islands, the diverse geography in Jamaica is one of the reasons to visit. The iconic Blue Mountains are stunning, and the gorgeous 14 mile Blue Mountain Peak Trail takes you through jungle waterfalls, coffee plantations and more as you make your way up Jamaica's highest peak.
For panoramic views of the island head to Holywell National Park in the Blue Mountains. There you can hike up through the jungle. Our top tip is to rent a tent and camp for a night or two. The stars up there, and the sunrise in the morning, are unrivaled.
Recommended: Snakes in Jamaica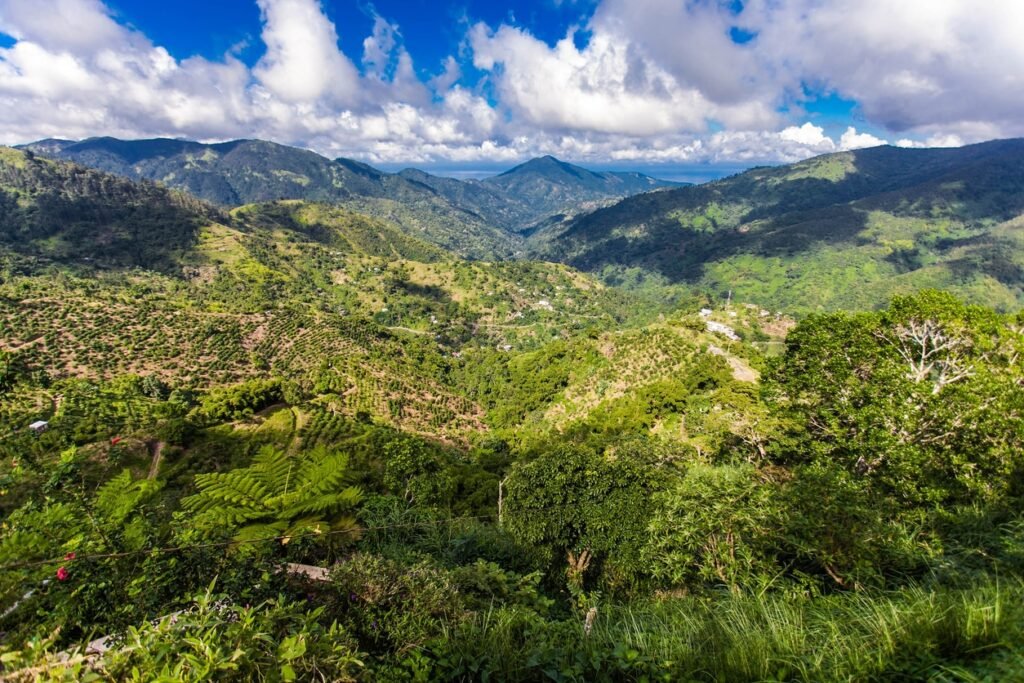 St Lucia: Stunning Natural Scenery
Although St Lucia has some excellent beaches, this Caribbean paradise is a place to enjoy all aspects of nature. It's rugged, lush, and dramatic, and is perfect for the sun-seeker who wants some adventure too.
It's an island that feels more cut off from the rest of the world than Jamaica, with its winding roads, quaint villages, and less-tourist orientated vibe.
For beaches, head to Rodney Bay where you can find Reduit Beach. This is one of the longest strips of sand on the whole of St Lucia. The golden sand, set against lush green hilly vegetation and the Caribbean Sea, makes it a perfect spot to relax. If you're looking for white sand, then Anse des Pitons is the place to go.
St Lucia is also home to incredible coral reefs which are teeming with life. For one of the best snorkeling spots in the Caribbean, head to Anse Chastanet. Not only is the snorkeling world class here, the backdrop of mountains against the beach is spectacular. This dive map shows the best spots on the island.
But the real beauty of St Lucia lies away from the coastline. The phenomenal Pitons – a volcanic mountain range – rise up against the backdrop of blue near the town of Soufrière. This majestic must-visit World Heritage Site is a great place for hiking and jungle treks – many of which lead to waterfalls. There's also a cable car that provides a view of the jungle from the canopy top – it's pretty special.
The Pitons have more to offer than hiking too – they're home to the world's only 'drive-in volcano'. Here you can drive to Soufriere Volcano and experience the sights and smells of this dormant monster – don't forget to take a dip in the mud baths on the slopes before you leave!
The advantage of St Lucia compared to Jamaica is that as a small island it's possible to visit and see all the main tourist sights – like the ones we mention above – in two or three weeks. That's just not possible in Jamaica.
Explore The Sights & Experience The Tropics
Both islands have colorful cultures, but as a bigger nation with a varied population, Jamaica has a lot more to offer in terms of cultural experiences and excursions.
St Lucia is probably more of a family friendly destination, whereas Jamaica tends to attract a younger crowd and has a lively nightlife.
Jamaica
Jamaica's culture is colorful and vibrant, and the country is a wonderful melting pot of different religions and beliefs.
One of those is the Rastafarianism movement which was borne out of Jamaica in the 1930s. For visitors to the island, the Rastafari Indigenous Village near Montego Bay is an opportunity to connect first-hand with people practicing the religion, while also learning how to make traditional drums and cuisine.
Probably Rastafarianism's most famous member was Bob Marley, and no visit to Jamaica is complete without visiting the Bob Marley Museum in Jamaica's capital, Kingston.
For the best nightlife on the island head to Montego Bay – named MoBay by locals. This party town is a place where you can enjoy a cocktail on the beach, or dance to reggae until the early hours of the morning.
Synonymous with both Jamaica and Rastafarians is marijuana – which is legal for medicinal use in Jamaica, and for use by Rastafarians. Being caught with small amounts (2oz or less) will result in just a small fine of around 5 USD. That makes Jamaica a relatively safe place to smoke for tourists looking for their ganja fix. It's common for tourists to be approached about buying weed in Jamaica – always exercise caution.
St Lucia
St Lucia is a melting pot of cultures, most heavily influenced by African, French and English traditions. The colorful homes here are indicative of the vibrant Kreole culture that has emerged from that mix.
As a country that was fought over for years by colonial powers, St Lucia is home to countless relics. In the north-west, Pigeon Island National Park has to be visited, and is home to many colonial relics left over from when the French and British battled it out for St Lucia.
Staying in the colonial period, head to Diamond Falls Botanical Gardens in Soufrière. Tropical plants and gorgeous colors are everywhere in this garden that's set on an estate from the 18th century.
For something more local, modern, and lively, then you must join in the Gros Islet Jump Up. This street party is full of food, good conversation between locals (and tourists!), and dancing to Caribbean music that is blasted over speakers. It happens every Friday night, and is a good example of typical St Lucia nightlife!
A Taste Of Island Life: How Does The Cuisine Compare?
Both Jamaica and St Lucia will provide a treat for your taste buds, with cuisine focused around seafood.
Jamaica
Jamaica's national food, ackee and saltfish, combines the national fruit of Jamaica (ackee) with salted cod. It's a popular dish that famous Jamaican sprinter Usain Bolt has said he often eats for breakfast!
Another iconic Jamaican dish worth trying is jerk chicken or pork. This type of cooking is native to Jamaica and the spicy cooking style may have been invented by slaves who escaped into Jamaica's wilderness and invented it as they cooked over wood fires.
For something sweet, try Grater cake – a delicious cake made from grated coconut! As for what to drink, Jamaica's very-own Red Stripe lager is popular on the island (and around the world). Rum cocktails are also made up and down the island with a variety of fresh fruit.
St Lucia
Seafood is a big part of St Lucian cuisine, but in particular shellfish and lobster are favorites here.
When visiting St Lucia, eating freshly caught lobster and lambi (conch) is a must. It's going to taste great whether from a restaurant or a street vendor.
For a traditional appetizer or side, then baked plantain is the way to go. This is St Lucia's version of French Fries.
For a very local experience, the quaint fishing village of Anse La Raye is for you. Every Friday night this tiny village hosts the 'Fish Fry' where street vendors sell grilled and fried fish, lobsters, and much more – all with drinks flowing and music playing!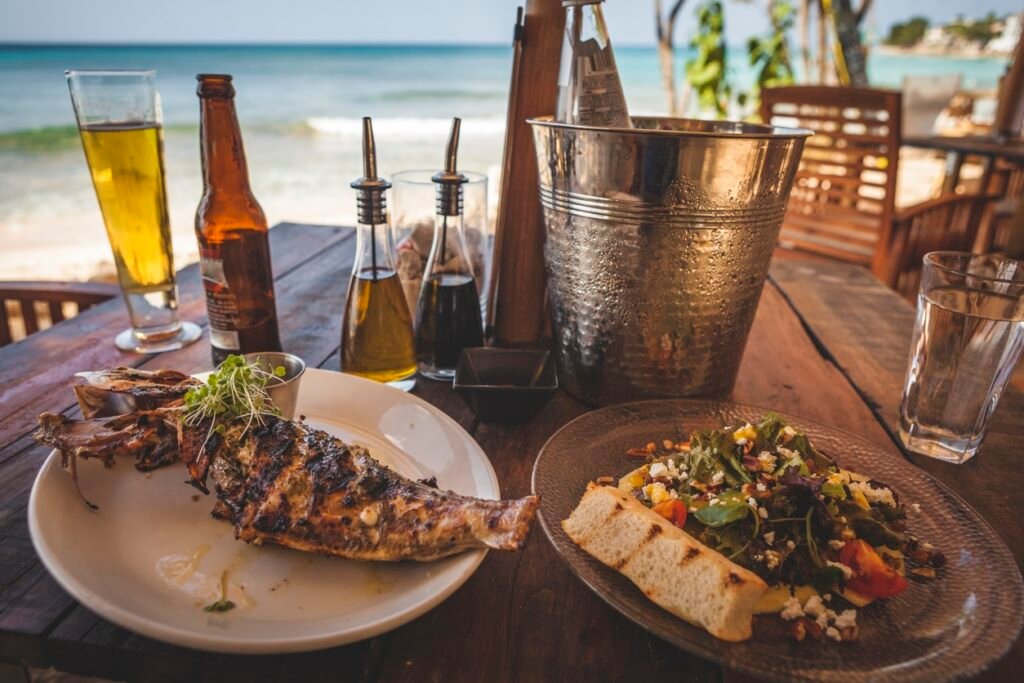 Jamaica vs St Lucia: Which Is The Better Choice?
Both are great choices, and if you have the time and money, each is worth visiting. However if your priority is beaches, then Jamaica is the better holiday choice. The popular beaches can get crowded though. Another upside to Jamaica is that it's cheaper than St Lucia.
If you're looking for a vacation with decent beaches, a quiet atmosphere, but one that encompasses a bit of adventure too, then St Lucia with its lush scenery and wild landscape would be perfect. However the island can be expensive and the roads can be a little difficult to navigate.
Recommended For Your Trip To Jamaica Or St Lucia