Wandering our World is reader supported! If you purchase anything through a link on our site, we may earn a commission at no extra cost to you.
Last updated on July 3, 2023 by Wandering our World
Loch Ness is one of the most famous landmarks in Scotland, becoming synonymous with monster hunting and the fabled 'Nessie'. Whether or not the Loch Ness Monster exists depends on who you ask, but what can't be questioned is how fun a Loch Ness camping holiday can be!
Along with Nessie spotting, this region of Scotland has countless walks, fantastic activities to try out, and historic sights at every turn. After spending many years visiting this beautiful region, we share our favourite Loch Ness glamping and camping sites below, before looking at wild camping in Loch Ness and then some ideas for wild camping spots.
So read on to begin your Loch Ness camping adventure!
Glamping & Camping At Loch Ness: Which Side Should You Camp On?
This iconic loch is split into two regions – the north shore, and the south shore. While both have similarities, there are also differences between the two that's good to know when deciding where to camp.
The village of Drumnadrochit lies on the north shore – this village has become synonymous with Nessie spotting. Indeed many 'monster hunters' like to camp on the north shore due to the number of sightings from this side!
Although that coincidence may be because a road runs along the whole side of this shore, which isn't the case on the southern side.
This north shore also boasts the ruins of Urquhart Castle and has thick ancient forests. Abriachan Forest is one that has many walks, some of which lead to wonderful viewpoints that look across the loch. A good walking in Loch Ness book – like this one – may be of use if you're planning a walking and camping holiday.
On the southern shore, you can find The Dores Inn, a cozy pub that has featured in several movies and documentaries about Loch Ness. There are several smaller lochs and lochans near the southern shore, which are perfect for walking and exploring.
The B862 road running adjacent to the south shore is a stunning drive up into the mountains too, and has some spectacular viewpoints.
Below we share some of our favourite campsites in Loch Ness, on both the north and south shores. While most of the campsites in the region are situated on the north shore, we've found that some ideas for wild camping spots are actually on the southern shore. More on that later.
As a quick note, sometimes pubs and inns around Loch Ness allow motorhomes and caravans to stay in their car parks overnight.
However this is almost always for paying customers and you must ask permission beforehand. It's even better to phone up in advance and ask. But that does mean you can grab a tasty pub dinner and then have somewhere free to park up for the night!
Some Of The Best Loch Ness Campsites: North shore
1. Loch Ness Bay Camping
Set in the village of Drumnadrochit, this campsite has spacious pitches and is clean and close to many amenities. The facilities are basic, but the rate you pay includes electricity, drinking water, wifi, and waste disposal.
There are also several shops, cafes and pubs just five minutes walk away, as well as many fantastic lochside and hill walks.
You're guaranteed a great view of the rolling hills regardless of what pitch you end up on, while you're also close to the Drumnadrochit-based Loch Ness Cruises which do boat trips on the loch!
2. Inver Coille Camping & Glamping
This small family-run campsite has tent-only pitches and some fantastic glamping options. Sitting in beautiful surroundings, you'll wake up to the sounds of birds and a nearby river running into Loch Ness.
The showers and toilets are modern, spacious and spotless, and there's many walks close by too – including the Great Glen Way. There's also outdoor seating so you can enjoy the good weather and views, as well as fire pits.
This is probably our favourite Loch Ness glamping spot.
3. Camping Pod Heaven
There's a clue in the name, as this site is made up of ten handcrafted fully insulated camping pods. These little wooden pods have electricity and can sleep four people each, and are set in a beautiful wooded surrounding just off the northern shore of Loch Ness.
While this is not an official motorhome or caravan site, if you visit during office hours you can use the facilities and top up your water tanks for a small fee. There's also free wifi throughout the site and covered BBQ facilities.
Some Of The Best Loch Ness Campsites: South Shore
1. Loch Ness Shores Camping & Caravanning Club Site
This picturesque campsite sits in peaceful surroundings, with the pitches set amongst woodland with the lochside just a few steps away. The washroom, shower and toilet facilities are clean and modern, and there's a shop and bistro. The staff are friendly and helpful too.
There's also wigwams here, so there's glamping options too. Nearby is the small village of Foyers, and the stunning Falls of Foyers – a 62m high waterfall.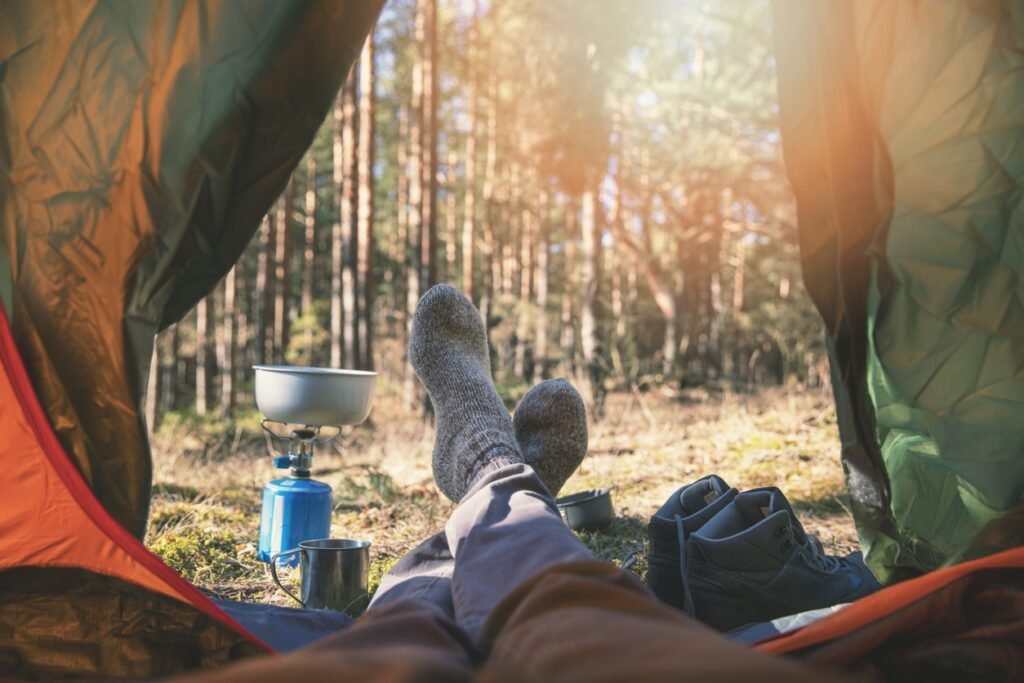 Wild Camping At Loch Ness
DISCLAIMER: Below we give general advice, but we always recommend staying in an official campsite. If you choose to go wild camping/dispersed camping, then make sure you do so with someone who already knows the area where you're planning on camping for your own safety.
Thankfully wild camping is permitted and legal at Loch Ness thanks to Scotland's Right to Roam Act. However authorities ask campers to "tread lightly" and to respect a few guidelines:
You should camp away from enclosed fields, and pitch your tent away from buildings, roads, and historic structures.
Campers should be vigilant to avoid disturbing wildlife such as deer, capercaillie, and grouse.
When wild camping at Loch Ness, do not light fires as wild fires are a danger. Instead of building campfires, you could look into using a storm cooker for cooking – but check local laws first. Then there is much less wildfire risk and you can cook knowing that the fire is contained. We believe the best ones on the market are Trangia storm cookers.
Take any rubbish with you, and leave your camping spot exactly the way you found it.
The Right to Roam Act also gives access to most of Scotland's land and inland water, as long as it does not encroach on someone's privacy and private land.
Here is a list of what the Right to Roam Act doesn't give you access to, and therefore what you should avoid:
Where You Must Avoid:
Walking in and going through buildings. An exception would be bothies – small mountain and rural huts that can be used by walkers and hikers – see a list of bothies and where they are by clicking here.
Land clearly attached to a building (private garden, backyard).
Sports fields.
Schools and school land.
Building sites.
Quarries.
Now you know you're legally allowed to wild camp in Loch Ness, and where to avoid, here's some of our favourite wild camping spots!
Some Ideas For Wild Camping Spots At Loch Ness
DISCLAIMER: The below wild camping spots have been collected from anecdotal accounts, so proceed with caution. You should always be wary of any potential dangers in a region (quarries, bogs, dangerous paths and so on) and should wild camp with someone who knows that specific area well.
Of course one of the best parts about wild camping is finding your own special spot to pitch your tent for the night.
However, if you're looking for inspiration, then below are a few ideas for wild camping spots in the region. Just make sure your tent is midge proof as these little biting flies can be a real menace.
As always, if you are unfamiliar with an area – or it's your first time visiting – then be careful as peat bogs and other dangers exist.
When wild camping, we always recommend using known paths and staying close to them. We also recommend taking a camping friend who knows the area you plan on camping in very well. That's the best way to stay safe.
1. Shores of Loch Ness at Inverfarigaig
There's many secluded areas along the shores of Loch Ness to camp for the night, but not many places to safely park! However, at this little lochside hamlet you can park at the 'Hiking Car Park' on Farigaig Road and walk down to the shore. Just make sure you set up your tent far from homes, and far enough away from the water.
2. Loch Tarff
If you take the B862 road towards Fort Augustus you will come across this pretty loch set about one mile off the southern shore of Loch Ness. The views are spectacular, particularly at sunrise, and there's also a large lay-by to park in beside the loch.
3. Glenmoriston
This beautiful river glen is atmospheric and home to the River Moriston, small lochs, forest, and many footpaths. It had a role in Scottish history too – this is the valley that Bonnie Prince Charlie escaped through after the Battle of Culloden.
Camping At Loch Ness: Weather & Best Months To Visit
The temperature in the Highlands of Scotland tends to be pleasant from June through to the start of September. However even summer can be a bit chilly at night, and it is advisable for hikers, bikers, and campers to be prepared for all weather and eventualities.
June and July are prime times for nature lovers as wildflowers are in bloom and birds such as eagles and Scottish crossbills can be spotted.
August is our preferred month for visiting the Highlands as you can experience the Highland Games in many of the towns around the region.
Many campsites in Loch Ness are open in Spring and Autumn too, but expect temperatures to range from around 5-15 Celsius. Rain is common in these seasons as well.
Winter can be cold, and temperatures can dip below freezing. That means snow is often forecast in the winter months so wrap up warm if you're traveling to the region.
Recommended For Your Loch Ness Camping Adventure