Wandering our World is reader supported! If you purchase anything through a link on our site, we may earn a commission at no extra cost to you.
Last updated on October 9, 2022 by Wandering our World
Monterey is a stunning city on the Californian coastline that is a great place for campers to enjoy thanks to the stunning views and many things to do and places to see. The outer lying areas of Monterey County have some excellent camping options too, for those who love to get out doors and experience all that nature has to offer.
Camping in Monterey is a great way to enjoy an affordable beach vacation. And if you head a little inland, you can enjoy the natural surroundings and serenity of the Californian mountains.
As we know this area so well, we share with your our 15 favourite Monterey camping options below. While some of these campgrounds sit directly on the beach, we've also included a few that are a short car drive away. But all will offer an unparalleled camping experience in serene surroundings.
Camping In Monterey: The 15 Best Campgrounds
1. Santa Cruz/ Monterey Bay KOA Holiday
The Santa Cruz/Monterey KOA Holiday site is an amazing campground that offers a perfect getaway to the sunny Californian Coast.
This place has many options for accommodation such as tented camping and RV parking. It also has a wide range of amenities, including a huge pool, hot tub, sauna, wifi, a dog park, and cable TV. It's a very kid-friendly Monterey camping option too, with a huge playground, fun bikes to rent, and lots of space to play basketball and soccer.
Although the downside of having all these facilities, is the fact this is one of the most expensive Monterey camping options out there.
Why You'll Love Staying Here and What's Close By
KOA campgrounds are specifically designed for the entire family to enjoy, and this one is particularly special because it is so close to the beach. With the kid-friendly facilities and beach not far away, this campground really is perfect for families.
This campground is also in a great location, so perfect to enjoy all the surroundings that Monterey has to offer.
Fees: From $80 per night
Address: 1186 San Andreas Rd, Watsonville, CA 95076
2. Manresa Uplands State Beach & Campground
It's pretty much impossible to get closer to the beach than this tent-only campground, which sits directly beside the coast so you can fall asleep to the waves lapping against the shore.
The facilities are basic – showers and restrooms – but clean. But what you're paying for is being just a five-minute walk from the beach from virtually every campsite. There's a fire pit and table at each campsite too.
This pet friendly and family friendly campground enforces a quiet rule from 10pm so there shouldn't be any rowdy behavior. Kids will be entertained by the many fat squirrels and rabbits that can be found roaming around!
Why You'll Love Staying Here and What's Close By
The big draw of this place is just how close you are to the beach. So close you can actually hear the waves from many of the campsites. That makes it perfect for families who want a beach vacation at an affordable price.
There's plenty of fantastic hiking trails nearby as well, while Santa Cruz and Monterey are a short drive away for restaurants, shopping and activities. (Recommended: Exceptional Hiking in Monterey).
Fees: From $35 per night
Address: 205 Manresa Uplands Road, Watsonville, CA
3. Moss Landing KOA Express
Moss Landing is another KOA campground in Monterey. The best feature of the small town of Moss Landing is the estuary that surrounds it. That makes this town – and campground – popular for those who love antiquing, surfing, and exploring the nature of Monterey Bay.
This KOA park is also situated on the beach and is a perfect getaway for families. The facilities are basic, but there's wifi, restrooms, fire pits, electric hookups and the campground itself is very clean.
Pets are allowed, and there's also a strong cellphone signal, which makes it perfect for remote workers who are RV living.
One downside is because it's situated right on the water, the KOA does its best to really squueze RVs in. So it can feel cramped.
Why You'll Love Staying Here and What's Close By
You'll love this place for the friendly atmosphere, great staff but most importantly – the wildlife spotting opportunities!
The Moss Landing State Wildlife Area sits close by, and offers an excellent spot to explore the natural wildlife.
The Elkhorn Slough runs through the Wildlife Area and exits at the estuary, offering a wide array of beautiful scenery and wildlife to enjoy. This is a good kayaking area too, and if you're on the water you can look out for dolphins, seals, and even whales!
Fees: From $80 per night
Address: 7905 Sandholdt Rd, Moss Landing, CA 95039
4. Salinas/Monterey KOA
While this KOA park may not be on the waterfront, it still makes an excellent camping spot for anyone looking for a home base to explore the area.
The campground has all of the amenities that many KOA sites have to offer, including an especially large clubhouse with laundry facilities, a fantastic pool, a kitchen to cook in, and a small store full of amenities for campers to purchase.
This RV park is quiet and remote, but is still just 7 miles away from the coast. It also has a wonderful heated pool which is open all year round, as well as billiards and ping pong.
Why You'll Love Staying Here and What's Close By
This camping ground has great facilities and some fun activities on site. It's also perfectly located for a wide variety of excursions. That includes fun at the beach and wine tasting at the many wineries that are situated close by.
You can also easily reach Monterey, Carmel and places like the Santa Cruz Boardwalk.
Fees: Around $80 per night
Address: 8710 Prunedale North Rd, Salinas, CA 93907
5. Marina Dunes RV Park
Marina Dunes RV Park is right on the beach at the marina, so you're guaranteed an unforgettable Monterey camping experience!
This park offers plenty of amenities too, like a fitness center, laundry rooms, restrooms, showers and wifi. The campsites have fantastic views of the creek, lake, canal, river, or ocean, depending on where you choose to park your RV or trailer.
While this is primarily an RV park, it is possible to call in advance and ask about pitching a tent in one of their sites.
Why You'll Love Staying Here and What's Close By
This place has beachfront access to Monterey Bay and is only a short drive to Downton Monterey.
The campground is also adjacent to the Marina Dunes Preserve and nearby Fort Ord Dunes State Park, where there are many natural beauties to explore and several hikes.
A short drive from the Park is the Monterey Bay Aquarium, Pebble Beach, Big Sur, Carmel by the Sea, and many other wonderful places to visit!
Fees: From $80 per night for RVs
Address: 3330 Dunes Dr, Marina, CA 93933
6. Monterey Veterans' Memorial Park Camping Ground
The Monterey Veteran's Memorial Park is a magnificent 50-acre park in Monterey's forested hills. The park provides an affordable camping option in the area set amongst nature, and is perfect for those looking for a more primitive camping option with hiking trails close by.
The campsite works on a first-come, first-serve basis. Facilities include restrooms and showers, while every site has its own table and fire pit.
Why You'll Love Staying Here and What's Close By
This campground is beside some amazing hiking trails that traverse the pine forest and give fantastic views of Monterey Bay.
The park is also situated close to the city center of Monterey and many other exciting attractions in town like the Monterey Bay Aquarium.
It's also a very reasonably priced campsite and makes for a stunning alternative to beachside camping in Monterey.
Fees: From $40 per night
Address: 1200 Veterans Dr, Monterey, CA
7. Saddle Mountain Ranch
This stunning campground is located on 89 acres of forest off Carmel Valley Road, east of the small quaint town of Quail Meadows.
Tucked in amongst a forested area of Monterey pines, oaks, and redwoods, this place is a stunning and shaded campground surrounded by nature trails and wildlife. It also offers a wide array of amenities for those camping in tents, RVs, trailers, or those who'd like to try out their gorgeous glamping options.
Facilities include restrooms, free hot showers, wifi, cable, playground and fun activities like ping pong and badminton.
There's also group camping opportunities, the campground is pet-friendly and it's open year-round. Although it is especially eye-catching in summer!
Why You'll Love Staying Here and What's Close By
Saddle Mountain Ranch is located just 15 minutes outside of Monterey city limits and is tucked into the mountains. So you're close to the city but also within the delights of nature.
Five miles of hiking trails near the campground lead to the top of a mountain, where hikers can witness 360 views of the Big Sur, Carmel Valley, and the Pacific Ocean. So staying here means you can get the chance to enjoy those fantastic views.
The trees that surround the campground also offer a sound barrier from any noise pollution in the area. That makes it a wonderful and quiet place to retreat into the serenity of California's nature.
Fees: From $35 per night
Address: 27625 Schulte Rd, Carmel-By-The-Sea,
8. Carmel by the River RV Park
This lovely boutique park is a family-operated affair situated in the lush surroundings of Carmel Valley. There are various site types to suit different sizes of RVs and trailers, but unfortunately tented camping is not accommodated.
There are all the amenities that an RV park can offer, and it is close to all the area's attractions. Facilities include free wifi, a store, bathrooms, showers, a community patio, lounge and recreation room.
The site has a beautiful garden-like setting to relax in and there's even a shuttle that transports guests to nearby amenities!
Why You'll Love Staying Here and What's Close By
If you enjoy a campsite with a wonderful cottage feel and lots of community areas to socialize and make friends, then this is a fantastic camping opportunity for you in the Monterey Bay Area.
This park is also excellent for campers who love to fish, as it is located right on the Carmel River. It's relatively small too and makes for an intimate camping experience for those who want peace and quiet while remaining close to amenities in town, which are only 10 miles away.
Fees: From $95 per night
Address: 27680 Schulte Rd, Carmel-By-The-Sea
9. Monterey County Fair RV Park
The Monterey County Fair and Event Center is in the middle of the action in Monterey, and offers RV hook-ups for campers who want to be close to restaurants, shopping, and the beach!
The fairground holds events year-round, and so the park can get very busy at times. But this is a nice well-kept clean park. Facilities include laundry, shower rooms, bathrooms and wifi, and the campground is pet friendly too!
Why You'll Love Staying Here and What's Close By
Campers staying here will be right in the center of town, close to the beach, and parked in a lovely spot.
Del Monte Beach is a short distance from this campground too, and the Monterey Bike Path also runs close by.
Fees: $70 per night
Address:
10. Riverside Campground and Cabins
This campground sits just outside of Monterey and offers a blissful camping experience right beside the beautiful Big Sur River.
The campground has tented camping, RV parking, and 12 cabins, all surrounded by 16 acres of stunning Redwoods. There is also beach access from the campsite and hiking trails just 10 minutes away!
The site has amenities such as hot showers and a laundry room. As well as a fire pit and picnic table on every site.
Why You'll Love Staying Here and What's Close By
This has to be one of the most beautiful options for camping in the Monterey area. The river, Redwoods, hiking trails and wildlife spotting opportunities make this a wonderful getaway in nature.
The river also runs directly through the center of the camp so there's swimming and inner-tubing opportunities at the right time of year. Campers can also enjoy fishing at the river.
Fees: From $75 per night
Address: 47020 CA-1, Big Sur, CA 93920
11. Pfeiffer Big Sur State Park Campground
Pfieffer Big Sur State Park Campground is located away from the center of Monterey. But it's a popular camping spot during the summer months because of its proximity to nature and Andrew Molera Beach.
There are a variety of campsites, from sunny spots in a meadow to more shaded areas nestled into the mountain. As well as some that sit on the banks of the Big Sur River.
Facilities wise, there's fresh water, hot showers, toilets, as well as picnic tables and fire pits for each site. With fees starting at just $35 per night, this place can often be fully booked six months in advance, so make sure you reserve.
Why You'll Love Staying Here and What's Close By
This serene campground is pet friendly and sits in beautiful surroundings. There's a multitude of amazing hiking trails to enjoy and even a hot spring close by.
It's also one of the most affordable options for camping in and around Monterey.
Fees: From $35 per night
Address: Pfeiffer Big Sur Rd, Big Sur
12. Laguna Seca Recreation Area
The Laguna Seca Recreation Area is the perfect place for campers to stay if they want to be close to WeatherTech Raceway Laguna Seca!
This camping area offers RV parking and tent camping close to all the action at the racetrack. It's also very close to Monterey, which lies just a few kilometers away.
Facilities include clean bathrooms, showers, a playground for kids as well as campsites with fire pits, and some with electric hook ups. The water is non-potable though, so you will have to bring your own drinking water.
Why You'll Love Staying Here and What's Close By
This camping in Monterey option is perfect for those who want to be close to the action. You're minutes away from Monterey itself, and the WeatherTech Raceway Laguna Seca is nearby too. Despite being so close to Monterey, the prices are very affordable.
Cycling enthusiasts can also use the Laguna Seca Area as a starting point for many bike trails. Nearby is the Laguna Seca Rifle and Pistol Range for those who want to practice their aim.
Fees: From $30 per night
Address: 1021 Monterey Salinas Hwy, Salinas
13. Pinnacles National Park Campground
Located in the beautiful Pinnacles National Park, this campground offers the opportunity for campers to have access to the incredible hiking trails in the park.
The campground features restrooms, dumping facilities, a coin-operated shower, and even a pool that's open during the warmer months of the year. It's secluded and set in stunning surroundings, with lots of shade from ancient oak trees.
Why You'll Love Staying Here and What's Close By
This campground gives you access to rock climbing routes, bird watching opportunities, and lots of hiking trails. There are also several caves in the park that can be explored, depending on the weather conditions and season.
The Pinnacles are stunning natural rock formations that are well worth visiting at least once in your life. So this Monterey camping option is perfect for nature enthusiasts looking for a real escape from city life.
Fees: From $23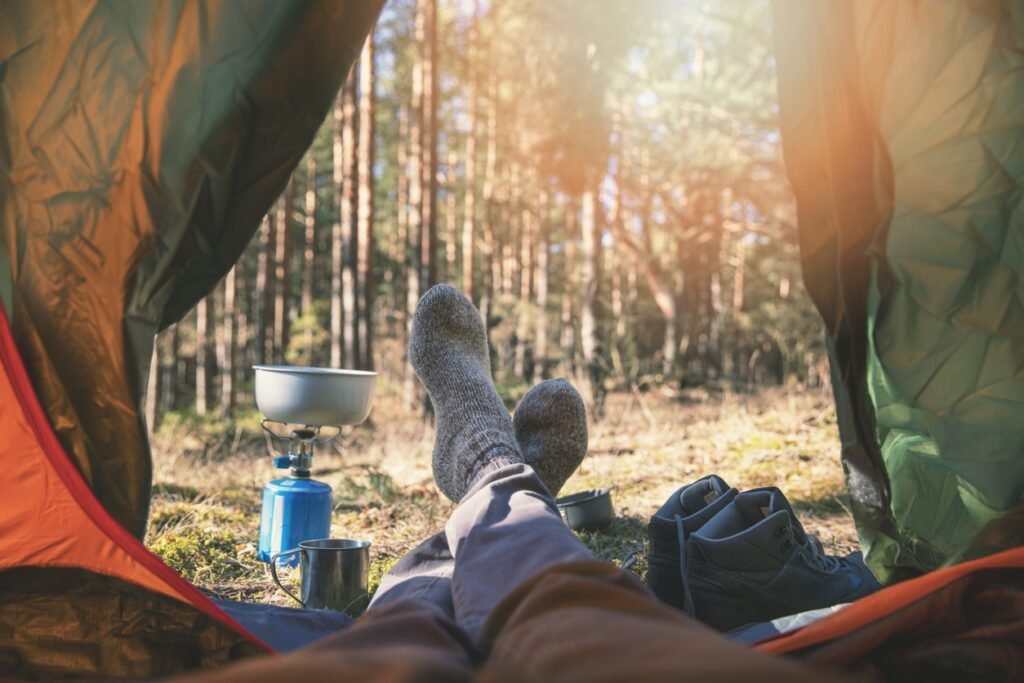 14. White Oaks Campground
Located in the wider Monterey area, the White Oaks Campground is off the Tassajara Road and offers eight peaceful and well spaced out camping sites.
The campground is shaped in a loop and set amongst shrubbery, trees, and berry bushes. The bushes draw in red-tail deer and small animals, and are a wonderful way to view the wildlife in the area right from your campsite.
Located in the Los Padres National Forest, this campground is best for tented camping, but a few RV spots are available too. Camping requires preparation though as there is no potable water on-site, and only two-valued toilets.
Why You'll Love Staying Here and What's Close By
The campground is surrounded by the shade of oak and pine trees, which creates a wonderful sense of privacy and serenity. They enforce a quiet rule from 10pm so you will only hear the noises of nature at night.
This place is perfect for wildlife spotting too. There are over 90 different bird species in the National Forest, and the likes of bobcats have been spotted in the campground.
White Oaks is the perfect campground for getting as close to nature as possible. This place is not heavily trafficked either, making it perfect for campers who enjoy peace and serenity.
Fees: $20 per night
Address: 41999 Tassajara Rd, Carmel Valley
15. Julia Pfeiffer Burns State Park Campground
The campground in the Julia Pfeiffer Burns State Parks is located an hour outside Monterey city but is lauded as one of the best camping sites in the entire area.
However, there are just two campsites available! Both are walk-in, tented camps. Each campsite is about 1/2 mile from the parking area; so be prepared to trek to the site with your gear.
There are vaulted toilets, fire pits, and food storage lockers. The campsites don't have any water, but there are some water spigots and flushing toilets by the day-use area.
These sites are very popular and you may have to reserve a spot more than six months in advance. However what you get is a campground virtually all to yourself, in one of California's most beautiful landscapes.
Why You'll Love Staying Here and What's Close By
The campground is located in a park along the beautiful Big Sur and there's a multitude of activities for people to enjoy nearby, such as hiking, bird watching, biking, and scuba diving in a 1680 acre underwater reserve.
This campground may be out of the way, but it offers everything that a nature-loving camper could want in a stunning area.
Fees: From $30 per night
Address:
Dispersed Camping In Monterey
DISCLAIMER: Below we give general advice, but we always recommend staying in an official campsite. If you choose to go wild camping/dispersed camping, then make sure you do so with someone who already knows the area where you're planning on camping for your own safety.
California has some incredible natural areas from beautiful beaches to wildlife-filled forests. If you find joy in camping without bounds, then there are many options for dispersed or remote camping in Monterey.
Public land owned by The Bureau of Land Management and the United States Forest Service can be camped on outside of a developed campsite.
Legally in Bureau of Land Management Areas you can camp for two weeks at a time within a 30 mile radius during a 28-day period. What that means, is that you may camp within a 30 mile radius for two weeks, either all in one block, or spread out across a 28-day period. This is perfect for hikers who will move camp a few miles at a time.
The regulations are slightly different in California state forests. You may camp at one site for a maximum of 14 days, and you may stay in each district for up to 21 days before having to vacate.
Ranger stations will also offer in-depth information on dispersed camping sites in the Monterey area.
We've outlined the rules around dispersed camping in California in a previous article, and explain the free camping sites you can use. You can read that by clicking here!
What's The Best Time Of Year For Camping In Monterey
California has excellent weather all year round, and Monterey is no exception. Monterey offers many wonderful attractions throughout the year, but the best time to visit and camp may be in spring, between April and May. Springtime offers mild temperatures and fewer crowds and there's also food festivals to enjoy like Pebble Beach Food & Wine and the Artichoke Festival in Castroville.
Summertime in Monterey is the most popular time of year for people to come, visit and camp. However that means campgrounds fill up fast and can be very busy.
Fall is another great time of year to visit, but the likelihood of rain increases.
Winter has some chillier weather, but it is still a good time to visit. There are lower, out-of-season prices during winter, and the AT&T Pebble Beach Pro-Am event occurs in February, which is full of celebrities.
What To Do When Camping In Monterey
Monterey has many activities to do, places to see, and beaches to visit. There are whale watching tours, historical sites to visit, and so many outdoor activities to enjoy like hiking, water sports, and fishing to enjoy.
It's close to magnificent places like Lovers Point, Big Sur, Carmel, and several beaches along the California Coastline. .
Camping in Monterey also allows campers to explore the natural landscape, wildlife spot and enjoy beachfront camping. So get out there and enjoy!