Wandering our World is reader supported! If you purchase anything through a link on our site, we may earn a commission at no extra cost to you.
Last updated on December 1, 2022 by Wandering our World
Looe, the picturesque town in Cornwall, is often described as one of the most beautiful places in the country. It's known for its fishing heritage and stunning coastal scenery, but the restaurants in Looe are some of the best in the area too, and offer a wide variety of cuisines to suit all taste buds.
With its dramatic coastline and charming old-world cottages, it's easy to see why this little town is such a popular tourist destination, and why a burgeoning cuisine culture has begun to be built around it.
Whether you're looking for a romantic dinner for two, or a hearty meal with the whole family, you're sure to find something to satisfy your hunger pangs in Looe. So next time you're visiting Cornwall, be sure to make a stop in this lovely little town and enjoy some of the best food that it has to offer.
The Ten Best Restaurants In Looe: Food Worth Waiting For!
The food culture in Looe is a mix of traditional British fare and international cuisine. There are a number of excellent restaurants in the town, and they offer a wide variety of dishes to suit all taste buds.
You can enjoy a traditional fish and chips at one of the local pubs, or you can sample some delicious Italian dishes on offer one of the trattorias. There are also a few Asian restaurants in town, so you can enjoy a taste of Asia while enjoying stunning British coastal views.
No matter what type of food you're looking for, you'll be able to find it in Looe. In fact, there are so many great places to eat in the town that it can be difficult to narrow down your choices. (Related: Cornwall Day Trips: Unique, Exciting, and Free Things To Do).
As we know this place so well, we've chosen our 11 favourite Looe restaurants. We've been picky. This isn't a list of every restaurant in Looe, or a list of the biggest and most well known ones. Instead this is what we believe to be the best for food and experiences. Bon appetit!
1. The Old Sail Loft Restaurant
If you're looking for a truly unique and memorable dining experience, The Old Sail Loft Restaurant is definitely worth checking out.
This historic building is one of the oldest in Looe and is still largely preserved in its original form. It's said that the cellar and loft date back at least 450 years. Seeing them makes it easy to imagine what life must have been like in this charming little town centuries ago.
The snug comfort of the restaurant's atmosphere is due in no small part to its historical associations, and it's a great place to sit back and relax with a drink while enjoying the view of the boats sailing by on the river outside. Considering the proximity to the sea and the fact it's right beside the harbour, it may come as no surprise that The Old Sail Loft specialises in seafood!
Although they have a focus on fresh seafood straight from the quay, you can also enjoy Cornwall's finest steak & poultry here. They cater to vegetarians, vegans, and any dietary requirements too.
'Local Produce, Low food miles' is their slogan, and the outcome is some of the best dishes in town. They also have a very nice outside terrace and a dog friendly section as well!
Address: Quay St, West Looe, Looe PL13 1AP
2. Smugglers Cott
The Smugglers Cott is a historic restaurant in the heart of East Looe, overlooking the seafront and is famous for its fresh seafood and prime steaks. It was built in 1420 using timbers from the Armada so you can imagine just how unique and special dining here is. In fact the restaurant is The Smugglers Cott because there's an old smuggling tunnel running underneath it!
This charming inn has that 'olde world' feel and atmosphere, and offers a traditional English pub menu with a focus on local, fresh ingredients. Especially seafood!
There's a fantastic selection of wines, beers, meads, and ciders too, sure to make your meal even more enjoyable. The carvery is a must-try, with roasted meats, seafood, and seasonal vegetables served fresh daily.
If you're looking for a romantic, candlelit dinner or a hearty meal with friends, The Smugglers Cott is worth a visit. Definitely one of the most historic restaurants in Looe and Cornwall.
Address: Middle Market St, The Quay, Looe PL13 1AY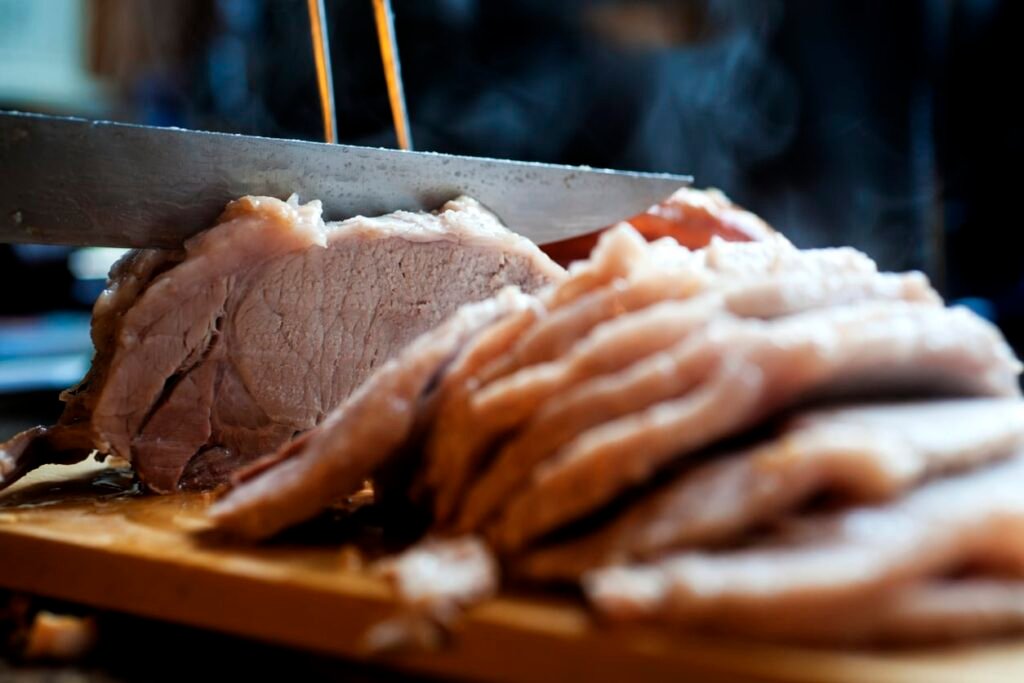 3. Papa Nino
If you're looking for a taste of traditional Italian cuisine and comfort food combined with the best of coastal cuisine, this intimate Looe restaurant – which only has around 20 seats – is definitely worth a visit.
Papa Nino is always lively and popular, so be sure to book in advance if you want to snag a table during busier times of the year. The portions are hearty and the dishes richer than average – perfect after a day spent exploring everything that this charming town has to offer.
As they're situated near the Quay, their menu features some of the finest, freshest seafood around, including their house specialty, lobster thermidor – but you need to give them a minimum of 24 hours notice if you want to order this special dish!
This old-school intimate Italian restaurant is the real deal, but make sure you reserve in advance as this is one of the most sought after restaurants in Looe.
Address: Higher Market St, The Quay, Looe PL13 1BP
4. The Sardine Factory
The Sardine Factory is a stylish yet casual spot for you to really make the most of local cuisine. Whether you join them for breakfast, a light lunch, dinner with friends or family, a romantic night out, or a big celebration; their innovative and modern coastal cuisine will leave you feeling satisfied.
Using the freshest of fish bought from Looe market which is opposite the restaurant, their food philosophy is to keep it simple and fresh. They let their ingredients do all the talking!
With superb views of the boats bobbing in the harbour and the sun setting over the horizon, this is a restaurant that will take your breath away. Try any of their seafood dishes such as the Pickled Mussels with Seaweed Salt of course, or the scotch egg, beef cheek, and orzo pasta.
Award-winning chef Benjamin Palmer – quarter finalist in 'Masterchef: The Professionals' back in 2011 – returned to his hometown to open this dreamy spot, and his passion for fresh, seasonal cuisine shines through in every dish.
From starters to desserts, there's something for everyone on The Sardine Factory's menu. So go and explore all that this beautiful corner of Cornwall has to offer.
Address: Quay Rd, West Looe, Looe, PL13 2BZ
5. The Courtyard Cafe
As you step out and away from the busy high street and into The Courtyard Cafe's wonderfully secluded Mediterranean courtyard, you can enjoy their wonderful garden showcasing many herbs, spices, fruit, vegetables, and flowers.
Their indoor and outside seating is perfect for dining at any time of the day, and for enjoying a glass of wine. Why wine? Well this cafe is also a wine shop, and their selection is one of the best in the region. Not sure what to try – they do wine tasting!
This restaurant is a haven for people who appreciate good food and fresh, local produce. They work with local businesses to bring you the best food that Looe has to offer. Their menu changes regularly to reflect the changing seasons and the availability of local produce. Do try the Scallops – it's a favorite of ours!
Whether you're joining them for lunch, a light bite, wine, or just a coffee and slice of cake, you'll love the food. Not to mention the staff are friendly and this place is dog friendly too.
Address: Fore St, West Looe, Looe, PL13 1AE
6. Ocean & Earth Thai Restaurant
The best Thai restaurant in the area can be found at Ocean & Earth. This establishment serves up authentic Thai cuisine, made with fresh herbs and spices and without any MSG. Whether you're eating in or taking out, there's something for everyone on the menu. So if you want an original taste of Thailand, this is the place for you.
Expect delicious Thai classics like Pad Thai, stir fry and curries, all made with the finest and freshest ingredients, as well as local seafood combined with Thai flavours.
The staff are passionate about their work and strive to create an unforgettable experience for every guest. And with the Thai decor and twinkling hanging lights, it's certainly a unique experience in Looe.
Whether you're looking for a romantic evening out, or a night with family and friends, this restaurant is the perfect place to enjoy fantastic Thai food in an relaxed setting.
Address: Higher Market St, The Quay, Looe, PL13 1BP
7. The Lookout
The Lookout is a cafe that serves up locally and ethically sourced food in the picturesque town of Looe. This cafe has a passion for great coffee and food, and their menu reflects this with mouth-watering dishes made with fresh, seasonal ingredients.
The Lookout aims to provide all of that in a warm and welcoming environment, where guests can relax and enjoy the company of friends and family. We think they've achieved that perfectly, especially with the events they hold like magic nights and movie nights.
They have sea-fresh crab sandwiches that are well worth trying, as well as an amazing selection of cakes such as their Scone, Butter & Jam and other delicious food. The cakes and coffees are probably the best we've tasted in Looe!
As an added bonus this is one of the most dog friendly restaurants in Looe.
Address: Shop 3, Seafront Court, The Quay, Looe PL13 1AL
8. Kelly's of Looe
Kelly's is a lovely, family-owned fish and chip restaurant right in the middle of pretty Looe. They serve the most delicious, freshly cooked fish and chips daily – it's simply mouth-watering!
Whether you're ordering takeaway or joining them for a family gathering, you're sure to receive a warm welcome, excellent food, and quality service. They use only the highest quality, sustainably sourced fresh fish, which is prepared with care and always served with a smile. 
They also serve up some delicious traditional pub food, including the very popular chicken paella and tasty salt and pepper squid. The chips are divine, and they even make their own coleslaw – which is well worth trying!
Kelly's is definitely one of the best restaurants in Looe and perfect if you're looking for the UK's most famous food – fish and chips!
Address: Fore St, The Quay, Looe PL13 1DT
9. Daisy's Cafe
Daisy's is a charming old-fashioned bakery and café that serves up some of the best light lunches and cream teas in the area. This is a lovely laid-back spot that is very kid friendly and dog friendly too!
From homemade pastries and savories to delectable desserts, there is something to tempt everyone's palate at this charming eatery.
They have some wonderful lunch options, with specials that change daily – so there are always new things to try. If you're looking for an afternoon treat, they make the most delicious cream teas, which is one of their specialties! You'll also find cakes and pastries here too.
There's nothing quite like Daisy's Café, and it's definitely one of the best restaurants in Looe for lunch!
Address: Castle St, East Looe, Looe PL13 1BA
10. Chennai Indian Fusion
The Chennai Indian Fusion restaurant is a hidden gem in the town of Looe. The food is a flavorful journey through the diverse landscape of modern Indian cuisine. As an added bonus, you can bring your own alcoholic beverages as they offer free corkage.
The spices and flavors are complex and will leave you wanting more. So if you're looking for an amazing culinary experience, be sure to check out Chennai Indian Fusion.
Indian food is something that is definitely worth trying if you've not had the chance to do so before. This restaurant offers a mixture of delicious Punjabi dishes, such as tandoori chicken, as well as Mughal dishes like korma and biryani.
With a wide variety of dishes to choose from, you'll be sure to find something to your taste. Whether you're looking for spicy curry or delicious naan bread, this restaurant will have something to satisfy your appetite.
Without a doubt one of the best restaurants in Looe and Cornwall for Indian cuisine.
Address: No.7 Buller St, West Looe, Looe PL13 1AR
Restaurants In Looe: Our Final Thoughts
As you can see, there are some amazing restaurants in Looe that are definitely worth trying. The food here is delicious, the dining experiences unique, and the atmosphere charming.
There are so many great restaurants in Looe, but these are definitely some of the best! If you're planning on visiting this gorgeous town, be sure to check out one or two of these eateries. They'll have something for everyone's palate.