Wandering our World is reader supported! If you purchase anything through a link on our site, we may earn a commission at no extra cost to you.
Last updated on November 20, 2022 by Wandering our World
Huntington is a great weekend getaway with art, theatre and cinema lovers all spoilt for choice when in town. However, if you're looking for something fun to do in the evening, this town has some great nightlife options too, including many unique and fun bars!
And one of the best things about the bars in Huntington is that most of them double as excellent restaurants too. Many also host exciting events, music nights, art exhibitions and trivia nights – as you'll soon see!
So to help you out, below we've put together 12 of the best bars in Huntington for having a great time. We've even divided them up into four categories so you can find the right one for you depending on the mood you're in.
Let's get started!
CONTENTS:
The Three Best Music Bars
The Three Best Bars For Beer
The Three Best Cocktail Bars
The Three Best Pubs
The Best Music Bars In Huntington, NY
1. Spotlight at the Paramount
Stylish and photogenic bar with great beer selection and frequent live music.
If you are looking for a place with a unique and artsy vibe for the evening, this place is exactly that.
The colorful, stylish yet relaxed interior gives a quirky charm to the space where visitors can enjoy drinks, food, an art exhibition and live music. Be sure to check their events page to see what's on before you head out.
You will find yourself surrounded by cool posters, a ceiling decorated with neon-colored spotlights, drawing boards and chairs you can write on, and even a one-of-a-kind restroom with a mirror covered ceiling.
The staff are sweet and friendly too, adding to the wonderful and laid-back atmosphere of this vibrant spot.
The bar offers a good selection of tap beers, and a variety of liquors and house wine. The sandwich and burger menu also includes some delicious options (including some vegetarian ones) and some indulgent desserts.
Enjoy a good time and some great live performances on a night-out with your friends!

Address: 370 New York Ave, Huntington, NY 11747
2. Repeal XVIII
Fun live music bar with games, TVs, a piano and beer garden!
This cool, chic, prohibition-era inspired bar is safe bet for a night full of live music and unique cocktails. Their unique mixes include items like White Negroni, Sailor's Revenge and East Meets West to name just a few – check out the amazing collection of cocktails for yourself and see which one is your favorite!
The vintage decorations create a charming and cozy environment, and you also have an option to hangout outside in the beer garden.
The bar regularly hosts live music events, and we recommend checking their website before you visit.
But even though their event program is one of their standout features, there are so many other aspects that make it so unique. For example the antique interior and the beautiful murals along with a porch swing provide with great photo opportunities! And if you're in the mood to relax there are super comfortable sofas and games like jenga, pool and darts.
There is also a massive TV screen where you can enjoy a sports game and even a piano if you're feeling extra musical – this quirky bar has it all! On top of that, you can book the space for a private event.
Address: 30 New St, Huntington, NY 11743
3. Honu Kitchen & Cocktails
Chandelier-clad classy bar great for cocktails, music, and dancing, especially at the weekends.
For those who are looking for something fancier and more elegant for enjoying some music on a Friday or a Saturday night, this classy bar is the perfect option.
What sets it apart is that on those nights it turns into a spot that's great for both cocktails and dancing with a DJ performing every week. Therefore, it would be a wonderful destination for those who want to enjoy some dance music while sipping on an artisan craft cocktail.
The interiors are extra stylish with elegant chandeliers decorating the ceiling. It's a warm and beautiful environment for enjoying a rich menu filled with appetizing dishes and house specials.
The drinks menu will impress you with some creative cocktails, craft beer and classic beer, as well as a good selection of wine.
Happy hours start at 5pm and finish at 7 pm from Wednesday to Friday, and there are discount prices for select drinks and bites. Enjoy a fancy evening and some dancing and don't forget to book a table!
Address: 363 New York Ave, Huntington, NY 11743
The Best Bars In Huntington For Beer
1. Threes Brewing
Tasting Room with lots of beers and ales within a laid-back space.
Threes started as a brewery in Brooklyn and made it their mission to celebrate both the simplicity and the uniqueness of beer. They specialize in ales, lagers, dark beers, mixed-culture beers and more.
The creators of Threes Brewing have been consistently delivering amazing drinks to those who appreciate freshly-brewed beers and have gained a strong reputation amongst local beer connoisseurs in the area. So if you are a fan of beer, you can't miss out on this bar in Huntington!
Their welcoming atmosphere and staff make sure that guests don't only come to enjoy some high-quality drinks though, but also to connect with each other and enjoy a great time together.
On top of that, this place serves as both a tasting room and a shop, so you will have an opportunity to try different kinds of beer and learn about the process of creating it. The relaxed vibe of the space is great for an evening filled with good conversations and good drinks.
Address: 20 Clinton Ave, Huntington, NY 11743
2. Christopher's Pub & Eatery
Friendly dive bar with a late-night kitchen, plenty of beer, and entertainment like live music and trivia nights.
This old-school cozy spot is both a restaurant and a bar, and a great destination for late night food cravings – the kitchen is open till 4 am!
It is a dive bar with friendly staff, a welcoming environment and a nice selection of beers on tap as well as a wide range of bottled beer choices. The food selection includes a multitude of delicious options too, such as burgers, wings, salads, quesadillas, wraps and much more, all of which go excellently with their beer menu. So this is a great spot for foodies and beer lovers!
Another great feature that makes this place unique is their events program. Enjoy trivia nights on Tuesdays, live music nights on Wednesdays and karaoke nights on Thursdays!
On top of that, the bar offers great deals for drinks and appetizers during happy hours starting at 4pm and finishing at 7pm from Monday to Friday. This is a great place to relax on a week day, enjoy some good beer and great food and have a fun time.
Address: 8 Wall St, Huntington, NY 11743
3. The Rust & Gold
Good food, beer, and cocktails in a fun bar perfect for chatting with friends and watching sports.
The Rust & Gold is a vibrant restaurant and bar with a great energy about it and a friendly vibe. This is definitely a place you can enjoy with a family over lunch, or a pint of beer from their generous selection with friends.
The bar offers a rich variety of beers, and beer fans will definitely find something for their taste. In fact you can get beer from the tap, numerous canned and bottled brands and an impressive range of craft beer too! There are also cocktails, slushies, luxury liquors and wine to select from.
The food menu includes generous portions of hearty burgers and sandwiches, delicious salads, light snacks and dips to share with the whole group.
The garage-style interior is decorated with sports trophies and souvenirs while the TV screens broadcast sports games and events – this spot is a truly wonderful place for sports lovers.
Energetic and friendly staff create a bright and charming atmosphere too, and one that you're sure to enjoy. This is one of the most popular bars in Huntington, NY, so be sure to arrive in advance if you want to get a table on a busy Friday night!
Address: 70 Gerard St, Huntington, NY 11743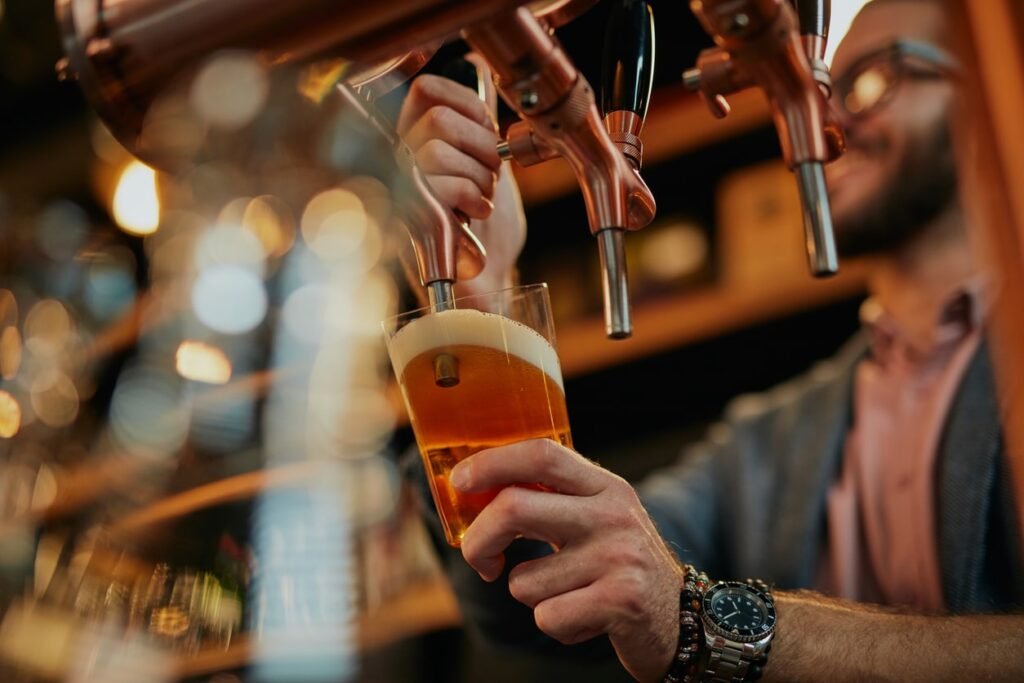 The Best Cocktail Bars In Huntington, NY
1. Bar Petite
French-inspired cocktail bar with a focus on martini-based drinks and appetizers like cheese and meat boards.
As the name suggests, this is a charming and cozy little place where the cocktail menu is bound to impress.
As you walk in you are welcomed by friendly staff and often the owner himself, who loves to chat to the guests, all of which creates a warm and enjoyable space.
The design is inspired by French cafes and the walls are tastefully decorated with art nouveau posters, making it a great spot not only for drinks but for dinner as well. And when the weather is warm you can sit outside and enjoy some fresh air to go along with your cocktails and bites.
Speaking of bites, this place had an amazing selection of snacks and appetizers – delicious cheese plates, meat and fruit boards, flatbreads and salads.
Main courses are available too, and we recommend to try the braised beef ravioli, one of Bar Petite's signature dishes.
The cocktail list is both extensive and inventive too, with a focus on martini-based drinks and a selection of classic craft cocktails as well. Discount prices on drinks and small plates are available during happy hours from 5pm to 6:30 pm every day!
Address: 56 Stewart Ave, Huntington, NY 11743
2. The Last Word
Peruvian inspired food and drinks in a bar that often hosts jazz nights.
This unique, trendy and elegant bar is the place to go if you are up for some high-quality craft cocktails. What makes this place stand out even more is their Peruvian-inspired menu, so if you feel like trying some delicious food along with great cocktails, this is the perfect option.
Try the freshly made ceviche, jalea shrimp tacos, octopus, yucca truffle fries and many more from the bar's versatile dinner menu.
The cocktail list includes some Peruvian fusion options with a Pisco base, some herbal originals and many more unique mixes for every kind of preference, be it sour, sweet, fruity or strong.
On top of that, The Last Word also host regular jazz nights that will elevate your evening even more! If you check their events calendar, you can schedule check out the dates for live music night and other entertainment, which sometimes includes art exhibitions and bachata evenings.
As this place is one of the most popular bars in Huntington during dinner and brunch, we recommend making a reservation.
Address: 13 Wall St, Huntington, NY 11743
3. Vauxhall
Laid-back cocktail bar with many creative inventions and outdoor seating.
If you are looking for a relaxed, cozy and comfortable place to spend the evening, this spot is easily one of the best bars in Huntington for you.
Not only a bar with a wide variety of drinks and excellent cocktails, this is also a great restaurant that serves some of the best burgers in the area. In addition, you can order wings, fries, sandwiches, salads, ice cream and even a vegan burger!
The cocktail menu offers some classic options, some beer and wine options as well as ten original signature cocktails you can only try here at Vauxhall. Consider the Cold Brew Old Fashioned, a variation of the classic drink made different by the use of cold brew coffee and chocolate.
Overall this place has a warm and welcoming atmosphere with both indoor and outdoor seating. The dimmed lighting and soft background music make for a wonderful evening and a great opportunity to talk and socialize.
So if you're looking for delicious cocktails, amazing food, and great conversations, this is easily one of the best bars in Huntington, NY, to check out.
Address: 26 Clinton Ave, Huntington, NY 11743
The Best Pubs In Huntington, NY
1. McKeown's Pub
Popular Irish pub open until late with fun atmosphere and lots of beer.
The founder of this pub started out his career in Belfast before bringing some unique and warm Irish charm to what is now regarded as one of the best bars in Huntington, NY.
There is always a friendly and laid back atmosphere at McKeown's thanks to its awesome staff and bartenders, and you are sure to spend a lovely evening here. As soon as you arrive you will find yourself immersed into the atmosphere of a genuine Irish pub, which is created by the dark woods and emerald walls, creating a wonderful and cozy atmosphere.
It will also be an exciting spot for those who enjoy different kinds of beer – the bar offers more than 30 varieties of the drink on tap!
The place is even open until 03:30 in the morning, and its convenient location makes it a very popular spot for everyone, so keep in mind that it can get somewhat crowded at times.
But that only adds to the fun and vivacious vibe of this pub, and if you're looking for great night out with friends, this is certainly a great option!
Address: 1 Clinton Ave, Huntington, NY 11743
2. Finnegan's
Old-school Irish pub with an impressive and extensive food menu, alongside outside area.
Both locals and visitors adore this old-school Irish pub and for good reason! It's most outstanding feature is the atmosphere – there is a welcoming and friendly feel to the place that's possible thanks to the warm and cheerful staff and owners. The relaxed interiors will also make you feel right at home.
You will definitely enjoy the food on the extensive menu at Finnegan's too. Customers rave about the delicious burgers and fries, quesadillas, Manhattan clam chowder and a great menu of salads. The food here is so good that locals often frequent the place for lunch with the whole family – the kids' menu is pretty awesome too!
The bar offers a good collection of beers on tap, some tasty classic cocktails, and there are some great soft drinks to choose from as well.
On top of that, Finnegan's is a great bar to visit for special occasions and holidays – they have special food and drink menus for St Patrick Day, Christmas and other festive times.
So enjoy the outdoor area in the summer and cozy up indoors in the winter, this place is an amazing option all year round!
Address: 5 Wall St, Huntington, NY 11743
3. Nag's Head Ale House
Energetic bar with plenty of craft beer, as well as frequent entertainment like live music and open mic nights.
Located right in the heart of Huntington Village, this is one of the most vibrant pubs in the area. The interior is cozy, relaxed and spacious, providing guests with an opportunity to dance at the end of the night.
It is a great spot if you're in the mood to grab a quick drink – the selection of craft beers has plenty of great options. However, if you want to spend more time here and have a fun evening, the events program will surely light up the mood. The bar hosts open mic nights, live music performances and even trivia nights every week!
Both locals and visitors enjoy coming here on any day of the week because the atmosphere is always upbeat and energetic. If you're looking for a fun and lively hangout along with good food, drinks and entertainment, this place will suit you well.
Address: 396 New York Avenue, Huntington, NY 11743