Wandering our World is reader supported! If you purchase anything through a link on our site, we may earn a commission at no extra cost to you.
Last updated on January 21, 2023 by Wandering our World
Costa Rica and Belize are both Central American holiday destinations that will inspire awe and appreciation for nature and its beauty, leaving you feeling thoroughly relaxed and amazed – and desperate to stay a bit longer. Belize and Costa Rica each offer such unique and unforgettable experiences, which makes it all the more difficult to pick which one to visit!
Each has a slightly different forté, so ultimately which you choose will come down to what you most want to do and experience during your holiday.
If you want to be snorkeling, diving, and relaxing by azure blue waters, then English-speaking Belize could be the better choice for you. But if you'd prefer a slightly more active and adventurous holiday, with wildlife watching, hiking, and jungle touring – try Spanish-speaking Costa Rica.
However in truth that's just scratching the surface when it comes to how these two destinations differ.
Luckily as we know both countries so well, below we show you the main differences and similarities between Belize and Costa Rica. All so you can make the right decision.
Let's get started!
CONTENTS:
A Quick Overview
Which Has Better Beaches & Activities
Which Has Better Nightlife
Where To Stay Depending On Your Budget
How Does The Food, Drink & Culture Compare
Which is More Affordable
Which is Safer to Visit
Which Is The Better Choice
A Quick Overview Of Costa Rica vs Belize
Belize is small in size, number of inhabitants, and attracts fewer international tourists than Costa Rica.
No where in Central America can beat Belize for its sea life, which is bursting with colourful coral gardens, crocodiles, sharks, rays – you name it, their waters have it. It's also English speaking while Costa Rica is natively Spanish.
Belize is also a fantastic beach destination and gives off those tropical Caribbean vibes we all want to enjoy at least once in our lifetime.
You'll find gorgeous turquoise waters in this country and countless stunning paradise islands.
However Costa Rica will take you to the depths of some of the most lush and tropical rainforests, with monkeys swinging above your head, more than 850 species of bird, along with volcanoes on the other side of bountiful forests.
If you're more drawn to inland attractions, wildlife watching and hiking then Costa Rica is the place for you.
It's also much larger in landmass than Belize, but luckily they have two internal airlines that run across the country to aid travel.
Overall, Costa Rica's wildlife is nothing short of spectacular, and there are fun jungle lodges and immersive options for accommodation if your budget allows. For wildlife spotters who want to see animals like sloths, toucans and jaguars, Costa Rica is unbeatable.
Below we compare both destinations in more detail, looking at which has the better beaches, activities, nightlife, as well as which is cheaper and safer. We also look at their culture, food and drink. So read on to begin your adventure!
Which Has Better Beaches & Activities?
You won't be disappointed with the beaches and activities on offer in either country.
However Belize is better known for having gorgeous beaches as well as reefs for snorkeling and water activities, while Costa Rica has stronger inland adventure options, teeming with biodiversity and eco-tourism.
Belize: Beaches & Activities
Bordered by Mexico, Guatemala, and the Caribbean Sea, Belize boasts some of the most gorgeous and tropical seas, with the Belize Barrier Reef a dreamy location for snorkeling and scuba diving, spanning across the entire length of the country.
The crystal clear waters and pearly white beaches are of course, a huge appeal, and staying at Ambergris Caye is a popular choice, and makes for a stunning yet relaxing beach holiday.
Without a doubt if you're looking for the best white sand beaches and crystal clear waters, then Belize will be a better choice than Costa Rica.
Recommended: The Best Beaches in Belize
While the coasts and beaches should definitely be on your to-do list, Belize offers so much more: some of our favourites include wading through underground streams to idyllic, artifact-filled caves, or simply chilling on the beach with Garifuna musicians in the background after a day of diving and exploring.
Also of note is the Blue Hole National Park – a naturally indented expanse of deep blue sea, formed after the collapse of an underground cave.
While the underwater attractions are a huge part of Belize's appeal, the inland tourist activities range from visiting crumbling Mayan ruins, hiking through jungles and spotting wildlife at Bacab Eco-Park, and even stargazing up at the clear starry skies in one of the best destinations world-wide for star watching.
Related: Breathtaking Hiking Trails in Belize
Costa Rica: Beaches & Activities
Costa Rica is not to be overlooked or overshadowed – this country too is not lacking for picturesque natural beauty, with mountain views fit for postcards, tropical rainforests, misty volcanoes, and of course, exotic beaches.
The mainland beauty is their prime attraction, so if you want perfect white beaches, be aware that Costa Rica's vibrant jungles tend to spill out right up to the beach front, making the sand a bit darker and waves slightly rougher. That said, Playa Tambor makes for a lovely beach vacation.
Recommended: Sharks in Costa Rica
With inland adventures more of a focus in Costa Rica, animal and wildlife lovers won't be disappointed when they're in the heart of the nation's towering forests searching for jaguar footprints, and wandering along canopy walkways.
We also recommend water activities for when you're not wildlife watching, with hot river swims, and white water kayaking a few of the experiences you won't want to miss out on. When it comes to adventurous activities and wildlife, Costa Rica beats Belize hands down.
With so many natural attractions found across the country, some of the most notable ones include the Arenal Volcano National Park, the mountain rainforest and wildlife found in Monteverde Cloud Forest Reserve, and Cahuita National Park which is a reserve protecting the only coral reef off the coast.
Recommended: Incredible Hiking Trails in Costa Rica
Which Has Better Nightlife?
You can find a good party in both countries, but Belize has a more relaxed nightlife scene, while weekends in Costa Rica can have you up into the early hours, and sitting with an aspirin and coffee the next morning.
Belize: Nightlife
The vibe is laid back. There are plenty of trendy beach bars and clubs especially in the San Pedro and Cayo districts. The capital, Belize City, is also a lively location if you're looking for some fun be it day or night, with plenty of restaurants, live entertainment and places to grab a drink at the likes of La Cabana.
Belize doesn't have the most outrageous nightlife scene, and evenings here will be better suited to those looking for a chill tropical-feeling night than club and party fans.
Costa Rica: Nightlife
The nightlife across Costa Rica is mighty and vibrant, with locals enjoying a good weekend out at bars and clubs until the early hours of the morning.
There are many cities across the country which are great choices for a night out, such as Tamarindo, Santa Teresa, and San José.
Additionally, Jacó tends to be the best known party town and is favoured by those looking for a young and hip night scene, so if you're looking for clubs and beach parties this is the place to start.
Where To Stay Depending On Your Budget
Costa Rica
Shoestring: This hotel (see photos and rates) is excellent value, and while it's in a rural location, it does sit right on the beach in the Tortuguero National Park – a place famous for its wildlife and turtles. To get a beachside spot at this price, with outdoor pool and hammocks included, is a steal.
Budget: The four-star Eco Boutique Hotel Vista Las Islas Reserva Natural (see photos and rates) complete with infinity pool, pool bar, and spectacular ocean views over the Gulf of Nicoya is an affordable choice which looks worth more than their current nightly rates. Dreamy is the best way to describe it.
Luxury: With its own private beach, swimming pools, tropical gardens, and every facility imaginable (even a nightclub!), Resort Dreams Las Mareas All Inclusive (see photos and rates) is one of those places we all want to visit once in our lifetime.
Belize
Shoestring: Hidden Haven hostel is tucked away in the Belize jungle and is very cheap. But that doesn't mean it's lacking in facilities or views.
You'll be greeted by the sound of birds in the morning, jungle foliage, and even a swimming pool! With plenty of outside spaces to enjoy the sun and shade, as well as Mayan ruins close by, this is hostel vacationing but in style. See prices, images and reviews by clicking here.
Budget: Featuring an outdoor swimming pool, garden, excellent restaurant, beach and jungle access, as well as free kayak and bike hire, it's hard to beat Parrot Cove Lodge (see photos and rates) for views or price. The colors of the sea here in particular, are extra special.
Luxury: Ocean views from your own private villa. Check. Your own private pool. Check. Direct access to one of Belize's best stretches of coastline. Check. Big outside pool with swim-up bar. Check. The Lodge at Jaguar Reef (see photos and rates) is as 'Instagrammable' as you can get.
How Does The Food, Drink & Culture Compare?
Between the two, we've found that Belize has a stronger and more varied sense of culture and history than Costa Rica, but both are so different to what you'll experience anywhere else.
Belize: Food & Culture
Strong Central American undertones are artfully incorporated into all dishes you are likely to taste in Belize, with a traditional favourite being rice and beans, served up in a coconut milk with a choice of accompanying meats.
With their fruitful surrounding waters, fresh seafood can be found at a variety of restaurants, with the likes of ceviche – a concoction of conch or shrimp soaked in lime, paired with tomatoes, onions and Habanero peppers and tortilla – and great value lobster being popular choices.
For dessert, the favourite has to be their caramel fruitcake, usually served with a glass of authentic Caribbean rum. Lastly, to quench your thirst, Belize is also home to a fabulous locally brewed beer: the Belikin range.
The general atmosphere, wholly reflected by their cuisines, is strongly rooted in their culture, with ancient Mayan cities everywhere, contrasted with more modern villages clustered around San Ignacio and Toledo towns, and overall underpinned by vivacious Afro-Caribbean origins.
Costa Rica: Food & Culture
The rich, indulgent coffees in Costa Rica are an absolute must for coffee lovers, with their coffee beans being known as some of the best worldwide.
Furthermore, a lemonade spinoff known as 'agua de sapo', or the nation's own selection of craft beers are refreshing choices for when sunbathing at the beach.
Some of their staple food pieces include Gallo Pinto, a rice and bean dish, and Casado – rice, black beans, vegetables, ceviche, fresh seafood and various fruits.
Costa Rican culture tends to have influences from North and Central America, with a bit of Caribbean love mixed in.
Their pre-Columbian past is less deeply ingrained in their culture today, with little information about it still existing, but you can take a peek into the past by visiting historic sites such as the petrospheres at Diquís Delta.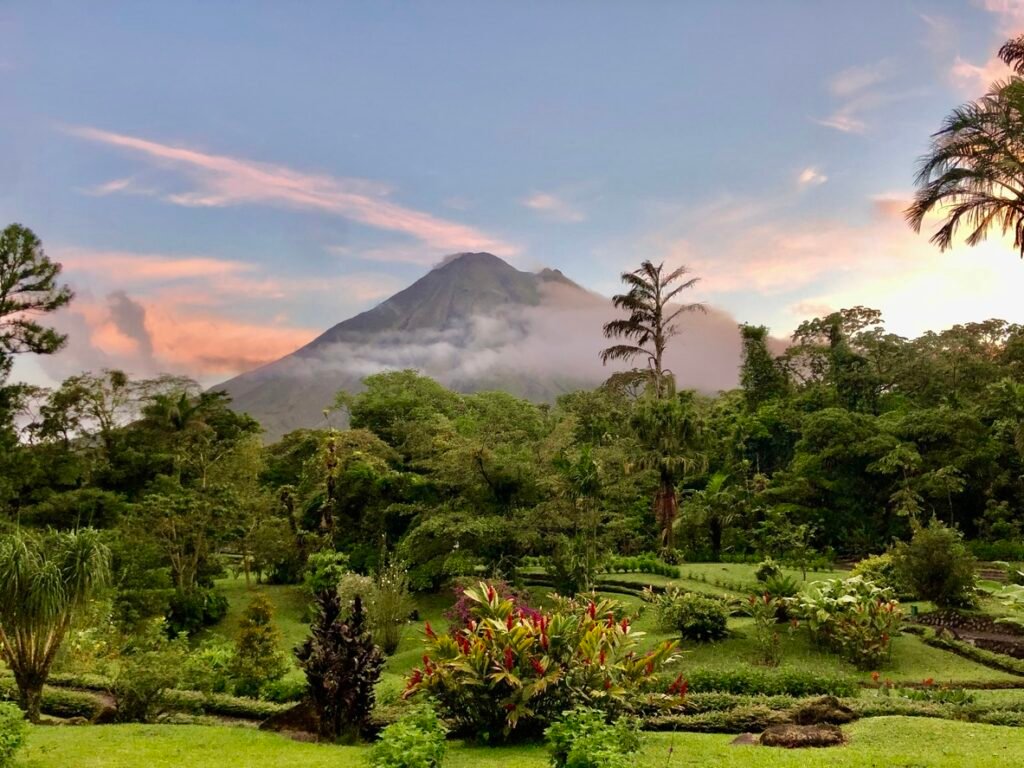 Which Is Cheaper?
Both holiday destinations can be tailored to suit any budget, with very affordable eating options found throughout each country, and a range of accommodation to pick from to suit your needs.
Overall though, we've found that Belize is slightly cheaper.
Belize
Finding flights into the city is easy, with multiple coming and going each day. There are many options for transport depending on your budget, with several bus companies operating North-South across the main road.
Alternatively, for the true Belizean experience, water taxis are a fun way to get around, with daily trips operating city to city. Cars are also an option with taxis and car hires available from the airport/ accommodation, but taxis tend to be expensive for long journeys.
In regards to accommodation, resort prices tend to be a bit cheaper than in Costa Rica, but you can find a variety of options to suit all budgets.
Costa Rica
Whilst quite a poor country, Costa Rica has seen a tourism boom over the last decade. Because of this, more of the touristy areas in the country are charging higher prices for hotel rooms and food. But if you stay at a hostel or 3-star hotel, then you shouldn't notice much of a price increase.
To keep costs down, we recommend using Shared Shuttles, otherwise travel can get a bit pricey. Public buses running from the capital city outwards to major tourist cities are also fairly cheap options.
For more secluded or out of the way areas, a car is usually the easiest way to reach the best beaches and mountain areas, so if picture-perfect scenery is important to you, definitely consider hiring a car.
If you don't want to dish out on a taxi or car rental, hitch-hiking in rural Costa Rica is common and the locals are friendly and accommodating.
Which Is Safer To Visit?
You can never be too careful when you visit any new location as a tourist.
Costa Rica and Belize both have their good parts and bad parts where crime is concerned. You just have to be careful and take precautions like any tourist should do.
What may be more of a concern is the fact Belize and Costa Rica are prone to getting hurricanes and stormy weather conditions.
Atlantic hurricane season runs from June to end-November, but both countries historically tend not to face many hurricanes. When they do happen, hurricanes typically hit Belize and Costa Rica in August and October.
But you can plan your trip around hurricane season, so they shouldn't be a problem!
A more significant threat if you're planning a trip to Costa Rica may come from the strong riptides of the Costa Rican waters. Surfers and swimmers need to take caution before entering the ocean on the Costa Rican coast.
Belize vs Costa Rica: Which Is The Better Choice?
If you want to be snorkeling, diving, and relaxing by azure blue waters, Belize is the better choice for you. But if you'd prefer a slightly more active but inland holiday, with wildlife watching, hiking, and jungle touring – try Costa Rica.
It will be a more involved holiday as the Costa Rican landscape is rocky and varied, creating stunningly dramatic views.
However if you're looking for a cheaper and 'easier' holiday, then Belize may be the better choice. It's English speaking (while Costa Rica is natively Spanish), slightly more affordable, but also navigating the country tends to be more simple as they have slightly better roads and travel options.
Both countries also have their own currency, but Belize tends to be more flexible in accepting other mainstream currencies.
However they are both similar in a number of ways, and we suggest that both countries are perhaps better viewed as complementary holidays rather than competing destinations. The awe-inspiring Pacific views in Costa Rica are incomparable, while the under water scenery is unparalleled in Belize.
Recommended For Your Trip To Belize Or Costa Rica