Wandering our World is reader supported! If you purchase anything through a link on our site, we may earn a commission at no extra cost to you.
Last updated on July 2, 2023 by Wandering our World
Luxembourg isn't often on the top of tourists and travelers 'must-visit' list of countries in Europe, but this small nation nestled between Germany, France, and Belgium packs a real punch! We recently visited for the first time, and went wild camping in Luxembourg. The nature was stunning, the people friendly, and the whole experience an absolute must.
This little landlocked European nation is actually a perfect setting for wild camping, with temperatures pleasant for hiking and camping throughout much of the year. Just make sure you have a great lightweight backpack and tent, as it's quite a hilly little country!
But is wild camping in Luxembourg allowed? And what are the rules, if any, around wild camping in Luxembourg?
The Rules Around Wild Camping In Luxembourg
DISCLAIMER: Below we give general advice, but we always recommend staying in an official campsite. If you choose to go wild camping/dispersed camping, then make sure you do so with someone who already knows the area where you're planning on camping for your own safety.
So bad news, wild camping in Luxembourg is technically illegal – although it's not as straight forward as that.
It may be illegal but people do still wild camp, but it's best to be discrete, set up your tent only in remote and rural areas, and in places where you wouldn't expect to be found or seen.
It's best therefore to have a small discreet tent that can be quickly put up and down. A tent like this one would be perfect.
Of course, some landowners and farmers will be happy to let you camp on their land for a night if you ask their permission first.
As for campfires, they should be avoided completely. Our recommendation would be to use a storm cooker for cooking. You might want to think about bringing a storm cooker with you for cooking. They tend to be safe, and are often fine to use – but you should check local laws first. The best brand on the market, in our opinion, is the Swedish made Trangia storm cookers. These little stoves are virtually indestructible.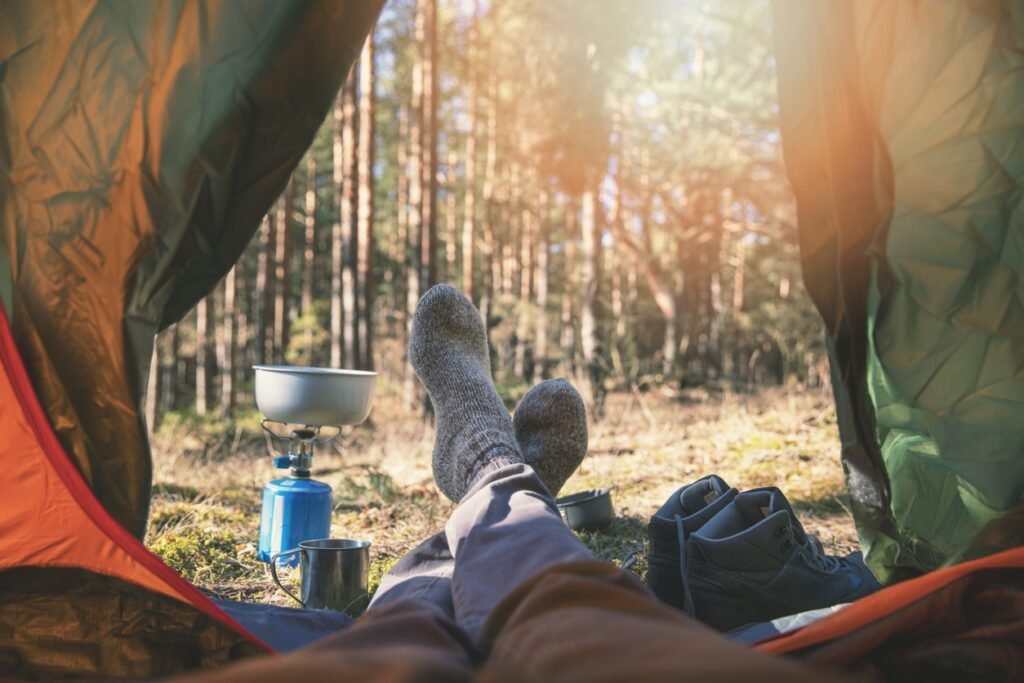 If you wish to camp without using fuel and no smoke at all, a solar cooker is a fantastic piece of equipment. These little machines use just sunlight to cook food, and a lot quicker than you'd think.
If you do decide on a free camping in Luxembourg experience, then here are a few things you should keep in mind to avoid getting in any trouble.
Choose a very rural spot where it is unlikely you will be disturbed or discovered. For example, in the countryside far from settlements. If you are hiking a popular walking route, then make sure you choose to camp in a place that won't be in any other hiker's or walker's way.
Do not camp on private land, near buildings, settlements, or on any land that appears to be cultivated. My own experience is that if you make the effort to avoid these areas, then even if you are 'discovered wild camping in this part of Europe, most farmers and locals are OK with it.
However you should only set up your tent at dusk, and you should take it down at dawn. Stay no longer than one night in the same place before moving on.
Avoid campfires, and use a storm cooker rather than open flames for cooking.
If someone asks you to leave their land, do so and be apologetic and polite. Say you didn't know wild camping in Luxembourg was prohibited.
Take any trash with you, and leave your camping spot the way you found it – if wild campers treat the country well, then even if it is technically illegal we should still be able to do it.
There are, of course, official campsites in Luxembourg if you wish to go the 100% legal route. Many have decent facilities and are a much cheaper alternative to hotels.
Tips For Wild Camping In Luxembourg
Keep an eye out for animal poop – if there's a lot around that perfect camping spot you just discovered, you may end up being woken up by some enthusiastic sheep or deer in the middle of the night!
There are lots of different water sources in Luxembourg, but do remember to take plenty of water with you if you're walking/hiking.
Remember to top up your water bottles at any rivers and streams you find along the way. A collapsible water bottle would work well for this purpose.
When going to the toilet you should do it far from water sources, such as rivers and lakes. Make sure to use a trowel (such as this folding one) to bury any human waste, don't just leave it out in the open.
Recommended Reading For Your Trip To Luxembourg
Tempted to go wild camping elsewhere? Check out our guides to wild camping in, Estonia, Finland, Norway and many others!
*This article may contain affiliate links which allows Wandering our World to make a small commission on any sales made – and keep the coffee flowing! It involves no extra cost to yourself. We only recommend products we believe in.