Wandering our World is reader supported! If you purchase anything through a link on our site, we may earn a commission at no extra cost to you.
Last updated on July 2, 2023 by Wandering our World
Wild camping in Latvia is one of the best, if not the best way to see this beautiful Baltic nation. With stunning beaches – many of which you can have all to yourself – to atmospheric ancient forests, Latvia is a wild camper's paradise.
And best of all, it's still fairly 'undiscovered' by tourists compared to many other European countries.
But when you visit a country as a tourist, you don't want to get on the wrong side of the law.
That's why we've put together all the information you need about wild camping in Latvia. Below you will find out where it is legal (and where it is not), as well as must-know tips for free camping in Latvia.
Is Free Camping In Latvia Legal?
DISCLAIMER: Below we give general advice, but we always recommend staying in an official campsite. If you choose to go wild (free) camping/dispersed camping, then make sure you do so with someone who already knows the area where you're planning on camping for your own safety.
Well, like most countries in Europe , the answer is not a straightforward one.
However the good news is that wild camping in Latvia is legal in some areas, although not in others (more on that below).
In fact many Latvians enjoy pitching their tent and camping throughout the country, away from official campsites. As such, it's a common activity that is tolerated throughout Latvia as long as campers respect nature and camp on public, not private land.
However as mentioned, some areas are off-limits.
For example, it is illegal to camp in national parks. If you decide to camp in a park and are caught, expect to pay a fine and be told to move on. A map like this one may be useful as it will help you find out where the national parks are.
Many of the national parks have official campsites, some of which are free – so look out for them if you are especially keen to stay in a national park.
When it comes to camping on beaches, Latvian law allows it in rural areas (and you may also make a campfire on a beach), but wild camping is not allowed on sand dunes and areas where plant-life is coming through the sand.
However it is not permitted to camp anywhere on beaches that are in or near big cities. Camping on agricultural land is also not allowed. So although there are some areas where wild camping is not allowed, much of the company can be used!
While Latvia does have some incredible summer temperatures it still has a typical European continental climate. Therefore it's best to make sure your tent is rain-proof. Two great value tents we'd recommend are either this BFull tent or a Hillman. Both are super lightweight, rain and windproof. Although there are many good options on sites like Amazon.
In general, campfires are not allowed in many areas of Latvia. Therefore it's best to avoid them altogether.
You might want to think about bringing a storm cooker with you for cooking. They tend to be safe, and are often fine to use – but you should check local laws first. The best brand on the market, in our opinion, is the Swedish made Trangia storm cookers. These little stoves are virtually indestructible.
If you want to impress even the most experienced of wild campers, a solar cooker like this one can also work in the absence of a campfire. Plus, harnessing just the sun to cook your breakfast – and nothing else – is pretty damn cool.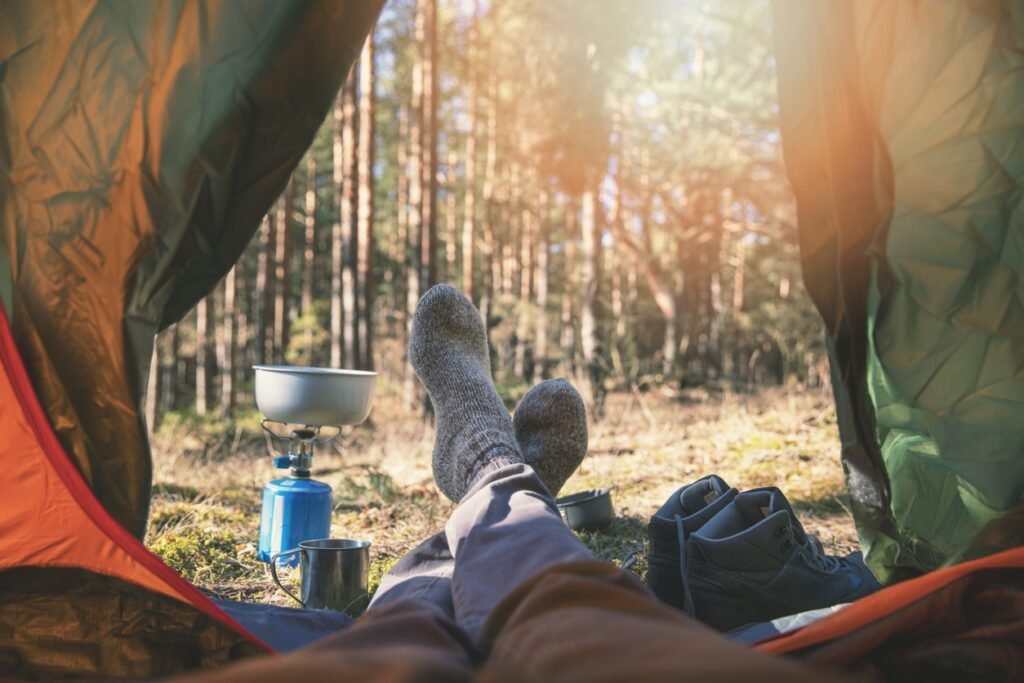 The 'Rules' Around Wild Camping In Latvia
In areas where wild camping is allowed, make sure you don't camp on private property (and near homes/ buildings), and that your behavior blends in with where you are – i.e no loud music, litter, massive bonfires etc.
If you draw attention to yourself, you could spend your night talking to the police, rather than enjoying the sparkling Latvian night sky.
Furthermore some regions of the country have their own specific laws and rules around wild camping – keep an eye out for signs that prohibit wild camping in certain areas. Such as sand dunes, cities, or near national parks.
However in general, people who have gone wild camping in Latvia have reported that if you are polite, respectful, and treat the land well, you will be left alone.
Keep to these rules below, and you should encounter no problems:
Choose a rural spot to pitch your tent, one where it is unlikely you will be disturbed – for example, in the countryside far from settlements.
If you are hiking a popular walking route, make sure you choose to camp in a place that won't be in any other hiker's or walker's way.
Do not camp on private land, near buildings, settlements, or on any land that appears to be cultivated.
Don't camp on dunes or beaches near cities, and avoid camping in national parks.
If you wish to camp on farmland, or area that could be private – seek out the landowner and ask permission. Many will be fine with it, some may ask for a small fee. Very few will say no.
Set up your tent at dusk, and take it down at dawn. Having a lightweight tent that goes up and down in minutes will help.
Stay no longer than one or two nights at most in the same place before moving on.
If someone, or the police, asks you to leave the land, do so. Be apologetic and polite.
Take any trash with you, and leave your camping spot the way you found it – if wild campers treat the country well, then camping will continue to be tolerated.
Tips For Wild Camping In Latvia
It is not advised to drink water from rivers. Whilst some of the water is OK for consumption, other river water is not. It's best to stick to either bottled water, or tap water – if you ask locals nicely, many will happily fill your bottles for you from their tap. A collapsible water bottle could be a useful purchase.
Make sure your tent is mosquito proof. Latvian mosquitoes are vicious little things and there are many of them!
When going to the toilet you should do it far from water sources, such as rivers and lakes. Make sure to use a trowel (such as this folding one) to bury any human waste, don't just leave it out in the open.
Like many rugged and wild rural areas around the world, there are flora and fauna to be aware of in Latvia. So read up and make sure you know what to expect in the region or area you are planning to wild camp in.
Recommended Reading For Your Trip To Latvia
Tempted to go wild camping elsewhere? Check out our guides to wild camping in Andorra, Estonia, Finland, Norway, Lithuania and others!
*This article may contain affiliate links which allows Wandering our World to make a small commission on any sales made – and keep the coffee flowing! It involves no extra cost to yourself. We only recommend products we believe in.