Wandering our World is reader supported! If you purchase anything through a link on our site, we may earn a commission at no extra cost to you.
Last updated on May 26, 2023 by Wandering our World
Camping in Port Renfrew is a fantastic opportunity to explore the "Jewel Of The West". Its small-town charm and the massive list of outdoor adventures available make it a must-see for all visitors to Vancouver Island that don't want to be get stuck in the other busy tourist areas during their vacation.
It's an outdoor enthusiasts' dream destination with long hikes, amazing scenery, wildlife encounters, world-class fishing, incredible winter surfing, and almost anything else that your heart desires in the wild frontier that is Vancouver Island.
And we think camping in Port Renfrew is the best way to experience all of that and more.
If you're thinking of your own Port Renfrew camping adventure then you're in luck. We know this place like the back of our hand, so right here we will share everything you need to know.
We share our favorite campgrounds in Port Renfrew for tents and RVs, and show you a couple outside of Port Renfrew that we think are worth checking out too.
We also give information on backcountry camping in Port Renfrew, as well as fishing, hiking and more in the area. There's even a free camping game perfect for kids (and fun adults!) at the bottom of this article too.
So read on to begin your Port Renfrew camping adventure!
CONTENTS:
The Best Campgrounds in Port Renfrew
The Best Campgrounds Near Port Renfrew
Backcountry Camping at Port Renfrew
The Best Time To Camp in Port Renfrew
Scenic Hiking Around Port Renfrew
Surfing in Port Renfrew
Fishing in Port Renfrew
Marine Life Spotting
Free Scavenger Hunt Camping Game
The Best Campgrounds In Port Renfrew For Fun, Views & Adventure
Port Renfrew has a range of fantastic campgrounds available to choose from, with varying amenities depending on your camping needs and the activities most important to you.
Here's a few of our favorites and why they're worth checking out. We're sure at least one will suit you perfectly.
1. Pacheedaht Campground
Pachedaht Campground is broken into the North End which has 56 sites and the South End with 36 sites. You can pick either a beachfront campsite or situate yourself further back into the forest for a more private camping experience.
This is a relatively busy campground, and you can't always pick the exact spot you want. During the busy season you will likely have camping neighbors, but that can make this a very sociable place.
It's popular for a reason though and the beach in front of the campground is 2km long and is scattered with driftwood. It makes for an excellent walk; or during summer, you can fish off the beach for huge salmon or even go crabbing in a small boat offshore and then cook up your catch on a beach fire at night.
During winter, the beach provides amazing West Coast surfing too.
Amenities and Facilities
Amenities and facilities vary depending on which part of the Pacheedaht Campground you're staying at.
The North End of the campground provides pit toilets, running clean water, as well as coin-operated showers and laundry facilities. You'll also have access to power at some of the sites for an additional fee, and you may even be close enough to the office to get internet access.
The South End of the campground provides much more basic facilities. You'll have pit toilets and nothing else unless you walk to the North End.
For an additional cost ($25/night), you can moor your boat or use the boat launch if you're bringing your own boat to go fishing or exploring.
Just remember that you do need to buy a fishing license before you get to Port Renfrew if you want to fish. It must be done online and can't be done once you get into Port Renfrew.
What's Close By
Pacheedaht Campground is only 0.4 km to the Gordon River West Coast Trail trailhead, making it an ideal spot to start or finish your West Coast Trail experience, which is a 5-7 day or 75 km famous hike through the backcountry.
If you're not up for a hike but prefer some great food, you're only a short drive from a number of restaurants in Port Renfrew, including the Port Renfrew Pub, which provides a relaxing environment with great food, lots of beer, and pool tables to enjoy your evenings.
The Important Info
Rates: $20 – $35 per night
Address: 350A Kalaid, Port Renfrew, BC, Canada V0S 1K0
2. Port Renfrew Marina & RV Park
Port Renfrew Marina and RV Park provides 140 full hookup or 30 dry camping sites depending on your needs. You can also moor your boat and stay aboard if you prefer.
This location is situated right on the marina and set against a forest backdrop. It provides easy access to launch your boat into the world-famous Port Renfrew fishing grounds. There you can catch huge salmon, halibut, and many other species to bring back for a tasty evening meal.
You can't reserve a camping spot here, so you will need to risk it. Otherwise, you'll need to find an alternative location nearby to park your RV.
Amenities and Facilities
Port Renfrew RV Park is primarily for RVs, so amenities are limited if you want to pitch a tent here.
Fresh water is available if you're dry camping, but there are no showers or laundry facilities.
Full hookup sites, including water and power, are available, but there's no sewage hookup. There's a marina store too with basic supplies along with gas, fishing supplies, and ice.
What's Close By
Port Renfrew Marina & RV Park is located just outside of town, so it isn't close to restaurants or stores unless you drive into Port Renfrew.
However what is fantastic about this location is that it's one of the best spots to camp with your RV in safety and go out fishing on your boat during the day into some of the best fishing areas available on Vancouver Island.
The Important Info
Rates: $25 – $30 per night
Address: 7505 Gordon River Rd, Port Renfrew, BC, V0S 1K0
3. Fairy Lake Recreational Site
Fairy Lake Recreational Site is located just back from the main beach area of Port Renfrew on Fairy Lake. It's a beautiful small lake area providing fantastic swimming, fishing and has a boat ramp to launch your powered or unpowered watercraft.
The beach is sandy and great for walking along. And located in the middle of the lake is a lone miniature Douglas fir sticking up out of the water. It's a photogenic spot.
The site is only open from May to October each year and is maintained during that time. You can pitch a tent or pull up your RV into 1 of 36 sites, though there are no hookups available, so you must be fully self-contained.
The area is surrounded by trees, and your campsite will also be nested in the trees, or for an extra fee, you can get a lakefront campsite.
Amenities and Facilities
Fairy Lake provides minimal amenities and facilities, but you'll have access to pit toilets, shared picnic tables, and a boat launch is available.
What's Close By
You are located 6 km outside of Port Renfrew, and the primary reason for this location is simply to enjoy Fairy Lake, which has hiking trails, swimming, boating, kayaking, and a range of other outdoor activities available. There's also fewer people here than many other nearby areas.
There is a great 2km hiking trail that leads off from Fairy Lake campground too, which takes you through the forest and along the lake.
The best fishing time here is May to June, or in some cases, September to October. You'll have a great chance of catching Cutthroat or Dolly Varden.
The Important Info
Rates: $18 – $20 per night
Address: Juan de Fuca, BC, V0S 1K0
The Best Campgrounds Near Port Renfrew
Located just outside of Port Renfrew are a number of fantastic campgrounds that still give you access to this outpost on Vancouver Island's rustic and wild west coast.
The campsites there give extra privacy in secluded spots and offer a change of scenery in even more rural spots.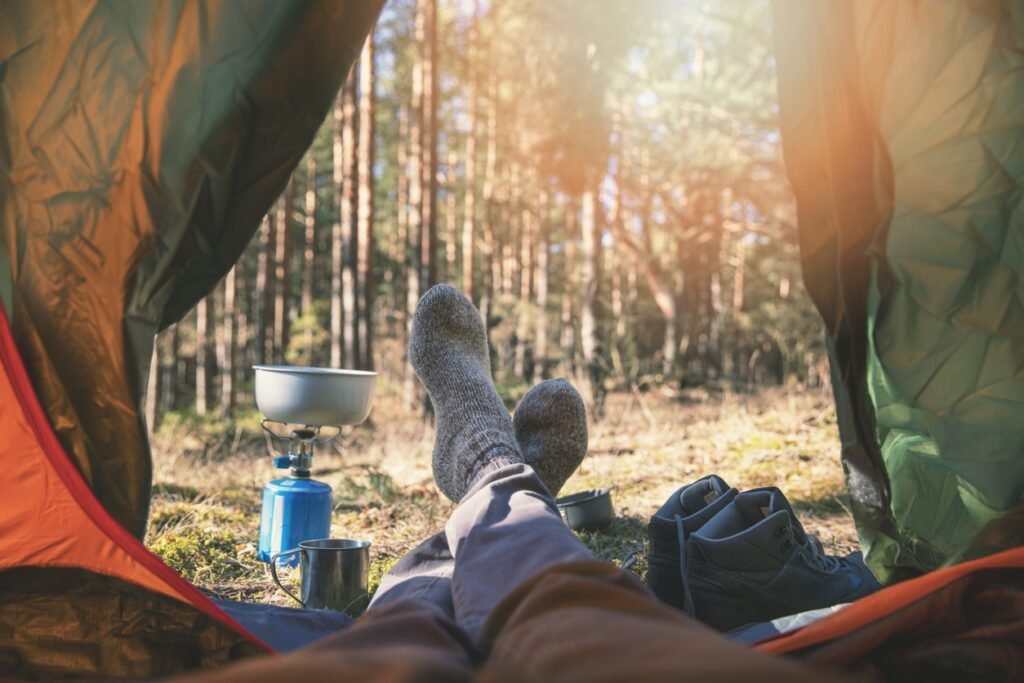 1. Lizard Lake Campground
Lizard Lake Campground is right outside Port Renfrew. It's a beautiful and tranquil tree-lined lake campground with a main section that provides 20 sites and a walk-in area with 8 additional sites.
This campground is open from May to October; otherwise, the gate will be closed at other times of the year.
There are two floating wharves that extend into the lake, so you can fish or launch your kayak into the water. There is also a small sandy beach that you can sunbathe or relax on, and if you want to take a quick trek, there is a 1.5 km hike around the lake to enjoy.
Amenities and Facilities
Basic facilities are provided, including outhouses and picnic tables. You can also use the fire pits and purchase firewood for $7 per bundle.
There is a boat launch and two wharves that extend into the lake.
What's Close By
Lizard Lake is a relatively remote location so visiting this campground is perfect for a tranquil lake camping experience. You can take your boat out on the lake, kayak, or go swimming. You can't take a powered watercraft into the lake, though.
If you're fishing, you will have a good opportunity to catch Rainbow Trout during the summer.
The Important Info
Rates: $18 per night
Address: Site 18 Harris Main FSR Canada, Pacific Marine Rd, Port Renfrew, BC
2. China Beach Campground
China Beach Campground is located in Juan de Fuca Provincial Park, which is your gateway to outdoor adventure of all kinds! This campground has 85 sheltered sites close to the ocean, and is available from May to September.
You have easy access to the ocean to take out your kayak or go fishing if you have a license. Swimming is an option but it can be dangerous here, and there are no lifeguards patrolling. But there are even some spots with great diving opportunities.
Two of the best features of China Beach and the surrounding Juan de Fuca Provincial Park are the great short hikes available that lead you to viewing platforms to see all kinds of marine life, including Grey and Killer Whales, as well as seals and sea lions.
It's a wildlife lover's paradise, and also one of the cheapest Port Renfrew camping options too.
Amenities and Facilities
Each campsite has a fire ring, and firewood can be purchased from the campground operator.
Cold water taps are available throughout the China Beach Campground, along with pit toilets, and picnic tables.
What's Close By
Having access to Juan de Fuca Provincial Park is the biggest benefit of this location as the park provides a huge array of outdoor activities that could keep you busy for weeks.
You can hike through the park, find waterfalls, trek through old-growth forests, and enjoy marine and wildlife spotting.
You also have the Juan de Fuca Marine Trail, which is a 47 km multi-day hike leading you along the shoreline of Vancouver Island. There are four main trailheads in the park, so you can do shorter hikes along part of the trail and circle back to the campground.
During winter the nearby Sombrio Beach is a world-class surfing destination and a great windsurfing location for you to enjoy.
The Important Info
Rates: $10 per night
Address: Juan de Fuca Marine Trail, British Columbia
Backcountry Camping In Port Renfrew & In Canada
DISCLAIMER: Below we give general advice, but we always recommend staying in an official campsite. If you choose to go backcountry camping, then make sure you do so with someone who already knows the area where you're planning on camping for your own safety.
Backcountry camping, also known as wild camping, is generally tolerated in Canada. Although there are certain areas you are prohibited from camping in. These include:
National Parks
Cities
Provincial Parks
It's worth mentioning that rangers and conservation officers do patrol regularly and will hand out hefty fines to people backcountry camping in these prohibited areas. As that's the case, it's better to just find a campground in the park you wish to camp in – not only will there be a few facilities but it will also be cheap to camp.
Sometimes it is possible to purchase a 'backcountry' camping permit too. That would then allow you to camp in a park outside of a campground. Not all parks offer them – and they're not widely advertised. If there's somewhere you wish to camp, then get in contact with local authorities to see if these are available.
In British Columbia, there is also the possibility to camp at 'Recreation Sites'. While you would still be limited to camping in a specific spot, it is free to camp on these sites.
As for where you are allowed to camp, Canadian residents can camp for free on Crown Land – which is publicly owned land. Thankfully 89% of land in Canada is classed as 'Crown Land'. However much of that is still off limits – National Parks, for example, are also Crown Land.
In general: If land is publicly owned, it's not one of the prohibited areas that we listed above, and you are far from settlements – you're likely to be on Crown Land that can be camped on for free. However, keep an eye on local maps for confirmation, and obey any signs that say camping is prohibited
There are rules for backcountry camping on Crown Land, however:
You may camp in the same place for 21 days only in one calendar year.
After 21 days you must move to a place at least 100m away if you wish to continue camping.
While free for citizens and Canadian residents, non-residents must obtain a permit to wild camp on Crown Land.
The Best Time To Camp In Port Renfrew
The best time to visit for a Port Renfrew camping adventure is between May to October. Many of the campsites are closed outside of these months, and camping with maintained toilets, water, and other facilities will be challenging during winter.
Temperatures in Port Renfrew can range from 6 °C to 18 °C during May to October, with August being the hottest month. So, this area is not a tropical getaway at any time of the year.
And the best time for fishing in Port Renfrew is between July to October, which lines up nicely with the camping season as well.
However, the best surfing and windsurfing near Port Renfrew are done during the winter months, but camping may not be the best option if you're planning to test out the waters in the area.
Scenic Hiking Around Port Renfrew
Port Renfrew and the surrounding area has a range of great hikes that you can try out.
Whether you're looking for a short hike, a day hike, or even a multi-day hike, there are options that all come with great views and the ability to see some of the local wildlife and marine life.
1. West Coast Trail
There is the famous West Coast Trail which is a 5-7 day hike that you must register for before trying to complete.
There is a great trailhead entry point close to Pacheedaht Beach Campground. But you must be an experienced hiker to complete this 75 km hike.
2. Juan de Fuca Marine Trail
If you want a slightly smaller challenge, then in the Juan de Fuca Marine Park you'll find the Juan de Fuca Marine Trail, which takes you on a 50km or 3-5 day hike.
The experience is different to that of the West Coast Trail with different sights, fauna and flora.
Both of these big trails in the area allow some ability to turn back or even get off at various stages so that you don't need to complete the entire multi-day trek.
Throughout the Juan de Fuca Marine Park are a variety of other shorter hiking trails, anywhere from 30 minutes to a few hours, and the scenery and views of these trails are just as fantastic.
Surfing In Port Renfrew
Port Renfrew has some of the best surfing on Vancouver Island during the winter months. There are a number of beaches that provide great wave riding, but you need to be careful of the strong riptide.
The best place to catch a wave in Port Renfrew is probably at Pacheedaht Beach, which has a fantastic campground you can base yourself at – as we mentioned further above.
If you venture a little further south, you'll find Sombrio Beach, which is close to China Beach Campground. So you can base yourself there and ride the waves for multiple days.
If you're willing to go slightly further, locals consider Jordan River to have the best waves in the area, and they're also the biggest, so make sure you're surfing to your ability.
Most of the same areas that provide great surfing are also perfect for kitesurfing or windsurfing in Port Renfrew.
Port Renfrew Fishing
Port Renfrew is a top destination for fishing, and it's well known for having huge salmon in the local fishing areas.
In fact 40km offshore is the Swiftsure Bank which is a feeding ground and rest stop for salmon heading to spawn in any number of the West Coast waterways.
You'll find Chinook, Coho, Sockeye, and Pink Salmon in the area, and often they are huge, so it's a very popular fishing spot.
You can also find Chicken Halibut, and closer to shore, you'll find Steelhead and Trout.
If you have your own boat, then Port Renfrew Marina & RV Park is a great place to set up camp and launch for your fishing adventure. You can also jump on board a charter fishing boat and get taken out to the best spots by a local.
You do need to buy a fishing license before you get to Port Renfrew though. That must be done online and can't be done once you get into Port Renfrew.
Port Renfrew Fishing Derbies
There are a range of exciting fishing derbies in Port Renfrew throughout the year. So if you believe you're a skilled angler and want to compete against others, consider visiting and competing.
The derbies you can compete in are:
Pacific Gateway Marina Invitational Salmon Championship in June
Port Renfrew Marina Fishing Derby in September
Port Renfrew Marina Annual Coho Derby in September or October
Marine Life Spotting in Port Renfrew
Throughout the year, you'll be able to see sea lions and seals playing or relaxing at various locations around Port Renfrew. Orcas are also seen year-round from any of the beaches or viewing stations set up around the area.
And between March and April, you'll have the chance to see Grey Whales and Killer Whales as they're on their annual migration to Alaska.
There are a range of whale watching charters from Port Renfrew which can take you out for a viewing.
But it's also possible to stay ashore and just watch from the beaches as the whales pass by. Juan de Fuca Marine Park has a number of short trails with viewing platforms that look out onto the water which are perfect for whale spotting.
Camping In Port Renfrew: Scavenger Hunt Game!
If you're looking to keep kids amused while camping in Port Renfrew – or you fancy having some fun for yourself – then we've created a printable scavenger hunt game!
Save the image and print it out, then tick off what you find and achieve during your camping holiday.
The game encourages players to get out and discover wildlife and nature, as well as make new friends and do fun camping activities. Enjoy!