Wandering our World is reader supported! If you purchase anything through a link on our site, we may earn a commission at no extra cost to you.
Last updated on January 3, 2023 by Wandering our World
When it comes to Thai getaways, Phuket and Koh Samui are two destinations that should be near the top of everyone's bucket list. That's because both can offer unique experiences and unforgettable vacations.
However despite both being popular Thai destinations, they're actually quite different from each other. So choosing whether to visit Koh Samui or Phuket for that once-in-a-lifetime holiday can be exceptionally difficult. Especially if this is your first visit to either.
However, if you're looking for sun, sea and sand in a beautiful location with very lively nightlife options then Phuket may be a better choice than Koh Samui. It's also the cheaper island. But if you want a more cultural trip, quieter beaches and easy access to many excursions, then more laid-back Koh Samui may be a better choice than Phuket.
But that's just scratching the surface when it comes to how these two destinations are different and similar.
Thankfully we know both phuket and Koh Samui well, so are here to help you decide which one is right for you!
Below we compare both of these island destinations, and give our honest opinion on which one is safer, cheaper, has the best beaches, nightlife, and even more. By the end, we're sure your mind will be made up.
So read on to begin your Thai travel adventure!
CONTENTS:
A Quick Overview
Which Is Easier To Get To
Which Has Better Beaches
Which Is Better For Scuba Diving
Which Has Better Excursions
Which Has The Best Hotels
Which Is Better For Digital Nomads
Which Has Better Nightlife
Which Is The Better Cultural Experience
Which Is The Most Beautiful
Which Is Cheaper
Which Is Safer
What Time Of Year Is Best
Which Is The Better Choice
A Quick Overview
Phuket is an island province and Thailand's largest island. It sits off the country's west coast, overlooking the Andaman Sea. The island has a bustling atmosphere, especially in Patong (which has some of the liveliest nightlife in the country), but there are plenty of quiet areas too.
Phuket is great for relaxing on the beach and enjoying tourist activities such as scuba diving, snorkeling, and zip-lining, then partying hard at night.
Koh Samui is Thailand's second-largest island and can be found in the Gulf of Thailand, off the country's east coast.
Samui feels a little more spread out than Phuket, less busy, and it's popular for romantic getaways as well as for the party crowd.
There are scuba diving and snorkeling options, and the clubs and pubs in the town of Chaweng are ideal for the younger crowd.
Which Is Easier To Get To?
As two of the most popular destinations within Thailand, you should have no problem sourcing a flight into Phuket or Koh Samui; however, depending on where you are coming from, you may need a connecting flight somewhere along the way.
That being said, the comparative ease with which you can reach these two islands will depend on whether you plan to spend a day or two in Bangkok too.
If you do plan to enjoy the Thai capital as well, both Koh Samui and Phuket will be very easy to reach. Bangkok's main airport, Suvarnabhumi (BKK), is one of the busiest airports in the world, and no matter where you are on the planet, you should easily find a flight to suit your dates.
After a night or two in Bangkok, it's also very easy to find a flight down to your island of choice. There are plenty of flights each day running between Bangkok and the islands.
For Koh Samui, you can check Bangkok Airways. Bangkok Airways is a subsidiary of Thai Airways, and they own and operate the airport on Koh Samui.
Be aware, though, that there are two airports in Bangkok: the newer Suvarnabhumi and the former main airport of the city, Don Mueang International Airport (DMK).
Don Mueang handles the lion's share of domestic flights within Thailand, but Bangkok Airways, with its connections to the national airline, flies from Suvarnabhumi. Make sure you check your ticket and head to the correct airport!
For flights from Bangkok down to Phuket, your flight will probably leave from Don Mueang, but again, make sure you check before heading to the airport. Rush hour traffic can be quite heavy in Bangkok, and if you're at the wrong airport and need to dash across the city, you may have an issue.
But if you want to skip Bangkok and go straight to the islands, you'll probably find it easier to find a flight to Phuket than to Koh Samui.
Phuket International Airport (HKT) has recently been expanded, and it now receives more international flights than before. There are even direct flights from Helsinki and Zurich into Phuket, for example.
If you can't find a direct flight from your home, a good way to reach Phuket from Europe is via a connection in the Middle East. Dubai, Doha, Muscat, and Abu Dhabi all offer flights directly into Phuket.
Koh Samui's much smaller airport only receives direct flights from two international cities: Singapore and Hong Kong. Phuket Airport also receives direct flights from these two cities and also from Sydney, Melbourne, and Seoul.
Which Is Better For Beaches?
As two large islands with plenty of coastline to explore, you can rest assured that both Phuket and Koh Samui have plenty of delightful beaches to explore.
Phuket is a lot bigger than Koh Samui though, and so there's many white sand beaches on this island. The water is also calm, clear, and good for swimming.
However Phuket is also busy tourist destination too – more so than Koh Samui – and therefore the beaches can get busy and crowded, and the coastline is quite developed.
Koh Samui has some lovely soft white sand beaches too, and in general has a more relaxed and laid-back beach vibe than Phuket.
It's also less developed. But despite that, we've found it easier to find hotels right on the beach in Koh Samui than in Phuket, which is a big plus if you're a beach fan.
However all in all, it's hard to separate these two when it comes to the better coastline.
Because of that, we're going to have a look at a couple of beach options on each island below so you can see which look best to you.
Phuket: The Beaches
Patong Beach is Phuket's busiest beach and is located in the island's busiest area, Patong, which is a hive of activity throughout the day and especially at night.
The beach is long and wide, with soft, golden sand, and there are a few beach activities, such as jet skiing, available too.
Kata Beach lies a few kilometers to the south of Patong and is a quieter option. The beach is a sweeping crescent of inviting, soft sand, and there is good snorkeling at the northern end of the beach.
There are plenty of dining, shopping, and accommodation options nearby, and the Big Buddha statue and the picturesque Promthep Cape are a short drive away.
Nai Harn Beach is a great option if you are looking for a quiet beach for a relaxing morning or afternoon. The beach is located close to Rawai, in the south-west of the island, and is a great place for a romantic sunset.
There is some good snorkeling from the beach, and it's also great for a cooling dip in the sea.
Koh Samui: The Beaches
Chaweng Beach is the busiest beach in Koh Samui, and there's always plenty to do here. The beach is especially great for the active-minded beach lover looking for beach activities, such as jet skiing and parasailing.
As an expansive beach, you can also find quieter places to relax, with the southern and northern ends being a little quieter than the central area of the beach. There are also plenty of shopping and dining options on Chaweng Beach Road, a short walk away.
Lamai Beach lies to the south of Chaweng (a great place for nightlife as we'll explain more later) and is a little quieter and more relaxing. This is a fantastic beach for families or for relaxing with a good book.
The town of Lamai sits behind the beach, with a selection of bars and restaurants, and Hin Ta and Hin Yai—Grandfather Rock and Grandmother Rock—are nearby.
Silver Beach is perfect for escaping the hustle and bustle of Chaweng and for relaxing with your holiday book. The small bay has a few rocky areas that are perfect for a relaxing snorkel too.
The beach is located on a small headland jutting out from Samui's east coast in between Chaweng and Lamai. It's a short drive from Chaweng, but a world away in terms of seclusion.
Which Is Better For Scuba Diving?
If you're planning on slipping below the waves and enjoying some scuba diving during your Thai sojourn, you will probably find the diving in and around Phuket to be better than the diving in Koh Samui.
Koh Samui lies in the Gulf of Thailand, off Thailand's eastern seaboard. The Gulf of Thailand is essentially a large bay, and it experiences little currents and tidal movements, which translates to less biodiversity underwater.
Diving from Koh Samui is still possible, though, and if you are heading to Koh Samui, it's worth checking out.
There is no real diving from Koh Samui itself, though, and the trips head to the waters closer to Samui's two neighbors, Koh Pha-Ngan and Koh Tao. Sail Rock, off the northeast corner of Pha-Ngan, is the highlight of the diving in the area, and you may see whale sharks here.
Phuket's west coast faces the Indian Ocean and is blessed with much more variety in marine life than the east coast islands.
On the west coast, you have a good chance of seeing a whale shark, as well as manta rays, eagle rays, and a few different types of reef sharks.
From Phuket, it's possible to visit the reefs of nearby Koh Phi Phi too, and for the more avid divers, Phuket is a popular jumping-off point for the liveaboard boats which head out to the Similan Islands, touted as Thailand's best diving.
Which Has Better Excursions?
If you're looking to do more than just sunbathe and swim, then both have great potential excursions.
In Phuket a trip north of the main city will bring you to hiking trails, jungles, waterfalls, and the island's natural side.
Whilst around 25km north of Phuket city is Phuket Elephant Sanctuary, where you can meet some of Thailand's most famous inhabitants.
Recommended: Hiring A Scooter in Thailand
Off the coast of Phuket are some breathtakingly beautiful islands as well – Ko Yao Yai is one of our favourites, as are the nearby Phi Phi Islands.
Koh Samui is about half the size of Phuket, but still packs a real punch when it comes to things to do.
Ang Thong National Marine Park sits just off the coast of Koh Samui and is made up of 42 pristine islands that are perfect for snorkeling, kayaking, hiking and wildlife spotting.
On the island itself there are waterfalls to explore, mummified monks to visit at Wat Khunaram temple, elephant trekking and zip-lining.
Again it's a tough one to decide which island wins this battle, but considering Koh Samui is smaller and still has so much to do, we think it just tips the scale.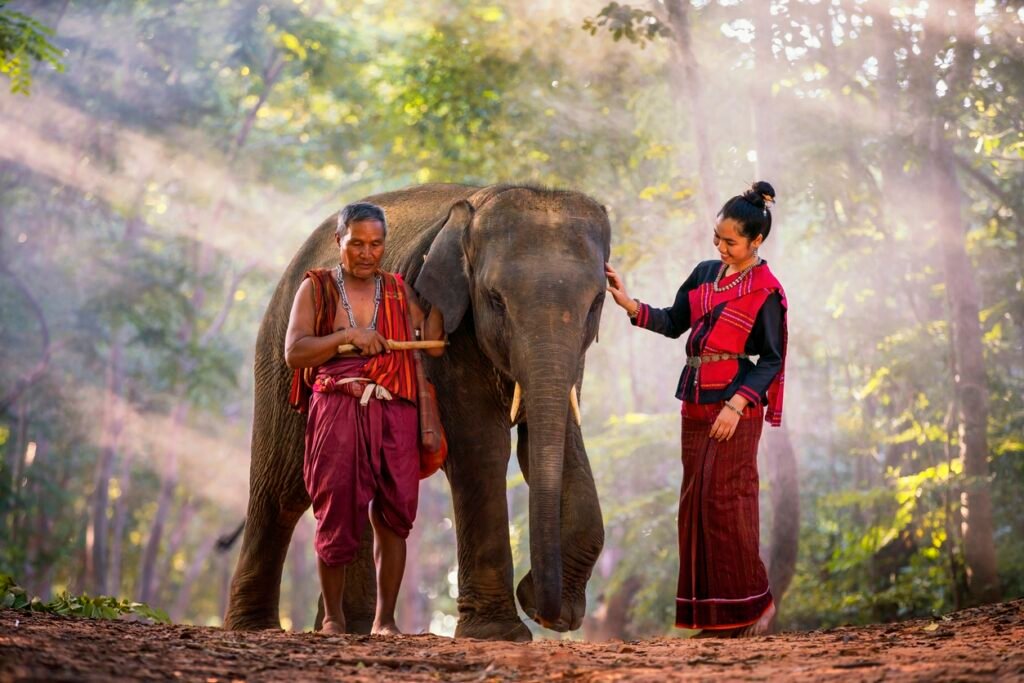 Which Has The Best Hotels?
Thailand has been a major tourist destination ever since the days of the hippy trail back in the 1960s. And as such, it has a plethora of hotels to suit all budgets and needs.
Koh Samui and Phuket are both very large islands and are both very popular tourist destinations. The problem with finding accommodations in either of these locations is that there are perhaps too many options….
But both islands attract a variety of different travelers, from families looking for luxury villas to backpackers in search of the best value hostel. And because of that, luckily Phuket and Koh Samui both have plenty of options, no matter what type of accommodation you are looking for.
So, let's have a quick look at the best options in different price ranges for each location to give you an idea of what's available:
Phuket: The Hotels
Best Budget Option: Situated in the heart of Phuket Town, Book A Bed Poshtel boasts a great location. There's a night market opposite the hotel some nights during the week too, which is perfect for cheap eats too.
Phuket Town is also ideal for island-hopping, with most of the main ferry routes leaving from nearby Rassada Pier. Phuket Town is also great for shopping and sampling the local Thai culture. See photos and rates here!
Best Mid-Range Option: Navatara Phuket Resort is located in Rawai, an area tucked away in the south-west of Phuket and is a great area for a quieter vacation (by Phuket standards).
This resort is close to Promthep Cape and Nai Harn Beach and just a short drive away from Kata and Kata Noi beaches. There are some excellent restaurants in the area, especially for sea food lovers, and Yanui Beach is great for a quiet swim or a snorkel.
The hotel also has a lovely pool, and they run a free shuttle service to Nai Harn Beach. See photos and rates here!
Best Luxury Option: Katathani Phuket Beach Resort is in a prime location in the center of the beautiful Kata Noi Beach, with the bigger Kata Beach just a short walk away. The area surrounding the resort has plenty of bars and restaurants to enjoy, and if you're in the mood to party, Patong is a short drive or taxi ride up the coast.
You are also in a good location to visit Central Festival shopping mall and to see the Big Buddha statue at Chalong. The resort features six swimming pools, six restaurants, a first-rate spa, and tennis courts – it's real luxury! See photos and rates!
Koh Samui: The Hotels
Best Budget Option: Top Hostel Samui is located at the southern end of Chaweng Beach Road and is a great budget option for those looking to spend more time exploring the island than hanging out in their room.
The location is excellent for exploring the nightlife of Chaweng, and Chaweng Beach is only a few steps away. The hostel has a communal garden, and it is surrounded by a plethora of dining options. See photos and rates!
Best Mid-Range Option: Pandora By Jida Lifestyle is located 100 meters from the northern end of Chaweng Beach, with direct access from the resort. The resort features a pool and bar which are surrounded by shady trees, and the nightlife of Chaweng is a ten-minute walk away.
The hotel is just two kilometers from the airport, and the island's other northeastern beaches are a short drive away. For the price, this is a fantastic choice. See photos and rates!
Best Luxury Option: Bo Phut Resort and Spa is one of the best resorts in Thailand (and a great price considering the celebrity-treatment you get here) and is located on Koh Samui's north coast, in the heart of the Fisherman's Village. The area is quieter than Chaweng, but it's still only a short drive away.
Fisherman's Village is a quaint area on the beach with excellent night markets and street food options. See photos and rates!
Which Is Better For Digital Nomads?
By Western standards, the cost of living in Thailand is very affordable, and as such, the country is becoming ever more popular amongst the digital nomad community.
Chiang Mai, the country's second-largest city, often gets all the attention when it comes to digital nomad life, but the southern islands are also a great location to set up shop for a few months.
The most obvious advantage of the islands over Chiang Mai are the beaches. Chiang Mai is in the north of Thailand and far from its many beaches. If you're looking for a beach idyll with good internet and an affordable cost of living, either Phuket or Koh Samui could be perfect for you.
Thailand consistently ranks high in the Speedtest Global Index for its internet speeds, claiming the top spot in 2021. In addition to the fast internet, there are also co-working locations on both islands, and as the two largest islands in the country, there are plenty of affordable accommodation options too.
Another convenience of these two locations is the fact that both islands have an immigration office. So, when it's time to extend your visa, you don't have far to travel—you just need to head to the main towns on each island—Phuket Town or Nathon—pay your extension fee, and you're good to go…
Which Is Better For Nightlife?
If hitting the pubs and clubs is high on your list of vacation activities, then you will be happy to know both Phuket and Koh Samui boast a thriving, vibrant nightlife.
The islands are both big enough that you can escape the party areas, but if nighttime fun and mischief are on the agenda, you won't be disappointed.
However in general Koh Samui has a much more relaxed evening vibe than energetic Phuket, and there's no doubt in our mind that places like Patong in Phuket are more nightlife centric.
As we mentioned, for Phuket the nightlife is centered around Patong. Patong is the island's busiest area, and it's easy to find many parties there.
The main selection of bars and clubs are found along Bangla Road, in the center of town. The road runs from the Jung Ceylon shopping mall down to the beach, and the road becomes a pedestrian-only zone from the early evening onwards.
Phuket also has a couple of excellent beach clubs outside of Patong that are perfect for a sunset drink to get your evening started. Check out Café del Mar in Kamala and Catch Beach Club in Bang Tao.
For Samui party seekers, head to Chaweng. The busiest area on the island boasts a plethora of bars and clubs, with Ark Bar parties on Wednesdays and Fridays among the most popular beach parties.
Chaweng is nice and quiet in the mornings; perfect for a quiet but hearty breakfast to help recover from the previous night's excesses.
But in particular, Koh Samui is an island that's almost branded itself as a place where you can party in style. Certainly for us, it does feel less 'seedy' than other party islands.
Which Is The Better Cultural Experience?
Phuket feels more 'Westernised' than Koh Samui, and you'll have no problem finding chain restaurants and hotels there.
However beyond the beach bars and hotel complexes there is culture to be found, and the Big Buddha – a gigantic Buddha statue sitting at the top of Nakkerd Hill – is worth visiting.
Although it attracts its fair share of tourists too, Koh Samui feels more local and Thai than Phuket.
There are many picturesque temples dotted around the island, as well as busy markets and other sights. Check out the Fisherman's Village if you get the chance – it's got rustic food markets with many street side eateries.
In our opinion, you can get a better idea of Thai life and culture in smaller Koh Samui than in busier, more tourist-orientated Phuket.
Which Is The Most Beautiful?
Both islands have white sand beaches and crystal clear water that gives way to a lush rainforest and mountainous inland.
They both feel like tropical island paradises, especially when you get away from the crowds, and in our opinion are tied when it comes to natural beauty.
Which Is Cheaper?
If you compare either of these destinations to Pattaya or Bangkok then both are expensive by Thai standards. That's because both Koh Samui and Phuket have become very popular tourist destinations.
However we've found that Koh Samui tends to be a little more expensive than Phuket when it comes to accommodation and eating out.
Phuket also has more budget options that are suited for solo travelers and backpackers.
Which Is Safer?
Both are safe destinations, which is why tourists visit in big numbers every year. However, as always when on holiday you should avoid confrontations with locals, avoid walking in unlit areas at night, and keep an eye on your drinks when at clubs and bars.
As for which destination is safer, you'll find this is a contentious point among locals and tourists alike. However the fact remains that Koh Samui has a slightly lower crime rate than Phuket.
When crime in either does happen it tends to be petty theft like bag snatching and pickpocketing.
Violent crime targeting foreigners is relatively rare in Thailand, but when these sort of crimes do occur it tends to be in nightlife areas. It's therefore best to always stick to main streets and known establishments, and avoid side streets.
What Time Of Year Is Best?
Thailand enjoys a hot and sunny tropical climate, but it does also experience monsoon seasons. With Phuket and Koh Samui being on opposite coasts, they will experience the monsoon at different times of the year.
For Phuket, the monsoon season is generally seen as running from late June through October. However, monsoon doesn't mean 24-hour rain, as some think.
Generally, during the monsoon season, there will be a lot of rain, but most days it all falls within a short window in the late afternoon as one big tropical downpour. The days can still be clear and sunny with blue skies, but as the afternoon draws to an end, the darker clouds start to roll in. The late afternoon rain actually cools the air down nicely and allows for a cooler evening.
Koh Samui experiences its monsoon season from October through early January. Again, there will be plenty of dry and sunny days during these months, with the majority of the monsoon rain falling in the late afternoons.
In terms of avoiding the worst of the rain, though, September is usually the wettest month on Phuket, and November usually sees the highest amount of rainfall on Koh Samui.
Phuket vs Koh Samui: Which Is The Better Choice?
Regardless of which of these two superb Thai islands you choose to explore, you will be sure to have a fantastic vacation.
As the two largest islands in the Land of Smiles, they both boast something for everybody. They are both relatively easy to get to, both have plenty of choices for excellent beaches, and both boast great bars, restaurants, and shopping.
Both Phuket and Koh Samui have a full range of accommodation options to suit all budgets and all needs, from backpacker hostels to luxury resorts too.
However Phuket would probably be the best bet for those interested in snorkeling and scuba diving, while families may prefer Koh Samui, as the weather patterns are better suited for the summer holidays.
If you're planning a Christmas or New Year's vacation, you will probably find the weather will be better on Phuket at that time of the year.
Thailand is a great country for a vacation, and both of these islands will allow you to experience the excellent beaches, delicious-yet-spicy cuisine, and the welcoming nature of the Thai people. Whichever island you choose, you will be sure to enjoy a memorable vacation…
Recommended For Your Trip To Koh Samui Or Phuket