Wandering our World is reader supported! If you purchase anything through a link on our site, we may earn a commission at no extra cost to you.
Last updated on December 10, 2022 by Wandering our World
Known as one of America's most charming beach towns, Galveston, Texas is a destination all on its own. Although just an hour outside of Houston, you'll find miles of white sandy beaches here, ample opportunities for recreation of all kinds, and tons of amazing shopping and dining.
There's plenty of fun to be had when the sun sets too, as the Galveston nightlife scene is lively and diverse with bars and clubs for every taste. This beach town has a well-earned reputation for being a party town and the evening fun doesn't disappoint.
If you enjoy live music of all kinds, you'll find it in many of the bars in Galveston – as we'll show you later. And if dancing is your thing, there's plenty of that too. You'll also find pubs, pool tables, bar games, and shows.
Nothing works up an appetite like an evening of dancing and partying, so it's good that Galveston is also home to plenty of up-late eateries and food trucks! So it's easy to fill up on creative and tasty regional fare before you call it a night. Luckily we'll show you the best places for late night food in right here too, alongside the best bars, party spots, and more.
So read on to discover the best Galveston nightlife spots around!
CONTENTS:
Where To Hang Out?
Our Seven Favorite Bars For Sundowners & Views
Six Fun Places For Music, Drinks & Dancing The Night Away
Five Must-Try Spots For Late Night Bites
Our Top Tips For Enjoying Galveston Nightlife
Galveston Nightlife: Where To Hang Out?
You will find there is no shortage of bars, pubs, clubs, and eateries throughout Galveston. The historic downtown area, in particular, is vibrant and offers an eclectic blend of traditional pubs, hole-in-the-wall dive bars, sleek clubs, rooftop bars, and live music venues.
Down along the seawall, you can satisfy your need for sunsets and tropical drinks. There are beachfront bars with tiki vibes dotting the length of the island, along with seafood restaurants and more.
Then head to your nearest oceanfront bar for a rum runner or a Piña colada, order up some appetizers, and enjoy watching the sun go down while listening to music and reveling in vacation vibes. We have some of the best sundowner spots coming up.
But if you are looking for a more urban feel, head downtown to The Strand and enjoy this very walkable historic area filled to the brim with restaurants, shops, bars, and fun and unique spots for art, culture, and history.
And if you come to Galveston for beaches, you've got plenty to choose from! Galveston has many public and private beaches, each with their own distinct vibe and activities. However, if you are looking for a festive party vibe and some nightlife, you'll want to head to East Beach.
Our Seven Favorite Bars For Sundowners & Views
The magic hours between 5:30 PM and 7:30 PM are ideal for a crisp, refreshing cocktail. The lighting is beautiful, there's an evening breeze, yet the air is still warm. It's a magical time, and it requires a magical spot.
Fortunately, there are plenty of those in Galveston. Spots where you can watch the light fade while soaking in the relaxed vibe of a good sundowner – a drink that you enjoy as the sun sets.
We've rounded up some of the area's best sundowners spots. Places where you have superb views, the drinks are flowing, and the vibe is the best on the island.
1. The Spot
The Spot is an all-in-one beachfront establishment with a restaurant, two bars, and an ice cream shop – and all of that comes with magnificent views and Tiki vibes!
This is a great "spot" to park yourself and enjoy the beachy atmosphere along with your favorite cocktail when the sun sets. If you're hungry, you can order up some delicious food (you must try Uncle Bill's Shrimp Po' Boy), or you can just sit back with your drink and watch the sun go down.
The Spot is located along Seawall Boulevard and is a great place to start your evening. The expansive outdoor seating area offers beautiful views of the Gulf, and there are bars and restaurants nearby. In particular this place is known locally for the music, friendly vibes, and fantastic piña coladas they serve up.
Address: 3204 Seawall Blvd, Galveston, TX 77550
2. The Tipsy Turtle Seaside Bar And Grill
There's nothing quite like a refreshing sundowner in a chill outdoor venue, and The Tipsy Turtle is the perfect place for exactly that.
Enjoy casual patio drinks and dining with great beach and sea views. Stop by during happy hour (Mon-From 3pm-6pm) and then settle in for a beautiful sunset while you relax and enjoy a bite to eat.
The Tipsy Turtle has a great beer selection and is located off the Termini-San Luis Pass Road near the Holiday Inn Club Vacations. You'll find a menu with classic bar fare such as wings, nachos, French fry baskets, gator bites – and yes, they are made with gator – chips and queso, and more.
Signature drinks include their Cruzan Confusion, and The Turtle. You'll also find all the usual suspects: Margaritas, Bahama Mamas, Daquiris, and locally brewed beers.
Address: 11745 Termini-San Luis Pass Rd, Galveston, TX 77554
3. Safari Beach Company
This is a favorite spot of locals and visitors alike and it boasts a perfect East Beach location.
Safari Beach has a decided 'beachy' dive bar feel and prides itself on treating customers like family. You can enjoy your drinks on the outdoor terrace while watching the ocean waves and the beautiful Texas sunset. Can you think of anything better?
This place is popular for ice cold beer, reasonably priced drinks, and their relaxing outdoor space for enjoying drinks and food. The deck area is pet-friendly too!
Address: 910 Avenue M, Galveston, TX 77550
4. Playground Patio Bar And Grill
Playground Patio Bar is located on The Strand and offers cocktails, an extensive beer selection, live music, sports, and karaoke! They have happy hour food and drinks in a relaxed setting and they're popular for the atmosphere and beer selection.
Just like it says in the name, Playground Patio Bar has a lovely patio area with barstool seating and umbrellas so you can sit outside, enjoy a cocktail or beer, watch the lively downtown area go by, and enjoy some fresh air.
It's conveniently located near several other establishments too, so makes a great place to start your evening or simply unwind from a long day.
The Playground Patio Bar And Grill offers tasty bites like speciality hot dogs (you have to try the Truffle Mac'n Cheese Dog) and delicious margaritas. They have specials throughout the week, like Thirsty Thursday Happy Hour from 3 to 7pm, and Margarita Therapy Monday, with $1 off margaritas all day! It's our sort of place!
Address: 2325 The Strand, Galveston, TX 77550
5. Stuttgarden Tavern
Self-described as a "laid-back beer garden with pub fare," Stuttgarden Tavern has a happy hour (from 3pm-7pm on weekdays), patio seating, speciality German food, and is an ideal location for starting your evening fun. They've also got a robust selection of local craft brews.
You'll find Stuttgarden Tavern on the corner of Harborside Drive and 23rd Street. You'll find plenty of nearby shopping, restaurants, and bars so it's a great place to come to end the day or begin your evening, or perhaps a little of both.
The venue is spacious, offering three floors' worth of good times. On the first floor you'll find a dog-friendly patio, pool table and shuffleboard. You can also get beer and wine to go!
The second floor offers a large indoor beer hall – with over 40 beer taps! This is also where they hold private events so if you are planning a party – ask about reserving a space here.
On the third floor you'll find a rooftop bar with amazing views of the cruise ships coming and going. This is the place to order your sundowner and enjoy the laid-back evening vibes.
Address: 2325 The Strand, Galveston, TX 77550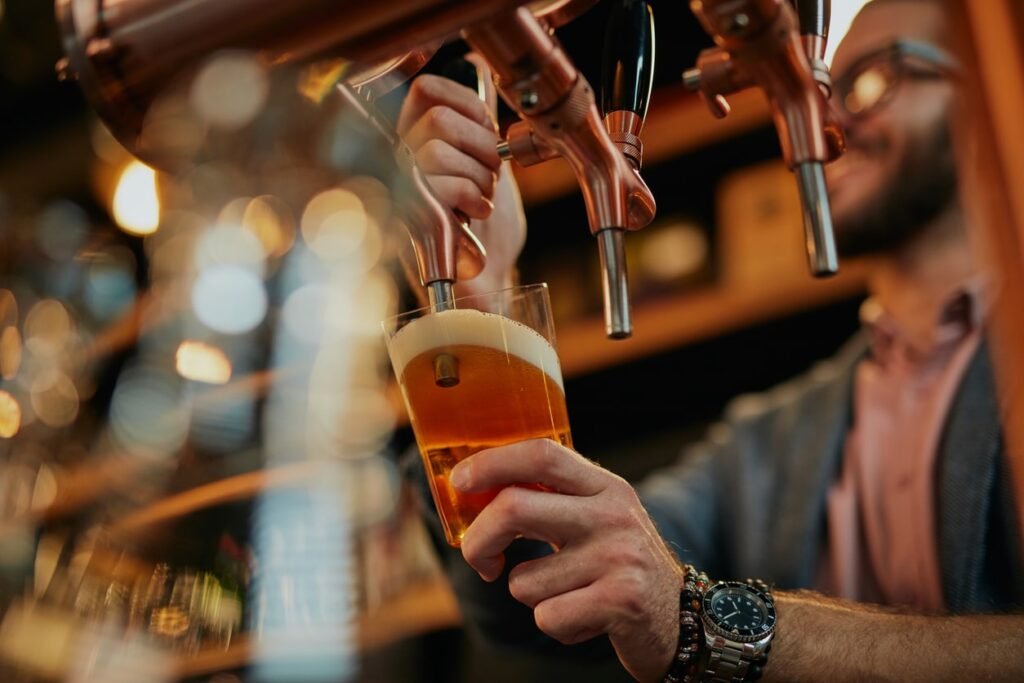 6. The Rooftop Bar
If you are looking for a classy rooftop bar with comfortable seating and great views, this is the place for you. Enjoy the sunset while sipping on your drink, relaxing, and chatting with friends. The rooftop is expansive with cozy couch seating, firepits for colder nights, and plenty of room to stretch out.
You'll find The Rooftop Bar on Mechanic Street between 23rd and 24th streets near The Strand historic district. The Rooftop Bar is a great place to start your evening and there are several other bars and restaurants within walking distance.
But just make sure you try their incredible pomegranate mojito or the chocolate martini before heading elsewhere!
Address: 2300 Ship Mechanic Row St, Galveston, TX 77550
7. Longboard Pool Bar
This is another great place to soak up island life while you sip a frosty cocktail or mocktail. Enjoy people-watching along the seawall and listen to the sound of the ocean waves lapping at the shore. Although unfortunately the pool at this bar is reserved for hotel guests only.
Longboard Pool Bar is located along Seawall Boulevard at the Doubletree Hotel. Visitors love sitting outside and watching the sunset, and no wonder when this place has such tasty piña coladas and mojitos! This Galveston nightlife spot is definitely a winner in the sundowner category.
Address: 1702 Seawall Blvd, Galveston, TX 77550
Galveston Nightlife: Six Fun Places For Music, Drinks & Dancing The Night Away
Whether you are looking for dancing and karaoke or live music and a friendly atmosphere, Galveston has a bar perfect for you.
Live music can be found throughout the week in many places, and several bars offer activity calendars with fun things like trivia nights, karaoke, pool tournaments, and ladies' nights. Galveston nightlife is all about variety!
Along the seawall you'll find many bars where you can sit back, sip cocktails, and enjoy the coastal vibes. Some bars close a little earlier than others, but if you are looking to stay along the beach or near your hotel, you will find plenty of nightlife to keep you occupied.
Here are some great local establishments you'll find in the area:
1. Rumors Bar
Rumors serves up drinks every day, but if you really want entertainment and to dance, you'll want to show up on a Friday or Saturday night.
This bar is a LBGTQ+ friendly venue with Drag Queen shows, an amazing food truck, music, fun decor and ambience, and customers always rave about their staff and events.
Live performance nights may require a reservation. But there is also rooftop seating, bar games, karaoke and happy hour.
Rumors holds activities on specific nights too. For example, Thursday nights are ladies' night and Mondays are free bingo! Rumors is hands-down one of the most entertaining spots on the Galveston nightlife scene.
Address: 3102 Seawall Blvd, Galveston, TX 77550
2. B. Jiggers Lounge
Also along the seawall you'll find B. Jiggers Lounge. Here you'll find live music throughout the week, plenty of drinks and lots of carefree vibes.
This is the perfect spot if you are looking to dance or watch your friends dance (if you're not so confident)! Overall, the vibe is fun and easygoing.
There is access to the pool patio which offers plenty of cozy seating with toasty gas fire pits. It really is a fantastic place to enjoy the early evening with friends.
Address: 5002 Seawall Blvd, Galveston, TX 77551
3. 23rd Street Station Piano Bar
For more live music, bar games, piano-playing good times and flowing drinks, head to 23rd Street Station Piano Bar.
This place is loved by locals for the laid-back vibe, excellent drinks, happy hour that lasts until 7pm, and of course the live music.
This bar has many regulars so you know it must be good. With that said, it's still very welcoming to newcomers. If you've ever walked into a local joint and gotten those "you can't sit here" vibes you know how important a welcoming environment is. However at 23rd Street Station you'll always find tourists raving about the service and atmosphere.
There is an outdoor seating area too and an excellent selection of beer. We also love the friendly bartenders and the fact that it is LGBTQ+ friendly and a transgender safe space.
Address: 1706 23rd St, Galveston, TX 77550
4. Molly's Old Cellar Bar
If you are looking for a dimly-lit traditional pub atmosphere with that cozy, neighborhood bar feel, the Old Cellar Bar is exactly that.
Stiff drinks, a pool table, relaxed atmosphere, plenty of beer, and great location make this Irish pub a winner if you are planning on making the rounds to a variety of Galveston bars and clubs.
Of note: The bar is actually two bars that are connected. It's an older building and has a very traditional bar feel to it.
In fact they permit smoking inside the bar so if you are sensitive to smoke you may want to avoid it. If, on the other hand, you relish the idea of being able to actually smoke in an old school bar, this place is for you!
Address: 2013 Postoffice St, Galveston, TX 77550
5. 3 Doors Down Bar
3 Doors Down is a unique bar experience that visitors often rave about. It's not uncommon for someone to stumble across this gem thinking it's nothing but a hole-in-the-wall warehouse bar, and end up delighted they found the place. The bar claims to have the "coldest beer in Galveston" so why not find out for yourself if this is true?
3 Doors Down is located in an old, historic warehouse and shares the space with shopping stalls. The bar has quirky and fun decor, amazing and friendly staff, and many delicious drinks. What more could you ask for? This Galveston nightlife spot is well worth a visit.
Address: 102 20th St Suite A, Galveston, TX 77550
6. Proletariat Gallery & Public House
In the mood for something different? Make you way down to the Proletariat Gallery & Public House and enjoy drinks and conversation while checking out art, playing some board games, and listening to live music.
The Proletariat isn't just a bar, it's a coffee shop and general hang-out spot. You could even bring your laptop and get some work done while you sip a cocktail or enjoy some seriously wonderful coffee.
Whilst Galveston nightlife can get crazy, there are plenty of low-key ways to have fun and enjoy an evening out in town – this is one of the best places for that.
Again, this is for those times when you aren't looking for a pub or a club, you just want to enjoy friendly and lively conversation in the evening with drinks, art, culture, and good vibes. They stay open until midnight, and are dog friendly too.
Address: 2221 Market St #100, Galveston, TX 77550
Five Must-Try Spots For Late Night Bites
As you can see, there's no shortage of nightlife to enjoy when you're in Galveston. Restaurants are plentiful, too. But what about casual, late-night eats? Where can you get a bite after a few hours of bar-hopping?
Have you worked up an appetite dancing or rocking out to some live music? Do you need a taco? Sometimes, you just really need a taco…..
We've rounded up a collection of tasty stops for revelers to refuel before continuing their night, or if you just want to grab something before heading back home or to your hotel for the evening. From food trucks to diners, to full, sit-down restaurants, you'll be sure to find an eatery that appeals to you.
It's always a good idea to double check as hours may change, but the following places are open late and are known for their delicious post-party fare.
1. Titos Chow Down Food Truck
Located at Rumors Bar, Titoss Chow Down Food Truck is a hit, serving up amazing food right there on the bay next to the bar. The place is a vibe unto itself, and customers rave about the quality of the food.
You don't have to be a bar patron to enjoy Titos delicious cuisine, but if you are already at the bar – why not hit up the food truck that's right there in the parking lot? It doesn't get more convenient than that, especially as they're often open until midnight.
As for what to try, go for the Chicken Quesadilla or the Cheese Steak. Yum!
Address: 3102 Seawall Blvd, Galveston, TX 77550
2. The Spot
The Spot isn't just a good place for a sundowner. It also makes the late night eats list and is conveniently located on the seawall right there with a Tiki Bar, Rum Bar, and ice cream shop!
Set in a perfect beachfront location, The Spot is open late and offers plenty of menu items to snack on and satisfy your late night appetite.
Not sure what you want? Try The Spot Sampler! The Sliders are always a good choice, too.
Address: 3204 Seawall Blvd, Galveston, TX 77550
3. Hearsay On The Strand
Just like it says, Hearsay is located on The Strand and offers "Updated American eats and craft cocktails dispensed in a historic space with eclectic decor."
This is the place to go if you are craving home cooked style meals made with fresh ingredients. The open space is warm and welcoming with brick walls and gorgeous lighting and chandeliers. They also offer craft cocktails and have a very good bar. You can dine until 11 PM.
The menu is a bit more refined here, and you'll find a variety of dishes, appetizers, and desserts. Unlike many other Galveston nightlife spots, Hearsay actually do a late night happy hour on Monday-Thursday from 9pm to close! So that's an added bonus.
Address: 2410 The Strand, Galveston, TX 77550
4. El Jefe
Open until midnight and serving authentic Mexican fare, El Jefe is a local favorite and a great place to get your taco fix after a night of drinking and dancing as they're open until 2am on Fridays and Saturdays!
It has that awesome local hole-in-the-wall vibe too, and we love the fast, friendly service and amazing food.
Locals who love this place tend to come a couple of times a week and highly recommend the tacos and chorizo. Be aware that this place is wildly popular and can get a little crowded. But honestly, the wait is more than worth it.
Address: 3801 Broadway Avenue J, Galveston, TX 77550
5. Brewchacho's Tacos
Open till 11pm seven days a week, this place boasts "The best Queso, Margaritas and Tacos in Galveston County" and you really can't go wrong with that. Brewchacho's could easily be on the sundowner list, too, because the outdoor seating area is beautiful and relaxing.
You will find plenty of shady trees and a tranquil waterfall that adds to the vibe too.
Oh, and as for tacos? There are 14 different kinds. Fancy a Brisket Taco? How about an Asian Chicken Taco? Perhaps a Fried Avocado Taco or a Hot Bratwurst Taco? You get the point. This is the place for tacos, and they have quite the margarita selection, as well. Try the Mango Margarita!
Address: 2110 The Strand, Galveston, TX 77550
Our Top Tips For Enjoying Galveston Nightlife
Galveston is a lively beach town full of history and character. You'll find no shortage of activities to keep you busy during your stay.
But if you are looking to party around one of the many Galveston beaches, it's important to be aware of the local laws concerning drinking. Some people believe that you can have an open container anywhere in Galveston but this is not the case.
The two locations where you can carry an open container in public are The Strand Historic District, and East Beach. You can't carry alcohol in glass containers, so make sure you are using a plastic cup or a can.
Take care to observe the local laws and be sure to grab an Uber or taxi if need be. Galveston is very walkable, especially downtown, and there are tons of restaurants, shops, and bars there within walking distance of each other.
Galveston, Texas is located about an hour from Houston and is a must-stop if you are visiting Texas and want to get a feel for this charming beach town in the Gulf of Mexico. You'll notice when you arrive the shift in energy that gives you an immediate vacation vibe. This is a great place to come to play, to relax, and to reconnect with family and friends.
You won't get bored nor will you run out of fun places to discover while you are here. The bar and club scene is thriving here and you'll enjoy how laid-back and welcoming the locals are. So get out there and enjoy all the Galveston nightlife has to offer!